Reviews for Life Threads Ceremonies
Awards


7 User photos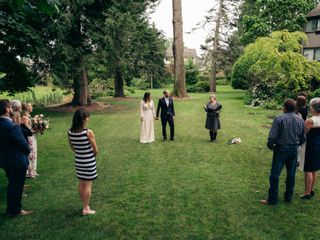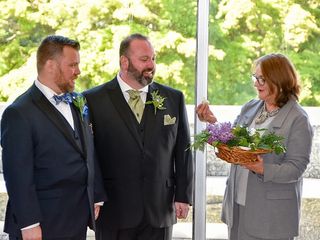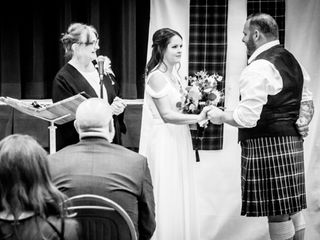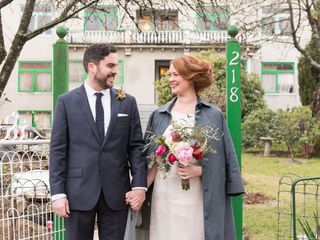 Kelly Graham · Married on 20/06/2020

COVID Flexibilty Appreciated!

Abegael was recommended to us by another celebrant and was very flexible with out last minute wedding changes during COVID season. She created a unique and meaningful Wee Rosebud ceremony in our back yard with extra special touches. Thank you!
Kelly & Kelly

Sent on 01/07/2020

Dan and Kristy Smith · Married on 20/11/2019

Abegael is amazing!

Abegael took the time to make our wedding ceremony meaningful, unique, and fun. Our family enjoyed participating and it brought us all closer together. Thank you Abegael for a beautiful and memorable ceremony!

Sent on 15/12/2019

Teresa Collins · Married on 23/10/2019

Handfasting with Children

s celebrant for the wedding of my niece, Nicole, and her now husband, Adrian,
Abegael created a memorable experience. Abegael's sparkling personality, relaxed
attitude, and wonderful sense of humour highlighted the joy of this sacred event. Those
witnessing this blessed union definitely became connected with the bride and groom as
Abegael related the symbolism of the different elements within the ceremony. Especially
memorable to me was Abegael's inclusion of Nicole an Adrian's sons, Andy and Ray, in
the hand-fastening: the red knot now joined not only husband and wife but also parents
and children, creating a beautifully woven, infinite family circle. I would highly
recommend Abegael to any couple considering her as their celebrant. Teresa

Sent on 23/10/2019

Christine Arzoumanian · Married on 20/07/2019

Abegael Fisher-Lang

Abegael was a fantastic wedding officiant! Loved her energy and spirit

Sent on 10/08/2019

Shahid Manji · Married on 20/07/2019

Unique, heart-warming and the perfect addition to our wedding!

When we were on the hunt for a wedding officiant, a few people had told us to potentially look into Celebrants - those who perform professional wedding ceremonies with a unique touch (e.g. story-telling). As we began to research, we stumbled upon Abegael, and we are so glad we did!

We met Abegael at a coffee shop and got to know her, tell her our story, and shared our vision. Right away we knew she was the perfect person to marry us! She allowed us to share our stories individually and soon after crafted our amazing love story and ceremony script. Everyone at the wedding had never been to a ceremony (including us) where someone welcomed our families (in different languages), acknowledged our different backgrounds and cultures, shared such a beautifully written love story on how we met, to our proposal story, to a few short poems, etc. She also worked with us to guide us in writing our vows.

We've received so many compliments from our guests on such a unique, touching, and heart-warming ceremony. She helped us set the tone for what was the most amazing day of our lives. Thank you so much for being part of our special day and being such an amazing soul! xoxo Kana & Shahid

Sent on 16/09/2019

Clayton Ashton · Married on 16/06/2019

Truly unique and meaningful ceremony

Deciding to work with Abegael was one of the best decisions we made when planning our wedding. After coming across her website and some very positive reviews, we met with her to see if it was a good fit and almost immediately knew that her approach to the ceremony was exactly what we were looking for.

We wanted the ceremony to be the centrepiece of our wedding, to tell our story and reflect our personalities and our relationship. Right away, Abegael had some great suggestions and was able to tell us from past experience how certain approaches to the ceremony could work and how they could really bring our guests into the ceremony to feel involved too. The examples of rituals and moments that could be included in the ceremony were incredibly rich and unique.

The planning process was a perfect mix of giving suggestions and examples as well as listening to our wants and needs. We didn't know exactly where to start, so Abegael's "Meeting the Beloved" questionnaire was a perfect way for us to each communicate our own views of the relationship, our stories of how we met, and what we would want included in the ceremony. She was willing to give her advice based on her experiences, but made it clear that it was our ceremony and so we always had final say. Designing the ceremony was probably the least stressful part of our planning, but it ended up being the most important and memorable part of our wedding.

The result was a ceremony that felt deeply meaningful, but it also had some great humour and lighthearted moments. We had so many of our family and friends tell us that it was the most unique and meaningful wedding they had even attended. We would strongly recommend Abegael/Life Threads for anyone who wants to have their ceremony be meaningful and unique.

Sent on 22/06/2020

Life Threads Ceremonies's reply:

Thank you, Clayton. I was so happy I was to work together creating such a unique wedding with you and Susanne! True, we did include many exquisite rituals: from lighting candles, RIngwarming, Handfasting, Witness Vows, Community Vows, your personal wedding vows, yet it all flowed like the autumn sun pouring through the trees all around us. A golden day and a golden wedding in the Teahouse in Stanley Park... a real gift to everyone there. It still inspires me to this day!

Janice Martin · Married on 05/10/2018

Unique & Wonderful

We couldn't have been more pleased in choosing Abegael to be a part of our special day as our wedding celebrant. Her warmth and engaging personality along with some of the most memorable and creative token moments provided us all with a wedding experience that will be talked about for years to come. Special and heartfelt thanks to Abegael for making our day a most memorable one.

Sent on 16/01/2019

Janice Mcintyre & Daryll Martin · Married on 05/10/2018

Unique, Heart Shaped & Wonderful

On October 5th, 2018 "we said I do"... ~ Our officiant Abegael was wonderful in helping to make our wedding day both unique and personal. It was the kind of ceremony that allowed all of our friends and family to share in, by way of some very special moments -- far exceeding our expectations. Abegael ensured that our values were at the forefront from culture and belief to the threads of our family roots. Abegael helped us create a most memorable page within next chapter of our hearts and lives filled with laughter, tears and a whole lot of love. We could not have been blessed with a better person to ceremoniously assist with the tying of our Celtic knot of eternity. Forever grateful for a day... that our friends and family will surely continue to talk about for years to come. Thank you Abegael for everything.

Sent on 16/01/2019

Life Threads Ceremonies's reply:

Thank you, dear Janice and Darryl, for such a rich ceremonial experience! We co-created an extraordinary, magical & mystical wedding, didn't we? So fitting for your amazing love story. And I was deeply moved to be included in both the rehearsal dinner, and the fabulous wedding reception. I loved being with your families, and the Celtic connection was heartwarming. Your sister speaking the Gaelic, your grandmother's special spirit gift in the ringwarming sachet.... (It warmed me Nova Scotian heart entirely so!)

Your marriage is blessed from the Maritime to the Pacific coasts, through generations, across long miles.... Slainte va, darlings.

Jessie Lynes · Married on 22/09/2018

Jessie and Jakes wedding

Abegael was great from the beginning to the end. Her service was beautifully put together. She is persistent and consitant.

Sent on 13/02/2019

Life Threads Ceremonies's reply:

Thanks Jessie. It was a fabulous wedding. You and Jake created the best of 1920's themed event at the historic Langley Milner Hall, with vintage limo, natty three-piece suits, fedoras and flapper dresses. Your guests loved it. A joy to be part of your big day! All the best in your new life in Qualicum!

Donna · Married on 11/08/2018

Lovely experience

Abagael helped us plan a very romantic ceremony. I especially like the blessing of our rings and the bells.

Sent on 05/02/2019

Life Threads Ceremonies's reply:

Thank you Donna. I loved the romance of your ceremony too! The Ringwarming was especially lovely as the little silvery sachet holding your rings, and a few crystals, was passed through your guests. Everyone was visibly moved. And nothing quite beats the festive joy of bells and chimes and singing bowls sounding through the air - and all the children loving that. And what a treat it was for me to create a ceremony with you and Dennis, after marrying your cousin a few years back, and then to present the vintage themed wedding of your nephew and new niece the next month. Families that celebrate together - yay! What an honour to be your chosen wedding celebrant!