Reviews for Life Threads Ceremonies
Awards


7 User photos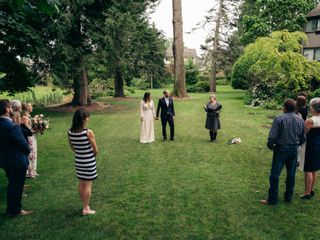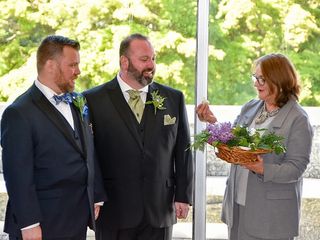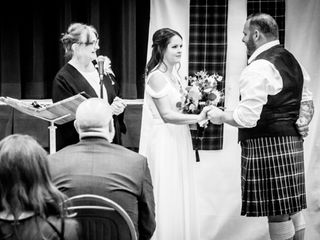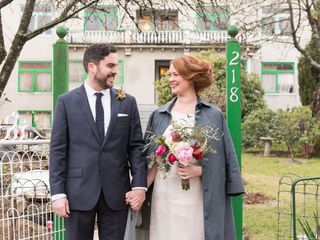 Dalit H. · Married on 08/05/2021

Perfect, heart-centred ceremony

Abegael is a master of creating and holding space. She is able to meet any spiritual or cultural ceremonial request you may have, and she does so with joy and ease. This truly is the work she was born to do, so it would be impossible to have a negative experience with her as your officiant. Thank you, Abegael, for a sacred yet buoyant day... just a few of us in our forested back yard during this great wake-up of CoVid time. It was magic and you blessed it with your presence.

Sent on 12/05/2021

Life Threads Ceremonies's reply:

Dear newlyweds D and M...... I thank you! What an honour to stand under the great trees with both of you and your daughters, as you gifted one another with loving and ensouled language and gifts of silver and gold....and your parents greeting you after taking their witness vows.. "Wiil you offer the benefit of your experience and opinion... when invited?... Yes!" And the many rituals you chose, and we reshaped, to suit this unique ceremony of love..... from Honouring the Elements, Ringwarming, Handfasting, Breaking the Glass, Community Vows...and more. It was rich, and full, and resonant....the kind of love ceremony we have all longed for this year.... richer in soul for being in ceremony with you and your Anam Cara.

Theodor J. · Married on 06/02/2021

Olivia and Theos wedding


Working with Abegael was a wonderful experience. Her process made the experience quite enjoyable and low stress. She was flexible with timing and wrote a beautiful wedding story for us, the actual ceremony was performed with a warm and full heart, evryone who attended was touched and moved by the ceremony. 10 out of 10 would recommend.

Sent on 12/02/2021

Life Threads Ceremonies's reply:

.Thanks Theo and Olivia......you know how smitten I am with your story! Great that we included so many beautiful rituals to reflect your love journey, including your Irish and Greek heritages, the love spark in your India ashram, and bringing it all home to start your family in Vancouver. Even though you surely would have had an awesome, huge wedding with family and friends from near and far it was special & intimate in your mother's house with just your family, 10 of us in all, following the protocols, yet really rocking the ceremony! So much love in that room, and streaming in from your Zoom circles. The vows you wrote beside the Ganges, our crimson handfasting ribbon, candles, ringwarming., family blessings from Ireland..... the true heart of a wedding. Im chuffed by all the gratitude Ive received- but I now thank you both for finding your 'anam cara' and for choosing to celebratie your love in such a way and at such a time that inspires all of us......so sorely needed in these times. Slainte va, my lovebird newlyweds!

Chloe M. · Married on 22/08/2020

Magical forest wedding at short notice!

When we had to cancel our wedding in the UK due to COVID restrictions, Abegael worked with us to create the most beautiful, personal and transcendent ceremony in the forest of British Columbia. Abegael took great time to get to know us personally and ask all the necessary questions in order to synthesise our backgrounds and love story into a totally unique ceremony that truly reflected us and the commitment we have chosen to make to each other. Abegael brought so much knowledge and wisdom to the table from her wealth of experience in various marriage traditions, but never tried to steer or direct us towards any particular option other than those which felt wholly authentic to us. We would recommend Abegael and Life Threads without hesitation to anyone seeking a deeply meaningful and personalised wedding ceremony.

Sent on 16/10/2020

Life Threads Ceremonies's reply:

Thank you Chloe and Philip....it was truly transcendent to meet at 5:45 in Lynn Canyon for your sunrise forest wedding! And what joy to call in the directions and feel the strength of the trees and land as you spoke your vows. Magical and unforgettable.!

Joanne R. · Married on 08/08/2020

Beautiful, custom wedding in uncertain times!

We are very happy we hired Abegael as our Wedding Celebrant!

From the outset, Abegael was not only professional, but also warm, positive and encouraging, and she brought a great sense of levity to all of our interactions starting with our first meeting, to the final days leading up to and during our wedding. She was very accommodating in all respects, especially with our last minute edits & changes to the script, and also with regards to adaptations from our original plan in light of covid.

We loved our custom wedding script and the extras Abegael provided that made our ceremony so special and meaningful to us and our guests. Abegael was punctual, organized and well rehearsed. We really appreciated all her effort in setting up on a beach!

We received many positive comments and kind words about the ceremony and Abegael's delivery. High praise!

We would happily recommend Abegael and Life Threads for your occasion / ceremony.

Joanne & Kristoffer

Sent on 04/09/2020

Life Threads Ceremonies's reply:

Thank you for your commitment to go ahead, no matter what! We wondered together how to make your ceremony magnificent under such restrictions. We did it, combining our creative mojos and inviting the power & beauty of nature to be part of it: beach, ocean, wind, trees, sun.... Loved your curiousity, your strength, handmade driftwood arch, commitment vows. We've all been longing for an inspiration these days, and your ceremony of love inspired us lal on your wedding day, especially me, your happy celebrant!

Kelly G. · Married on 20/06/2020

COVID Flexibilty Appreciated!

Abegael was recommended to us by another celebrant and was very flexible with out last minute wedding changes during COVID season. She created a unique and meaningful Wee Rosebud ceremony in our back yard with extra special touches. Thank you!
Kelly & Kelly

Sent on 01/07/2020

Dan A. · Married on 20/11/2019

Abegael is amazing!

Abegael took the time to make our wedding ceremony meaningful, unique, and fun. Our family enjoyed participating and it brought us all closer together. Thank you Abegael for a beautiful and memorable ceremony!

Sent on 15/12/2019

Teresa C. · Married on 23/10/2019

Handfasting with Children

s celebrant for the wedding of my niece, Nicole, and her now husband, Adrian,
Abegael created a memorable experience. Abegael's sparkling personality, relaxed
attitude, and wonderful sense of humour highlighted the joy of this sacred event. Those
witnessing this blessed union definitely became connected with the bride and groom as
Abegael related the symbolism of the different elements within the ceremony. Especially
memorable to me was Abegael's inclusion of Nicole an Adrian's sons, Andy and Ray, in
the hand-fastening: the red knot now joined not only husband and wife but also parents
and children, creating a beautifully woven, infinite family circle. I would highly
recommend Abegael to any couple considering her as their celebrant. Teresa

Sent on 23/10/2019

Christine A. · Married on 20/07/2019

Abegael Fisher-Lang

Abegael was a fantastic wedding officiant! Loved her energy and spirit

Sent on 10/08/2019

Shahid M. · Married on 20/07/2019

Unique, heart-warming and the perfect addition to our wedding!

When we were on the hunt for a wedding officiant, a few people had told us to potentially look into Celebrants - those who perform professional wedding ceremonies with a unique touch (e.g. story-telling). As we began to research, we stumbled upon Abegael, and we are so glad we did!

We met Abegael at a coffee shop and got to know her, tell her our story, and shared our vision. Right away we knew she was the perfect person to marry us! She allowed us to share our stories individually and soon after crafted our amazing love story and ceremony script. Everyone at the wedding had never been to a ceremony (including us) where someone welcomed our families (in different languages), acknowledged our different backgrounds and cultures, shared such a beautifully written love story on how we met, to our proposal story, to a few short poems, etc. She also worked with us to guide us in writing our vows.

We've received so many compliments from our guests on such a unique, touching, and heart-warming ceremony. She helped us set the tone for what was the most amazing day of our lives. Thank you so much for being part of our special day and being such an amazing soul! xoxo Kana & Shahid

Sent on 16/09/2019

Clayton A. · Married on 16/06/2019

Truly unique and meaningful ceremony

Deciding to work with Abegael was one of the best decisions we made when planning our wedding. After coming across her website and some very positive reviews, we met with her to see if it was a good fit and almost immediately knew that her approach to the ceremony was exactly what we were looking for.

We wanted the ceremony to be the centrepiece of our wedding, to tell our story and reflect our personalities and our relationship. Right away, Abegael had some great suggestions and was able to tell us from past experience how certain approaches to the ceremony could work and how they could really bring our guests into the ceremony to feel involved too. The examples of rituals and moments that could be included in the ceremony were incredibly rich and unique.

The planning process was a perfect mix of giving suggestions and examples as well as listening to our wants and needs. We didn't know exactly where to start, so Abegael's "Meeting the Beloved" questionnaire was a perfect way for us to each communicate our own views of the relationship, our stories of how we met, and what we would want included in the ceremony. She was willing to give her advice based on her experiences, but made it clear that it was our ceremony and so we always had final say. Designing the ceremony was probably the least stressful part of our planning, but it ended up being the most important and memorable part of our wedding.

The result was a ceremony that felt deeply meaningful, but it also had some great humour and lighthearted moments. We had so many of our family and friends tell us that it was the most unique and meaningful wedding they had even attended. We would strongly recommend Abegael/Life Threads for anyone who wants to have their ceremony be meaningful and unique.

Sent on 22/06/2020

Life Threads Ceremonies's reply:

Thank you, Clayton. I was so happy I was to work together creating such a unique wedding with you and Susanne! True, we did include many exquisite rituals: from lighting candles, RIngwarming, Handfasting, Witness Vows, Community Vows, your personal wedding vows, yet it all flowed like the autumn sun pouring through the trees all around us. A golden day and a golden wedding in the Teahouse in Stanley Park... a real gift to everyone there. It still inspires me to this day!