Reviews for Knot Your Average
Awards
10 User photos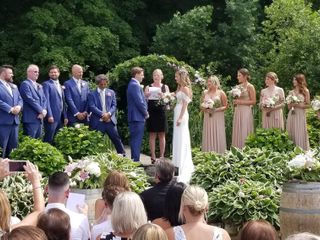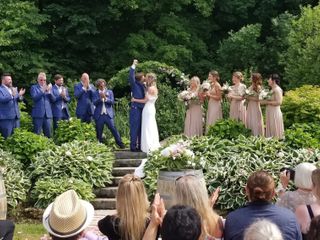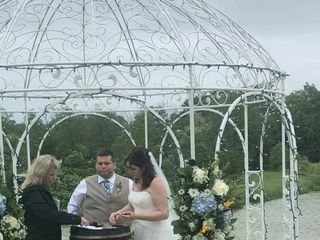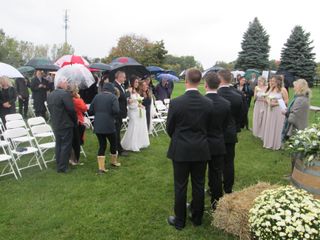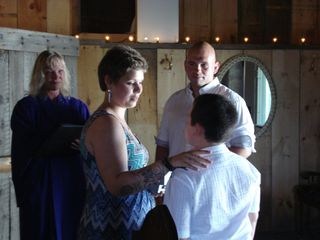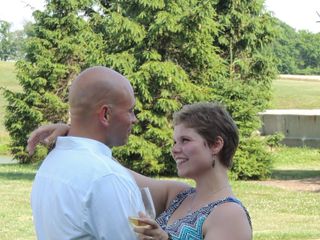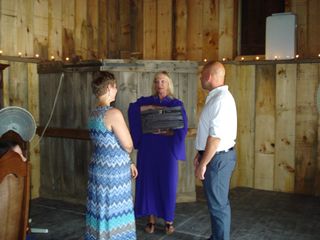 Amy Andrews · Married on 16/08/2019

Absolutely wonderful

Debbi was absolutely wonderful! She helped us personalize our ceremony, and made us feel at ease when the big day was here. We couldn't have asked for a more perfect person to officiate our wedding. Thanks Debbi!

Sent on 20/08/2019

Knot Your Average's reply:

Thank you so much! You have such a warm and wonderful family! It was an honour tip part of your day!

Debbi

Lexi Rudlin · Married on 09/08/2019

The most amazing officiant❤️

We had such an amazing experience with Debbi! She helped us curate the MOST PERFECT ceremony we could've ever imagined! She was friendly and funny and just so amazing! We had soo many people tell us how perfect and special our ceremony was! Absolutely loved her!

Sent on 15/08/2019

Knot Your Average's reply:

Lexi,

Thank you so much! The two of two were a blast! Congratulations to you both once again!

Debbi Skinner

MICHELLE BIANCHI · Married on 02/08/2019

Fantastic officiant

Debbi was fantastic!!! Very personable. Easy to talk to and organize our ceremony. Gave us lots of ceremonies to build from and customize to make it our own. Highly recommended!

Sent on 24/08/2019

Jason Saunders · Married on 05/07/2019

Such a great wedding and our officiant was amazing!

Debbi was fantastic! She has a great attitude, fun sense of humour, she's was very flexible with our requests regarding the readings and a pleasure to have as an officiant at our wedding. She even endured 42 degree heat with a smile on her face! Thank you so much Debbi, you'll always be a part of our lives now!

Sent on 15/08/2019

Sarah · Married on 15/06/2019

An absolute pleasure!

Debbie was fantastic to work with. She put us both at ease immediately, and had such a great approach to our ceremony. It was customized, perfect in every way, and she even smiled when the wind blew my veil at her! I recommend her to the highest degree!

Sent on 17/06/2019

Knot Your Average's reply:

Thank you for reviewing my services. It was such a pleasure! You two were so fun! Thank you again for the opportunity!

Michael Dehoog · Married on 20/10/2018

Fast easy cheap and just want I wanted.

I needed to do the basic legal stuff for the government. Deb understood what I needed and performed wonderfully. Everyone else was charging me full price for a 30 min event. I cant recommend debbi enough. She did everything for me and I am sure she'll do it all for you.

Sent on 25/10/2018

Knot Your Average's reply:

Wow! Thank you Michael!!! It was my pleasure to meet the two of you!

Debbi Skinner

Knot Your Average

Elise Garand · Married on 20/10/2018

Amazing personality!

Debbi from Knot Your Average was an absolute joy to have as an officiant. She's one of those people whose kindness radiates, even on the rainiest of days. During our first meeting, we were invited to her beautiful country home, where Debbi provided us with a few wedding ceremonies from which my husband and I could choose. She assured us that the wording could be customized to our liking, but there really wasn't any need to! Each ceremony was thoughtfully written. We are so happy to have had Debbi as our officiant, and I highly recommend choosing her for your own special day.

-Elise & Daniel

Sent on 26/10/2018

Knot Your Average's reply:

This is so sweet! Thank you for all of these lovely words!

I feel so blessed to have had, not only the opportunity to meet you two, both also the privilege to officiate at your wedding!

Debbi Skinner

Jamie · Married on 18/08/2018

Beyond beautiful

We were searching for the perfect outdoor venue to say our vows, we knew it would need to be capable of hosting a sizable guest list of family and friends and instill a sense of natures timeless beauty to set the perfect atmosphere for everyone in attendance on our special day.

All of our hopes and expectations were exceeded by Debbi from Knot Your Average; the property is absolutely stunning, and with its mature Willow tree as a focal point for our ceremony and a beautiful orchard as a backdrop for our guest, we decided to say our vows here under the Willow tree and take the opportunity to take photos amongst the sunflowers and gardens on the property.

We are happy to have had Debbi as our officiant, she helped us personalize our vows to reflect our individual taste, she was attentive to our needs for setup and preparations and her experience and insight really made the difference when my parents were twenty minutes late because of traffic on my wedding day. She's so wonderful and professional.

If I can personally suggest anything to you as you research locations and services for your special day it would be that you owe it to yourself to take the time to speak with and visit Knot Your Average.

Sent on 20/10/2018

Knot Your Average's reply:

What a lovely review! You two are so sweet together and very easy to work with! So glad to have been part of your journey together!

Brianne Protonentis · Married on 04/07/2018

Debbi's amazing, 10/10

Debbi was absolutely wonderful. She's the most kind and warm hearted person I've ever met and I'm so grateful that she was able to perform our wedding. She was professional and accommodating from the start; she laid out a couple options that my husband and i had and in the end we chose to do a small, intimate hand fasting ceremony that included some special elements like a memorial candle and a wine box ceremony. She stayed in contact with me leading up to the big day, and when it arrived she performed the ceremony flawlessly - even though i was nervously laughing throughout the whole thing. My husband and I never thought we'd be the type to do the whole wedding thing, and were unsure of what exactly we wanted but Debbi helped us feel at ease and confident with our decisions and it turned out to be one of the most fantastical day of our lives. Thank you so much Debbi.

Sent on 10/07/2018

Knot Your Average's reply:

Wow! Thank you so much for that wonderful feedback but the two of you made it easy!

It was my honour and pleasure to be part of your day!

Debbi

Stephanie Selke · Married on 26/05/2018

Debbie is pure class, communication and personalized care

We chose a handfasting ceremony, which we were able to personalize and make our own. Debbie was helpful and thorough making sure all our requests and needs were well planned, practiced and clear for each other and our guests. Using something simple like google docs and her concise communication style, we were able to design our wedding ceremony in a very personal way. Debbie made sure to stay in contact with us, and clarify questions as they arose so we were completely confident our big day of. Because handfasting requires the tying of cords (where "tying the knot" come from) Debbie even went as far as arranging to meet us to practice our vows and knots so the key moment of our ceremony went smoothly and the focus was on our words and commitmment-- not a fumble or panic! We felt Debbi wasn't just officiating our wedding, she was celebrating with us-- leading our guests through the most important part of our day-- our commitment to each other. We were married May 26, 2018 at Hernder estates Winery. Debbie came early, and provided her calm confidence leading up tto the ceremony. We never doubted for one single second we were in the best hands. Her help, guidance and her insistence at practicing our vows and knots was what an officent should be-- the person we trust to lead us through such an emotional life impacting event. Thank you Debbie for making our day magical and classy. Thank you most of all for making this part of our journey easy, fun and most of all memorable! We cannot say enough good things about Debbie's skill and care. Thank you!


Sent on 06/08/2018

Knot Your Average's reply:

W0w! Thank you so much for your confidence in me!

Working with the two of you was sheer joy and fun!

You're a wonderful couple! I'm blessed to know you both!