Reviews for Knot Your Average
Awards
10 User photos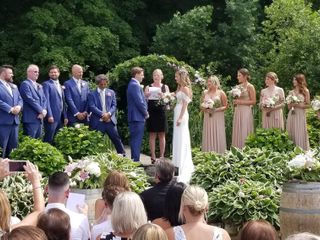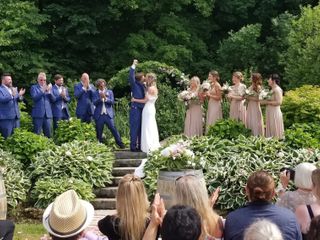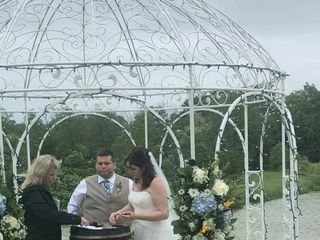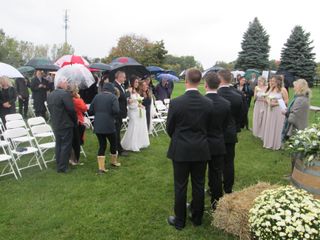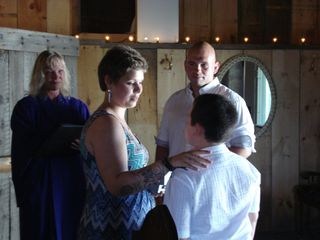 Ruth Colalillo · Married on 26/10/2019

Wonderful officiant

Debbi was a joy to have at our wedding, and helped us out together a beautiful handfasting ceremony that was just what we wanted.

Sent on 27/01/2020

Jenni Pape · Married on 27/09/2019

Simply perfect

Debbi was amazing. She made sure everything was exactly what we wanted. We are not religious and she accommodated that while still making our ceremony beautiful. Thank you debbi for helping in making our dreams come true!

Sent on 28/09/2019

Sylvia Dibenedetto · Married on 26/08/2019

Wonderful ceremony

The ceremony was wonderful and very relaxed as we requested. The officiant not only provided great service but made our day special and fun !

Sent on 28/07/2020

Vivianne · Married on 24/08/2019

A job well done!

Debbi was absolutely perfect for our wedding day. She was super accommodating to all of our unique and specialized requests, she even allowed us to customize our ceremony details. She was great at communicating via email from the initial inquiry to the wedding day, answeredd all my questions and made for a stress-free booking/execution. Some officiants book multiple weddings on one day, but Debbi made sure to only have our wedding on the day. Thanks for a great ceremony !

Sent on 14/09/2019

Knot Your Average's reply:

Oh Vivianne! What a beautiful couple you two are and what a lovely ceremony! Was truly a pleasure! Thank you!!!!

Amy Andrews · Married on 16/08/2019

Absolutely wonderful

Debbi was absolutely wonderful! She helped us personalize our ceremony, and made us feel at ease when the big day was here. We couldn't have asked for a more perfect person to officiate our wedding. Thanks Debbi!

Sent on 20/08/2019

Knot Your Average's reply:

Thank you so much! You have such a warm and wonderful family! It was an honour tip part of your day!

Debbi

Lexi Rudlin · Married on 09/08/2019

The most amazing officiant❤️

We had such an amazing experience with Debbi! She helped us curate the MOST PERFECT ceremony we could've ever imagined! She was friendly and funny and just so amazing! We had soo many people tell us how perfect and special our ceremony was! Absolutely loved her!

Sent on 15/08/2019

Knot Your Average's reply:

Lexi,

Thank you so much! The two of two were a blast! Congratulations to you both once again!

Debbi Skinner

MICHELLE BIANCHI · Married on 02/08/2019

Fantastic officiant

Debbi was fantastic!!! Very personable. Easy to talk to and organize our ceremony. Gave us lots of ceremonies to build from and customize to make it our own. Highly recommended!

Sent on 24/08/2019

Jason Saunders · Married on 05/07/2019

Such a great wedding and our officiant was amazing!

Debbi was fantastic! She has a great attitude, fun sense of humour, she's was very flexible with our requests regarding the readings and a pleasure to have as an officiant at our wedding. She even endured 42 degree heat with a smile on her face! Thank you so much Debbi, you'll always be a part of our lives now!

Sent on 15/08/2019

Shannon Millar · Married on 22/06/2019

Was a beautiful day made even more special with Debbie

It was such a pleasure to have Debbie Marry Glenn and I. She is one amazing lady that we both feel quite connected to from the day we met her.
It is a funny store how we met which makes this new friendship even more special. We would highly recommend any one looking for a wedding officiant.



Sent on 21/10/2020

Knot Your Average's reply:

Stumbling into our friendship has been a huge blessing in my life!

Thank you for choosing me to marry you two!

A beautiful coincidence!

❤

Sarah · Married on 15/06/2019

An absolute pleasure!

Debbie was fantastic to work with. She put us both at ease immediately, and had such a great approach to our ceremony. It was customized, perfect in every way, and she even smiled when the wind blew my veil at her! I recommend her to the highest degree!

Sent on 17/06/2019

Knot Your Average's reply:

Thank you for reviewing my services. It was such a pleasure! You two were so fun! Thank you again for the opportunity!