Reviews for Jennifer Lee Life-Cycle Ceremonies
Awards
32 User photos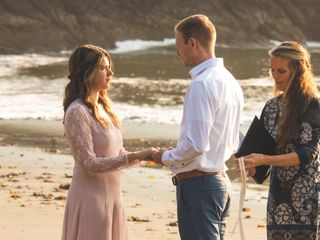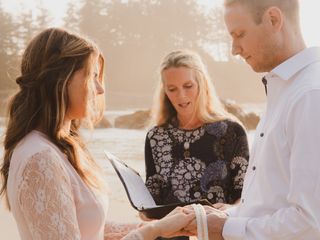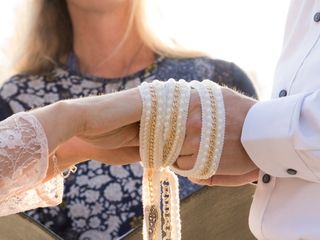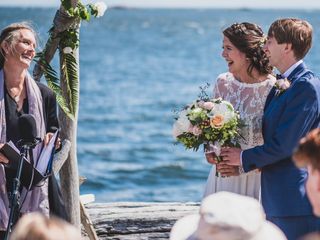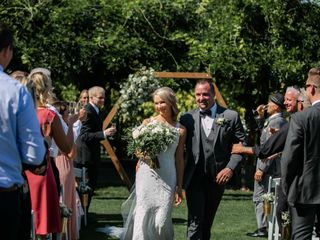 Vanessa · Married on 21/05/2021

So blessed to have had Jennifer as our celebrant!

Jennifer was a wonderful person and professional to work with in planning our handfasting in Ucluelet. We feel so lucky and blessed to have found her and that she was available to travel across the island on our date. Communication with her was super easy, and Jennifer was flexible with us as we figured out the location and time of our handfasting up until the day of. Leading up to it, she made sure to get to know us and to write a ceremony that reflected our feelings for each other, our beliefs, and the vision we had for our life together. She was also extremely kind to incorporate messages from family members into the ceremony, so they could be present with us too. Jennifer is full of light and she made our celebration all the more special, filled with love and intention. Thank you from the bottom of our hearts, Jennifer!

Sent on 15/10/2020

Jennifer Lee Life-Cycle Ceremonies's reply:

Dear Vanessa: Thank you very much! Creating a ceremony for the two of you was a gift to me, which I will never forget. Your love is such a bright bright light and a real treasure.

Chelsea T. · Married on 20/06/2020

Beautiful and personal ceremony, fantastic experience, amazing person

Jennifer is a fantastic communicator, emanates calm but also has a great sense of humour. She met with us soon after our engagement and we spoke on the phone several times since. We worked through ceremony drafts together with Jennifer incorporating our requests and suggestions while guiding us with her experience and maintaining her unique and beautiful voice. She wrote our ceremony to be intimate, personal and so full of love and joy. We provided her with our favourite quote and filled out her questionnaire on our love story and our love and favourite things about each other etc... and she built an amazing ceremony that made our families and favourite people laugh, cry and sore-cheeked from smiling so hard! In a hectic and shrunk/covid-rescheduled wedding she was an incredible source of calm confidence, required little direction but made gentle suggestions that brought our day together. I cannot recommend Jennifer as a celebrant enough fantastic professionally and as a person! Yes, more expensive than a commissioner but so, so worth it! I had many compliments from guests with more than one saying she was the best officiant they'd ever seen/experienced.

Sent on 09/07/2020

Jennifer Lee Life-Cycle Ceremonies's reply:

Dear Chelsea: I can't thank you enough! Your praise certainly humbles me, as do you and Matt and the love between you. Shine on!!

Samm W. · Married on 07/09/2019

Mrs. Morlan

Jennifer was an amazingly grounded soul who spoke our love story in such a way that really made people have a very special connection with us as the bride and groom! Her attention to detail and calm voice made our ceremony what many of our guests said, "One they will never forget". I would highly recommend Jennifer to anyone looking to make their ceremony more personal and spiritual!


Sent on 20/09/2019

Jennifer Lee Life-Cycle Ceremonies's reply:

Dear Mrs. Morlan! Thank you very very much! It couldn't have been a more beautiful day to celebrate your love for each other and for your wonderful family. ❤️❤️

Shannon B. · Married on 24/08/2019

Beautiful Ceremony by Jennifer

Jennifer was seriously amazing - from the first day we met her (over coffee), we knew she would be a perfect pick for our wedding. We told her stories about ourselves (how we met, etc) and she made it into the most entertaining, funny, heart-felt story - seriously all of our guests commented on how much they LOVED our ceremony! Jennifer is so calming and was totally responsive via email up to the day. She led a beautiful rehearsal the day before that made us feel totally at ease and her voice is just so reassuring and calming - i cannot recommend her enough.

Sent on 27/09/2019

Jennifer Lee Life-Cycle Ceremonies's reply:

Thank you, Shannon. It was such a beautiful day. You were both shining as you stood together. It was both moving and inspiring and I wish you both all the best!

Nik L. · Married on 17/08/2019

The most Magical and Beautiful Ceremony

Jennifer was so fantastic! She took so much time to listen to us, get to know us, and then personalized the entire ceremony. The entire experience was perfect. We had guest after guest come up to us after the wedding, saying she was the best officiant they'd ever seen. She knew when to be funny, and when to be sincere, and the guests were alternating between crying and laughing the whole time. Such a great experience and I can't recommend Jennifer enough.

Sent on 21/08/2019

Jennifer Lee Life-Cycle Ceremonies's reply:

Thank you very much, Nicki, for this wonderful review. And thank you for letting me be part of your grounded, joyful, hilarious, beautiful, inspiring wedding. ❤️❤️

Camille G. · Married on 04/08/2019

Founded in Love, Friends & Family

Jennifer stands out among celebrants. She truly took the time to get to know us as a couple, create a ceremony that was focused on us yet celebrating our family and friends. The process of working with Jennifer to create a unique ceremony was a real joy. She listened to us, but even more so, so cared and wanted to build our wedding day in a meaningful way. Jennifer took the time to ground our wedding day in love, the most important part of our day was exchanging vows and declaring our love for one another; Jennifer set the energy during the ceremony and led us and our guests to a place of warm fuzzy love. I am so thankful that Jennifer came into our lives!

Sent on 13/08/2019

Jennifer Lee Life-Cycle Ceremonies's reply:

Dear Camille and Sam, thank you! I am so honoured to have been part of your wedding. It was a joy to create your ceremony with you, to share in this part of your very special journey and to see you married. You are amazing!

Stephanie H. · Married on 21/06/2019

A beautiful, one of a kind ceremony

Jennifer absolutely exceeded every expectation for our ceremony. She carefully curated a detailed, unique ceremony for my husband and I on our wedding in June. I love that she worked with us and was able to perfectly capture our love story. Thank you, Jennifer. For your warmth, kindness and capturing our love for this day and all the days in the future.

Sent on 09/07/2019

Jennifer Lee Life-Cycle Ceremonies's reply:

Thank you very much, Stephanie! It was an absolute pleasure to work with you and Ryan to create your ceremony. The love and joy you share is beautiful and I am so happy for you both.

Kevin M. · Married on 05/01/2019

Wedding 2019

We were very impressed by the effort that Jennifer made to delve into what made us a couple...our history...what we saw in each other. She weaved our tale for our guests in a beautiful way. Our first impression of Jennifer was that she is a kind, calm and intuitive listener. She was very open to incorporating our ideas into a ceremony and created something wonderful and uniquely us.

Sent on 19/02/2019

Jennifer Lee Life-Cycle Ceremonies's reply:

Dear Kevin and Petra, thank you! It really was an honour to be part of your wedding. I enjoyed getting to know you both and working with you and I wish you both all the very best!

Kristina T. · Married on 01/09/2018

Absolutely amazing

Jennifer was exactly what I was hoping for. She is so down to earth and easy to talk to and she takes the time to get to know you. She spent a lot of time putting together our ceremony and it was absolutely perfect! I would 100% recommend her services to anyone and everyone!

Sent on 11/10/2018

Jennifer Lee Life-Cycle Ceremonies's reply:

Thank you very much, Kristina! It was a pleasure and a joy to work with you and Matt to create a ceremony for your beautiful wedding and your love ❤️❤️.

Kristi F. · Married on 24/08/2018

The perfect ceremony for our love-filled day

Jennifer Lee was the perfect person to marry us! She tailored our ceremony to our personalities and our love story so beautifully that our guests couldn't stop talking about it afterwards and telling us how much they learned about us through the ceremony, even those who thought they knew us really well. She was wonderful to work with and her calm and experience were also a great asset. We cherish our ceremony and felt like it was 100% "us". We can't recommend her enough! Thank you so much Jennifer Lee!

Sent on 19/11/2018

Jennifer Lee Life-Cycle Ceremonies's reply:

Dear Kristi and Zeke, thank YOU! You are both such inspiring, creative, loving and fun people. It was so special to be part of your wedding day. Best wishes to you happy Newlyweds!!