Reviews for Garry Francis Officiating Services
Awards

26 User photos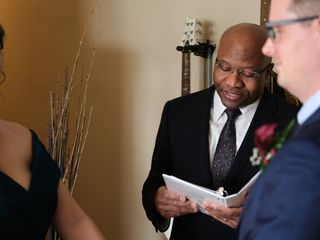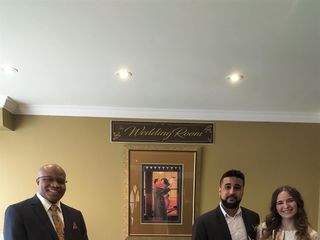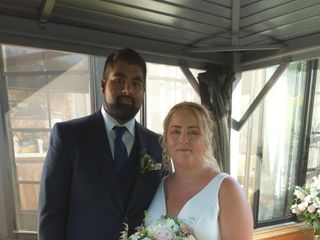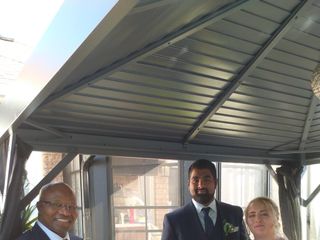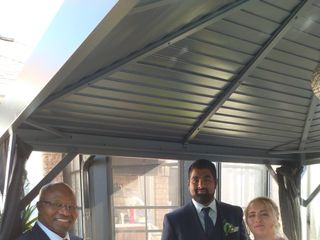 Lakshmi M. · Married on 22/04/2021

Marriage ceremony

Thank you Garry for officiating our marriage on such a short notice. Especially, for offering your beautiful deck as an alternative venue as the weather was not kind on the day of wedding. You really made our special day memorable!

Sent on 27/04/2021

Danielle B. · Married on 02/03/2021

Exactly what we were looking for on our special day!

Garry was a fantastic officiant for my husband and I! He was very accommodating and helpful as we navigated the process. We went with the short and sweet package due to COVID-19. He was one of the only officiants that offered a small ceremony with such a simple package, which is exactly what we were looking for. Although it was small, it was very meaningful and special for us because of the care he put into it. He also offered a time capsule option for an additional price, which included several items that we will open on our anniversary and use to celebrate. Overall, it was an excellent experience! These things can be stressful, especially during a pandemic, but Garry really helped it to be less stressful.

Sent on 08/03/2021

Garry Francis Officiating Services's reply:

Loved the spirit of adventure shown by this couple to be the very first wedding I was delighted to officiate in the year 2021. In spite of all the restrictions due to Covid-19 Danielle & Daniel accomplished their goal to be married. It was my delight to join them on their journey. Wishing them a lifetime of happiness and blessing. May they stay together forever!

Emma I. · Married on 21/11/2020

Smooth sailing even during a pandemic

Garry helped us get married yesterday, and it was a dream come true even as we adapted to a small intimate ceremony in our backyard. Gary is responsive to any inquiries and always follows up. I was genuinely (and pleasantly) surprised by how quick he is to respond to my messages over the course of the uncertainty of the ceremony. When Gary came yesterday he was professional, friendly and always smiling. We couldn't recommend him enough.

Sent on 09/08/2020

Garry Francis Officiating Services's reply:

It was indeed a pleasure to work with Emma & Ryan for their Milestone Moment Wedding in August 2020. Their original plans were disrupted by the pandemic but they adjusted accordingly with positive results. Wishing them a lifetime of happiness and may they stay together forever!

Ashley · Married on 07/11/2020

Prompt, Professional and beyond Pleasant

I had the opportunity to work with Garry over the weekend at an intimate backyard wedding. As a Wedding Planner, I work with many officiants, Garry really left a great impression right from the first email he sent me - his enthusiasm jumped out of the text and I knew right away I would love working with him! Upon arrival he was prompt and professional, he knew exactly what he had to do right from the get go. I really appreciated how quickly he would always respond to my email and I think the time capsule he offers is such a unique twist to your average ceremony! I hope to have the opportunity to work with Garry again soon!

Sent on 10/08/2020

Garry Francis Officiating Services's reply:

It was such a joy to work with a top shelf wedding planner! Ashley managed the intimate backyard wedding with professional precision! I love teaming with professionals who deliver 5 star service!

Vera B. · Married on 07/11/2020

Intimate Wedding

When it became apparent that COVID-19 wasn't going anywhere and our original plans for our wedding were going to have to be put on hold, we decided to have a small wedding (family only) in our apartment. Since we were going to have a destination wedding, we didn't have an officiant here in Toronto. I searched through many many many wedding wire officiants, but eventually focused my search on the Premium rated officiants. Garry's page stood out, not only because of the hundreds of 5 star reviews, but because of the genuine warmth of the photos attached to the reviews.
I contact Garry and he was very responsive and set up a virtual meeting with us to go over details and get to know us a bit before officiating out wedding. His website is full of wonderful resources for writing vows, ceremony templates (all customizable), and other fun suggestions to make your special day truly yours!
The restrictions were set to change the day of our wedding and Garry was instrumental in ensuring the day went off without a hitch. He reached out to fellow pastors in our area to help us secure a secondary venue if needed, and reassured us that our original plan was still possible- he was flexible with whatever we decided on. In an already stressful situation, his calm, professionalism, humour, and good spirit was invaluable.
I cannot recommend Garry enough as an officiant for your wedding. His personality, experience, and guidance made our wedding day a memorable and perfect one!
Garry, we thank you!

Sent on 03/04/2021

Garry Francis Officiating Services's reply:

I still remember the ceremony for Vera & Jason on Nov. 7th 2020! It was "the most cozy" ceremony I've ever officiated. I was welcomed as "part of their families." I ate to my heart content and was given a bag of goodies to enjoy with my family at home. I absolutely loved officiating this wedding! Vera & Jason I wish you a lifetime of happiness and may you stay together forever!

Jacky · Married on 27/10/2020

Highly recommend him!

Garry is really professional and nice person, we have a great ceremony today.
After ceremony, he shared some beautiful memories with us.
HIGHLY RECOMMEND HIM!!!!!!!!

Sent on 27/10/2020

Garry Francis Officiating Services's reply:

It was such a joy to officiate for Jacky & Kia Han! I got the strong sense that this couple was made for each other and will enjoy countless years together. Wishing them a lifetime of happiness and may they stay together forever!

Brian L. · Married on 17/10/2020

Excellent Experience!

Garry conducted a wonderful ceremony for us. We were seeking something short and sweet that didn't detract from the momentous occassion which is exactly what we got! Garry's humour and charm put everyone at ease and made our wedding day all the more fun and lighthearted.

Sent on 18/10/2020

Garry Francis Officiating Services's reply:

It was an "excellent experience" working with this couple. Whatever change or challenge came their way they met head on and kept moving! So glad they achieved their goals! Wishing them a lifetime of happiness and may they stay together forever!

Michelle K. · Married on 09/08/2020

Couldn't ask for a better officiant

A true professional. He made us feel so calm and relaxed at the alter. He knows the right words to say, he's very experienced which helped us with the nerves and anxiety of the big day. He stayed in contact with us during the worst of the pandemic when we changed our date multiple times and reassured us that he would accommodate us and not to worry. He helped with our vows and was just all round an amazing person. I would recommend him to anyone, words can't express how happy we were to have him there for the most important day of our lives. Thank you !

Sent on 14/08/2020

Garry Francis Officiating Services's reply:

It was such joy to officiate a wedding "indoors" once again! Michelle and Robin carefully executed their Covid19 disrupted wedding plans with careful precision for the safety of all involved. Such an awesome couple...wishing them a lifetime of happiness and may they stay together forever!

The P. · Married on 24/05/2020

Personal and Professional

I have worked with Garry Francis for a few years at the funeral home. I would call on him time and time again to officiate funeral services for grieving families. He would always deliver a wonderful, meaningful and personal service for the families. When my fiancé and I decided to get married, Garry Francis was the first person I thought of contacting to help us on our big day. Despite COVID-19 disrupting our original plans to wed, Garry Francis was extremely flexible and accommodating and went with the flow as our plans changed. Garry officiated our civil ceremony on Sunday May 24, 2020. We chose the Sweet & Simple service and were not disappointed. His delivery of the service was beautifully done and still had a personal feel. We also purchased a lovely time capsule from Garry to commemorate our small scale big day. The package comes in a nicely decorated box with a bottle of wine, two glasses, his & hers card to record the reasons why we love each other/chose each other, a certificate to document this milestone and a couple of decorative items. We could not be happier with Garry Francis' services and would highly recommend him to any couples that are looking to have a small or big scale ceremony.


Sent on 30/05/2020

Garry Francis Officiating Services's reply:

It was so refreshing to work with industry professionals who know all about what it means to deliver professional customer service. I did my very best to deliver 5 Star service for this 5 star couple and to make their day meaningful and memorable. Lyla & William enjoy married life and may you stay together forever!

Kelly Y. · Married on 29/02/2020

Perfect! Would recommend 100%

Garry was absolutely amazing! Made us both feel very comfortable, and is very personable and easy to talk to. He made our wedding day very memorable with the beautiful service he chose for us. We both loved the WOW, part...Wink, Oneness, Whisper. It was something we will never forget! We would reccomend Garry to anyone looking for an officient, for any occasion. Thank you, Garry!

Randolph and Kelly Young

Sent on 08/03/2020

Garry Francis Officiating Services's reply:

Kelly & Randolph make a beautiful couple! Randolph told me after the wedding...I love her! That was so special to hear! It was a beautiful Feb. 29th wedding. Wishing both of you a lifetime of happiness...enjoy married life!