Reviews for Garry Francis Officiating Services
Awards

16 User photos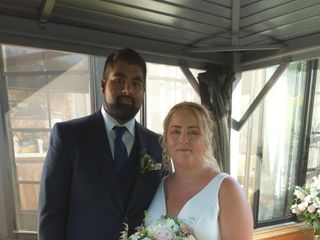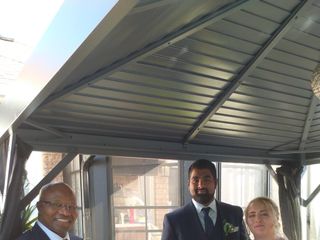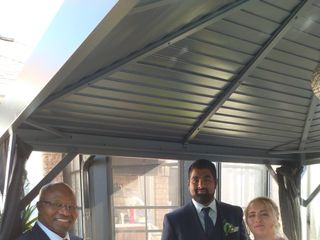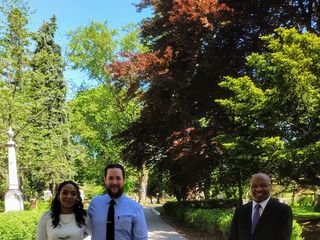 Emma Ibbetson · Getting married on 21/11/2020

Smooth sailing even during a pandemic

Garry helped us get married yesterday, and it was a dream come true even as we adapted to a small intimate ceremony in our backyard. Gary is responsive to any inquiries and always follows up. I was genuinely (and pleasantly) surprised by how quick he is to respond to my messages over the course of the uncertainty of the ceremony. When Gary came yesterday he was professional, friendly and always smiling. We couldn't recommend him enough.

Sent on 09/08/2020

Garry Francis Officiating Services's reply:

It was indeed a pleasure to work with Emma & Ryan for their Milestone Moment Wedding in August 2020. Their original plans were disrupted by the pandemic but they adjusted accordingly with positive results. Wishing them a lifetime of happiness and may they stay together forever!

Ashley · Getting married on 07/11/2020

Prompt, Professional and beyond Pleasant

I had the opportunity to work with Garry over the weekend at an intimate backyard wedding. As a Wedding Planner, I work with many officiants, Garry really left a great impression right from the first email he sent me - his enthusiasm jumped out of the text and I knew right away I would love working with him! Upon arrival he was prompt and professional, he knew exactly what he had to do right from the get go. I really appreciated how quickly he would always respond to my email and I think the time capsule he offers is such a unique twist to your average ceremony! I hope to have the opportunity to work with Garry again soon!

Sent on 10/08/2020

Garry Francis Officiating Services's reply:

It was such a joy to work with a top shelf wedding planner! Ashley managed the intimate backyard wedding with professional precision! I love teaming with professionals who deliver 5 star service!

The Potts · Married on 24/05/2020

Personal and Professional

I have worked with Garry Francis for a few years at the funeral home. I would call on him time and time again to officiate funeral services for grieving families. He would always deliver a wonderful, meaningful and personal service for the families. When my fiancé and I decided to get married, Garry Francis was the first person I thought of contacting to help us on our big day. Despite COVID-19 disrupting our original plans to wed, Garry Francis was extremely flexible and accommodating and went with the flow as our plans changed. Garry officiated our civil ceremony on Sunday May 24, 2020. We chose the Sweet & Simple service and were not disappointed. His delivery of the service was beautifully done and still had a personal feel. We also purchased a lovely time capsule from Garry to commemorate our small scale big day. The package comes in a nicely decorated box with a bottle of wine, two glasses, his & hers card to record the reasons why we love each other/chose each other, a certificate to document this milestone and a couple of decorative items. We could not be happier with Garry Francis' services and would highly recommend him to any couples that are looking to have a small or big scale ceremony.


Sent on 30/05/2020

Garry Francis Officiating Services's reply:

It was so refreshing to work with industry professionals who know all about what it means to deliver professional customer service. I did my very best to deliver 5 Star service for this 5 star couple and to make their day meaningful and memorable. Lyla & William enjoy married life and may you stay together forever!

Kelly Young · Married on 29/02/2020

Perfect! Would recommend 100%

Garry was absolutely amazing! Made us both feel very comfortable, and is very personable and easy to talk to. He made our wedding day very memorable with the beautiful service he chose for us. We both loved the WOW, part...Wink, Oneness, Whisper. It was something we will never forget! We would reccomend Garry to anyone looking for an officient, for any occasion. Thank you, Garry!

Randolph and Kelly Young

Sent on 08/03/2020

Garry Francis Officiating Services's reply:

Kelly & Randolph make a beautiful couple! Randolph told me after the wedding...I love her! That was so special to hear! It was a beautiful Feb. 29th wedding. Wishing both of you a lifetime of happiness...enjoy married life!

Chrystal Mckenzie · Married on 22/02/2020

Private wedding ceremony

More than pleased with Garry's service. He was professional & warm hearted. I was shocked he was able to accommodate us on such short notice. The ceremony was private and held in a nicely set-up room in his home. It was everything I had wished for. Thanks again Garry, you were great 🥂.

Sent on 17/03/2020

Garry Francis Officiating Services's reply:

It was an incredible joy to serve Chrystal and Heron for their Milestone Moment Wedding in the Whitby Wedding Room. The most memorable weddings are filled with events that last a lifetime. This wedding was filled with many memorable events. Chrystal and Heron enjoy married life and may you stay together forever!

Kristyn Burke · Married on 20/09/2019

The BEST officiant!!

arry officiated our wedding this past Friday and we have nothing but wonderful things to say.
Throughout the whole process he has been professional, quick to respond and meet with.
He made us feel so calm and comfortable on the day of our wedding. Our ceremony ran flawlessly and with a touch of humour thanks to him!
Garry went above and beyond for us to make sure the day was a success. This included even going out the day before the wedding to purchase items we forgot for the ceremony!!
Garry made this experience for us incredible and we highly recommend his services to anyone! It was a pleasure to have him be a part of our special day!

Sent on 22/09/2019

Garry Francis Officiating Services's reply:

Kristyn & Cameron's @ the Queen's Landing in Niagara on the Lake was picture perfect! I looked forward to officiating this wedding for a long time. It was an absolutely stunning venue for a couple who are made for each other. Wow! What a wedding! I wish them a life time of happiness and may they enjoy married life!

Morgan James · Married on 14/09/2019

Garry is amazing! Highly recommended.

Garry was amazing! From the consultation right up to the wedding, he was incredible. For the rehearsal, Garry made everything seem very straight forward and stress free for us. He even brought up a few excellent points we never would have thought of. On the day of our ceremony, Garry was extremely punctual. He showed up ready to rock! He did an excellent job of keeping my husband calm, confident and excited for the ceremony to start. We can't thank Garry enough for his beautiful words, the service and everything else he did for us to make our day even more special! Highly, highly recommend Garry.

Sent on 19/09/2019

Garry Francis Officiating Services's reply:

It was my pleasure and a great delight to officiate for Morgan & Matthew! Their venue setting in beautiful Bowmanville was an incredible spot and worked perfect for their big day. Their ceremony was filled with so much laughter...I was still laughing after the ceremony. Wishing them a life time of happiness and may they stay together forever!

Allan Achilles · Married on 24/08/2019

Garry made our Ceromony perfect

Garry was great. He explained everything clearly at the rehersal so that everyone including the children knew exactly what they were doing. During the Ceromony, he was very clear to hear and funny as well. I would recommend Garry to everyone looking for an officiat

Sent on 03/09/2019

Garry Francis Officiating Services's reply:

Jennifer & Allan absolutely love each other! It makes is extremely easy to officiate for couples who are head over heels in love! It was my joy and my pleasure to stand with this dear couple for their Milestone Moment Wedding! Enjoy married life & Stay together forever!

Hilary Bryce · Married on 17/08/2019

Highly recommend!

We had Garry for our wedding in August and chose his 'Document Signing' package as we had a family member perform the ceremony on the day. Garry was very professional and ensured all the legal requirements were met for our marriage. He was very pleasant to deal with in the lead-up to the day and I would highly recommend him for others looking for an officiant.

Sent on 22/11/2019

Garry Francis Officiating Services's reply:

Hilary & Timothy had a picture perfect wedding in a marvelous venue! It was such a pleasure to serve this couple. Enjoy married life and my you stay together forever!

Victoria · Married on 03/08/2019

Garry made the day perfect for us!

My husband and I got married last weekend with Garry as our officiant, and we couldn't be happier with the amazing job he did! He made the whole process so easy and stress-free right from the beginning and through until the end. He provided us with endless helpful resources for customizing our wedding ceremony to suit us, and he maintained consistent contact with us throughout the planning process to make sure things were going smoothly on our end and we had no concerns. The wedding ceremony was done beautifully, and he was very professional and personable, while also making us feel comfortable and at ease the whole time. I can't say enough how perfect Garry made the day, and I can confirm that all of his other great reviews are definitely very well deserved!

Sent on 08/08/2019

Garry Francis Officiating Services's reply:

Victoria & Talon make a beautiful Christian couple. I was looking forward to this wedding because Talon is my Nephew (full disclosure) who choose an absolute perfect match for a spouse! I'm so very proud to stand with family members for their Milestone Moments! The wedding planning from Victoria & Talon was "top shelf!" The Lord's blessing upon you Victoria and may you stay together forever!