Reviews for StereoFlavour Entertainment
Awards

30 User photos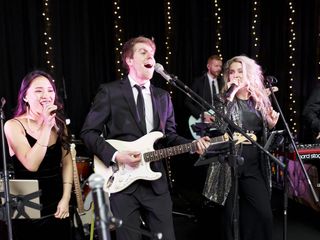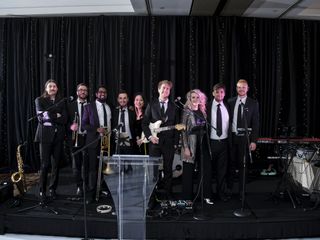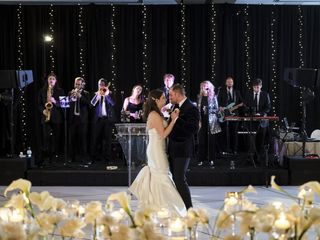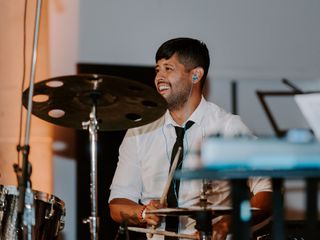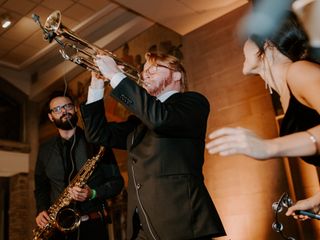 Mara B. · Married on 31/12/2019

We love Stereoflavour!!

When planning a new years eve wedding, we knew that having an amazing band was an essential component - Stereoflavour truly delivered an amazing performance for us! The band is so talented! We got so many compliments from our guests and the dance floor was packed all night. Devon and RJ made the planning process very easy. They are true professionals, very organized (with an amazing google doc!) and willing to go the extra mile. At the last minute, we decided to add some more musicians to the band and Devon and RJ made it happen for us. I am so happy we chose Stereoflavour for our wedding. Thank you so much to the whole Stereoflavour team!!

Sent on 05/02/2020

StereoFlavour Entertainment's reply:

Thank you so much for your kind words Mara! Everyone in the band really appreciated your hospitality and loved the energy and enthusiasm of the crowd! It was so sweet of you guys to come visit us at the end of the night as we were packing up, just like your guests we were really feeling the love! We couldn't have picked a better group of people to spend our New Years Eve with. All the best!

D R · Married on 09/11/2019

Amazing band

We interviewed several bands for our wedding in November 2019. Most have videos you can watch, but being able to see SteroFlavour live ahead of time was what helped seal the deal for us. Devon was fantastic and took care of everything leading up to the event. The musicians that played at our ceremony and cocktail hour were awesome. The band that played at our reception was amazing. It wasn't cheap, but it was one of the best parts of the wedding. Our dance floor was packed the whole night. Thank you for making our wedding so special.

Sent on 24/07/2020

StereoFlavour Entertainment's reply:

Thanks so much for your kind words! It was so great to be a part of your big day, to have friends and family singing along with us, and to keep the party going! Definitely a night to remember!!

Morgan · Married on 26/10/2019

Best Wedding Band Ever - Bar None

We hired StereoFlavour (band and DJ) for our wedding back in October and it was one of our best decisions. They were great to speak to, we first dealt with Ross and when we mentioned our venue was smaller he offered the small party band, which was an amazing idea. Then we dealt with Devon with all the planning and she was great. Both the band and the DJ were amazing the day of, they were organized and ready to go for the night. The band blew everyone away, we are still getting compliments about them. I really wanted a great dance floor on my wedding night and StereoFlavour did not disappoint!

Sent on 18/03/2020

StereoFlavour Entertainment's reply:

Thanks so much for the kind words Morgan! We really appreciate it. It was great working with you both and we loved having two Devons on the planning team :P The band really enjoyed playing the Arkells tunes for you and your guests. Wishing you all the love and happiness for years to come!

Sincerely,

The StereoFam

Adele M. · Married on 28/09/2019

They were a hit!

Devon from Stereoflavour was so well organized and communicated directly with all of our vendors so that we didn't have to sweat the small stuff. She took care of all the details and listened to our requests and the day went off without a hitch! Our guests absolutely LOVED the band! My husband who is a guitar player was also able to play a song with them on stage which was a very special experience. They are all so talented and truly made our night amazing!

Sent on 11/10/2019

StereoFlavour Entertainment's reply:

We were so happy to be a part of your day!! Was such a pleasure to get to know you and Carm, and to help him pull off such a special surprise. He can jump onstage with us anytime!! All the best! :)

Stephanie · Married on 18/08/2019

You CANNOT go wrong with booking StereoFlavour

We cannot recommend StereoFlavour enough! Phenomenal talent. Great grooves. The kindest team.

From the moment we first met they were very open to and excited with all of our requests for our wedding (can you say thirty-minute hora?!) They were so generous in helping think through all of the details - big and small - and they really made SO much of our wedding planning easier.

This industry can be a real beast, and there are so many bands, managers, and wedding vendors who are only in it for the money from the gig. Everyone at StereoFlavour - from the talent to the staff - were clearly invested in celebrating our wedding and making sure we and our guests had a blast. They were 100% behind our backs and in it for us.

Sent on 21/03/2021

StereoFlavour Entertainment's reply:

Hi Stephanie! It's so great to hear from you :) Thank you so much for your kind words. We are so happy that we got to celebrate with you both on your big day. The hora was SO much fun! Your friends and family were so welcoming and it was awesome that we could be a part of a few surprises they planned for you. Performing "Drive All Night" for your first dance was truly special for us. We really felt like we were part of your family that night and we're so incredibly grateful that you chose us to celebrate with. Congratulations to you both and all the best!

Barbara · Married on 10/08/2019

Best decision we made!

Booking Stereoflavour was one of the best decisions we made for our wedding. From the very beginning, they showed so much attention to detail. Every person we dealt with at Stereoflavour was incredibly helpful and professional - it shows that they love what they do. We always felt we were in good hands.
The band was simply amazing. They are unbelievably talented and blew us away from the moment we first heard them at their showcase. We chose the 8 piece band for our reception. Our dancefloor was on the small side but the band was surprisingly compact! They read the crowd perfectly and had everybody dancing, to the point that the floor was even shaking. We had the best time dancing the night away with all of our guests. I can't say how many times people asked us about the band afterwards. They were such a pleasure to work with and I cannot recommend them enough.

Sent on 15/09/2019

StereoFlavour Entertainment's reply:

Hey Barbara! Thank you so much for all your kind words.

It was an absolutely perfect, beautiful wedding, and we were so glad to be part of it. It was so special to be a part of your choreographed First Dance! Congrats to you and Michael!

Emily A. · Married on 15/06/2019

Absolutely incredible!

We are SO grateful for everything that Stereoflavour did to make our wedding celebrations absolutely incredible.

Devon was a pleasure to work with and she made the planning process SO easy. The team connected directly with our wedding venue so that we didn't have to take care of the details. We completely trusted her and the whole team!

The super talented singers, musicians and AV team put on a spectacular show! From the cocktail hour trio, to the ceremony duo, to the 9-piece dance band, it was all everything we hoped it would be and so much more. Our dance floor was full the entire night. Our guests were having the best time and didn't want the night to end after the band's final song. They requested 'one more song' and Stereoflavour played Hey Jude to end the night. It was PERFECT! The music selections were spot on and the energy was high all night long. Our first dance song request and ceremony song request were beautiful and Celine's It's All Coming Back To Me Now sung by Chynna was KILLER! (You seriously rocked it - THANK YOU!)

When we think back on the night, we remember how much fun we had dancing to your music without a care in the world. We didn't want it to end!

BIG thanks to the entire Stereoflavour team for being so wonderful to work with and for making our wedding a night that we will always remember!

Sent on 17/07/2019

StereoFlavour Entertainment's reply:

Thanks so much for your kind words, and for making us all feel like part of the family! It was so great to be a part of your big day, to have friends and family singing along with us, and to keep the party going! Definitely a night to remember!!

Craig H. · Married on 25/05/2019

Amazing Live Band - best wedding band we've seen!

Big thanks to Devon, RJ and the rest of the team for a wonderful experience from the day of booking, throughout the planning process and of course the big night.
We had the ceremony duo, cocktail trio and 7 piece band. RJ did a wonderful job as MC as well.
All of our guests kept complimenting the band and people keep mentioning how they were the highlight of the night.
What an experience watching the Raptors beat the Bucks with the band in their jerseys and all of our guests partying into the night!
Very professional band, Devon was wonderful and explained everything in detail throughout the planning process. The 2 songs SFE learned for our big night were amazing - couldn't have asked for a better performance. Would highly recommend and will definitely hire SFE again for any event!! thanks again!

Sent on 30/05/2019

StereoFlavour Entertainment's reply:

Thank you so much Craig for your kind words! We had the best time celebrating with you and Natalie and it was awesome celebrating the Raptor's win! It was an absolute privilege to be a part of such an incredible evening! We are so grateful for these words.

All the best!

Patricia D. · Married on 03/11/2018

Best Experience Ever

When we first looked at hiring a band, we looked at several but stuck with Stereoflavour based on their live session where we really got to see the band in action and discovered how flexible they are! We had a mixed group which included more mature adults, right down to my young daughters and nephew. Stereoflavour was able to get everyone on the dance floor having a good time as well as cater to our specific requests. We had a soloist for the ceremony and the cocktails, then a roaring big band for the reception. I had a fantastic time working with them and would wholeheartedly recommend them to anyone for just about any event.

Sent on 19/02/2019

StereoFlavour Entertainment's reply:

Thank you very much Patricia! You and Mike are such a sweet, loving couple, and we feel so honoured to have been a part of your event. So great to have you onstage with us to celebrate your extra special surprise. We loved being a part of your song for Michael! It's not every often that we get to see our clients after a wedding, but connecting with you again through RJ at Trevor's podcast was so phenomenal. Great to find out more about you two!

Jonathan A. · Married on 15/09/2018

Amazingly Talented

Stereoflavour was just incredible from day one and was by far the most talked about part of our wedding. The band immediately got everyone dancing, and people could not stop raving about them all night. Just book them!

Sent on 13/12/2018

StereoFlavour Entertainment's reply:

Thank you so much Jonathan! We really appreciate this, and it was such an honour to be a part of your event!! Wishing you and Cyrene the very best on this new chapter together.