Reviews for The Blush Parlour
Awards

17 User photos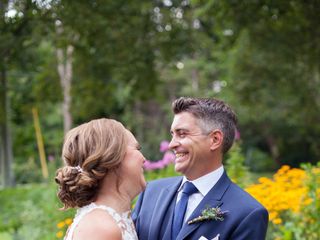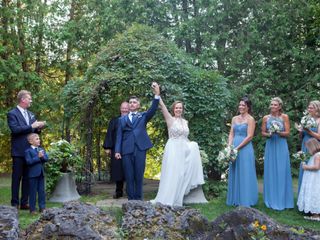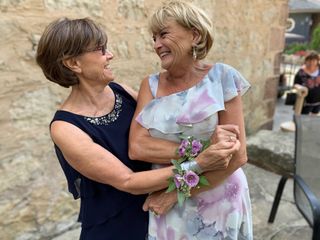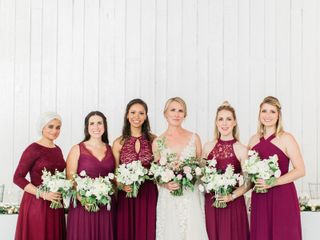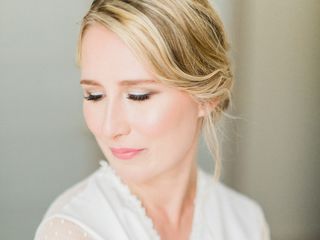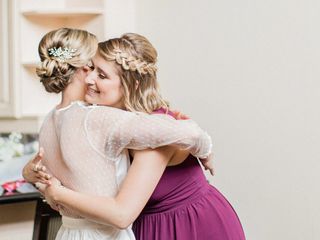 Featured

Stephanie Bowen · Married on 15/06/2019

Love love love!

This team is amazing and over the top talented! The bridal party all looked amazing! Sarah was our make up artist and she was unbelievable and so nice!

Sent on 18/06/2019

The Blush Parlour's reply:

yayyay what a lovely review to pop into our inbox :) It was such a pleasure working with you and are so happy to hear you and your ladies were happy.

Thanks again Stephanie and CONGRATS !

Andrea · Married on 16/08/2019

Wedding August 16th 2019

Sarah was my hair and make up artist for my big day! She was prompt, friendly and professional. Such a sweet lady who put me right at ease. I was very pleased with my look and that for my Mom and MOH. I would totally recommend the blush Parlour for your special event.

Sent on 21/08/2019

Lauren Murphy · Married on 05/07/2019

Amazing Experience!

My ladies and I had a wonderful experience using The Blush Parlour! Shira and Ang were an awesome team, so relaxed and fun and easy to spend the day with. Not to mention talented! I am not a huge makeup person and Shira put me at ease and made me look like the most beautiful version of myself! Thank you ladies for a great experience!

Sent on 23/07/2019

The Blush Parlour's reply:

Aww, Lauren thank you so much! We had a wonderful time with you and your bridal party. You made it relaxed and fun for us also and we are so pleased you loved your look. We wish you all the best in your new marriage. xo The Blush Parlour

Jaime Carlisle · Married on 23/02/2019

The Blush Parlour is fantastic!

I hired The Blush Parlour to do wedding hair and makeup for me, my bridesmaids, and my mum. We had Shira do our make-up and Angie do our hair and both ladies did a fantastic job! Our make-up stayed put all day and looks amazing in photos (trust Shira's opinion on that - she knows what she's talking about!) and our hair styles held all night and were exactly what we were hoping for. Shira was professional and responsive leading up to the wedding, and both her and Angie were friendly and fun to have around during the morning as we all got ready. Would gladly use The Blush Parlour again!

Sent on 27/02/2019

The Blush Parlour's reply:

thanks so much Jaime !

you were such an stunning bride. We are so grateful that we got to be a small part of your big day.

Emily Clair · Married on 24/11/2018

Shira and her team are literally the best

The staff at The Blush Parlour were wonderful. Shira, Angie and Sarah helped me and my family feel beautiful and so relaxed on my wedding day. Shira is really intuitive and, even though I didn't have a specific look in mind for my makeup she developed something that perfectly matched my vibe. I had pretty specific demands for my hair and the girls went above and beyond to make it look just right. Shira and Angie were very efficient. They finished hair for 7 and makeup for 6 in a quick 6 hours.

My bestie said it best: "I've never had my makeup done and not looked CRAZY before... she's SO good."

Sent on 28/11/2018

The Blush Parlour's reply:

wow Emily !!! you are the absolute best

Yvonne Zhou · Married on 08/09/2018

PLEASE READ before booking.

Shira was honestly the worst part of my wedding experience. I was recommended to her and found her very unresponsive, not flexible, She also did not keep commitments and lies to her clients. Here is my experience.

I booked Shira months before my wedding this year 2018. We orginally agreed on hair and makeup and a deposit was made. A month or so has passed after the confirmed booking i thought it would be wise to go for a trial. I asked for pricing and it was out of my budget. Knowing i was a picky bride and have worked in the make up industry before, i decided that i will skip the makeup and just stick to hair. We agreed on this months before my wedding and my deposit was to be transfered to the cost of just hair. I had also asked which stylist she would be sending me so i was able to take a look at their work on social media so i can get an idea of what i could expect. along with the stylist i asked her how long it would take to complete hair for 5 people and she recommended a start time based on my ready time i had given her. All this was documented through email. And keep in mind emails took days and follow ups to get an response.

Fast track to 2 weeks before my wedding i decided to follow up with Shira to make sure we are good to go. This is when things went completely down hill and gave me the worst experience right before my wedding.

Firstly when asked to reconfirm ready time she gave me a 1 hr later time then previously promised. Lucky i had email confirmations. she told me that her stylist no longer is able to commit to my ready time by 1 hour and had to start 1 hour later ( i had a tight scheduled and delays would cost me $200 an hr from my photographer) she also included in the email that she would give me a refund if i didnt like the 1 hour delay. This is very unprofessional of her and gave me a lot of stress. This should have been my red flag. But since i had no time to look for someone new i decided to suck it up and asked if she would work with 30 mins earlier rather then 1 hour. She agreed and i also made sure to confirm this was the same stylest and not a different one due to time changes (i would had made changes to what i wanted done based on their instagrm pictures)and again she confirmed yes. i thought situation averted. Was i ever wrong. The night before my wedding i got a email from Shira telling me that the stylist she promised had a family emergency and she was no longer coming and she was sending me another stylist. Which btw based on the Instagram of the new stylist she was a makeup artist not a hair stylist. I really did not appreciate the last minute changes but what else could i have done at 9:30pm the night before the wedding date? And so the stylist came and did our hair. It honestly looked like a makeup artist did my hair. But i sucked it up. Heres the catch to why i am posting this horrible review..... i asked the stylst while chatting as she did my hair and i asked "when did you know u were coming to do my hair? U guys are so busy" the stylist replyed to me. Oh i knew 2 or 3 weeks ago...... she completely lied to me about the emergency and sent a different stylist knowingly. What happened to honesty? What an absolute mess and horrible way of making business.

I really didnt appreciate the lack of communication, the inability to work with her commitments and above all a liar to add to the mix.

Ladies beware. This company is a nightmare.


Sent on 28/09/2018

Emily · Married on 27/08/2018

Monday Marriage Magic

Blush Parlor made my Monday Marriage Magicial! My hair and makeup were gorgeous! The process truly was so consultative and the whole process was such a delight! It was stress free and completely pampering! Thank you for making an already special day that much better!

Sent on 18/01/2019

The Blush Parlour's reply:

Emily you were such a pleasure to work with ! We are so over thermion happy that you felt pampered and like a true princess on your social day

Alicja Grzadkowska · Married on 30/06/2018

Couldn't have asked for a better hair & makeup team!

Shira and Angie were absolutely incredible! Ang adapted so well to my requests for a few changes on the day of to the up-do she had done during the bridal trial, and it came out exactly like the picture I showed her – it was magical. I also had a diverse group of women in my bridal party, and both Angie and Shira did so well in making each girl's hair and makeup amplified their beauty, but also stayed true to their unique styles. They also worked with my mom, grandma, and my mother-in-law, who were all also very happy with their looks. And, everyone photographed so beautifully!
I couldn't be more pleased, and it was extremely reassuring on the wedding day to know that the hair and makeup team was professional, kept to the schedule, and were just so kind. I 100% would recommend The Beauty Movement to anybody getting married in the GTA.

Sent on 27/07/2018

The Blush Parlour's reply:

Thanks so much !!

We are so happy you and your wonderful squad had a great experience :) We loved every minute of working with you !

Sarah · Married on 28/06/2018

I felt like my best self!

I am extremely picky with make up and often do not like how my make up is done by professionals. Shira was very different. She uses all natural products and doesn't cake on anything. You feel like yourself, that you're not wearing anything heavy, but you feel beautiful and look your best. All of my bridesmaids and my mother, as well as my mother-in-law, loved their make up. I highly recommend Shira if you want to feel like your best self on your wedding day!

Sent on 22/07/2018

The Blush Parlour's reply:

aww Sarah,

Thanks so much !

This really makes my day, so happy we were a part of your big day and I can not wait to see some more pictures !

cheers to a beautiful life of happiness together.

Amber Stockert · Married on 22/06/2018

Wedding in June

I went with Shira for makeup & she was simply a dream. She made me look stunning. My 4 bridesmaids , mother & Flower girl also looked amazing. I was so happy! We got Sarah for our hair, and she was amazing as well! Such nice, easy going ladies. They started our day off great, and made us look beautiful till 2am ! Thank you SO MUCH!

Sent on 27/06/2018

The Blush Parlour's reply:

thanks so much for your review Amber ! We loved every minute of working with you and your lovely ladies. cheers to this amazing new chapter in your life.