Reviews for Fancy Face Inc.
Awards



73 User photos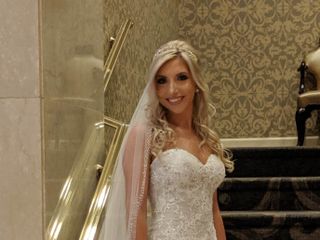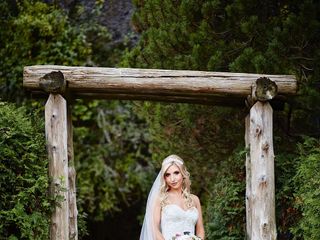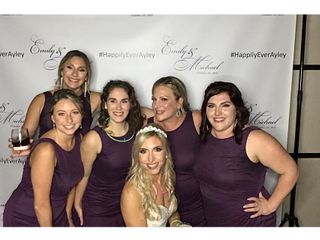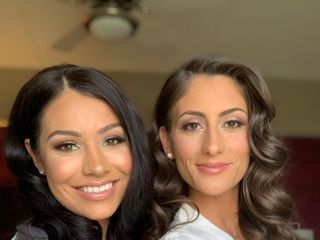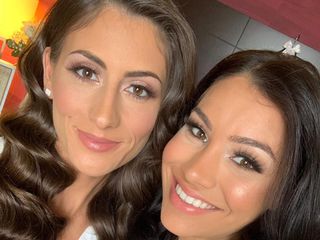 Bianca L. · Married on 19/09/2020

The best hair and makeup in Toronto!

The fancy face team is amazing. Tiffany is great at ensuring your appointments are scheduled as efficiently and accurately as possible. I had the best artists come to my house and make me feel like a goddess on my wedding day. I received so many compliments from my guests on my hair and make up. Thank you fancy face! I can't wait to use them for future events!

Sent on 24/09/2020

Fancy Face Inc.'s reply:

Dear Bianca,

We greatly appreciate the time you took to leave us such a glowing review! Thank you for your kind words, and we were truly honoured to be part of your special day. We love what we do and we always strive to make our brides feel and look like the amazing goddesses they are :)

We wish you all the best in the future, and we look forward to glamming you up again!

- Fancy Face Inc.

Mary N. · Married on 29/08/2020

Dream Team!

I had the pleasure to be pampered by Daniela, and Adrienne. They made me feel beautiful, and special. My updo chignon was stunning! You out did yourself Daniela! And Adrienne applied just enough make up to glam this simpleton to feel like a "queen for a day". I would highly recommend this Dream team....well done ladies!! All the best, Mary


Sent on 30/08/2020

Lauren K. · Married on 23/08/2020

5 Start Review from 1 Bride, 4 Bridesmaids and 1 MOB!

I hired Fancy Face glam squad to do wedding hair and make up and they were incredible! Myself, every bridesmaid and my mother ALL looked so beautiful. Everyone loved their hair and make-up which isn't always the case when having services like this done from someone new. The glam squad was so sweet, fun and made everyone feel amazing. Thank you Fancy Face!!

Sent on 17/09/2020

Nikki S. · Married on 21/08/2020

do yourself a favour and book

you want to look your best on your big day right?!!? Well, OBVIOUSLY! so I will make your decision easy, book Fancy Face!!

As a Covid bride, I have dealt with so many vendors, cancellations, postponements and then went ahead with a wedding that was over 200 people less than what we had initially planned. We dealt with so many disappointments, struggles and so much heart ace....

But with that said I want you all to know that when it came to my dealings with Fancy Face, everything was as simple as it could be!!

Tiffany was wonderful to deal with!! Be that when I booked, re booked after we had to cancel our initial wedding date and then when I re re booked a final time!! She didnt miss a beat and was full of warmth and lots of answers while we navigated this difficult time together.

Then my wedding day... Soma (makeup) and Daniela (hair) were absolutely FABULOUS!!! The girls fit right in with their outgoing and friendly personalities and kept everything feeling safe with all their sanitizing protocols (yes, I know you are wondering!) the final products... WOW, what a glam squad!! talk about feeling like JLo!

We were a hard bunch to impress (most of us being VERY particular about our makeup and hair) but they somehow managed to do it!!

We were all Fancified and loved every minute of it (and then enjoyed every hour of our impeccable makeup and hair!!)

So i'll leave you with this- BOOK THEM!!!



Sent on 04/09/2020

Maggie M. · Married on 01/08/2020

Last minute wedding

We planned our wedding in less than two weeks because it had been changed from our original date. Tiffany was so helpful at getting back to me with information. We had an awesome experience with Kristina and Brittany L! They were fantastic and made me feel like a princess on my wedding day.

Sent on 21/11/2020

Shannen C. · Married on 30/05/2020

Amazing hair & makeup vendor

I've had Fancy Face do my makeup and hair two times now - once for my Engagement shoot and once for my elopement style wedding this past weekend. They were so kind and accommodating during this crazy time - Tiffany is a dream to communicate with! Celina did an amazing job and I am so thankful to have Fancy Face as one of my wedding vendors. The makeup lasted ALL day and evening - didn't budge and even though the wind was surreal, my hair did it's best to stay put as well :)
I cannot wait to get fancified again - hopefully at the end of September when we have our postponed wedding celebration :)

Sent on 02/06/2020

Fancy Face Inc.'s reply:

Hi Shannen,

Thank you for taking the time to leave us such an amazing review :) We feel honoured to count you as one of our repeat clients and am glad everything went perfectly for you during these unprecedented and somewhat scary times. We can't wait to glam you up again at the end of September! Until then, keep safe and stay healthy :)

- Fancy Face Inc.

Valeria L. · Married on 21/02/2020

Makeup looked nice

Makeup was done well on my bridesmaids, me and my mom.

Sent on 26/11/2020

Fancy Face Inc.'s reply:

Thank you Valeria for your review of our services. We greatly appreciate you enlisting in us for your wedding day and we are so happy you think the makeup was well done! We are always aiming to WOW our clients in all arenas, so if there was anything we could have done better for you, please do not hesitate to let us know. You can email us anytime at info@fancyface.ca. Wishing you and your now husband a lifetime of happiness!

Anna M. · Married on 14/12/2019

Amazing!!!

I booked fancy face for my wedding! They did hair and makeup for me, my bridesmaids, my mother, and mother in law. They did an amazing job. We all looked amazing!!

They were on time and very professional. I am so happy with how everything turned out. Everyone looked so beautiful!!

Sent on 19/12/2019

Fancy Face Inc.'s reply:

Dear Anna,

We appreciate you taking the time to leave us such a wonderful review, thank you! We are thrilled to hear that everyone had such a great time and that they were happy with our services, it's what we strive to do with every one of our clients :)

Please do not hesitate to contact us again in the future, we can't wait to help glam you up again! Thanks again for choosing us to be part of your special day, it was an honour to make everyone feel and look even more amazing than you already are :)

- Fancy Face Inc.

Stacie B. · Married on 30/11/2019

Amazing - worth every penny!

Fancy Face is absolutely amazing! I had actually booked another service for my wedding day but after hearing all of the positive comments about Fancy Face I decided to make the switch. I have never felt so beautiful and the girls are so professional and talented. My bridesmaid all looked amazing! Parissa did both my hair and make up on the trial and wedding day and I can't say enough about her. I wish the team could do my make up and hair every day. I wouldn't hesitate one moment about booking them. Simply the best!

Sent on 27/12/2019

Fancy Face Inc.'s reply:

Dear Stacie,

Thanks for your review and we are glad you decided to choose us for your wedding day services! It thrills us to hear how beautiful and amazing everyone felt, our goal is to make your wedding day fun, relaxing and smooth :)

We would love to see you, your friends and family again, please don't hesitate to reach out in the future whenever you need glamming up again!

- Fancy Face Inc.

Parniian F. · Married on 01/11/2019

Highly Recommend!

The Fancy Face artists did an amazing job with my hair and makeup! I received compliments all night long and my makeup was exactly what I had envisioned. The ladies stayed and helped with my photos and on a personal level, they were friendly, fun and professional! Really enjoyed having the Fancy Face team as part of my wedding experience!

Sent on 20/11/2019

Fancy Face Inc.'s reply:

Dear Parniian,

Thanks for taking your time to leave us such a glowing review, it's reviews like these that makes those extra early mornings worth it ;)

It also sounds like you had an awesome fun time both before and during your wedding, wish I was there as well! We as a team strive to make every one of our brides feel extra special, comfortable, and also to bring their dream wedding look to life.

Parniian, we truly hope to hear from you again in the future, please do not hesitate to reach out should you require glamming up again!

- Fancy Face Inc.