Reviews for Beyond The Skin
Awards
23 User photos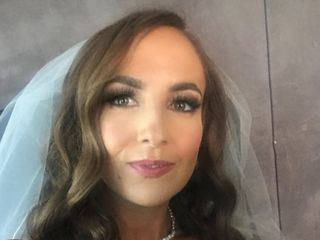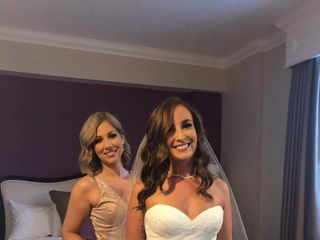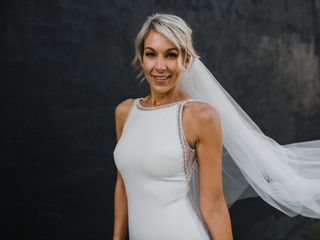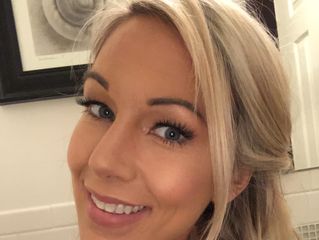 Lisa Toner · Married on 31 of August of 2019

Perfection

Melissa is a true professional! She is such a talented makeup artist. All 5 of us were so impressed with how we looked on my wedding day. I have gorgeous bridesmaids and Melissa helped their natural beauty shine through without upstaging me as the bride. I felt like the very best version of myself on my wedding day. I think that's how all brides should feel. She is a fun and personable to be around. Thank you Melissa!

Sent on 16/09/2019

Kerri Keresteci · Married on 17 of August of 2019

Wedding makeup

The service I received from Mel was beyond my expectations. Together, we set up a makeup trail for my wedding day and I loved the finished product. We stayed in contact during the lead up to my wedding, I even had her do my eye lash extensions for my bridal shower and bachelorette which I absolutely loved. On my wedding day, she was professional, upbeat and extremely easy to work with. We changed up my makeup slightly from the trail (added a bit of sparkle) and I loved the end result even more. I would highly recommend Mel to anyone!

Sent on 16/09/2019

Ashley · Married on 21 of June of 2019

Made me feel like a 10/10

Melissa is incredible. She made me feel better in my skin then I ever have. She did an amazing job! Would recommend to any bride or groom!

Sent on 18/09/2019

Melissa Zasiadczyk · Married on 25 of May of 2019

Amazing experience.

Melissa is beyond sweet and so easy to work with. She is able to take what you envision and make it happen - but also make sure it is a look that flatters you. Super professional. Thank you Melissa for helping make my day so special.

Sent on 05/07/2019

Manda Blondiie · Married on 20 of April of 2019

Exceeded my expectations, fantastic work!

Melissa was so amazing to work with. She knew exactly what i wanted and exceeded my expectations. Very easy to get along with and very personable. Her set up is awesome and she really knows what shes doing. I would recommend her services to anyone and everyone.

Sent on 04/05/2019

Beyond The Skin's reply:

Thank you so much Amanda for your positive review! It was a pleasure doing your makeup on your wedding day. All The best to you!! xo

Kayla · Married on 17 of November of 2018

Absolutely Amazing!

Mel was absolutely amazing! She completed the make up for myself, 4 bridesmaids, my mother and mother in law. I could not have been happier with the results and I know that everyone was equally impressed.

She made each of us feel gorgeous with make up that enhanced and highlighted our natural beauty and it lasted all night long, with no touch ups required outside of reapplying lip colour.

Mel was professional and carefully listened to what each person described for their look. Based on their descriptions, she was able to make selections and suggestions that suited each individual while ensuring each look complimented one another.

Mel has a keen eye for detail and her expertise in the field is clear. She is passionate not only about her work but making sure that each person she is working with is happy with the finished result. Mel can truly do anything, you just need to communicate what you're looking for.

Reaching out to Mel (and Brittany) for my wedding was LITERALLY the first thing I completed (even before securing the date and venue!) and I am so happy I did. I was never stressed or worried about how I would look or how my make up and hair would turn out because I was confident that I was in good hands.

If you are considering booking Mel for your special day, you should do so right away! She is so talented and can book up quickly! I highly recommend Mel.

Sent on 08/12/2018

Beyond The Skin's reply:

Kayla, thank you so much for having me be a part of your special day! Thank you so much for this beautiful and detailed review. I am so happy you and your bridal party loved the finished looks. I had such a fun time with you ladies! I wish you all the best with your hubby!!

Amelia · Married on 22 of September of 2018

Talented and Versatile

I hired Melissa for my wedding without meeting her just based on the great work I had seen on others who had recommended her and I was not disappointed! Not only was she patient and helpful in selecting my wedding look she is so talented! My bridesmaids and I all loved our look as Melissa listened to what we wanted. I can honestly say aside from her professionalism , she is just so much fun! we definitely had quite the party getting ready for my wedding on the morning of! would definitely recommend Beyond the Skin to everyone I know going forward! Thanks Melissa!!

Sent on 24/10/2018

Beyond The Skin's reply:

Thank you so much Amelia for this lovely review and having me be a part of your special day! It was my absolute pleasure and You girls were such a fun time!!

Jessica Chambers · Married on 07 of July of 2018

Professional & Talented

Melissa was fantastic to work with, from start to finish. She really understood my vision, and chose the perfect products for my skin type and colouring. She also recommended eyelash extensions (which she does as well) it was 100% worth it - the lashes looked incredible. Thank you for everything Melissa!

Sent on 23/07/2018

Beyond The Skin's reply:

Jessica, it was my pleasure! I am so thrilled you were happy with your makeup and lashes. Thank you for your lovely review and allowing me to be a part of your special day. All the best!

Sabrina Paez-Parent · Married on 07 of July of 2018

Couldn't have asked for better wedding glam session!

Melissa did an amazing job with my and my sister-in-law's make up for my wedding day. She is very flexible as a make up artist and lash technician and always makes sure to stay punctual. This was very important as you know how hectic wedding days can be! Melissa listened very intently about what we wanted and banged out two perfect looks that were both very different but executed exactly how we imagined it! I was VERY pleased that the make up was comfortable, didn't move in the summer heat and didn't require any touch ups throug out the long (outdoor) wedding. Melissa was also very helpful to me as a make up amateur by suggesting products that I would like (and even telling when the one I bought was too expensive!). This is how I know Melissa is a trust worthy, experienced and dedicated make up artist who always puts her clients first.

Sent on 25/09/2018

Alicia Carreira Married on 23/06/2018

Melissa is an amazing makeup artist! Not only did she do an amazing job with my makeup, she was a pleasure to be around. I felt completely comfortable with her. She was able to make my vision come to life without any issue. Definitely would recommend her services!!

Sent on 30/11/2016

Beyond The Skin's reply:

Thank you so much Alicia!! It was my pleasure! Hope you enjoyed your day, you looked incredibly stunning!