Reviews for Ashley MacBeath Makeup
Awards
3 User photos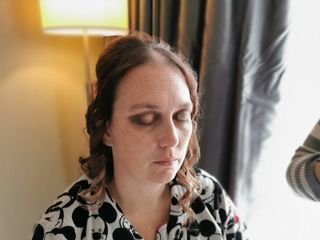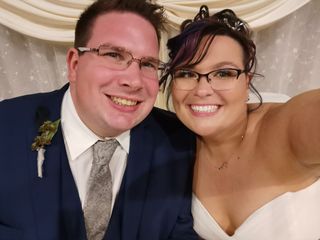 Featured

Courtney T. · Married on 21/09/2019

Best Bridal experience with Ashley!

Ashley made my self, and my bridal party look flawless on my wedding day! She arrived at my home early on my wedding day to ensure that she was.set.up.and ready to go! As she was completing everyone's makeup (1bride, 5brideamaids 1mother of bride) she great at managing her time and making sure that she paid attention to everyone's makeup preferences and details. Not only did the makeup look beautiful when she completed it and in all the photos, my makeup looked just good at the end of my wedding night as it did when I walked down the aisle! I would highly recommend Ashley to any bride!

Sent on 24/09/2019

Emily Z. · Married on 24/10/2020

Perfection!

Ashley did an absolute amazing job on me, my bridesmaids, mom and mistress of ceremonies. She was so fun to work with. Worked well with everyone and made my already beautiful bridal party absolutely stunning!

Sent on 28/10/2020

Jesse K. · Married on 08/08/2020

Such a delight to work with

Ashley was such a delight to work with and happy to pivot with all of my changes as we tried to navigate through having a wedding during a global pandemic. Her work was beautiful! Bridez men of honour, mother of the bride, and mother of the groom all had a fantastic experience and felt very comfortable the entire time.

Sent on 10/08/2020

Verna W. · Married on 18/05/2019

WOW!!!!!!!

I can not say enough good things about Ashley's work. Each one in the bridal party was happy with their make up. We were all looking for the natural look. I would definitely recommend any one who is looking for make up for their special day!

Sent on 18/06/2019

Ashley MacBeath Makeup's reply:

Thank you so much for your kind words. It was an absolute pleasure to be a small part of your special day. Wishing you all the happiness!

Ilona H. · Married on 06/10/2018

Bridel makeup.

Ashley were very nice, she were so friendly, I felt like I always new here. She even help me to find a hairstylist. The product what she used wasn't just good for our skin, but it lasted all night. I would recommend here any time.

Sent on 01/11/2018

Julie M. · Married on 22/07/2018

You will be so happy you picked her!

I've been in many weddings where I've worked with many make-up artists, and Ashley was the BEST! This is why I chose her for my own wedding. She is so knowledgeable and approachable. You can tell she loves what she does. I felt beautiful and confident on my wedding day!! ❤️

Sent on 23/01/2018

Sydney S. · Married on 14/07/2018

She was Fantastic

For the trial we had some miscommunication my fault but she still made it work, came to my house at 7am in the morning.
On the day of she was great even helped my mom with her makeup a bit even though she didn't pay.
The best part was I still looked like me just flawless!!!!

Sent on 21/08/2018

Ashley MacBeath Makeup's reply:

Thank you for your review!

It was my absolute pleasure getting to work with you and your awesome girls on your wedding day!!

Sarah M. · Married on 23/06/2018

My Wedding!

Ashley did an amazing job on my make up and the make up of my bridesmaids. Ashley complimented their eyes and complexion with her choices of colours. She encouraged us to tell her if we didn't like the chosen colours. Ashley was friendly, easy going and amazing. Thanks Ashley!!

Sent on 26/06/2018

Ashley MacBeath Makeup's reply:

Hi Sarah,

Thanks for the awesome review! It was a pleasure to be part of your big day. Congrats again!

Ashley

Linole · Married on 17/06/2018

100% recommend

I recommend Ashley for any makeup needs you have! She takes everything into account when doing makeup- skin sensitivity, skin tone, facial features, she even makes sure your makeup matches your outfit and hair. As I am someone who hates wearing and putting on makeup, Ashley makes my experience very easy and long lasting so I don't need to touch it up later. As a registered makeup artist, her makeup and tools are professional and sanitary. I recommend Ashley for any and all makeup jobs!

Sent on 23/01/2018

Kim · Married on 15/01/2018

Make Up Artist - Ashley

Ashley is the fairy god mother when it comes to make up. She totally made us ( bride, bridal party, and MOB) feel absolutely gorgeous and made us all feel special when we sat in her make up chair. Hiring Ashley was the best decision. She was very calming and supportive. She made us all feel at ease especially since many of us don't wear make up on a regular basis. She put just the right amount on us with out feeling over done. The make up was top quality! We did not have our make up smudge or wipe off which was surprising since it was a hot day! You will have no regrets if you contact Ashley to be your make up artist! She answered all my questions through email and even came to my house for a trial for the bride. My mind was put at ease at the first interaction I had with her.

Sent on 24/09/2019

Ashley MacBeath Makeup's reply:

Thank you so much, Kim! Being a part of your special day was my honour. I wish you all the love and Disney Magic!