Reviews for Ariana & Team Mobile Makeup + Hair
Awards



10 User photos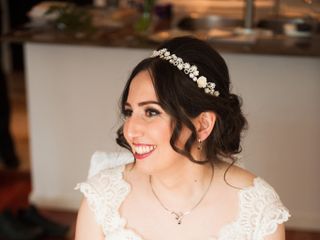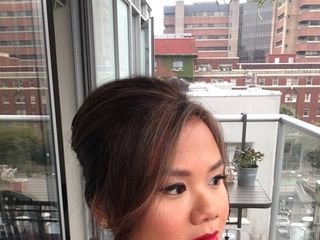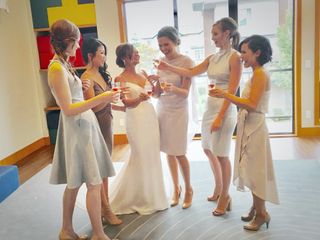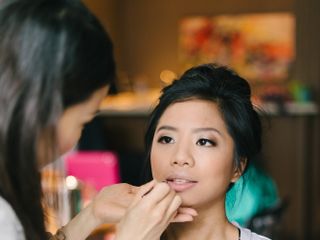 Tatiana Kazulin · Married on 06/07/2019

Quality work and great personality!

Ariana and team are amazing! Ariana is extremely talented and easy to work with her. Her experience allows her to bring the brides vision to life as well as making suggestions that bride may not have considered. As important as her talent is her personality. Sharing this time before your wedding with someone is so personal. Ariana and team fit seamlessly with my bridal party and my family. They were cheery and excited for all of us even at 7am!

Sent on 25/08/2019

Pavan Johal · Married on 26/10/2018

I chose these ladies for my brother's wedding. Although Ariana was not my hair and makeup stylist, she is very professional, friendly and responsive to emails. I got Candice for hair and makeup, she is amazing! Super funny and did a fantastic job. My hair never stays put whenever I have had it done but it stayed the put all day long (and I was running around a lot!). Candice also gave me tips for how to keep my makeup in place throughout the day. I highly recommend Makeup by Ariana and Team. It is well worth the money because you will look great all day.

Sent on 27/06/2016

Michelle Titleborn · Married on 21/07/2018

Bridal Hair & Makeup

I am so glad that I found Ariana and her incredibly professional, and talented team! My bridesmaids and I had the perfect hair & makeup - that lasted all day & night! If you are searching for a mobile hair and makeup team, Ariana is your girl!

Sent on 07/08/2018

Yoonah Lee · Married on 07/07/2018

Best makeup artist and hair stylist!!

My entire experience with Ariana was amazing. She took the time to listen to my comments and what I wanted during the trial and I felt comfortable to let her know if I wanted to change something. She is extremely talented, professional, and responsive. Monica did my hair and she did a wonderful job. She did a great job of doing different variations of curls and braids for each person. I had 5 bridesmaids so I was a bit worried about the timing, but both Ariana and Monica finished on time.

Overall I was very happy with the service!!! Thank you both!

Sent on 13/07/2018

Mona Habibi · Married on 22/06/2018

Fantastic makeup & hair team

I had an amazing experience with Ariana (make up) & Ramzie (hair). They are both friendly, professional, very talented, and very easy to work with. They did a fantastic job. I couldn't be happier with my hair and makeup. My bridesmaids and mom were so happy with their makeups.

Thank you both!

Sent on 15/09/2018

Katya Mosina · Married on 02/06/2018

Vancouver Wedding

I had a great experience with Ariana & team to do my make up and hair for my wedding.
Ariana was such an amazing person to work with. She was always quick to respond to my questions and she was very easy to get along with. I would definitely recommend her make up and hair service to anyone who want to look beautiful on their important day! Thanks again, Ariana and Atefeh!

Sent on 14/10/2018

Loren A · Married on 09/09/2017

I was very nervous about picking a Hair and MUA vendor as all my other vendors came as recommendations - this was a shot in the dark! Ariana won me over with her quick responsiveness and professionalism. She connected me with her Senior Make-up Artist Kaily and Ramzie for hair. These women were fabulous - I had a clear vision of what I wanted and both made it a reality! Kaily was very encouraging in my desire to go for a cat eye and red lip for my wedding - it looked incredible without being too cheesy or costumey. Ramzie created not one but two amazing hairstyles - a glamourous beehive for my trial, and when I decided last minute that I wanted something more textural, a gorgeous textured up-do for my wedding day. My bridesmaids and I looked absolutely spectacular on the big day and got endless compliments on our make-up. Also fun fact: I got into a fight with my fiance right after my make-up trial (wedding planning gets intense) and cried - Kaily's make-up didn't budge! Both him and I were so impressed! :)

Sent on 23/09/2017

Sahar Sharafzadeh · Married on 01/09/2017

Ariana was such a pleasure to work with! She is very kind, talented, gives her honest opinion, and was very patient while I decided what exactly I wanted. Even on the day of our wedding she was flexible when I wanted a change and I very much appreciate that. Thanks!


Sent on 12/01/2018

Ariana & Team Mobile Makeup + Hair's reply:

It was my absolute pleasure to do your makeup, you made my job so easy, thank you again for having me : ) Congratulations again and I wish you and C all the best!

Kama Money · Married on 19/08/2017

I had to book hair and makeup at the last minute for my downtown Vancouver wedding and Ariana & her team were professional, understanding, flexible, punctual and we were all thrilled with the results. If you're looking for a team to do hair and makeup for bridal party, mothers & grandmothers in your hotel I'd highly recommend them. Their hair and makeup portfolio was solid and we were so happy with the transformations/ looks they created for all of us.

Sent on 21/09/2017

Vanessa K. · Married on 16/06/2017

Ariana was very responsive in emails and was able to accommodate my needs given the short timeline. I sent her a request that I would like to hire a makeup artist for my wedding less than two weeks before the wedding. Many places say a trial is mandatory but given the short timeline, Ariana was able to accommodate my request without a trial. I simply looked up one of the bride's makeup they did before and showed her the photos, saying this is how I wanted my makeup to be. Although Ariana herself personally could be my makeup artist but the senior make up artist she sent, Kaily, was amazing. She did the makeup in a fairly narrow time window, in less than 45 minutes and I simply love the way how I looked on the big day. It's pretty photogenic! I never would have imagined myself looking this pretty :) Thank you Kaily and Ariana!

Sent on 28/06/2017

Ariana & Team Mobile Makeup + Hair's reply:

Thank Vanessa for your review! It was such a pleasure assisting you on your wedding day and we're so happy to hear that you loved your makeup : ) Congrats again and all the best to you!