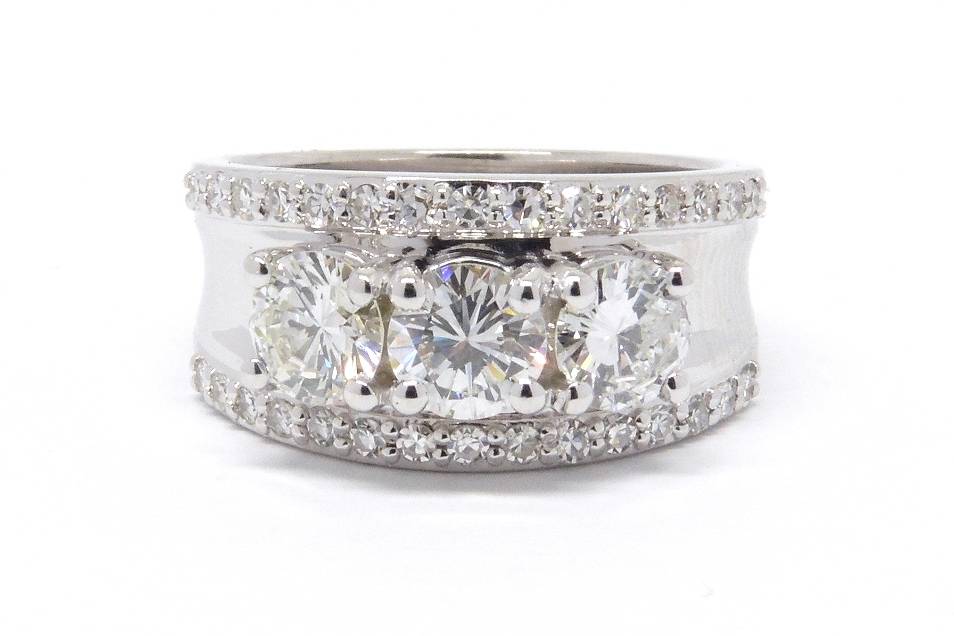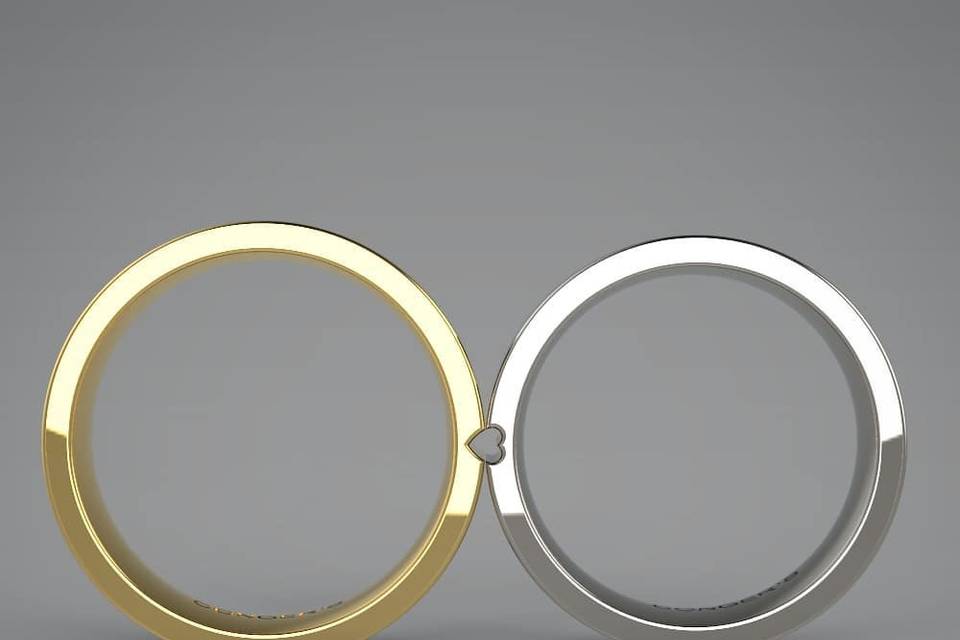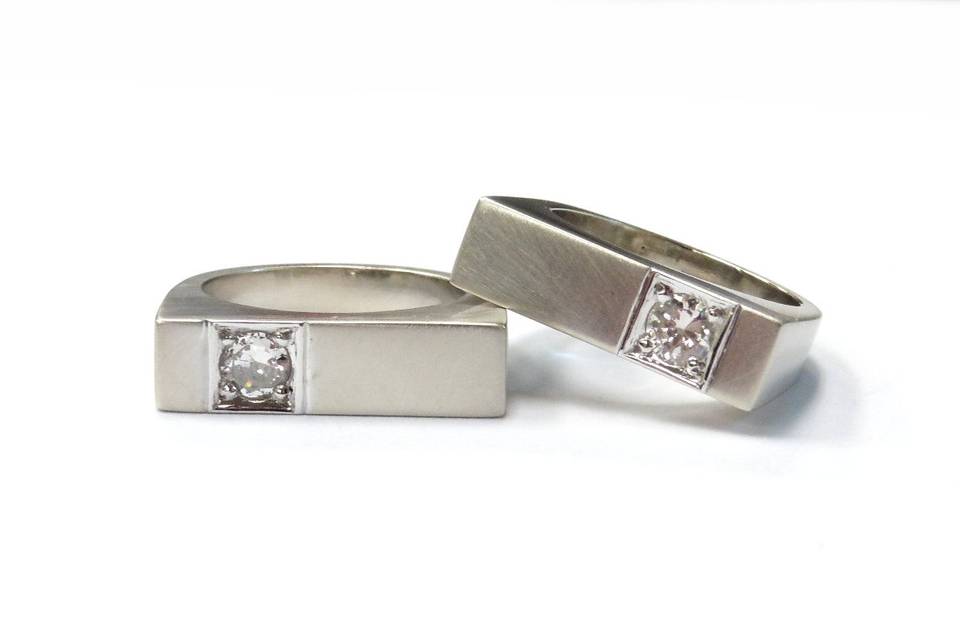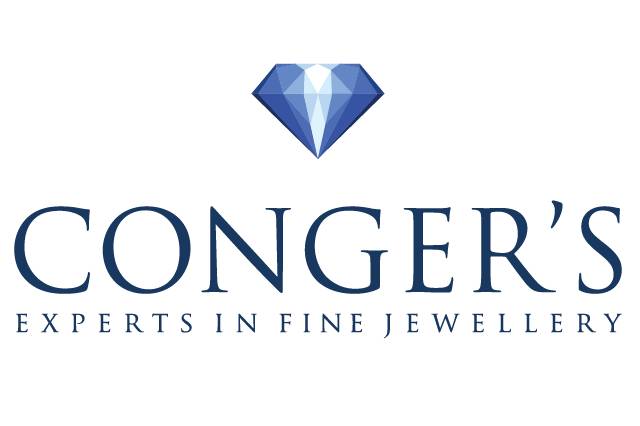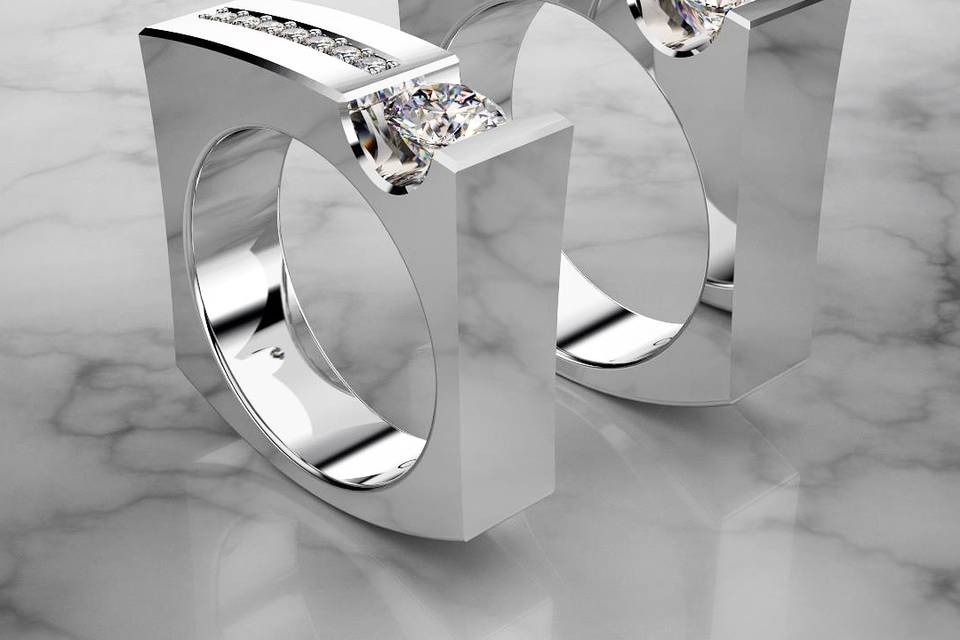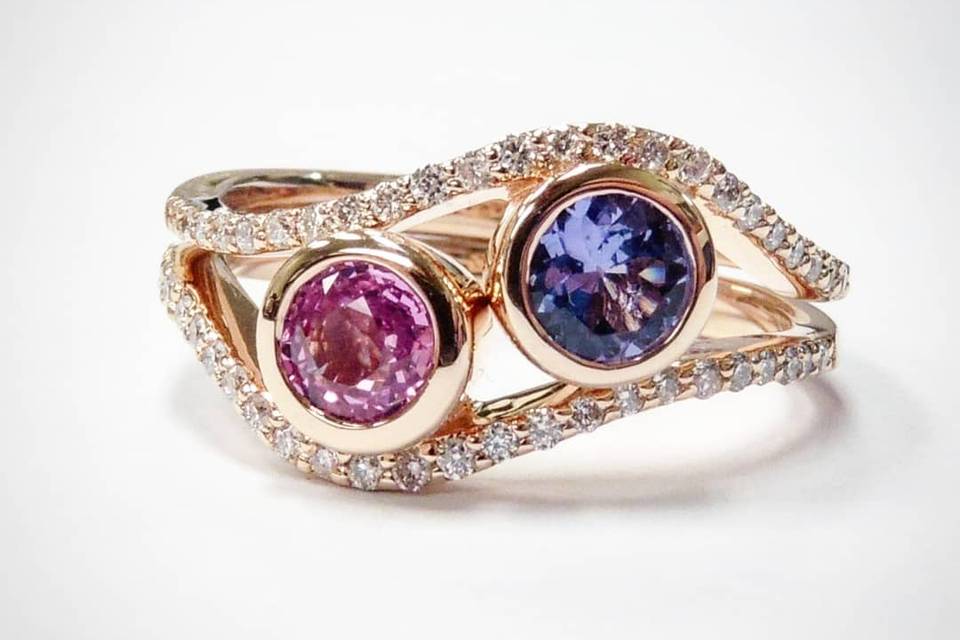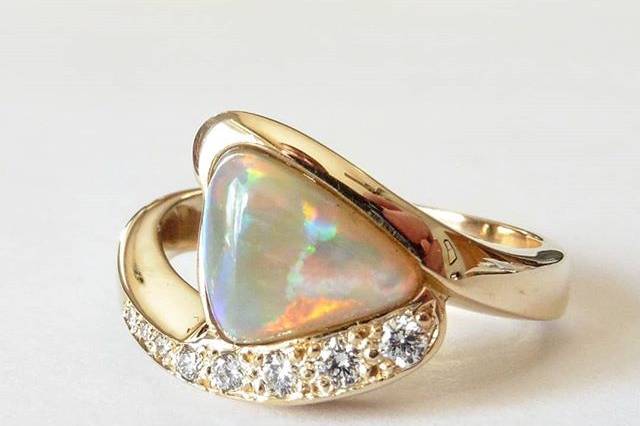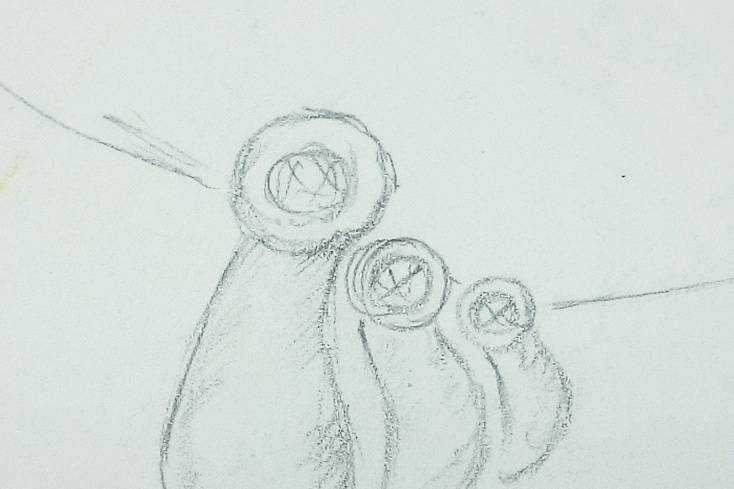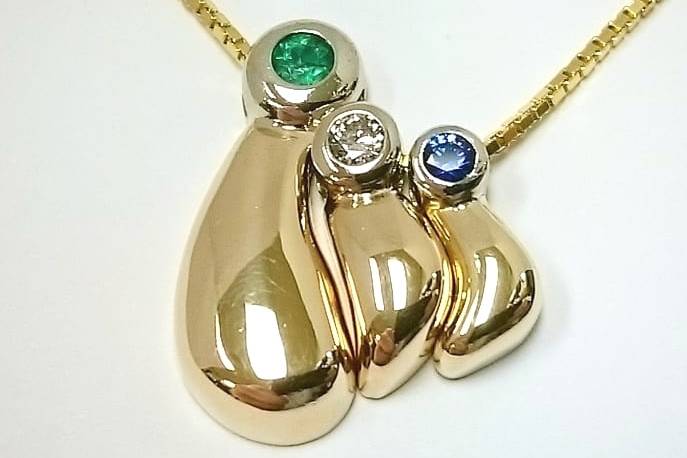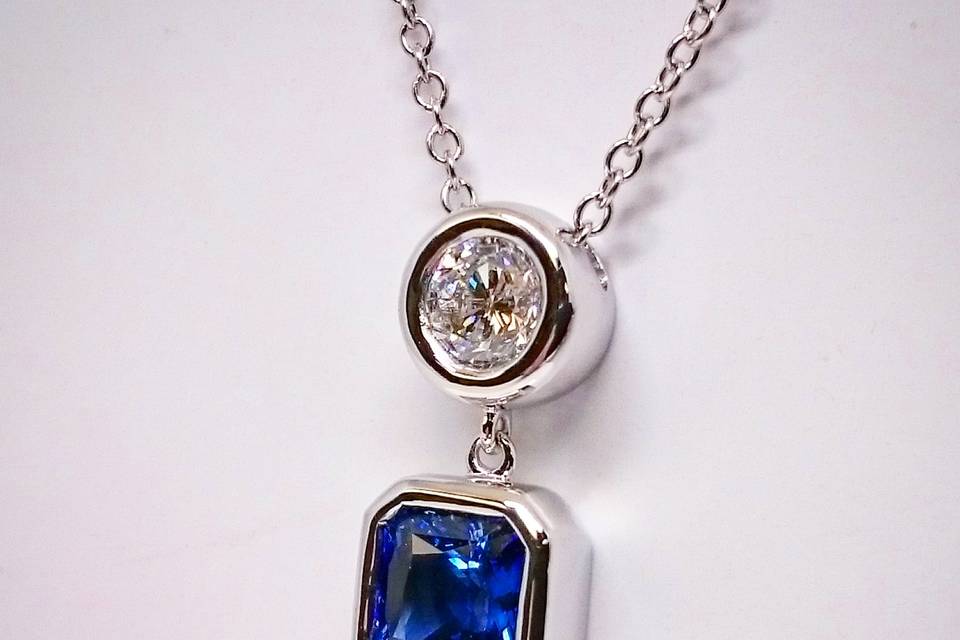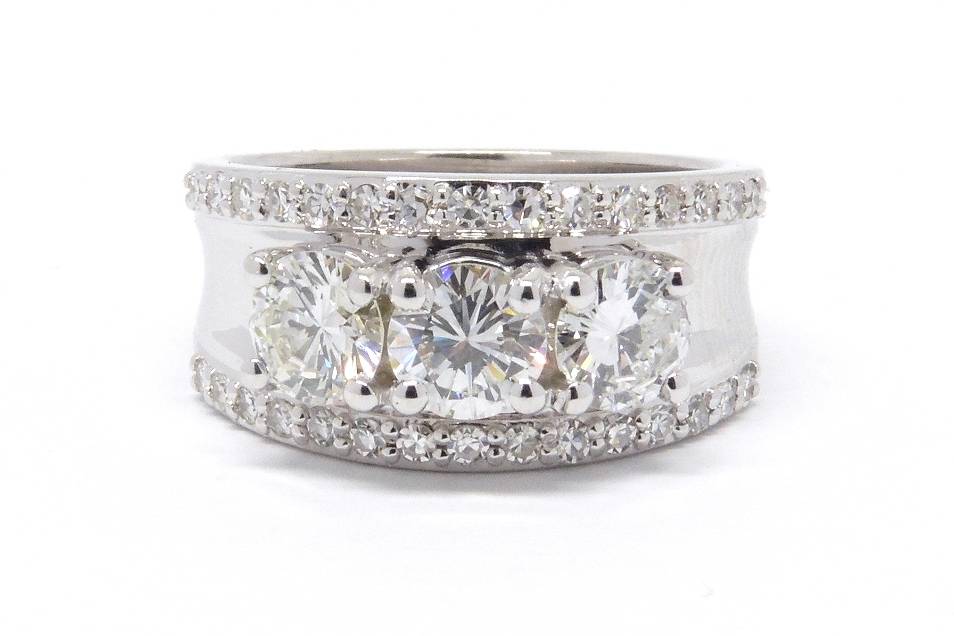 About
Established in 1981, Conger's Jewellers was created by gemologist David Conger in Ottawa. The appointment-only business offers a number of services for soon-to-wed customers. These range from bespoke wedding rings to jewellery re-design and repair. David Conger is a graduate of the Gemological Institute of America (earned in residence, Santa Monica, CA.).
Designs offered
Couples are offered a variety of unique styles. The pieces are normally custom designed. A 3-D model in made prior to the final production of the piece to give you an idea of what to expect. The business offers a lifetime warranty on our custom designs. Products include the following:
Canadian diamonds
Lab Grown diamonds
Ethically sourced diamonds and gemstones
Highlights
Services
Appraisal, cleaning, diamond certification, ring sizing, shipping, warranties
Products
Antique engagement rings, custom wedding bands, custom engagement rings, designer engagement rings, designer wedding bands, handcrafted, ring setting
Avg. Turnaround Time
3-4 weeks
Quality of service

3.9 out of 5 rating

Response time

3.9 out of 5 rating

Professionalism

3.9 out of 5 rating

Value

3.9 out of 5 rating

Flexibility

3.9 out of 5 rating
Hope R.

Married on 27/04/2019

So far, wonderful!

She listened to what I had in mind and showed me a few settings, and I fell in love with one of their designs! Very helpful and informative, as we were just starting the process, but we were so happy with the friendly and helpful service we kept coming back. We found the perfect diamond close to budget and with the qualities we were looking for, and those we didn't know to look for. I am so excited to see the finished product!!

Conger's Jewellers's reply:

Hi Hope,

What a pleasant surprise to see your kind words expressing how you felt about the store and my service. It was a joy and pleasure to help you. Thank you very much for allowing us the opportunity to be a part of this special time in your lives! ~ Dina :)

Vins O.

Married on 30/06/2020

Authentic And Professional

Dave was wonderful throughout the process. Buying a ring is a stressful and difficult thing to do. Most of the companies I contacted or I visited only wanted to make a sale.
Dave was thoughtful, patience, educated me a lot about diamonds. I've learned myself so much by listening to him. He was guiding me and was listening to my needs. At 0 moment I felt rushed and for that I appreciate him and really loved doing business with him.
The right was wonderful and my fiancé extremely loved it!
I would sincerely recommend him to anyone looking for rings. I will definitely go back to him 100% !

Conger's Jewellers's reply:

Thank you very much for sharing your experience Vincent. It was a pleasure to make your engagement ring and to work with you. I like getting questions about diamonds because I believe that a good understanding of them creates an appreciation. Your desire to have a quality ring helped me to create one that is very brilliant and beautiful. Best wishes to you and your fiancee. ~ Dave

Gabrielle P.

Married on 22/08/2015

Beautiful engagement ring. Very supportive and helpful through design process. The were recommended to us and we would definitely recommend them to others.

Are you interested?

Request pricing

William

Married on 23/08/2014

Conger's Jewellers was a very warm and welcoming place to experience designing and buying a custom engagement ring! David is an attentive, deeply knowledgeable, and very generous craftsman who takes his time, listens to his customers, and really cares. He was patient and thorough at every step of designing the ring and he never pressured us or tried to sell us on something we didn't want 100%. I would definitely recommend Conger's to friends and family (and already have!).

Conger's Jewellers's reply:

Thank you for taking the time to write this kind and thoughtful review of our service William, and for sending your friends and relatives to us. I will do my very best to help. - David

Jennifer L.

Married on 05/05/2012

David was absolutely wonderful, he took my grand-mothers ring and did a custom design from a picture for my engagement band and used the other diamonds to make earrings (with threaded posts so they won't fall out!). Then Congers made a palladium (not platinum) ring for my husband's wedding band as we had a lot of problem finding someone to make what we wanted... palladium is very hard to work with so many jewelers won't take on the challenge.

The communication, price and service were all wonderful! Highly suggested.

Conger's Jewellers's reply:

Thank you so much Jennifer! It was an honour and a please to make your jewellery for you at this important moment in your life.
- Dave :)

[Anonymous]

-Inventory not very well stocked – we settled on a smaller diamond than we wanted in order to get the desired cut and clarity, because this was all that was available. Additionally, we had to get a Canadian diamond (more expensive) because there were no others that fit our specifications.
-The ring was ready about 1-2 weeks later than we were told.
-The initial ring had three spots on the band that were not polished.
-We took the ring in for repair and it came back looking different. The owner of Congers told us it had been necessary for the goldsmith to do a half-shank and replace the bottom half of the ring, but we had never been informed the ring would be modified in such a drastic way.
-There were SIX DEFECTS VISIBLE TO THE NAKED EYE: 1) The 18K inscription was missing – only half the K was left (never re-inscribed after the half-shank). 2) The ring was no longer round – parts of the band were thicker or thinner (also because of the half-shank). 3) There were two scratches that were not there on the first ring. 4) The fit was different – less snug than before. 5) The diamond was not as brilliant because the ring was not polished under the diamond. 6) There was a fibre wedged next to the stone. The lack of quality control here is astounding.
Overall we are extremely disappointed with our Congers experience. We made numerous trips to the jeweller for repairs. We were only engaged a couple months, and my ring spent most of that time at the jeweller's being repaired. Throughout our ordeal, the employees and owner were always friendly, but never apologized or offered any compensation for basically completely botching my wedding ring.

Conger's Jewellers's reply:

We are sorry you feel the way you do about our company and our service. We are surprised because this is 4 months after you told us you were happy with the ring we made you. We would like to acknowledge that we do trip up from time to time, as anyone will, and we feel badly when this happens, but we always try to go the extra mile to help.

You left us with the impression after we remade your ring in September that you were happy. You examined it carefully in the store and told us it was fine. After reading your comments here, obviously, we were misled and this is not true. We would like to be able to help you. If you come back, we will try to do something further, if we can.

In terms of the diamond you purchased, you and your husband were offered different diamonds which needed to be a specific size for the ring we were making, and within a price range that was comfortable for both of you. We pride ourselves on staying within a set price range to make everyone's experience enjoyable. Your diamond was not smaller than what you were looking for, and was within the target price range. We discussed Canadian and non Canadian options for the diamond. At least 6 diamonds were offered as possible candidates. These diamonds reflected the restrictions on size, quality and price that are imposed by the ring design and the price range you were comfortable with. After some consideration, your husband emailed us to say he would like to leave a deposit on one of the diamonds. He said he spoke to you and received your approval. We were pleased to know you were also happy but your current comments contradict this. You did not express any concern about the diamond when you emailed us to say "Just wanted to let you know I received the engagement ring and it is gorgeous. I really love how it turned out".

[Anonymous]

ABSOLUTELY TERRIBLE EXPERIENCE. I went to congers through recommendations I found online and fear that my diamond might be stolen if I went to a place like mappins or peoples. I took it in the get rhodium dipped 2 weeks before my wedding. Something I have had done 3 times prior and have never had a issue with. When they give me my ring back I notice three of my diamonds have a charcoal colour to them. When I take the ring back they say there is stuff stuck under the diamond and it needs a good cleaning, so I wait. about 10 minutes later she goes to give it back and realizes it is missing a diamond. "oh we will fix it no problem free of charge because this was our fault." She didn't have the diamond when I left the store she had to check the cleaner. When I called an hour later to see if she found it the person I spoke to was very rude. I felt like she was treating me like an idiot for not trusting that they found the diamond in the cleaning solution. for all I know it was on the floor. (it doesn't stop here) so They send it away and I get it back a few days later. I'm told this time before I pick it up that a diamond is still dark and there was nothing they could do. They basically wrecked my ring and won't fix it. So I pay to have it fedex'd to another city (I leave in three days to go to a different city to get married) where this jeweler took pictures of my ring and gave my a quote on fixing it. The pictures I received show that not only is the diamond really dark but the "clasps" that the put in the make sure my diamond didn't fall out again are BRONZE in colour and my ring is silver. He informed me this was the cheapest way they could have done to fix my ring. I am absolutely livid and will NEVER EVER recommend this place to anyone. I cannot believe they would do this to someone. My $50.00 ring dipping is now costing me $300.00 to ship repair and re-dip my ring.

Conger's Jewellers's reply:

We are sorry that this has been a stressful experience. We had a challenge with your ring but you were kept informed along the way about these challenges. We believe we had sufficient time to help but were cut short by your demand to stop the job.

The ring was brought in to be cleaned and rhodium plated. We did not sell it or ever work on it before. Rhodium plating is easy to do.

The job was ready and picked 6 days after leaving it. Two days later, you returned to say 3 of the tiny side diamonds looked dark and we agreed. We thought that dirt or jeweller's polishing compound could be the culprit and was trapped between the diamonds and the metal. We went to our ultrasonic cleaner to see if we could clean it out. Unfortunately, one tiny diamond was not set well, so it fell out into our cleaner. Stones that are securely set never fall out this easily. Since the diamond in question was hard to see, we had to empty the cleaner completely to locate it. We apologized for the inconvenience and assured you that we would find the diamond and set it again, free of charge.

Two work days later, we called you and said we set the diamond but we were having difficulty cleaning one small diamond. We explained that the diamonds set on the sides of your ring were embedded into the metal without drill holes through the band underneath them. Most rings have drill holes under the diamonds which allow dirt to flush away as it accumulates. This ring did not have this (poorly designed). In fact, the dirt gets sandwiched between the metal and the diamonds and has no where to go. We explained this but this has not been acknowledged this in your comments.

When we spoke to you, you said you were coming to pick up the ring. When you arrived, we again offered to keep working on the problem but you told us that you already made plans to ship the ring to another jeweller.

We believe we have taken every action possible to help in the most professional manner we know.
Conger's Jewellers Real Weddings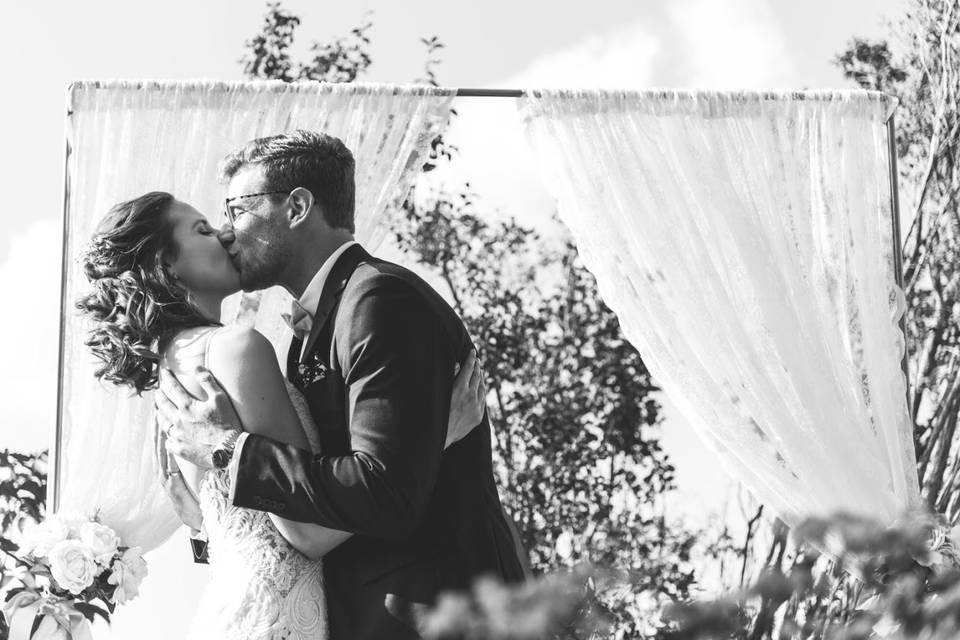 Megan & Brett
30 Photos · 16/Sep/2018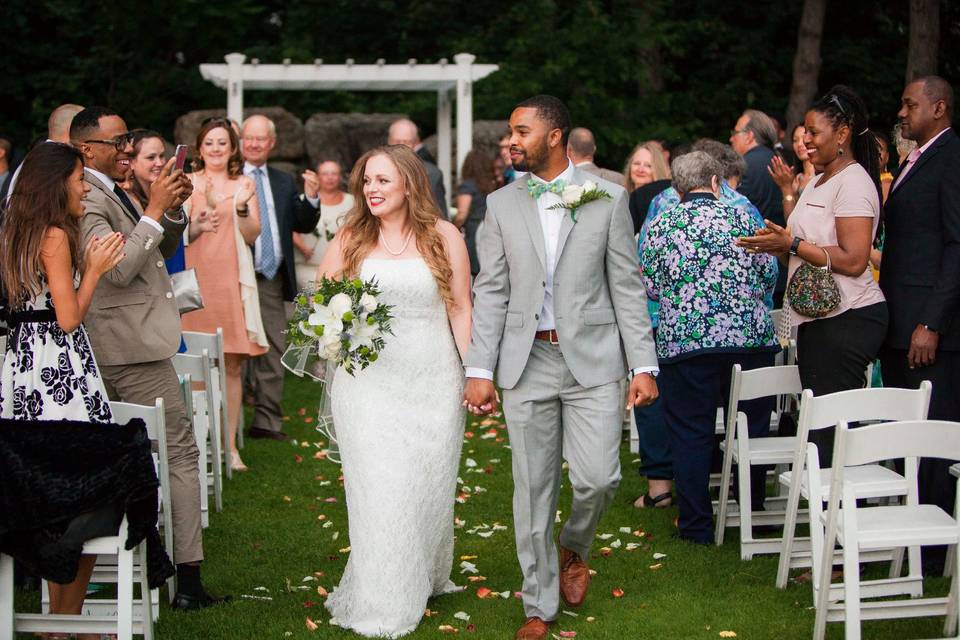 Mary & Warren
63 Photos · 02/Aug/2015
Deals
Exclusive
5% discount for WeddingWire couples
If you found us on WeddingWire we will give you a 5% discount on our services. Remember to show us your voucher when you come see us.
Map
1907 Garfield Ave. K2C 0W6 Ottawa&nbsp(Ontario)