Reviews for Lois Keane Flowers
Awards
14 User photos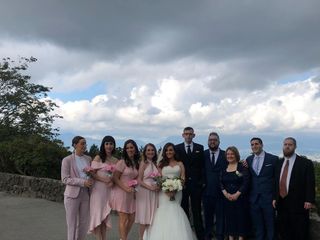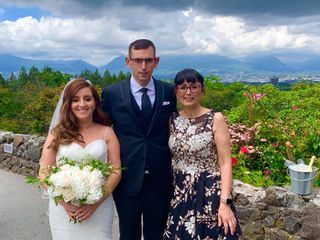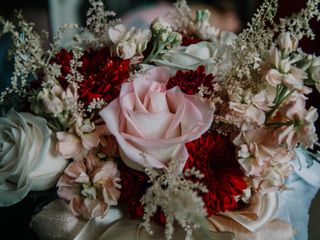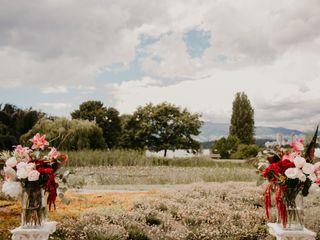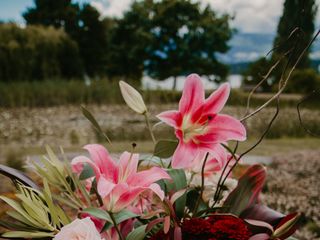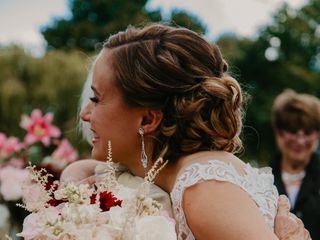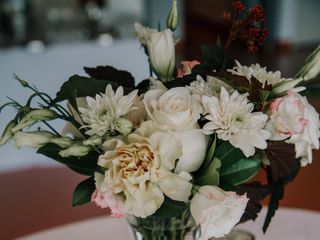 Featured

Jennifer Liu · Married on 17/08/2018

Beautiful flowers!

Lois was amazing to work with. I kept changing my order and she would accommodate my each and every request. I think I changed my order more than 10 times. She was amazing to work with and her prices are definitely much more affordable then any other florist I have inquired with!

Sent on 20/08/2018

Lois Keane Flowers's reply:

You are making me LOL Jen!

Honestly, I stopped counting! But you definitely take the prize for the number of changes to your order.What counts for me is that you were happy with everything!!

Hope we run into each other Jen!

All the best to you and Justin.

Lois

Yehudis · Married on 23/06/2019

Beautiful Flowers!!

Lois is so kind and so professional! I let her design the bouquet and she even designed the beautiful bouquets for my bridesmaids! My bouquet was a stunning garden style and even guests were stunned! Her centrepieces and ceremony flowers were jaw- dropping!!Thank you Lois so much for giving me such beautiful flowers!! Definitely recommend Lois!!

Sent on 05/08/2019

Lois Keane Flowers's reply:

Yehudis, I loved walking into that room, where you and your four beautiful sisters were having your makeup. What a roomful of joy!

Thanks to the 5 of you for that hilarious "Lois rap" you made up on the spot. Made my heart swell!

Andrea Smith · Married on 11/05/2019

Lovely Flowers

Lois is a wonderful lady who put together flower arrangements, bouquets, corsages and boutonnieres for my daughter's wedding. We went to her with very little for her to go on, and she managed to have the flowers match the colour scheme perfectly! Lois is fantastic to deal with and she responds very quickly which i really appreciated!

Sent on 14/05/2019

Lois Keane Flowers's reply:

As a wedding florist, I have always loved connecting with the family of the couple. This time I had the chance to work with mother and daughter. And how wonderful it was to see Gail give her all, to make sure every detail of her daughter, Andrea's wedding was perfect. What a MOM!

Sharayah Read · Married on 08/05/2019

Blown away with the service and quality.

Lois Keane flowers was AMAZING to work with for our bouquets for our small wedding at Sea to Sky Gondola. I had an herb bouquet and she worked magic with it; there was a large array of herbs that all managed to survive the hot may day. She is such a kind, thoughtful, creative woman and any couple wedding in the area should definitely consider reaching out to her for their flowers.

Sent on 09/05/2019

Lois Keane Flowers's reply:

WOW! You two were totally inspiring. I loved the whimsy of your bouquet choices.

The icing on the cake for me was finally meeting you the day before your wedding, after months of emails! That moment of personal connection and the way you were bursting with excitement stayed with me while I designed your bouquets.

Thanks so much Sharayah for your awesome review.

Dale Faith De Asis · Married on 25/08/2018

flower arrangement

Lois is a wonderful lady to have business with. I spelled my dream flower arrangement and how they would look and she gave a fresh, intricately arranged beautiful flowers and I was so pleased!

I am a happy bride with beautiful flowers.

Sent on 15/02/2019

Lois Keane Flowers's reply:

Thanks very much Dale.

I really enjoyed meeting you and designing your flowers!

All happiness to you and Ben.

Ida Terpening · Married on 07/07/2018

Friendly, professional and personalized experience!

My husband and I hired Lois to do the flowers for our wedding in July 2018. Lois was incredible in helping plan our floral decorations for the big day and was an absolute pleasure to work with. We didn't have a lot of decorations otherwise and were relying on the natural landscape of the venue and flowers to create our theme. With only a couple of meetings and correspondence over phone and email, Lois was able to put together the most incredible arrangements that reflected our colour scheme perfectly and created the romantic, natural setting we were going for. Her arrangements were unique and absolutely stunning and she was very flexible in offering alternative solutions to help us stay within our budget. I would absolutely recommend Lois Keane Flowers for any wedding! You will get a truly personalized experience and a gorgeous and unique end product. Thank you, Lois for making our day so beautiful and memorable!

Sent on 06/03/2019

Lois Keane Flowers's reply:

WoW Ida! What a fabulous review! Thank you very much for the opportunity to be part of your amazing wedding. So much beauty, YOU especially, in your gorgeous gown, and the spectacular outdoor setting at the Vancouver museum with the sea and the big open sky!

Thank you for posting pictures-- I have to add one more of you and Mike and "the gown."

Here's to you two!

Lois

Katerina Kefalas · Married on 23/06/2018

Absolutely stunning flowers!

We booked Lois for our wedding and are sooo happy we did! From the moment we met her, we were captivated by her warm, loving personality. As soon as we saw how beautiful her arrangements were, we were hooked! Lois took such time and care in getting to know exactly what we wanted for our big day. We were able to give her an idea of what we were looking for and she ran with it and gave us the most beautiful bouquets and centerpieces we could have imagined! We received so many comments on how beautiful the flowers were and they complimented our day perfectly. Lois is a true professional and how much she cares for her clients really shows in her work. We would recommend her to everyone we know!!

Sent on 08/07/2018

Lois Keane Flowers's reply:

Katerina and Priya are a couple who make you remember that a wedding is not just the party. When we met it was clear their flowers were significant and together we imagined the looks and textures.

But what I saw from the start was how conscious they were of the commitment a wedding means. Every detail at the set-up of the ceremony and reception spoke to this.

I heard it was quite a party at the Pinnacle too!

Thank you Kat and Priya for the privilege of being part of your BIG day!

Alex Goeders · Married on 02/06/2018

Great service, beautiful arrangements

Lois has the sweetest demeanour and has such a calming presence about her. This is always a great thing when weddings can be stressful. She is thorough during the meetings to ensure you get exactly what you want. She is easy to work with and makes your vision come to life. Her arrangements are beautiful and she was wonderful to work with! Her prices are also very reasonable.

Sent on 19/07/2018

Lois Keane Flowers's reply:

Thank you Alex!

You and Brandon were clearly so excited about getting married and your happiness was contagious. I really enjoyed our times together and especially seeing you on your wedding day!

I know you have a great future ahead together.

Hugs,

Lois

Kalynn Hamilton · Married on 16/09/2017

Highly recommend

Lois was great to work with, she understood what I wanted and went above and beyond my request. She had lots and ideas suggestions which I appreciated. My daughter, the flower girl, had a mini bouquet which she loved. Highly recommend!

Sent on 02/02/2018

Lois Keane Flowers's reply:

Thanks very much Kalynn-

It was such a treat to work with you and seeing the way we made it all wonderful!

John Hall · Married on 12/08/2017

Beautiful flowers created for our special day. Lois is a wonderful person to work with. Her details were just fabulous and everyone loved her table arrangements. Everything went beautifully and we will definitely recommend her to everyone.

Sent on 17/09/2017

Lois Keane Flowers's reply:

Thank you John!

How lovely to start my Monday morning with your wonderful review!

It was great fun working with you and Blaise and seeing your Hollywood-themed wedding come alive at the Pinnacle. You guys really left nothing out! BIG congrats!