Reviews for One Love One Dream
Awards
6 User photos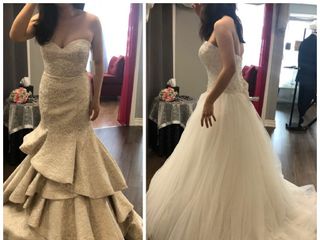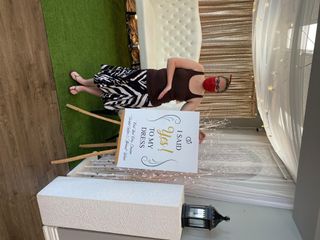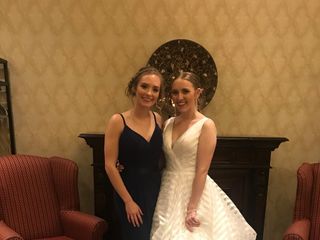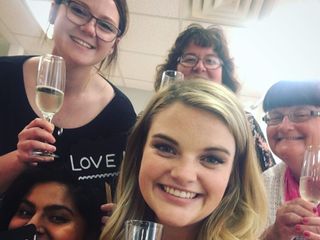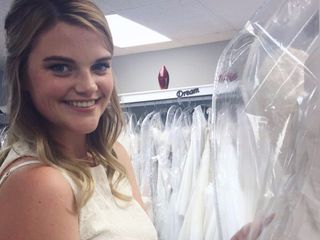 Danielle Letto-Keats · Getting married on 09/10/2021

Amazing and inclusive!

I'm a plus size bride, and at the time of shopping was a bridal size 24, One Love One Dream Bridal had plenty for me to try on in my size and in my price range! They were able to answer all questions I had without making me feel like I needed to buy that day, in fact they told me to take my time making my choice, try dresses else where if I wanted to, as you usually only buy a wedding dress once so it's a big decision!

I found my dream dress here and had to come back and purchase it the very next day after going to other shops. I recommend every bride to go there if they're in the area!

Sent on 20/06/2020

One Love One Dream's reply:

I'm so glad that you mentioned our sizing for all sizes, we have dresses size 0 to 30. We pride ourselves with a large selection of styles for the curvy bride. You made the perfect choice of a wedding dress, you looked so beautiful.

Victoria MacDonald · Getting married on 24/09/2021

Relaxed and Helpful

As a high-anxiety bride I wasn't necessarily looking forward to the dress buying process but Janet at One Love One Dream made my experience really lovely and relaxed. I never felt pressured or persuaded into anything which I think shows a lot of professionalism. She used my Pinterest board that I sent he's ahead of time and pulled dresses she thought I would like and she was spot on- I ended up buying my dress and haven't had a single regret.

Sent on 06/07/2020

One Love One Dream's reply:

Wedding dress shopping can be overwhelming and I am so happy that I offered you a comfortable and happy experience. It's helpful to get a glimpse of your vision board and work together to find "the dress". Congrats again and can't wait to see you back in the store.

Cassandra Luceri · Getting married on 18/09/2021

Absolutely Amazing!

I do not even know where to begin when explaining my 10/10 experience with Alison, Janet and Amanda at One Love One Dream Bridal. My experience was nothing short of amazing from the very first day I stepped foot in the salon salon. I am a plus size bride who was worried about finding a dress that would fit around my hips. Alison made me feel so beautiful and so special from start to finish, and ensured that I found the dress of my dreams. Both Alison and Janet offered numerous suggestions on how to make my dress perfect. They both went above and beyond to ensure that my experience was incredible and always made sure that I was 100% happy, satisfied and that I was comfortable. They allowed me to keep my dress at the salon until all other items including my veil, crinoline and extra fabric arrived. I had numerous try on sessions so that my Aunt's from out of town and my dad could experience dress shopping with me. Please purchase your dress here you will not be disappointed.

Janet, Alison and Amanda you are amazing and you will forever hold a dear place in our hearts.

Sent on 22/06/2020

One Love One Dream's reply:

Thank you, Cassandra. The beauty starts with you and from within, we just dressed you in a fantastic Essense of Australia wedding dress. It's just in our nature to care, to make you and family comfortable and inclusive. We appreciate your recommendation.

Amanda · Getting married on 31/07/2021

Great experience!

I went to one love one dream during covid 19, the salon was very accommodating And easy going. They are very prepared prior to the bridal appointment and provided me with a questionnaire. This allowed me to tell them my style and attach links to dresses that I liked and would like to try on. They had mostly all the dresses waiting in my room for me to try on, which was great and made the process easy going and relaxed. Alison was very helpful and made the experience fun! I found my dress at my first appointment, I would definitely recommend them to any one looking for formal wear.

Sent on 22/06/2020

One Love One Dream's reply:

Thanks, Amanda, you chose a beautiful wedding dress. We find it helpful to ask a few questions it gives us the chance to get to know you and your bridal vision prior to arrival. We look forward to seeing you again.

Lana Klien · Getting married on 05/11/2020

A special shopping trip.

I booked an appointment to dress shop right before the COVID-19 pandemic shut all businesses down. As soon as the store was able to open its doors I received an email letting me know I could re book. This email also went through all the changes and the protective measures they were taking during this difficult time. Even though the experience was different the staff still made it very special. They picked so many beautiful dresses for me to try on. I found and bought my dress and could not be happier. I can't wait to wear my dress on my special day.

Sent on 09/06/2020

One Love One Dream's reply:

Thank you so much, Lana, for your kind words! We are so happy we were able to open again and to have you visit us to find your dream wedding dress! You are going to be such a beautiful bride for your destination wedding! I have never seen the dress look so good on anyone like it does you!! So excited for you! Wishing you all the best and safe travels.

Elva Tai · Getting married on 11/10/2020

Great selection, great experience, warm and kind

Julie and Janet were both very professional and kind to suggest you the best dress for your dream wedding. Julie has a great taste in wedding dresses to fit you the best. I didn't love mermaid dress based on my own bias, but tried one on based on Julie's recommendation, and was very amazed by how beautiful and elegant I looked. Found my dream dress at the end, actually multiple dresses that I all love, but had to make a tough decision to pick one. Wish I can buy more than one. Definitely worth checking out if you are struggling with finding a dress that fit you.

Sent on 18/11/2019

One Love One Dream's reply:

Elva, thank you for your kind words. At One Love One Dream Bridal, we always strive to give every bride the very best experience in wedding dress shopping. We are so happy with your final decision, you are going to be a beautiful bride in your chosen dress. Can't wait to see you, again.

· Getting married on 03/10/2020

Amazing Bridal Salon!

I had attended this store three times (as well as many other salons) trying to find the perfect dress. They were always accommodating and professional. One time I booked an appointment the other two I just called to see if I could drop in and they were able to accommodate me both times. They never pressured me to purchase anything and were at my complete service the entire time my bridesmaids and I were there. They allowed me all the time I needed and didn't rush me. They let me try on my dress with hair accessories, a veil, necklace and jewelry and shoes! Not a single thing I asked for was declined. The staff was amazing :) After finally deciding on the dress, I was able to negotiate a price that better fit my budget and was able to place a down payment and make an affordable payment plan. I have an appointment to look for bridesmaid dresses next month and am really looking forward to dealing with them again. I highly recommend them to everyone! You will not be disappointed :)

Sent on 20/01/2019

One Love One Dream's reply:

Thank you, Amber. I'm so glad we could accommodate your request and fit in with your planned budget. We look forward to your future visits with your bridesmaids and we have suit rentals for the gentlemen as well.

Taylor Salmon · Getting married on 03/10/2020

I wish I went there first

We went to One love, One dream bridal after many fittings and wish we went there first. Amanda was amazing and helped us set up dresses in the room and have them prepared for me to try on. As we went she suggested dresses that she thought I would like based on my preferences and dislikes with previous dresses. She went above and beyond my expectations and made my experience wonderful. I would recommend them to anyone. upon saying yes to the dress, champagne was brought out and we were able to snap cute pictures to get that instagram moment captured.

Sent on 22/10/2019

One Love One Dream's reply:

Thank you so much, Taylor, for your review. We are so happy to have made your wedding dress shopping experience wonderful!

So happy you could get pictures to capture the moment so you can remember it for years to come. We wish you all the best on your perfect wedding day!

Keshia Brubacher · Getting married on 20/09/2020

I bought my dress during COVID-19!

Was so happy I was able to schedule and buy my dress during COVID-19! Even though safety precautions were in place Janet and Alison made the experience stress free and comfortable.

Sent on 13/06/2020

One Love One Dream's reply:

Thank you so much, Keshia! Your dress is absolutely stunning!!

Thank you for support our small business and shopping local. Look forward to seeing you again to help you find dresses for your bridal party or even suit rentals for the gents! Take care.

Kailey O'Connor · Getting married on 19/09/2020

Awesome Experience!

I first saw One Love One Dream at a bridal fashion show & loved their dresses! I made an appointment to come into the store & had the best experience! First of all - they have so many beautiful dresses! I fell in love with a few and luckily was able to make my decision and found the perfect wedding dress!
The consultant that worked with me was great!! So helpful :). Was an awesome experience for my mom, sister & I. I recommend this store to everyone looking!

Sent on 11/02/2020

One Love One Dream's reply:

Kailey, we are so happy you fell in love with the dress of your dreams. We do pride ourselves with experienced consultants and exceptional service. Look forward to seeing you, again, soon.