Reviews for One Love One Dream
Awards
5 User photos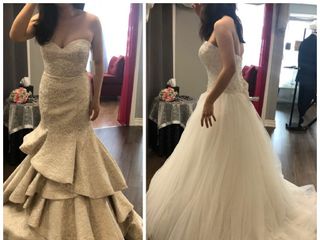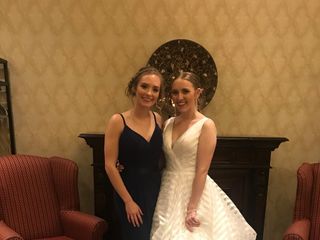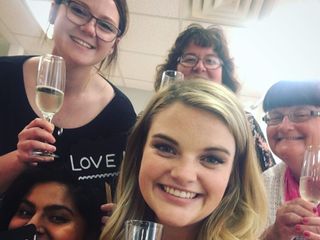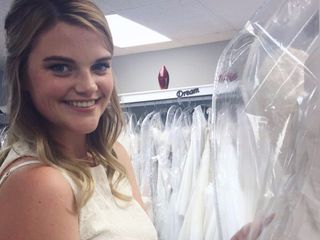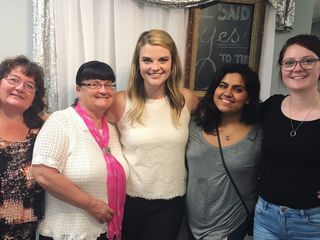 Elva Tai · Getting married on 11/10/2020

Great selection, great experience, warm and kind

Julie and Janet were both very professional and kind to suggest you the best dress for your dream wedding. Julie has a great taste in wedding dresses to fit you the best. I didn't love mermaid dress based on my own bias, but tried one on based on Julie's recommendation, and was very amazed by how beautiful and elegant I looked. Found my dream dress at the end, actually multiple dresses that I all love, but had to make a tough decision to pick one. Wish I can buy more than one. Definitely worth checking out if you are struggling with finding a dress that fit you.

Sent on 18/11/2019

One Love One Dream's reply:

Elva, thank you for your kind words. At One Love One Dream Bridal, we always strive to give every bride the very best experience in wedding dress shopping. We are so happy with your final decision, you are going to be a beautiful bride in your chosen dress. Can't wait to see you, again.

· Getting married on 03/10/2020

Amazing Bridal Salon!

I had attended this store three times (as well as many other salons) trying to find the perfect dress. They were always accommodating and professional. One time I booked an appointment the other two I just called to see if I could drop in and they were able to accommodate me both times. They never pressured me to purchase anything and were at my complete service the entire time my bridesmaids and I were there. They allowed me all the time I needed and didn't rush me. They let me try on my dress with hair accessories, a veil, necklace and jewelry and shoes! Not a single thing I asked for was declined. The staff was amazing :) After finally deciding on the dress, I was able to negotiate a price that better fit my budget and was able to place a down payment and make an affordable payment plan. I have an appointment to look for bridesmaid dresses next month and am really looking forward to dealing with them again. I highly recommend them to everyone! You will not be disappointed :)

Sent on 20/01/2019

One Love One Dream's reply:

Thank you, Amber. I'm so glad we could accommodate your request and fit in with your planned budget. We look forward to your future visits with your bridesmaids and we have suit rentals for the gentlemen as well.

Taylor Salmon · Getting married on 03/10/2020

I wish I went there first

We went to One love, One dream bridal after many fittings and wish we went there first. Amanda was amazing and helped us set up dresses in the room and have them prepared for me to try on. As we went she suggested dresses that she thought I would like based on my preferences and dislikes with previous dresses. She went above and beyond my expectations and made my experience wonderful. I would recommend them to anyone. upon saying yes to the dress, champagne was brought out and we were able to snap cute pictures to get that instagram moment captured.

Sent on 22/10/2019

One Love One Dream's reply:

Thank you so much, Taylor, for your review. We are so happy to have made your wedding dress shopping experience wonderful!

So happy you could get pictures to capture the moment so you can remember it for years to come. We wish you all the best on your perfect wedding day!

Kailey O'Connor · Getting married on 19/09/2020

Awesome Experience!

I first saw One Love One Dream at a bridal fashion show & loved their dresses! I made an appointment to come into the store & had the best experience! First of all - they have so many beautiful dresses! I fell in love with a few and luckily was able to make my decision and found the perfect wedding dress!
The consultant that worked with me was great!! So helpful :). Was an awesome experience for my mom, sister & I. I recommend this store to everyone looking!

Sent on 11/02/2020

One Love One Dream's reply:

Kailey, we are so happy you fell in love with the dress of your dreams. We do pride ourselves with experienced consultants and exceptional service. Look forward to seeing you, again, soon.

Nikki Reynolds · Getting married on 04/09/2020

Absolutely amazing

I went in just wanting to try on some dresses and I had such an amazing experience from start to finish and there was so much variety in dresses I found the one! The entire experience from start to finish was nothing short of perfect!

Sent on 28/04/2019

One Love One Dream's reply:

Nikki, we are so happy you found the perfect dress for your wedding day!

Thank you so much for your kind words!

Hope to see you again to outfit your bridal party :)

Ashley Lutter · Getting married on 08/08/2020

I found my dress!❤️

I had a great experience finding my wedding dress. The staff was super friendly and helpful. They provided me with information on the dresses and possible alterations I may need. They kept the dress on hold for me and I was back the next day to purchase!

Sent on 12/12/2019

One Love One Dream's reply:

Thank you, Ashley. You are beautiful inside and out, especially with the wedding dress you chose there won't be a dry eye on your special day. Keep us in mind for any other bridal party fashions.

Nicole Michelle · Getting married on 25/07/2020

Great experience(s)!

I went to One Love One Dream three times before buying my dress there on Saturday. Each time I went, the staff was patient, stuck within my budget and gave me lots of options. I didn't find them pushy and I never felt pressured to buy, unlike how I felt at some other stores in the Durham area. Make sure to check them out!

Sent on 07/10/2019

One Love One Dream's reply:

Thank you, Nicole, for your recommendation. We believe in no-pressure sales and no customer is ever on the clock for how long they take or how many times they return. We love to see you each and every time you come through the door. See you again, soon.

Stephanie · Getting married on 18/07/2020

Amazing!!!

I absolutely loved my experience here. This was my 6th bridal boutique, I definitely saved the best for last. I had almost given up and was entirely frustrated with the dress hunting process, until I came here. From my first phone call I had an amazing feeling and I found my dress. They took their time with me, made sure I was comfortable, provided input into dresses I was looking at and even arranged to have additional samples brought into the store for my visit. Their staff also knew their inventory. They had a room and samples ready for me when I got there and they have a huge selection of dresses.
The only bad thing I have to say about my experience is I fell in love with 2 dresses :)

Sent on 23/08/2019

One Love One Dream's reply:

We are so excited that you saved the best til the last. We do pride ourselves with a large selection of wedding dresses and special occasion dresses for the entire wedding party. See you again, soon.

Katrina Briggs · Married on 22/02/2020

Amazing experience!

Has an amazing experience at one love one dream bridal. Their prices were competitive and they offered a discount for purchasing both my dress and veil through them. Really happy with my experience and would recommend anyone to check them out. They have a great selection and wonderful staff.

Sent on 01/02/2019

One Love One Dream's reply:

Thank you so much Katrina for your kind words.

Can not wait for your wedding gown and veil to arrive!

Laura Smith · Married on 07/02/2020

A wonderful bridal shopping experience!

It was such a pleasure shopping for my wedding dress at One Love One Dream Bridal. Janet was amazing and made the experience so much more enjoyable! There was no pressure at all to purchase the dresses I tried on and the atmosphere was so comfortable and laid back compared to some of the other bridal shops I visited. I returned to One Love One Dream the day after my appointment and purchased my dress. They were so accommodating to me and so welcoming. So nice to have this gem so close to home. I will also be purchasing my daughter's flower girl dress here and my mother bought 2 dresses for the wedding here as well. We plan to return to look at bridesmaids dresses too! A great selection. Thank you, Janet for your wonderful service.

Sent on 18/04/2019

One Love One Dream's reply:

Laura, it was such a pleasure working with you and your Mom and we look forward to seeing you in the near future for more bride tribe shopping. The dress of your dreams looks so gorgeous on you, I couldn't picture you in anything else.