Reviews for One Love One Dream
Awards
8 User photos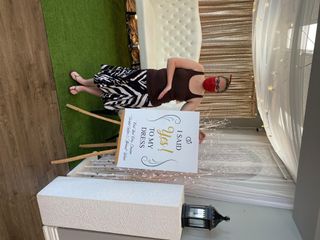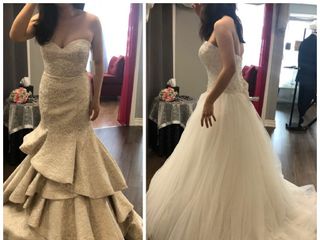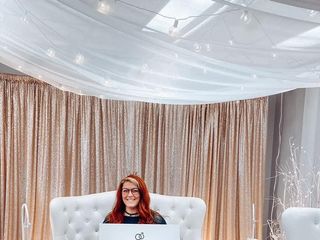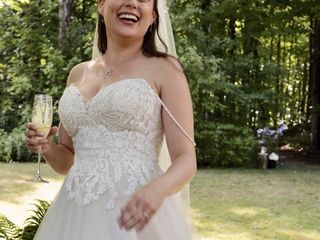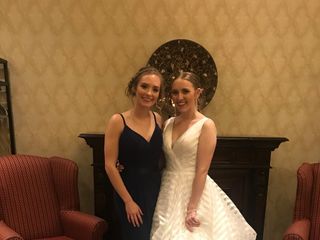 Erin G. · Getting married on 17/09/2022

So thankful!

I just recently said YES to my wedding dress with Alison, initially I went to just look and try on styles and turned out picking the dress of my dreams. It was not what I thought I would pick but I am absolutely in love! Alison was a dream to work with, so kind and fit in great with my family. OLOD was also so accommodating in letting me return with my soon to be Mother in Law and Sister-in-laws to try the dress on again with a veil to include them in these covid times! I would recommend One Love One Dream again and again!

Sent on 04/04/2021

One Love One Dream's reply:

Thank you so much for your kind review Erin! Alison had a wonderful time working with you and your family. Your dress is an absolute dream and we can't wait to see pictures from your wedding day!!

Shirley H. · Getting married on 10/09/2022

Ah-mazing!!!

I cannot express in a small amount if words how amazing this place is. Janet was unbelievable. She made it feel like home. She knew exactly what i was looking for and paired my dress with the accessories she knew i would love. I said yes to the dress and brought my girls there and they said yes. They are super accommodating and fit right in to my circle. I swear she had tears in her eyes as well!!

Sent on 05/10/2020

One Love One Dream's reply:

Shirley, you were a joy to work with and can't wait to see you, again. Thank you for your kind words, customer service is our #1 priority.

Stefanie C. · Getting married on 18/12/2021

Said Yes to My Dress Early

Had to go to One Love One Dream earlier then expect as I am expecting my first little one in the new year and I wanted to ensure I chose my dress before my body became not mine anymore. The ladies there are absolute fantastic! I believe I was specifically working with Alison and she made me feel comfortable through the entire exciting event. They picked out tons for me to try but as soon as I put on my dress I knew it was the one! I am beyond happy to know everything is choicen and ready for me for when my body becomes my own again after my baby comes. It was so seamless and easy and I am beyond thankful for everyone there! Thank you again so much for the amazing time and thank you so much for being so inclusive, understanding and supportive of me through it all!

Sent on 25/09/2020

One Love One Dream's reply:

Stefanie your dress is absolutely perfect for your December wedding! I can't wait to see if when it comes in!

Thank you for your continued support of our small business, it truly means a lot and we love seeing our prom girls when it is time for their wedding dress! We wish you all the best with your pregnancy and can't wait to meet your little one!

Danielle L. · Getting married on 09/10/2021

Amazing and inclusive!

I'm a plus size bride, and at the time of shopping was a bridal size 24, One Love One Dream Bridal had plenty for me to try on in my size and in my price range! They were able to answer all questions I had without making me feel like I needed to buy that day, in fact they told me to take my time making my choice, try dresses else where if I wanted to, as you usually only buy a wedding dress once so it's a big decision!

I found my dream dress here and had to come back and purchase it the very next day after going to other shops. I recommend every bride to go there if they're in the area!

Sent on 20/06/2020

One Love One Dream's reply:

I'm so glad that you mentioned our sizing for all sizes, we have dresses size 0 to 30. We pride ourselves with a large selection of styles for the curvy bride. You made the perfect choice of a wedding dress, you looked so beautiful.

Victoria · Getting married on 03/10/2021

Such a fun experience!!

Such an amazing experience! When I got there the consultant Alison had the dresses waiting for me in the dressing room based on the Pinterest board I sent her. She was such a pleasure to work with and really cared about how I felt in each dress! I didn't feel rushed or pressured to do anything and the atmosphere made dress shopping so much fun!! Definitely recommend to anyone looking to find their perfect dress! :)

Sent on 30/03/2021

One Love One Dream's reply:

Thank you so much Victoria for your review! Your dress is absolute perfection!! I can't wait to see pictures from your wedding day, and don't forget about the tiara and veil you loved while you were here! I wish you and Kelub all the best with your wedding planning.

Victoria M. · Getting married on 24/09/2021

Relaxed and Helpful

As a high-anxiety bride I wasn't necessarily looking forward to the dress buying process but Janet at One Love One Dream made my experience really lovely and relaxed. I never felt pressured or persuaded into anything which I think shows a lot of professionalism. She used my Pinterest board that I sent he's ahead of time and pulled dresses she thought I would like and she was spot on- I ended up buying my dress and haven't had a single regret.

Sent on 06/07/2020

One Love One Dream's reply:

Wedding dress shopping can be overwhelming and I am so happy that I offered you a comfortable and happy experience. It's helpful to get a glimpse of your vision board and work together to find "the dress". Congrats again and can't wait to see you back in the store.

Lisa A. · Getting married on 24/09/2021

A breath of fresh air

Nobody enjoys trying on wedding dresses, wearing a mask, in the midst of a pandemic, but One Love One Dream bridal made me feel like I was shopping at a "normal" time. I loved how they had dresses, in styles I wanted, all ready for me to try on. I didn't feel uncomfortable asking to re-try dresses on, even though I may have tried and re-tried a few different dresses on. The ladies who work here are wonderful and make you feel very special. I can't wait to send me bridal party here to find their dresses as well!
Can't wait for my dress to come in!!

Sent on 06/08/2020

One Love One Dream's reply:

It was our pleasure to have you and your guests in our store and so excited that you found "the one". It is a gorgeous dress and it's so beautiful on you. Be sure to have tissues to wipe the tears of happiness. We look forward to seeing you soon with the bridal party.

Cassandra L. · Getting married on 18/09/2021

Absolutely Amazing!

I do not even know where to begin when explaining my 10/10 experience with Alison, Janet and Amanda at One Love One Dream Bridal. My experience was nothing short of amazing from the very first day I stepped foot in the salon salon. I am a plus size bride who was worried about finding a dress that would fit around my hips. Alison made me feel so beautiful and so special from start to finish, and ensured that I found the dress of my dreams. Both Alison and Janet offered numerous suggestions on how to make my dress perfect. They both went above and beyond to ensure that my experience was incredible and always made sure that I was 100% happy, satisfied and that I was comfortable. They allowed me to keep my dress at the salon until all other items including my veil, crinoline and extra fabric arrived. I had numerous try on sessions so that my Aunt's from out of town and my dad could experience dress shopping with me. Please purchase your dress here you will not be disappointed.

Janet, Alison and Amanda you are amazing and you will forever hold a dear place in our hearts.

Sent on 22/06/2020

One Love One Dream's reply:

Thank you, Cassandra. The beauty starts with you and from within, we just dressed you in a fantastic Essense of Australia wedding dress. It's just in our nature to care, to make you and family comfortable and inclusive. We appreciate your recommendation.

Davia · Getting married on 10/09/2021

Excellent Service

I worked with Alison and she is amazing. She took her time with me and valued my opinion of what I was looking for. Overall great experience.

Sent on 24/02/2021

One Love One Dream's reply:

Thank you so much, Davia, for your kind words. I loved working with you and helping you find the perfect dress for your wedding day. I can't wait to see all of the rose gold details you add to it.

Looking forward to seeing you again soon to help with your bridesmaids dresses too!

Thank you for supporting our small family run business.

Anna M. · Getting married on 03/09/2021

Amazing experience

I cannot say enough good things about Alison and Janet at one love one dream bridal shop. They catered to me from beginning to end. Listening to my needs and my bridesmaids (we were a group of 9) was phenomenal. I was able to find my dress here and was provided a Fantastic deal to secure my purchase. If I could do it all over again I would go back and do it all over again

Thank you ladies so much for making this experience an amazing one ❤



Sent on 30/09/2020

One Love One Dream's reply:

Oh Anna thank you so much!! You and your crew were so wonderful to work with! I'm so happy you found your dream dress!! It looks SO good on you and I can't wait to see pictures from your wedding day!!