Reviews
4.9 out of 5 rating
Quality of service

4.9 out of 5 rating

Response time

4.9 out of 5 rating

Professionalism

5 out of 5 rating

Value

4.8 out of 5 rating

Flexibility

4.9 out of 5 rating
98%
Recommended by couples
10 User photos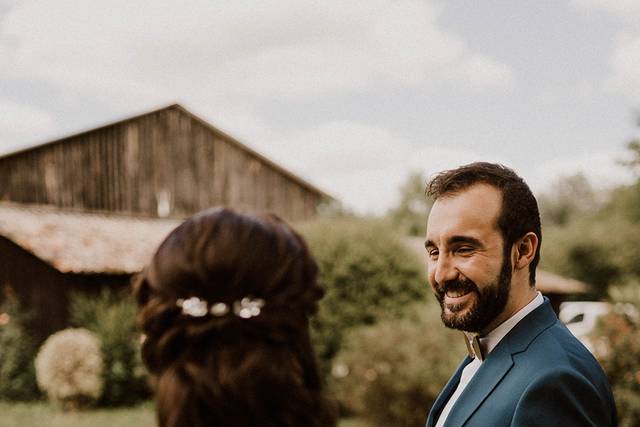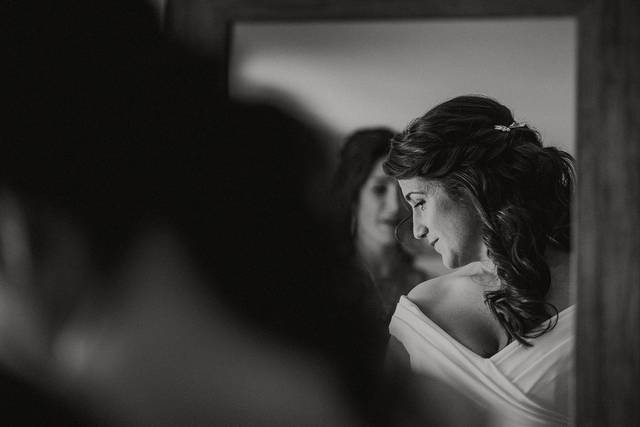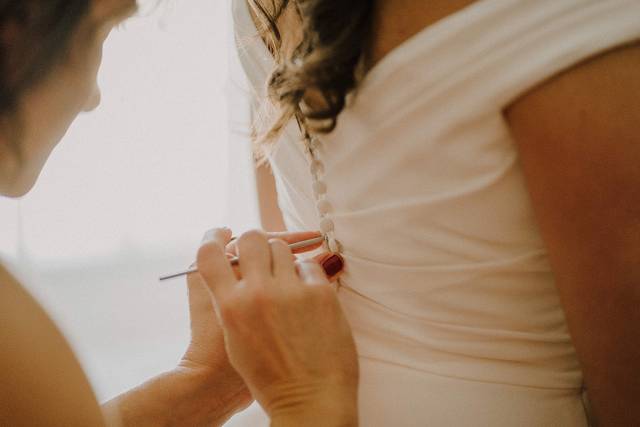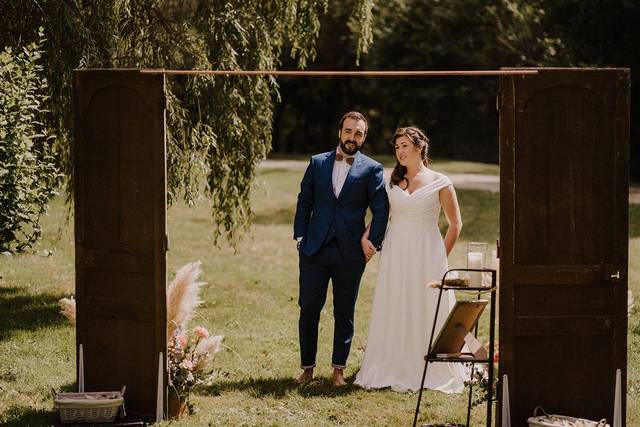 + 6

Photos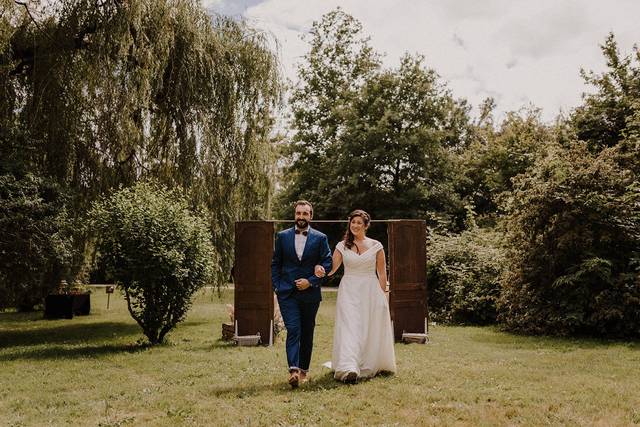 Stitch

Married on 28/08/2022

Beautiful shoes!

I bought my shoes at this shop. The owner is very welcoming and knowledgeable.

Ma Cherie Bleue Bridal Boutique's reply:

Thank you so much for your kind words. It's truly appreciated! Good luck with the everything!

Sincerely,
Team MCB

Emilie R.

Married on 01/07/2022

AAA : Amazing experience, Amazing service, Amazing dresses !

Ma Cherie Bleue is truly the most amazing bridal boutique you can find! I looked for a dress for 6 months, from France to Canada and over 30 boutiques ... trust me, I was dedicated to this quest :D ! I met Nathale and Dora at the beginning of this journey and was amazed by their kindness, professionalism and authenticity : when you met with them you just feel good ! They know their job and truly advise you depending on what you explain and what (really) suits you. What a comfort to feel so well supported by such talented professionals! They were both such great help when finding my wedding gown : Marisol by Theia Couture.

About to choose your wedding gown ? Here a few tips I wish I knew : 1) The sooner, the better (+10-15 months) ! It could be hard to have an idea of what you want and by having time ahead, you will give you the benefit of trying and making discovery you wouldn't have expected ! 2) Try them on with shapewear ... it could really make the difference and help you decide if you should take it! (Skims or Catwalk boutique on St-Laurent, Montreal are so valuable!) 3) Don't forget that after trying a dress, ordering a dress, receiving a dress you should now ... make alterations by a seamstress (app 600$ depending on what you ask for. Braces ? app 120$, Darn the back ? app. 350$, Adjust the dress to your height? app. 350$, Adjust the tail? app. 80$)

Would highly recommend Ma Cherie Bleue for any brides looking for a personalized experience when searching for their wedding gown. Thank you so much for everything, Nathale and Dora!!

+ 6

Photos

Ma Cherie Bleue Bridal Boutique's reply:

Dearest Emilie!
We cannot begin to thank you for your kind words about the overall service received with us and for taking the time to make these important notifications; future brides NEED TO KNOW to 100% help make their wedding shopping journey smoother.

It was an honour to have walked your beautiful wedding journey with you. You looked magnificent and so happy. And that is all Dora, and I want for our brides.

Thank you once again from the bottom of our hearts! And continued blessings to you both🙌🏽

Sincerely,
Team MCB

Meghan

Married on 16/10/2021

Beautiful boutique and dresses!

Although I didn't buy my dress here (not for lack of dresses!), I felt compelled to write a review, given it was one of my favorite stores and the staff are out of this world! These two women have clearly found their passion and it shows in their boutique--they have a large selection of dresses from all over the world and they know their dresses by name. They're exceptionally patient, kind and welcoming. Trying on dresses at their boutique was a fabulous experience, we had their entire store to ourselves and never felt rushed, even though they are busy! Highly recommend this store to anyone searching for their dress 🙂 A+

Ma Cherie Bleue Bridal Boutique's reply:

Hello Meghan! Thank you for these kind words, it was a pleasure to have met and work with you as well. We wish you all the very best for your wedding. We have no doubt you are going to be A beautiful bride.
Xo ❤️
Team MCB

Are you interested?

Send a message

Hardial A.

Married on 07/08/2021

The Dream Dress I Didn't Know I Wanted

Ma Cherie Bleue is an absolutely beautiful boutique. Going there felt like a dress fitting from a movie - every detail down to the wallpaper and furniture is beautiful. I stumbled upon the MCB Instagram page by complete chance and I am so glad that I did!!

Nathale was a dream to work with. I had no idea what kind of dress I wanted or even if I wanted one at all. I had gone to a sample sale and another bridal store before finding MCB and I hated the experience - when I asked for help understanding what would look flattering on my shape, people insisted I had to know what I wanted before they would provide advice. I showed Nathale some random pictures I had saved of dresses I thought were pretty on other people, and with her expert eye she said "I see you like a character lace and fit to form skirts" (two terms I had never heard before, even though I had studied wedding magazines in preparation for the appointment and thought the main styles were 'mermaid', 'A-line', and 'ballgown'!). The one thing I did say was, "I can't go anywhere near a capped sleeve, we can't draw attention to my broad shoulders, it will make me look even broader!".

From there, my bridesmaids and I were invited to look around her beautiful store and select absolutely anything to try on - even ones we knew were outside of my budget or were way too princessy for me to be serious about. There was no rush and no pressure to stick to styles I honestly thought I would want. I ended up trying on dresses I never would have thought were "me", but so many looked so beautiful and perfect for my shape... and all of a sudden, there I was in CAP SLEEVES in a dress that looked absolutely phenomenal on me. It ended up being the one!

No matter how busy MCB was, we never felt rushed during any of the three visits we made. Nathale is extremely professional and so knowledgeable about wedding dresses and how to prepare for the day. It was thanks to her that I brought safety pins, double-sided tape, and baby powder, all of which I ended up using when one of the cups sewn in by the seamstress detached and when I had to ad-hoc hem the dress with pins to be able to dance our fast wedding merengue, which the bustle turned out to be too long for!

I would (and already did!) recommend Nathale and MCB to anyone looking for their wedding gown. The price of my dress was much more reasonable than that of many women I know, and I was so pleased to buy from a Canadian designer. Nathale made the entire process extremely calm and lovely, even though I bought my dress at the last minute and it arrived under two weeks before the big day!

I am so happy to have been able to work with Nathale in preparation for my wedding. I was actually sad when I picked up the dress and said goodbye for the last time! Thank you so much for your kindness, attention, patience, and expertise, Nathale!!

Love, H&R

Ma Cherie Bleue Bridal Boutique's reply:

Dearest Hardial, your review brought me to tears. I must admit I read it several times. Thank you for taking the time to write such a poignant piece. We always strive to bring our work past only finding the perfect wedding dress for our brides. So I was happy to know our suggested tips and tricks came in handy the day of as well. I can only imagine how beautiful you looked on your wedding day! Congratulations to you both!! Not to mention how much fun it sounds like you had dancing the merengue. Continued love and happiness for many years to come to you both. It was an honour and a pleasure to walk with you on your wedding journey.

Ps. I did take this picture shared here, but we would love to have some more to post and show how proud we are of our beautiful brides getting married if that is ok with you.

Xo, Team MCB

Nora T.

Married on 19/09/2020

Dedicated and kind

Over the years, I've bought two bridesmaid dresses and my wedding dress here. They're super nice, not forceful to make a sale. I'll keep going back, although they're dresses are a little pricy because of the brands they carry.

Lauren G.

Married on 14/09/2019

Gorgeous Bridesmaid dresses

While we did have a zipper mishap on the wedding day, these Theia bridesmaid dresses in Wine were simple yet elegant, perfect for our venue.

Ma Cherie Bleue Bridal Boutique's reply:

Hello Lauren!

We are happy to hear the dresses suited the venue. However, we could not believe the issue of the zipper, your mom also contacted us on your behalf after the wedding. Thanks to the heaven for your grandmother! Meanwhile, we would prefer for you to be able to wear it again. Our seamstress Vicky, will be happy to change it at no cost to you as we had advised you mom some time ago as well.

Thank you for your trust! It was a pleasure to have worked with you.
Team MCB

Olga

Married on 27/07/2019

The perfect place to find the perfect dress :)

My experience at Ma Cherie Bleue with Nathale and Dora exceeded all of my expectations and dissolved all my worries about the dress selecting process from the moment I walked into the Bridal Shop. This part of the wedding planning process is what worried me the most as I am not the kind of bride who's dreamed about this day all her life, nor did I know exactly what I wanted. I feared having to play the role of giddy bride who knew all of the details of the event but was pleasantly surprised to realize that these lovely ladies take you exactly as you are and you wouldn't believe how natural it is to be yourself around them. They were patient, kind and great at filling exactly the role you need to find your dress. With me this meant taking the helm a bit more in offering choices and opinions, and with my vague ideas whittling down to what is going to suit me. They were very honest in all of the pieces I tried on, and I was able to discuss very practically what worked and what didn't.
There were a few things that I have since discovered is not always possible at other bridal shops that really went the extra mile for me at Ma Cherie Bleue. To help ease my nervousness they were very kind to allow me to have my family on skype to help. Nathale understood how much an experience like this meant to them as well and not only camera operated my phone so they could get a variety of angles but even engaged them in conversations making them feel truly included. They were so appreciative of that.
My appointment was also truly my own. I was the only person in the shop and the ladies completely focused on me and my needs. There wasn't a single moment that I felt rushed or pressured to make a choice or finish up. At the end of my appointment I was torn between two options and they were unbelievably kind and understanding of that, giving me time and space to consider and arranging a second appointment with no issue once I was ready.
You can really tell with Nathale that she cares so much about the work she does and the people she works with. It's not just about finding you your perfect dress but following through and ensuring it looks it's very best on you. Her service is incredibly personal and it really doesn't end when you collect your order. She worked with me to help me set up my appointment with the seamstress, even offering to attend my first fitting to ensure everything goes to plan. She provided honest and helpful suggestions for other elements of my outfit and even assisted with tickets to a bridal show happening in the area (something I didn't even consider). I'm very grateful to have had such a pleasant and memorable experience, and know that it's not something you get everywhere. Thank you very much Nathale and Dora!

Sarah

Married on 01/06/2019

Most Amazing Dresses and Service!

Ma Cherie Bleue is truly the most amazing bridal boutique and well worth the short trip outside of Montreal! Nathale and Dora are so kind and caring, and they take the time to get to know you and your style. They were both such great help when finding my wedding gown and made me feel comfortable throughout the entire process. Not only do they sell the most beautiful wedding gowns, but their price point is very reasonable. We also ended up purchasing our bridesmaids' dresses as well as my mother's dress at their amazing boutique, and they showed the same caring towards my family and friends as they did to me.
Would highly recommend Ma Cherie Bleue for any brides looking for a personalized experience when searching for their wedding gown, as well as for their bridesmaids and mothers' dresses. Thank you so much for everything, Nathale and Dora!!

Savannah S.

Married on 08/05/2019

Lovely experience! Can't recommend enough!

Before finding Ma Chérie Bleue, I shopped for wedding dresses in LA, New York and Savannah, GA. None of my experiences felt as special as this one! It didn't hurt that I ended up finding my dream dress here!

Nathale (the store's owner), only does one appointment at a time, so she and her employee Dora are focused entirely on you. The thing that really stood out for me here after trying on dresses in so many other places was the attention to detail they put into making sure each dress I tried on fit me as best as possible by using clips, pins, etc. At many other stores they just pulled back the extra material with one big clip and called it a day, making it very hard to imagine what the final garment would actually look like. Also, the sample gowns were in impeccable condition. Some I tried on elsewhere were stained, torn, etc which really took away from the experience. Nathale is a true professional, and really knows her stuff when it comes to her gowns. I feel like I'll definitely be in good hands throughout the alterations process.

I would highly recommend that any Montreal brides make the drive out here, they carry designers and styles that are surprisingly difficult to find in the city. I would say that all of the dresses they have in store are unique and it felt like a breath of fresh air to get away from the more common strapless/mermaid/fit and flare gowns. They don't necessarily market themselves as a "boho" bridal boutique, but many of the dresses here had the ethereal, laid back vibe that I had a hard time finding elsewhere.

Ma Cherie Bleue Bridal Boutique's reply:

Dearest Savannah!

Firstly we are extremely honoured to be the boutique of choice to create the most important dress you will ever wear. Furthermore, these warm words are extremely kind and touching for which Dora and I thank you. The value of our company will always be based on the quality of service and unique products we work very hard to provide each of our clients and it means a lot to us to see it's appreciated. Again thank you!
As for the dress chosen, she is a true testament to your personality and unique sense of style we cannot wait to see you in it. Please keep in touch!

See you soon!

Warmest regards!
Ma Chérie Bleue

Vanessa

Married on 08/10/2016

Before going to Ma Chérie Bleue, I went to 3 other bridal boutiques and none offered even half the service I received here. Nathale and Dora are well informed about the bridal industry and all of the products in the gorgeous boudoir, and are just as excited about your big day as you are! I made a second appointment to show my MOH my dress after it was bought, and the service was just as great the second time around.
The dresses in the store are all beautiful and of the highest quality - as are they accessories. I have recommended this store to anyone I know that has gotten engaged. A must go for all future brides!

Ma Cherie Bleue Bridal Boutique's reply:

Thank you so much Vanessa for taking the time to write these kind words! It make us truly proud and excited to do what we do. We adored having you and your beautiful family in the boutique and we couldn't be happier that you'd found "The One" with us! You absolutely "glow" in your stunning gown. We can't wait to see your gorgeous pictures.