506 reviews
Quality of service

4.8 out of 5 rating

Response time

4.8 out of 5 rating

Professionalism

4.8 out of 5 rating

Value

4.8 out of 5 rating

Flexibility

4.8 out of 5 rating
29 User photos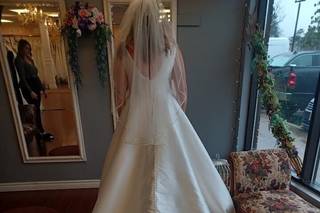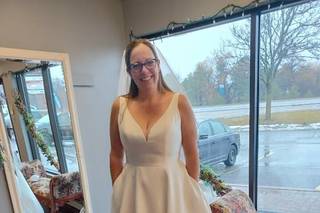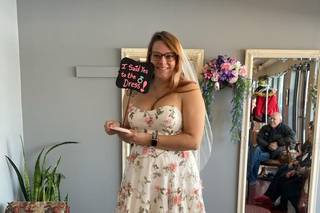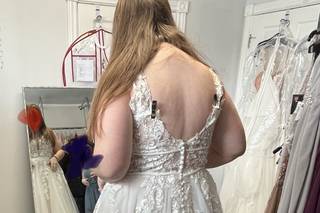 + 25

Photos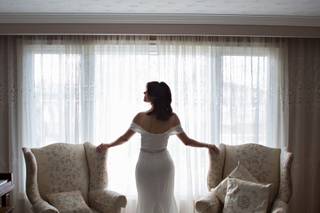 Sheryl

Getting married on 23/07/2024

Had a wonderful time

Had wonderful time. Mika was friendly and accommodating and made me feel comfortable. Highly recommend

Sabrina

Getting married on 20/04/2024

Best for Bride Etobicoke = The Best Get Your Dress Store!!

Okay, let me start by saying I'm planning to have a Hindu wedding ceremony and at NO time did I need or plan to use a white wedding gown. I STILL do not plan to wear a white gown at my actual wedding! Which is where my review begins...
I came across best for bride at an expo i was at. If you signed up with your email and number they provided you a coupon for $338 towards dress stuff. They ended up calling me a few times but I kept sort of blowing them off because as stated, I didn't really need a white dress and they did Not have traditional Hindu outfits to choose from.
But after a few random calls to check if I was still interested, i finally decided to make an appointment around my birthday just to go check it out and get a feel for trying on bridal outfits.
Megha greeted me when I arrived at Best For Bride Etobicoke and explained the store layout and how most dresses were grouped by style. She showed the accessories and clearance sections and asked if I had anything in mind style wise/pics for reference? Which I did not and I requested to just look around, which she was more than happy to allow me to do.
I decided to browse the clearance section and was soon lost in a sea of dresses! They had SO MANY to look at starting from $99 to $3000 and Megha didn't once make me feel awkward about digging through the huge clearance section and pulling out dresses that caught my eye. I eventually came to the end of the discount racks and had surprisingly pulled 5 dresses that caught my eye. I requested to try those on to get an idea of fit and style before going through the other sections of the store. Megha brought my items to the change room area and left me with the GO TO HYPE GIRL of Etobicoke bridal - Ife💜
LADIES.. if you want honest opinions on your dress that will NEVER make you feel self conscious?! Talk to ife💜 If you want someone who makes you feel like a princess? Who will help you with any and every dress? Who will get you excited about your big day and make you feel like a million bucks doing it? With ZERO pressure or making you feel like they're Selling you on everything?? TALK TO IFE💜
This lady was incredible.
She helped me try on all the dresses I picked out, provided similar options for me based on what I did and Didn't like about my choices and provided the most MEMORABLE experience ever.
I normally hate trying on clothes and dresses but Ife made me feel so comfortable. She felt more like the girl friend i wish i brought with me instead of the sales associate. My fiance was with me and even he was commenting on how fun and enjoyable she made the whole process.
She gave me honest opinions when things did not look good on me but explained why in a way that made you understand the dress and it's make vs. body shaming you. Infact ife gets mad if you even make a comment about being fat! She literally has so much love an appreciation for people and it really shows in her work!
3 of the dresses i originally choose didn't quite fit or work out.
1 of them would have been my Perfect wedding gown had I been in the market for a white wedding dress. It was only $900 on clearance and would have allowed me to use the coupon, putting the dress at roughly $650 plus tax
Which was honestly an incredible price that i still think about the dress that made every lady in the shop stop and stare at me.
And the last dress was a Disney Princess dress... Which ironically I have a Disney engagement ring!
And the dress was perfect. It fit, it wasn't too long, it had a gorgeous built in cape train and the ONLY thing wrong with the used to be $3000 dress? Was it needed to be cleaned and some of the beading on the bottom needed to be fixed.
The dress was on clearance for $99!!!!!
$99
Yep.
I did NOT need the dress, I walked in the store with ZERO intention of buying anything... But my entire experience with Ife was so epic and fun and a gorgeous princess dress for $99?!?
Me and my Fiance walked out with a Disney Wedding Gown.
One I convinced him to do a photoshoot with me in, since I STILL don't need the dress for my actual wedding! Lmao 🤣
Thank You Ife 💜 you were THE BEST!!!

Corey P.

Getting married on 16/09/2023

I Said "Yes to the First Dress"

Best For Bride (Barrie) did an incredible job helping me find the "One". The store manager was fantastic, I told her some of my needs and she pulled 7 dresses for me and I knew as soon as I tried on the first dress that it was the one! I didn't feel rushed or pressured. The staff was great, we had the best time!

Are you interested?

Send a message

Serena K.

Getting married on 12/08/2023

I said "Yes" to the Dress!!!!

I went in for my first appointment to try on wedding dresses with no idea of what to expect. I was nervous and Taylor really set me at ease! I had my mum, best friend and one of my future sister-in-laws with me for support and they all commented separately how helpful Taylor was in finding dresses. She was helping a second bride at the same time and I couldn't help overhearing Taylor's remarks and encouragement to her too. Taylor even pulled a couple dresses for me to try, one of which was in my top three. But my dress was the one that caught my eye as soon as a I walked in the store. I was so excited by the time I left and can't wait to go back for my first fitting when the dress arrives in May! So many thanks to Taylor for all her help!!!!!!

Christianna

Getting married on 29/07/2023

Best first experience

Best for bride was helpful and informative before I even stepped in the door. I worked with Megha and she was extremely helpful and listened to what I wanted and liked. Her and Donna gave me lots of information that will help me moving forward. No experience has even compared to Best for Bride.

Vivian

Getting married on 24/06/2023

Highly Recommend Best for Bride

I had a wonderful experience at Best for Bride in Etobicoke. Customer service was excellent and I loved the option to book a 2-hr appointment. Gave me time to browse through the racks and pick the dresses I wanted to try on. I much prefer this to having an associate bring me her choice of dresses. I also had time to try on my favourites a second time to help narrow it down to "the one"! And the staff were awesome. Juliana was very kind, patient and offered valuable suggestions and guidance! Would highly recommend Best for Bride!

Shweta

Getting married on 10/06/2023

Best for Bride North York Location

This was my first and only bridal store that I visited, so I was obviously nervous but having heard such wonderful reviews I had a good feeling going in. And just as I had thought, Amber was an absolute joy to work with!!! From the moment I stepped foot into the store till the time I left, she made both my mom and I feel so special and cared for! After we shared our budget with her, she brought out some beautiful dresses of different styles, as I wasn't sure which style to go with. She was so patient and supportive. She was also sensitive about me feeling overwhelmed and gave me some water and offered if we can have my mom look at some dresses for her. I actually needed that time, to relax and after we selected my mom's dress we got back to trying some more. I had finalized on two dress but still was unsure. She didn't rush me at all and told me to take my time. After a couple of weeks, we set up a second appointment, and once again Amber made me feel so special and cared for. We tried a few more dress and I found the one! I cannot articulate how special Amber made me feel. She also captured some beautiful moments with my mom which I will cherish for a lifetime! She truly went above and beyond for both me and my mom. I really recommend Best for Bride for a wonderful Bridal Dress experience!

Julie R.

Married on 27/05/2023

4th Time is a Charm

The best experience by far. My 4th shop, tried on over 30+ dresses and finally found the one at the Etobicoke location. Great selection of all types of dresses and within everyone's budget with a huge plus! Sara was attentive, professional, knowledgeable and funny. I let her know exactly what i DIDNT want and she followed my direction. She made some lovely suggestions to amp up my selection and I couldn't be more happier. The dress I chose was in the clearance section, is simple but a classic sleek look and I loved the experience. The search is over. Thank you Sara!

Buzy L.

Married on 07/05/2023

Awful experience

I would never ever send anyone to this place. A real shit show. The place is 3 small rooms and they had at least 20 people. (Fire regulation)

Nicole D.

Married on 31/03/2023

Best bridal experience !!

Professional, friendly and cater to your wants / needs!! Such an amazing experience , went in having no idea on style and came out with THE PERFECT dress!
Are you interested?
Send a message