Reviews for Supreme DJs And Entertainment
Awards
4 User photos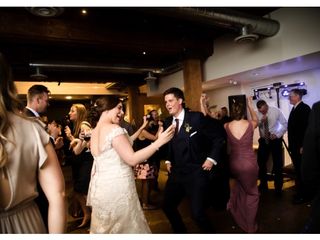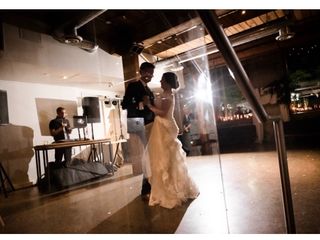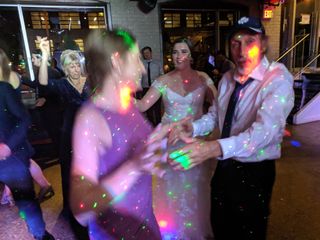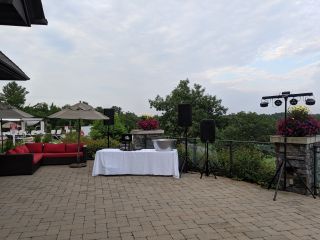 Caryn Moerat · Married on 20/09/2019

Great DJ!!

My husband and I got married Sept 20th this year. DJ Drew WAS AMAZING! He responded quickly to all our questions and listened to our wishes of song choices and styles!! He kept the party going and we had a blast all night!!
I would recommend him 100%.

Sent on 10/10/2019

Supreme DJs And Entertainment's reply:

Had such a blast at your wedding!! Thanks so much for the kind review and I wish you both all of the success and happiness in the future!!!

Take care :D

Jennifer Perley · Married on 03/08/2019

Supreme DJs were SUPREME!

DJ Drew from Supreme DJs was nothing short of amazing! From the first phone call planning our wedding music, to our wedding day everything was perfect. Great customer service, we got to send a playlist of some of our favorite songs, which he expertly interwove with other great tunes! Our guests are STILL complimenting us about the wedding music (both dinner music and dancing), everyone was on the dance floor and had an amazing time. DJ Drew took such great personal care of all the music secretions, and was very attentive in the planning stages, showed up early and stayed late. Look no further for awesome DJ services for your event! Thank you!

Sent on 06/09/2019

Supreme DJs And Entertainment's reply:

You guy's were SOOOOO amazing!!! Had such a blast at your wedding... WIsh it could have gone all night!!!!

Thanks so much for the AMAZING review, brought such love to my heart!

Take care the both of you and I wish you all the happiness and success!!!

Darryl · Married on 14/07/2019

Best dj ever, seriously, the best - dj - ever

I can not even stress how AMAZING Andrew from Supreme DJs was. From the minute we first called him to the last minute of the wedding, EVERYTHING was so perfect. So easy to talk to, so quick to respond to emails, he was truly amazing. He helped ease our mind during the planning process letting us know tips and tricks when we were stuck. Sent us playlists to choose music from, and than come party time, he truly just TURNED UP!!! EVERYONE partied the ENTIRE night. We are STILL getting compliments about how amazing the party was. I have never ever been to a wedding like ours. He literally brought the club to us. Will recommend Andrew ANY TIME.

THANK YOU!!!!!

Sent on 10/09/2019

Supreme DJs And Entertainment's reply:

Hahahah your wedding was OFFFFFFFF THE CHAIIIIINNNNN!!!!!

Thank you SO much for having me and this amazing review!

Michelle Henderson · Married on 13/07/2019

Supreme DJ kept the dance floor packed, he offered excellent service and played the best music!

It was great to work with Supreme DJ! He was professional, flexible, personable, and great at his job! From the beginning he made the selecting process easy. I would highly recommend Supreme DJ to anyone getting married!

Sent on 19/07/2019

Supreme DJs And Entertainment's reply:

Thanks so much for the amazing review! Can't truly express how grateful I am. And thank you so much for choosing me and having me!!! It was amazing and I wish you both all of the love and success!!!

Sarah · Married on 09/07/2019

Amazing DJ!

Drew was the DJ at our wedding in Muskoka this past weekend and he was absolutely incredible! We gave him a bit of guidance on which genres of music we like and he did an amazing job taking care of the rest. He kept everyone dancing the entire night and he was so nice and professional leading up to the wedding. All of our guests loved him and the music he played. Honestly booking Drew was one of the best decisions we made for our wedding. I would HIGHLY recommend him.

Sent on 09/07/2019

Supreme DJs And Entertainment's reply:

Wow!!! I'm literally so blown away by your kind words . It was a pleasure working with you both and the atmosphere at your wedding was a testament to how perfect you two are for each other, I wish you nothing but the best in your future. Thanks for choosing me to be your DJ!

Alison Chappell · Married on 18/08/2018

Wonderful Job

Did a great job!! We were really pleased with the work. We had asked Drew to be the MC and had our timeline down. Music was fun and upbeat, people really enjoyed it. Drew was super easy to work with also

Sent on 21/08/2018

Supreme DJs And Entertainment's reply:

Awe thank you Alison! It was such a pleasure to be apart of your day, and such a beautiful day and venue it was! Always great to see everything come together smooth and perfectly. All the best in the future!!

William C Schwartz · Married on 10/03/2018

Best dj for any event

Drew was the easiest person to work with during our planning process for the event. He made sure we were taken care of and happy with all aspects of our special day. He went over all the music we were looking for and perfectly matched our style and preferences along with complimenting each portion of the event with the appropriate music. Drew was on top of everything and had contingencies planned for that we would have never expected.

Drew had everything set up and that was even with the obstacle of working with me as I am in Michigan and he is based out of Barrie, ON, Canada. I knew I had nothing to worry about with his service. Price was beyond reasonable and much better value than anyone in the Toronto area. Please feel free to contact me through this site if you have any further questions regarding my experience.

Thanks Drew!

Sent on 19/09/2018

Supreme DJs And Entertainment's reply:

This was so awesome can't believe I missed it! Thanks so much for having me and I'm glad we got to meet. You both seem like incredible people and it was an awesome wedding! Thank you so much for the kind words!!!

Allyson Banks · Married on 16/12/2017

Was just recently at my co-workers wedding. These guys did a great job keeping the guests on their feet all night. Played a really good mix of music. Definetly would highly recommend Supreme Djs for your next event.



Sent on 10/01/2018

Supreme DJs And Entertainment's reply:

Thank you for the kind words!

The party was a blast and everyone seemed to be having a great time! Hopefully we have a chance to meet again in the future!

Katelyn Bond · Married on 04/11/2017

I hired Drew for my wedding a few weeks ago and I'm so happy I did! He was so quick to handle any of the requests we had, and he certainly helped alleviate some of the stress of the wedding planning. All the guests had a great time and were very happy with the variety of music that was played. The prices were completely reasonable for the service that we received. I definitely recommend booking with Supreme DJs for your wedding or other event.

Sent on 28/11/2017

Supreme DJs And Entertainment's reply:

Thank you for the kind words! The wedding was amazing and hopefully we will have a chance to work together again in the future!

James Nelson · Married on 29/10/2017

Our wedding was in 1 month and we didn't have our other services had cancelled on us, we had asked SupremeDJs to play the the reception and we really enjoyed the playlist had had prepared for us. The price we had paid was very good, he basically brand everything we didn't need to worry about buying any equipment. We very much enjoyed working with them.

Sent on 14/01/2018

Supreme DJs And Entertainment's reply:

Thank you for your kind review! It was a pleasure to help out! I'm just glad everything worked out well for you and hope we meet again in the future!