Reviews for Steel Productions
Awards

3 User photos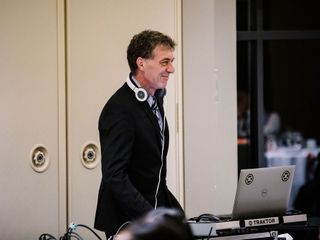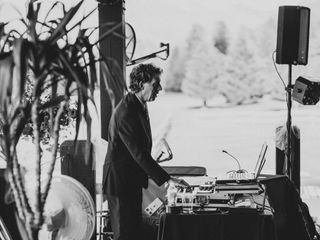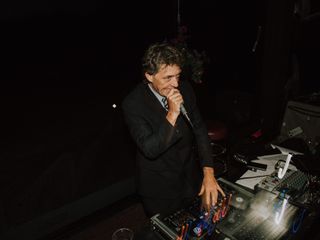 Tia · Married on 04/09/2020

Rob knows his stuff!

I knew when we hired Rob it was the right call because of his confidence and how easy going he was. He found a song I needed to dance with my step-father to. He helped with emcee duties which made everything smoother. He played the right songs for the speeches. So happy we found Rob!

Sent on 06/09/2020

Steel Productions's reply:

Thank you for that lovely review, such a great location and a prefect day, it was a pleasure being your DJ!

Carina · Married on 21/12/2019

Highly Recommend Rob Steel!

I highly recommend Rob Steel as a wedding DJ. I got married Dec.21, 2019, and he was great to work with. He was professional, early for meetings and set up, experienced, kept the dance party going, and very friendly. Our guests kept telling us how great of a DJ he was!

Sent on 29/01/2020

Steel Productions's reply:

Thanks Carina for that lovely review, I really enjoyed being your DJ and working with you guys, it was such a great way to end the year for me. Best wishes to the newlyweds!!

Katherine P. · Married on 12/10/2019

Amazing!

We had our wedding October 12th, 2019 and had Rob with Steel productions as our DJ. What a great decision, he was absolutely amazing. The communication before the wedding was excellent, he was on time, played every song at the right moment for every little detail of the wedding. I had a detailed timeline with what songs to play for what exact moments and he was spot on, he even had the perfect little songs/ effects for the moments I didnt think of! The dance portion of the night was amazing, great music, kept the dance floor going all night and was an amazing MC for the dance portion of the evening. I got comments all evening at how fantastic our DJ was. He even had lights, and the sound system was amazing. Thank you Rob
- Katherine and Kirk

Sent on 06/12/2019

Steel Productions's reply:

Thanks Katherine and Kirk for that lovely review of your Wedding day, I had a wonderful time being your DJ and enjoyed bringing your play-list to life very much. Best wishes to you both in your new life together!

Rebecca C. · Married on 22/09/2019

Rob did a fantastic job

We were able to meet with Rob well ahead of our wedding and he gave us a good idea of what he would need from us and everything he would provide. We had multiple emails and phone calls with detailed music lists and he was great at helping us decide what music to use when! He also helped us organize our MCs and was great at prompting our guests to go where they needed to be. The dance floor was also never empty! He really helped make our special day magical!

Sent on 26/09/2019

Steel Productions's reply:

Thank you Rebecca, I had a lovely time being your DJ and it was also fun to see some friends at your Wedding too! Best wishes to you both!

Megan · Married on 21/09/2019

We highly recommend DJ Rob - you won't regret it!

DJ Rob was the absolute best! We had him in charge of the music at our wedding reception, and our guests couldn't stop raving about him! He provided the right songs throughout the evening, from setting the ambiance during the dinner, to controlling the mic levels for the MCs and speeches, to keeping the dance floor full for hours. He even pulled a song that was mentioned in one of our groomsmen's speeches and played it right away! We were so impressed with his professionalism and expertise, taking care of the details so we would remember the music for all the right reasons. Thank you DJ Rob for making that evening so memorable for us, and we are so happy to have you as part of our big day! And extra thanks for suggesting our soundtrack! It brings us back to that day whenever we hear September by Earth, Wind, & Fire :)

Sent on 29/05/2020

Soo H. · Married on 11/08/2019

The best DJ!

Another vendor recommended Steel Productions and said, "Rob is the best that I've ever seen in all weddings." And Rob was exactly like that. He was absolutely amazing and our would have been totally different without him. We planned our wedding in two months and got short on time to set up playlist. We only picked three songs - wedding entrance, recessional and first dance - and left all the other songs to Rob. And result? It was a million times better than what I wished for! Thank you Rob

Sent on 08/09/2019

Steel Productions's reply:

Thank you Soo for those nice words, I had a great time being your DJ and your wedding flowed beautifully from segment to segment. It was super fun to be able to pick most of the music and you gave me a wonderful audience on your big day! My very best wishes to the Newlyweds!!

Cindy H. · Married on 10/08/2019

Friendly, Accommodating, Professional

We loved working with Rob! He was very easygoing and incorporated music that we requested as well as using his professional judgment for what would fit the mood best. He was there for our ceremony, cocktail hour, reception, and dance party, and we collaborated on the types of music to play during each part. He also accommodated for foreign language songs, and songs we did not want. He helped to MC a bit too and was great! Thank you so much for everything you did for our wedding, Rob. Everyone had an amazing time!

Sent on 14/10/2019

Steel Productions's reply:

Thanks you Cindy, it was a lovely day at Burnaby Mountain and I enjoyed being your DJ very much!

My best wishes to the newlyweds!

Jennifer C. · Married on 14/07/2019

Exceptional communication, easy to work with and overall great experience!

Rob dj's our wedding 7-14-19 and went above and beyond for us. He responded quickly to all of our inquiries, helped me plan a surprise for the groom during the ceremony and was excited when I challenged him to find less common known songs for our reception. Working with him was an excellent experience and we are very happy we chose him for our wedding! Thank you!!!

Sent on 18/07/2019

Steel Productions's reply:

Thank you Jennifer, I enjoyed being your DJ very much, it was a wonderful day and my best wishes go out to you and Trevor!

Leah A. · Married on 13/07/2019

Amazing, professional service for a great price!

Rob absolutely killed it at our wedding! An old radio personality with years of experience doing weddings, we hired him for both music and MC services and were not disappointed. He did the cocktail hour music, the dinner music and the dance music and with a few song suggestions from us he tailored the rest of the music to our tastes and the mood we wanted for each of those sections. I also had a friend playing music for the ceremony and another friend singing for the first dance and Rob did sound for both of them and they sounded amazing.
His MC services were on point. He kept the timeline on track and made necessary announcements and introductions without talking any more than needed or taking the attention away from us or anyone who was speaking. No bad jokes from this guy!
His song choices were also awesome, and while he took requests he was thoughtful about which song requests would bring the party up and which would bring the party down. If it was a song that didn't make sense at the time he would either play it later or say that he'd been requested by the bride not to play it. Which I was fine with. He did an unbelievable job and people were dancing all night. I had lots of compliments on how great the DJ was and how fun the party was. And his prices were also below the going rate and the value for money was top notch. Highly Recommend!


Sent on 29/07/2019

Steel Productions's reply:

Leah, thank you for that lovely review, I had a fabulous time being your DJ and performing at Sage UBC, that was truly a wonderful day and an even better evening! I've enjoyed seeing the pictures on FB!!

Mika H. · Married on 06/07/2019

Absolutely amazing

We were thoroughly impressed with Rob! He was very responsive to all our emails leading up to the wedding despite how busy he is. He did an absolutely amazing job at keeping our guests on the dance floor and reading the crowd while considering our own taste in music. Rob's passion for DJing totally showed in how he presented himself with enthusiasm on the day. He MC'd both our cocktail hour and reception in a smooth fashion with the timeline being sent to him only shortly before the wedding. We have no hesitation recommending him to our future friends getting married!!

Sent on 14/08/2019

Steel Productions's reply:

Mika, thank you for that lovely review of your Wedding Day, it was a pleasure being your DJ and getting to know you both along with a fantastic group of guests, my very best wishes go out to you both!