Reviews for Scottify Events
Awards
15 User photos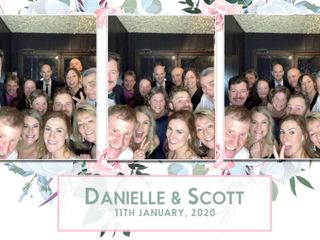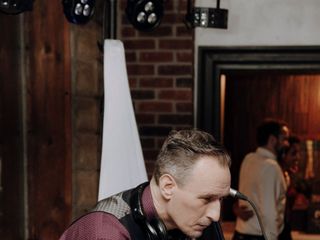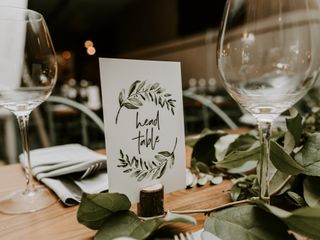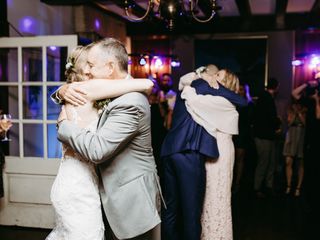 Featured

Greg · Married on 15/09/2018

Pure class and FUN!

Firstly, Scott: Thanks again, man! Like I said, you were a huge part of why we will never forget our big day. I wish we had the venue 'til 5am! (I know we had enough music lined up!)

To the prospective customers looking for a DJ: I know how I feel when I read some of these reviews. "Did he pay someone to write that?", or "They must have known each other from before". Neither is true. All of those top marks from me are genuine, honest, and well-deserved. Given our experience with Scott, I know all of the other reviews that you will see on him are genuine and honest too.

Scott was:
1. Professional (and friendly): quick to reply to all my emails. Everything from my initial inquiry, to tweaking the few last minute additions to the playlist. Dressed in a nice vest and tie on our big day.

2. Great value: As I did my research on DJ's, finding the 'best deal' was top of mind (I always am looking for the best deal!). Based on my research (spoke with five DJs total, so, yes, very small sample), I'd guess Scott is somewhere near the middle of the pack when it comes to pricing in the GTA. I can't stress this enough though: you are getting top of the pack talent! To me, that's the definition of 'great value'.

3. Talented (and passionate): the mixing of music and the playlist that we worked on together had the dance floor full all night. Scott's timing with song selection, his passion for music, and his grooving a little bit in his booth were a big reason why! (it didn't hurt that my bride and I hardly left the floor either!)

Thanks again Scott! Are you free Sept 15, 2019 for our one year anniversary?! Let's do it again!
Greg

Sent on 26/09/2018

Scottify Events's reply:

Greg - thanks for noting the clothes and my dancing as well as my mixing! This testimonial gives me all the feels... I enjoyed being part of your Wedding so much - and I'll pencil in your 1st anniversary now ;)

Maureen · Getting married on 12/12/2036

Great DJ!!!

Scott is an amazing DJ. The dance floor never stopped all evening. He was one of our best vendors, I could call him anytime and he always had an answer to my question. I would recommend you book him.

Sent on 12/11/2018

Scottify Events's reply:

Thanks for not only the kind words here but taking the time to send me a lovely thank you card in the mail. I enjoyed connecting with you and James, planning your reception's music with you and the dance was lots of fun! Thanks for picking me to DJ for you. Best wishes for the future!

Scott Carter · Married on 11/01/2020

Scottify--Helluva Guy!

Scott was absolutely fantastic in all aspects! He was super quick to respond, offered amazing services and executed the night without a hitch. The photobooth was a hit with all of our guests and everyone was raving about the vibe he set with the music and timing. Scott is super lovely and professional, so you don't have to worry about anything the day of. I would highly recommend Scottify to anyone who wishes to have a wedding full of fun and dancing!

Sent on 23/01/2020

Brenda Coroy · Married on 21/12/2019

Amazing service !

Scottify made our vision of a fusion wedding come together perfectly. We were looking for a rang of music from Latin to Bollywood, Scottify was able to provide music that had everyone dancing! We had a very short window to prepare for the big day but Scott worked with us to make sure he understood our vision and exactly what we were looking for!

Sent on 21/01/2020

Danielle Mischkot · Married on 23/11/2019

Absolutely Amazing! Would highly recommend!

Scott was an absolute pleasure to work with. His communication throughout the planning process was very timely, professional and personable. His playlist creator was also very convenient and easy to use! He had the dance floor packed the entire night, and I had many guests ask for his contact information! Overall I am incredibly happy that we chose Scott for our wedding, it couldn't have been better!

Sent on 09/12/2019

Scottify Events's reply:

I knew as soon as I walked into EWG that it was going to be a fun day and wasn't it ever?! I really, really enjoyed myself. It was a pleasure to DJ for you and to be part of your big day. The dance was 🔥🔥!! Thank you so much for booking with us Danielle! All the best to you and Shawn!

Rachael · Married on 02/11/2019

Best Party Ever!

We are so happy we hired Scott for our wedding! Our friends and family kept saying how amazing the music was! There wasn't a time where the dance floor was empty! Using Scott's playlist creator was SO much fun and really helped us pick songs that we completely forgot about until seeing them in his playlist creator. Scott was professional and super easy going...he even has a photo booth that you can rent and our guests had so much fun using it.

Sent on 05/11/2019

Scottify Events's reply:

What a fun day! Thanks to you and Kyle for booking us. What a great venue too! Your MixList was EXCELLENT! I really enjoyed mixing all your songs :)

Keep in touch and best wishes for your future together Rachael!

Scott

Kyle Shaughnessy · Married on 12/10/2019

Scott - What a pleasure to deal with

Scott, what a pleasure to deal with.
Professional, fun, & friendly!
Most important, he could read a room & kept both young & old dancing the night away.

Sent on 20/11/2019

Aya Tsintziras · Married on 20/09/2019

The best DJ ever!

We got married on September 20, 2019 at Archeo in the Distillery District and can't recommend Scotiffy Events enough. Scott was so great throughout the planning process and helped us create a fun, warm, chill vibe for our wedding reception.

Our guests had a great time and after one requested some Greek music, it turned into a great dance party.

Scott made our wedding a wonderful and stress-free experience and we are so happy that we hired him!

Sent on 02/10/2019

Scottify Events's reply:

I could tell that you and Colin were very relaxed and drawn to a pretty chill Wedding and I am glad that dinner provided that setting for you. And then your family and friends really wanted to really party so that was fun too! I'm glad everyone enjoyed the mix and that everything went off according to plan!

Your words are an encouragement! Thank you!

Cheers to you and your new hubby!

TV How · Married on 01/09/2019

Amazing DJ!!

Wow, we were so happy to have worked with Scott for our wedding! We found him here on WeddingWire and decided to go against the grain of our friends' suggestions, and invest a little more into hiring a quality DJ. That investment truly paid off. Scott is incredibly kind, professional, and just fun to be around! Not only is he a talented mix DJ, he also understands the wedding day well and gave us helpful tips to make it run smoothly. We had the option to either pick our entire playlist or leave it in his hands. With the wedding day rushing upon us, we decided to do the latter and were blown away with what he brought us! Our friends and family had a blast on the dance floor, and Scott was truly in tune to the vibe (instead of playing random songs that we have all experienced other DJs playing in the past). On the day of, he arrived early to setup with our other vendors, and we felt at ease leaving everything in his hands. As a nice memento, he recorded all our wedding reception speeches. Five star experience and highly recommended!!

Sent on 22/11/2019

Paul Babiak · Married on 29/08/2019

Scottify delivered a perfect wedding experience - effortlessly

From the moment we reached out to Scott @ Scottify, we knew we had made the right choice. Scott made a real effort to get to know us and understand both our music interests and the tone and theme of our event. We found the planning tools to be really easy to use, and Scott ensured we had all the special songs we needed, even if they weren't listed in the planner. Scott was super responsive to our guests, as well. We'd highly recommend Scottify Events!

Sent on 09/10/2019

Scottify Events's reply:

Kind words sir! Thank you so much for putting your faith in us! I am genuinely happy that you enjoyed your reception. It was a pleasure to be part of the celebration for you and Kim. I appreciate the positive feedback!