Reviews
5.0 out of 5 rating
Quality of service

5 out of 5 rating

Response time

5 out of 5 rating

Professionalism

5 out of 5 rating

Value

5 out of 5 rating

Flexibility

5 out of 5 rating
100%
Recommended by couples
1 User photo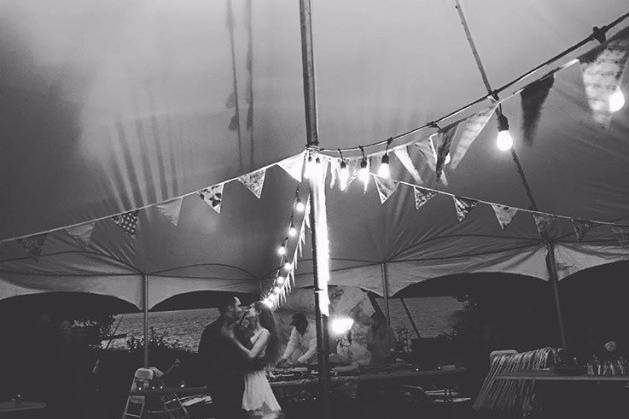 Ann A.

Married on 13/12/2019

Go ahead and trust these guys!

We used DJ Bookshelf for my husband's 50th birthday this past weekend. I was a little nervous, as I found them just by Googling -- thought it was cool that they were all vinyl. I had been considering another DJ at first, but Alain was so good about following up, and assured me that he wouldn't be "cheesy," so I decided to take the plunge with him. His joke was, "Don't worry, I won't play Cottoneye Joe." Based on my general guidance, his music completely suited the crowd. It had exceptional cool factor. He was also polite and professional in making sure the setup was ready for him. I would recommend his services without reservation.

Kate

Married on 27/10/2018

Amazing DJ got everybody dancing

We wanted a DJ that played something other than generic wedding music, so Record Collective was a perfect fit. DJ Bookshelf got everyone dancing, young and old. Very nice guy and easy to work with. He made our night! Thank you!!!

Hilary S.

Married on 13/10/2018

Vinyl Charm

Honest Mike was easy to work with and brought his a-game to our wedding. We underestimated how dancey our guest were going to be, but he read the crowd like pro and was able to keep everyone happy. Guest enjoyed flipping through records and requesting songs.

If you are looking for classic music and want that ease and fun of vinyl - Record Collective is the DJ for you.

Are you interested?

Send a message

Katriina S.

Married on 08/09/2018

Amazing night with Records Collective

My husband and I wanted to make sure that whoever we hired for our wedding music would fit our vibe. Alain did not disappoint, he made sure that our vision during the ceremony and throughout the night was accomplished. He was responsive with my emails and it helped that he had been to our venue before.
Everyone had a great time dancing up a storm until the very last song.
Thanks again Alain for keeping the vibe going the whole time.
I would highly recommend Record Collective to anyone looking for something out of the normal.

Ella G.

Married on 08/08/2018

Best Dance Party - The dance floor was packed until the bitter end!

Not only would I recommend DJ Collective to a friend, our friends have actually reached out to us to get their contact info. We heard at least 15 guests say 'the DJ was incredible' and 'I can't believe it was all vinyl.'

My husband and are both music obsessed and very picky about music (read: high maintenance). We had lots of opinions in regards to genres, specific must-play / don't-play songs, timing and transitions between songs etc. Music was the most important thing to us at the wedding and we couldn't have picked a better partner to work with on this then DJ Collective. Mike knew how to read the crowd and played songs that got EVERYONE on the dance floor until the late hours of the night when we finally had to leave to catch our buses. The only time the dance floor wasn't packed was for a short break when late night food was served. Two pals were 8 and 9 months pregnant but said they couldn't leave early or sit down because every song played was such a winner.

If you want to have an awesome dance party and create great vibes that all your guests young to old will appreciate definitely go with them!!!

Jordan S.

Married on 14/07/2018

Best dance party I've ever had

My wife and I had Mike and Emily DJ our wedding this past weekend and they were outstanding. Music is really important to us and we knew it would be a critical component to our celebration and it could not have gone better. Not only did Mike do a fantastic job setting the mood during cocktail hour and dinner, he perfectly blended all genres of music during the dance party to ensure everyone went home happy. They have an amazing vinyl record collection, in addition to wonderful energy and chemistry.

We couldn't be happier with how things went. I would absolutely recommend these two to DJ your wedding.

Adrienne F.

Married on 30/09/2017

Hi! Mike and Emily joined us this September at a barn wedding. We had the absolute best time and loved having them there!!!! They had such a great blend of old favourites and newest songs which kept everyone dancing into the night.

Meghan W.

Married on 16/09/2017

We were thrilled with Mike's contribution to our wedding. He did a perfect set that got everyone dancing all night, and was receptive to song requests from guests. So many guests complimented us on the music. Best of all, he completely lives up to his Humble Mike name. Such a pleasure to interact with. Thank you Mike!

Britney P.

Married on 12/08/2017

Top notch DJ

Couldn't have been more impressed with the professionalism or personality that DJ Bookshelf brought to our wedding. We chose him as we are so picky about music and it was one of the most important aspects of our reception. We were so impressed with his ability to keep everyone on the dance floor and interacted with our guests so well. So many guests thought that we were friends with him as he was so personable. Our venue had electrical issues and he was the one to solve the problem and keep playing all night long. Couldn't recommend anyone else other than Alain!

Jon N.

Married on 12/08/2017

As soon as we booked our venue, I called Mike. I knew that if we had a good dance party, nothing else mattered in making it a successful wedding. As it turns out, it was a phenomenal success and the best day of our lives. So many people said it was the best wedding ever and EVERYONE mentioned the DJ. More than a couple people mentioned that they had to pee for hours but couldn't leave the dance floor because the DJ just kept playing another banger. PLUS, it was outdoors and poured rain - not a problem for the DJ, Mike and Emily showed up on time and just kindly got a couple of our friends to help set up so the wind and rain wasn't a problem for the epic party they knew we were hoping for.
The most important thing to us was that the older folks - mostly the bride's dad - enjoyed the dance floor. I probably mentioned this to Mike way too many times and I probably didn't even have to. He seamlessly blended old and new and found that perfect groove of songs that everybody loves without even realizing it until it's in their ears.
We really can't say enough good things. My father in law asked me 3 times to make sure the DJ got tipped. They played from about 9pm until 2:30am - on vinyl!! I don't know how they have enough storage space for so many hits but they do.
The biggest thank you to Mike and Emily for crushing our wedding out of the park!