Reviews for Klay Tate Productions
Awards





11 User photos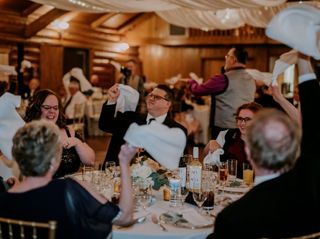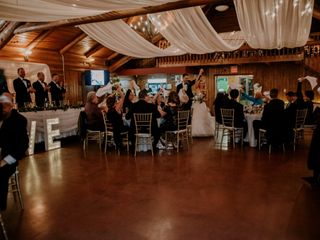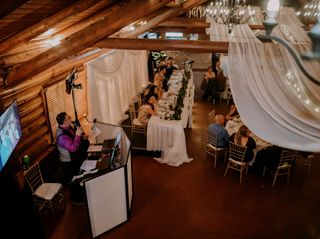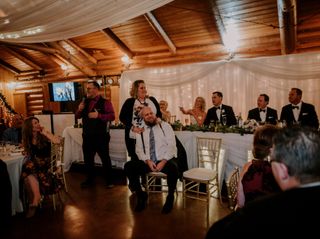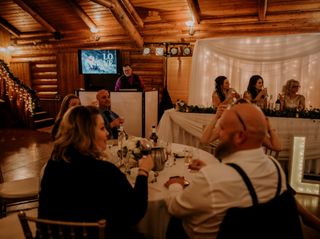 Kayla Woytowich · Getting married on 31/10/2020

Amazing!!!!

We have gone through a few different types of DJ's during our work function Christmas parties and none of them were even close to the caliber of entertainment that Klay Tate offered. Very professional and just a lot of fun! Highly, highly recommendable :).
Thank you for all of your help planning our party, Thank you for keeping all of our guests entertained and making my job easier for the party planning.
Cheers!!!

Sent on 08/02/2018

Klay Tate Productions's reply:

Thank you for your review Kayla! It was an absolute pleasure working with you! One of the best Multi office parties that I have been a part of!

Tyler Dankowich · Married on 31/12/2019

Absolutely the best DJ in Central Alberta!!!

We couldn't have been happier not only with Klay's amazing DJ'ing skills and talent, but he also very much impressed us with his charismatic MC'ing abilities on our wedding day. We had numerous guests approach us during the night and even for days afterwards, letting us know how great he was and how much fun they had! Truly spectacular.
He read our crowd so perfectly, had great commentary, was funny, full of great ideas to keep our guests engaged, and even went the extra mile to help create our slide show for his big screen tv's! I can easily say that the quality of sound, lighting, and his complete setup were all absolutely amazing as well. His knowledge, experience, and attention to detail make him far superior to his competitors.
We got so much more than we hoped for and highly recommend Klay Tate Productions for any special event. We are so excited to see him again for our cousin's wedding this summer! Thanks again Klay for helping to make our day so wonderful!
Tyler & Lisa

Sent on 22/03/2020

Klay Tate Productions's reply:

Tyler and Lisa,

Thank you for these words! Your celebration was so important to me ... not just because it was New Year's Eve ...but because you both were so incredibly invested in the outcome. You considered every single family member and guest in your planning. Your meticulous attention to detail was obvious from the decor to your thank you toast. I thoroughly enjoyed meeting with you both and planning your reception together. Best wishes for a bright and happy future! 🤓

Jackson Marfleet · Married on 08/09/2019

Klay kept them dancing!

We met Klay at a wedding at the Pine and Pond wedding venue this summer. He was charming, an excellent host, and was able to read the crowd to perfection, keeping them entertained and dancing into the morning hours!

Sent on 04/02/2020

Klay Tate Productions's reply:

Thank you Jackson! I'm so glad to hear you enjoyed my services! It was great to meet you and Samantha!

Cathy Van Wijk · Married on 10/08/2019

Mrs.Tobias

Klay did an amazing job as our MC and DJ! Even though we had never met before we felt like we had known him for years! Entertaining comes so naturally to him. Alot of our guests commented on how much fun he was and we loved how much he made us laugh and enjoy the whole evening!

Sent on 26/02/2020

Klay Tate Productions's reply:

Thank you for your review Cathy! I had so much fun! Your horse-drawn carriage ceremony entrance was such a nice touch, and the reception skit with you and Jesse was priceless! What a blast!

Shannon Rost · Married on 29/06/2019

Highly recommended, Klay is excellent!

I would highly recommend Klay Tate....he's very professional, funny, entertaining and kept the crowd going!

Sent on 01/03/2020

Klay Tate Productions's reply:

Thank you Shannon! It was such a pleasure to be a part of the celebration with such a fun group of people. You chose a warm and cozy venue for a reception, and made it look even better with the decor.

Josh Wawin · Married on 18/05/2019

Klay was fantastic!

Klay was extremely professional and did an amazing job at our wedding. He's a great guy who added a very positive and fun vibe to our wedding. If you need a DJ for your wedding go with Klay!

Sent on 20/06/2019

Klay Tate Productions's reply:

Thank you for the review Josh! It was such a treat to celebrate yours and Tasha's special day in the mountains! What a fun time! I hope no one took a nap outside with snacks in their pockets! lol.

Marci Reichert · Married on 11/05/2019

He was amazing

Hello to all. Just let you know how much fun klay was. And went to show he put on. He kept her wedding in tiptop shape. He kept everything on time. He did an amazing job on helping us plan our wedding basically and he mced our wedding We did fun games we listen to some great music and he was always a great speaker and never once did he have everybody's attention so he's amazing and again and amazing teacher to have thank you so much

Sent on 11/06/2019

Klay Tate Productions's reply:

Marci, Thank you for your review! It was a pleasure being a part of your's and Rodney's big day! What a great group of people! I really enjoyed planning everything with you too.

Stefanie · Married on 19/01/2019

Above amd beyond!

ABOVE & BEYOND
DJ...yes. But not just a DJ.
Comedian, entertainer, photographer, dancer and just all the way through a stand up, top level guy.

Klay was quick on his feet. His spontaneous unplanned quick wit and sound effect were pure genius. Klay can read a crowd and therefore we never once had an empty dance floor. Klay supported our MC's and made sure everything was on time and very organized (including his set up and take down). Klay was the dj at my brother's wedding as well as several of my friends.

There was fun happening on my dancefloor I wasn't even aware of until I heard the joyful stories the next day from family and friends. Such things as balloon competition, hula hoop, limbo etc whatever my people demand he supplied!

Young, old, male or female our guests raved about our dj choice. Booking Klay was honestly the easiest decision I made in the entire planning process.

Nothing in life is certain.. not even marriage. :S
However if I have to get marry again I am 100% CERTAIN I would have  Klay again!!
Totally kidding about the getting married again part...we are basking in my wedded bliss and Klay was a HUGE piece of our fun and contributed to our life long memories.

Can't wait to see the pictures that he took!!!


Sent on 23/01/2019

Klay Tate Productions's reply:

Thank you for your amazing review Stef! It was awesome to be a part of your's and Brian's big day! You were sooooo much fun!! I mean...how many brides would do a rock power slide in their dress? But you did! I know I have done a few weddings within your family and friends...but honestly, yours was amazing! It was filled with so much love, emotion, and just...connection. Best wishes for a bright future filled with awesome power slides!

Alyx Urkow · Married on 29/12/2018

Your Best Option for Wedding DJ!!

Having the best wedding DJ was super important to us and Klay did not disappoint! He is a great communicator with a lot of experience and is dedicated to providing the best atmosphere possible for your reception. He will ask what genres of music you prefer, what songs you need to hear, and will take requests from guest. He is great at reading the vibe of the room and acting accordingly, even filling in the awkward silences between speeches with music that coordinates with the words being said (amazing!) We received countless compliments from our guests at how amazing our DJ was and that comes from a family of musicians, dancers, and people who love to visit (ahem, party ;)) —everyone was pleased! In our opinion this is your only choice for a DJ at any event, but especially your wedding!

Sent on 26/02/2020

Klay Tate Productions's reply:

Thank you so much Alyx! I had a great time, and it was an awesome celebration! So much fun! You were so chill and easy to work with. All the best to yourself, Mitch, and family!🤓

Nick & Rachel Yaschuk · Married on 27/10/2018

Everything and more!

KLAY TATE PRODUCTIONS. Wow, so first class! Couldn't have imagined having anyone else producing (DJ, MC, lighting) our wedding reception. Humour, humbleness, creative, warm, inviting and many more adjectives I just know! My husband and I are just so blessed to have shared this day with all of our friends and family, and Klay somehow made that time not just a wedding reception, but a moment in time that we could never recreate in the most positive way, and for years to come will be an amazing moment in time that we will never forget!

Love Nick & Rachel Yaschuk

Sent on 11/11/2018

Klay Tate Productions's reply:

(I left a reply right after you posted this. Not sure why it did not go through).

Anyway, Thank you Nick & Rachel! I loved being a part of your day. The thought and care that you both put into your wedding was clear right from the start. And it showed all the way to the reception. All the best!