Reviews for Klay Tate Productions
Awards





12 User photos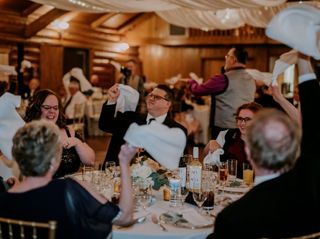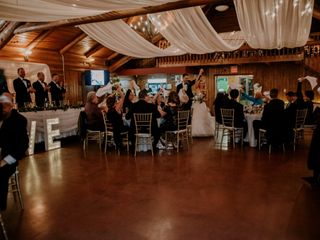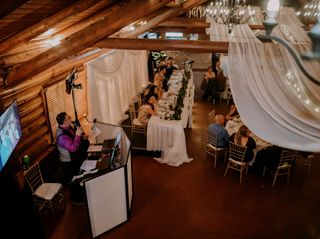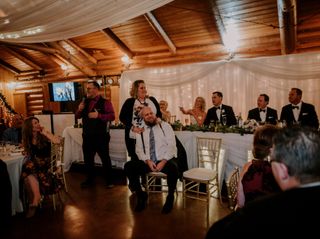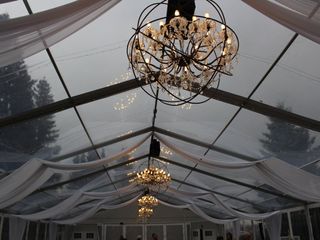 Kayla Woytowich · Married on 31/10/2020

Amazing!!!!

We have gone through a few different types of DJ's during our work function Christmas parties and none of them were even close to the caliber of entertainment that Klay Tate offered. Very professional and just a lot of fun! Highly, highly recommendable :).
Thank you for all of your help planning our party, Thank you for keeping all of our guests entertained and making my job easier for the party planning.
Cheers!!!

Sent on 08/02/2018

Klay Tate Productions's reply:

Thank you for your review Kayla! It was an absolute pleasure working with you! One of the best Multi office parties that I have been a part of!

Paighton Smith · Married on 04/10/2020

Amazing! Everyone at our wedding were raving about him and his fun loving spirit. Made everyone feel comfortable and happy

100% would choose again, and will recommend and use for any other events.

Sent on 07/10/2020

Klay Tate Productions's reply:

Thank you Paighton! It was an absolute pleasure to be a part of your special day. Your wedding was a highlight in a time where so many things have been cancelled, and changed. It was a warm and wonderful gathering of family and friends at Pine & Pond. The venue staff and myself were chatting as we were packing up about how nice everyone was. Best wishes to yourself and Steve for an amazing life together!

Shelagh Hagemann · Married on 22/07/2020

Amazing personalized service

Klay is highly professional and he is eager to ensure each event is personalized. He takes time with clients to ensure their special day is the best it can be. He's creative and full of energy.

Sent on 08/10/2020

Klay Tate Productions's reply:

Thank you Shelagh. I enjoyed every minute of it (times two!) 🤓Congratulations on putting together such an amazing celebration despite all the crazy things going on in the world at the time!

Naomi Pickett · Married on 29/02/2020

Amazing and wonderful

Klay was amazing to deal with. From the first moment we met to go over plans and playlists, Klay was professional and open. He helped us finalize things that we haven't thought about. He is much more than a dj he comes prepared with games and gets the crowd involved. He keeps the music family friendly but also feels the crowd. He worked great with our MC. He even gave us some tips for our ceremony music which we did ourselves. I would definitely use him again for an event. He's such an entertainer.

Sent on 07/10/2020

Klay Tate Productions's reply:

Thank you Naomi! I knew we were going to be a good fit from our first meeting (specialty donuts? Yes please!) It was an absolute pleasure to be a part of your celebration. I wish you and James all the best for the future! 🤓

Gayle Pickett · Married on 29/02/2020

Klay Tate was the cherry on top of a great day.

A very congenial young man. Klay was flexible, professional, entertaining and a great addition to the day. He had the ability to bring a diverse crowd together and created a fun atmosphere for all. We had many guests comment that he was the best DJ service they had experienced. Highly reccomended.

Sent on 10/10/2020

Klay Tate Productions's reply:

Thank you Gayle. It was a pleasure to be a part of James & Naomi's special day! It may have been cold outside, but inside it was a warm and wonderful celebration with some good people.

Tyler Dankowich · Married on 31/12/2019

Absolutely the best DJ in Central Alberta!!!

We couldn't have been happier not only with Klay's amazing DJ'ing skills and talent, but he also very much impressed us with his charismatic MC'ing abilities on our wedding day. We had numerous guests approach us during the night and even for days afterwards, letting us know how great he was and how much fun they had! Truly spectacular.
He read our crowd so perfectly, had great commentary, was funny, full of great ideas to keep our guests engaged, and even went the extra mile to help create our slide show for his big screen tv's! I can easily say that the quality of sound, lighting, and his complete setup were all absolutely amazing as well. His knowledge, experience, and attention to detail make him far superior to his competitors.
We got so much more than we hoped for and highly recommend Klay Tate Productions for any special event. We are so excited to see him again for our cousin's wedding this summer! Thanks again Klay for helping to make our day so wonderful!
Tyler & Lisa

Sent on 22/03/2020

Klay Tate Productions's reply:

Tyler and Lisa,

Thank you for these words! Your celebration was so important to me ... not just because it was New Year's Eve ...but because you both were so incredibly invested in the outcome. You considered every single family member and guest in your planning. Your meticulous attention to detail was obvious from the decor to your thank you toast. I thoroughly enjoyed meeting with you both and planning your reception together. Best wishes for a bright and happy future! 🤓

Jackson Marfleet · Married on 08/09/2019

Klay kept them dancing!

We met Klay at a wedding at the Pine and Pond wedding venue this summer. He was charming, an excellent host, and was able to read the crowd to perfection, keeping them entertained and dancing into the morning hours!

Sent on 04/02/2020

Klay Tate Productions's reply:

Thank you Jackson! I'm so glad to hear you enjoyed my services! It was great to meet you and Samantha!

Cathy Van Wijk · Married on 10/08/2019

Mrs.Tobias

Klay did an amazing job as our MC and DJ! Even though we had never met before we felt like we had known him for years! Entertaining comes so naturally to him. Alot of our guests commented on how much fun he was and we loved how much he made us laugh and enjoy the whole evening!

Sent on 26/02/2020

Klay Tate Productions's reply:

Thank you for your review Cathy! I had so much fun! Your horse-drawn carriage ceremony entrance was such a nice touch, and the reception skit with you and Jesse was priceless! What a blast!

Shannon Rost · Married on 29/06/2019

Highly recommended, Klay is excellent!

I would highly recommend Klay Tate....he's very professional, funny, entertaining and kept the crowd going!

Sent on 01/03/2020

Klay Tate Productions's reply:

Thank you Shannon! It was such a pleasure to be a part of the celebration with such a fun group of people. You chose a warm and cozy venue for a reception, and made it look even better with the decor.

Josh Wawin · Married on 18/05/2019

Klay was fantastic!

Klay was extremely professional and did an amazing job at our wedding. He's a great guy who added a very positive and fun vibe to our wedding. If you need a DJ for your wedding go with Klay!

Sent on 20/06/2019

Klay Tate Productions's reply:

Thank you for the review Josh! It was such a treat to celebrate yours and Tasha's special day in the mountains! What a fun time! I hope no one took a nap outside with snacks in their pockets! lol.