Reviews for Dynamic Weddings - DJ & MC Service
Awards



32 User photos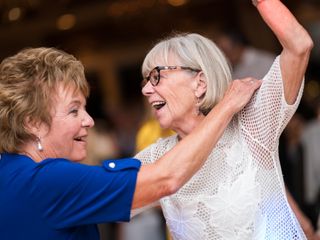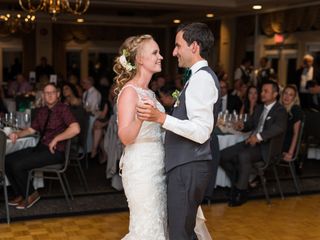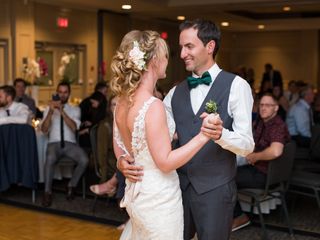 Meve · Married on 31/07/2021

Incredible Wedding DJ and MC!

We weren't initially planning on having a DJ, and once our plans changed, we decided to contact Dynamic Weddings and luckily they were available! We decided to hire them as our DJ and MC. We would recommend upgrading to a Diamond DJ and MC - We wanted lots of interaction for our guests, and Dennis really delivered!
Dennis was fantastic through the planning, guiding us on making our itinerary for the reception. He made an effort to get to know us, and was very personable!
The evening of the reception, he was fantastic. He had great games, great music, and all of our guests were telling us how impressed they were with him. The reception wouldn't have been the same without him, he was truly one of our best costs for our wedding!

Sent on 13/08/2021

Alex W. · Married on 09/07/2021

Great service!

I had booked with Dynamic in hopes restrictions would lift, and we got very lucky. I was able to utilize their beginner DJ service and was super impressed with Chris and his ability to navigate the vibe of the dancefloor. He took lots of recommendations and my guests and were very happy. Overall, I would definitely book again with this company for the great price and service.

Sent on 09/08/2021

Vy Nguyen · Married on 20/02/2021

Amazing experience with Dynamic Weddings - our perfect wedding ceremony

We would like to sincerely thank Dennis and the Dynamic Weddings team for their amazing work and dedication to excellence in planning and helping us execute an amazing wedding day.


The music set up was on-point, and we were very happy with the sound quality- a special thanks for perfectly capturing the audio of our vows and speeches in the ceremony. Dennis played music for the wedding ceremony, first dance, cake cutting, and set up the microphone for the ceremony so that our guests joining remotely could hear the audio clearly and be a part of our wedding day. Having Dennis there allowed us to enjoy the ceremony knowing that all of the sound and music were taken care of. The service Dennis provided was invaluable and we would definitely recommend Dynamic Weddings to anyone!


Sent on 02/06/2021

Manh H. · Married on 05/01/2020

Great Holiday Party Experience

Dynaimc Weddings DJed our company holiday party and were a big hit! Without words but with only a good mix of music, was able to get my coworkers onto the dance floor! In 6 years at my company, I had never seen so many people dance their butts off at our annual holiday party. Their photobooth was also superb and there was a continuous line up for it all night. I highly recommend Dynamic Weddings for any special event!

PS: They DJed my wedding a few years ago so I already knew they were amazing.

Sent on 08/01/2020

Dynamic Weddings - DJ & MC Service's reply:

Thanks a bunch. It was so great rockin' the dance floor with such a great group. LOVE the great night of dancing and creating memories.

Timothy · Married on 24/08/2019

Excellent DJ

Very organized; DJ read crowd well. Used our requested songs. Had everyone on the dance floor. Was descrete as we asked.

Sent on 05/09/2019

Dynamic Weddings - DJ & MC Service's reply:

Thanks so much Timothy. Appreciate the 5 star review. We had a great time as your wedding DJ. We appreciated your earlier feedback of "Our DJ was awesome. Read the crowd. Played the rights songs. Spoke when necessary but not too much." Amazing day and such a great celebration at the lovely Hycroft Manor. All the best to you both.

Caitlin · Married on 24/08/2019

Dance all night long!

We were blown away by the quality of service we had from Dynamic weddings, and are truly grateful we chose to include the DJ. Our DJ provided a beautiful atmosphere for our ceremony with seamless transitions between songs, and fantastic fade outs when music was no longer needed. We were also incredibly impressed with how quickly our DJ was able to transition from our outside ceremony site to our indoor cocktail hour/reception. Finally, our DJ had our dance floor PACKED from the moment we finished our combined mother-son, daddy-daughter dance to our last song. We had a number of friends and family comment on how fun and upbeat the wedding was! The DJ helped create the perfect setting for wedding and made it a night we will truly remember for the rest of our lives.


Sent on 07/09/2019

Dynamic Weddings - DJ & MC Service's reply:

Yeah! This was such an amazing night. So glad the DJ was able to put the cherry on top of an amazing wedding. We were so blessed to be able to not only DJ but Photograph your wedding. It truly was one of the most fun wedding we've worked in a long while!

Marcog@Novatrans.ca · Married on 24/08/2019

Music Makes the Party!!

My husband-to-be was thrilled to have found a team of wedding professionals under one umbrella as he saw a huge benefit in coordination and communication, but I was hesitant to hire an entire team of professionals without meeting everyone individually ahead of time and solely based on the company's amazing online reviews. In the end, we hired the team and didn't look back. Dennis and his team were fabulous!
Justin was our MC and DJ. Did very well on all accounts providing introductions etc. when required as well as coordinating our background and dance music. Good consultation ahead of time along with a good understanding of the various genres as well as being responsive to the crowd helped make the party!!

Sent on 22/10/2019

Dynamic Weddings - DJ & MC Service's reply:

Thanks so much for your kind words. We thankfully managed to squeeze you into a very busy summer day as your wedding was so refreshing. We loved how it was simple and full of close family and friends for an intimate, yet fun experience. We loved providing Wedding Planning, Day of Coordination, DJ, MC and Photography for a complete package for your wedding. We wish you nothing but the best and happiness together.

Danae · Married on 17/08/2019

Excellent DJ services from Dynamic Weddings

Dennis was very organized and helpful, which made our process simple and stress free! We had Trent as our DJ - he did an excellent job of selecting music to our taste, announcing certain events and taking requests. The set up and take down was prompt and efficient, which was important seeing as the equipment needed to be taken up and down a gondola in order to get to our venue.
Thanks again Dynamic!

Sent on 14/01/2020

Dynamic Weddings - DJ & MC Service's reply:

We always love to DJ up at Grouse Mountain but your dance party seemed very special and was really a great time had by all. We loved how you rocked it on the dance floor. Congrats!

Jim M. · Married on 03/08/2019

Fantastic experience

The night that we had with DJ Trent was perfect. With his professionalism, music knowledge and his ability to keep the dance floor full, this made our experience so much more enjoyable. Trent was able to keep up with all the requests that we had and able to change genres to keep the party going.

Dealing with Dennis before hand was so smooth and enjoyable and set our minds at ease with all the planning.

Thank you Dynamic Weddings for a wonderful day and a wonderful experience.

Sent on 15/09/2019

Dynamic Weddings - DJ & MC Service's reply:

Thank you very much. I'm very happy that you had a great celebration and that you loved your DJ. He had a great time playing a wide variety of dance song requests for you and your guests. Thank you very much!

Vincent Y. · Married on 06/07/2019

More than just music

We hired dj services from Dynamic Weddings and they were great. The music selection was too notch.

Sent on 30/11/2019

Dynamic Weddings - DJ & MC Service's reply:

Hi Vincent, we appreciate your review. Your day ended with our great DJ but started with our Photo and Video team. Despite an August date, we experienced lots of rain to start the session so had to adjust accordingly. Thankfully, the photos and video turned out great and we were blessed with sun by the time the ceremony happened. As a result, we had a wide range of quality images to use for your wedding and parent albums. Having our DJ play great dance hits was also a huge highlight of your celebration along with our Photo Booth. Great celebration all around.