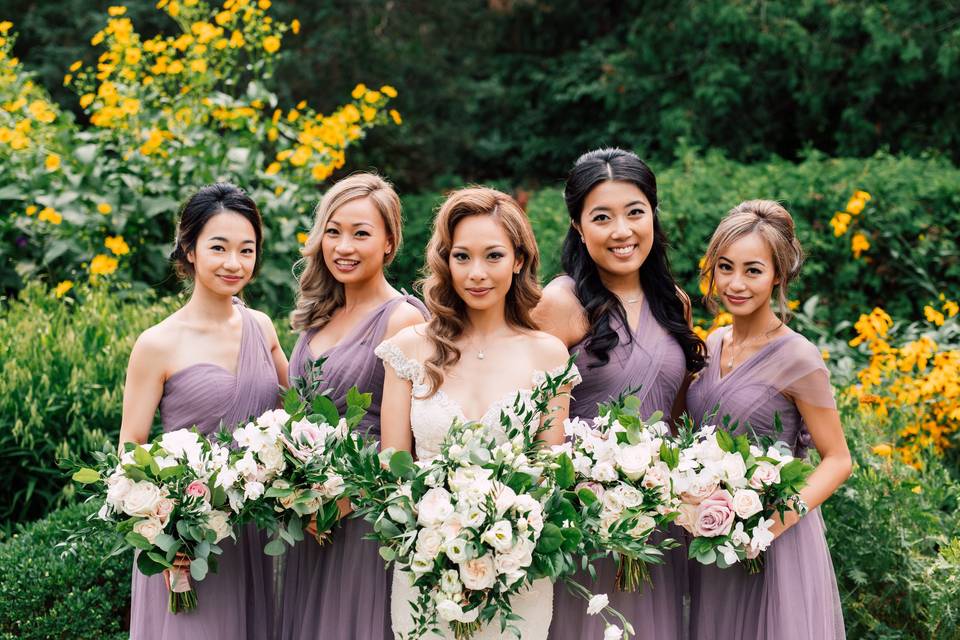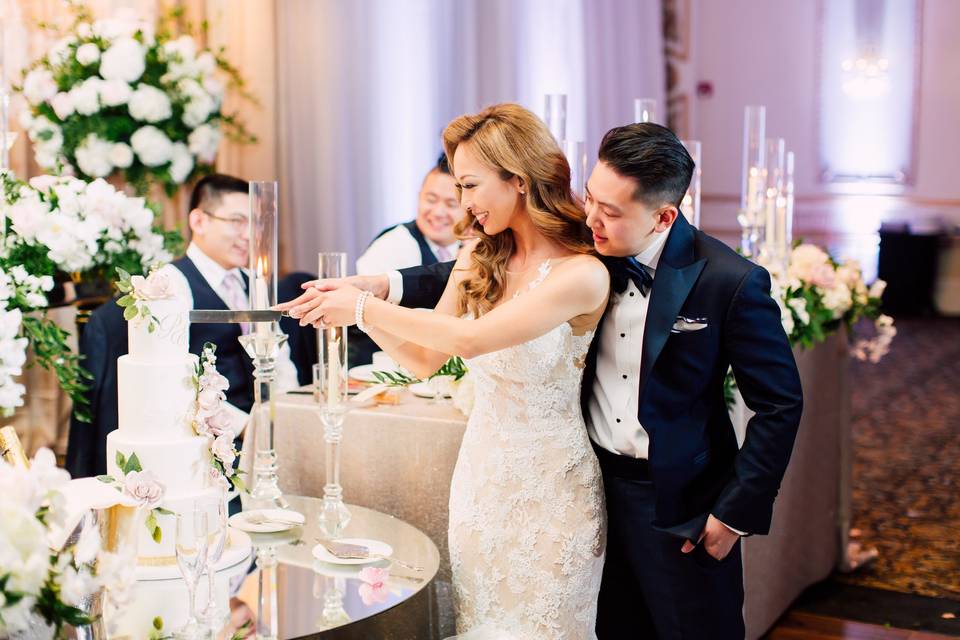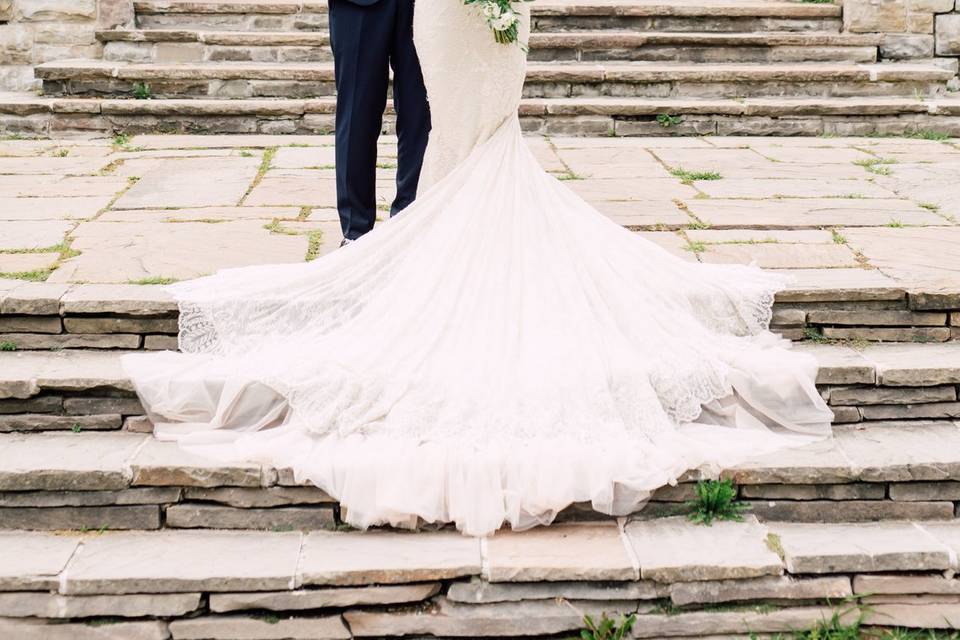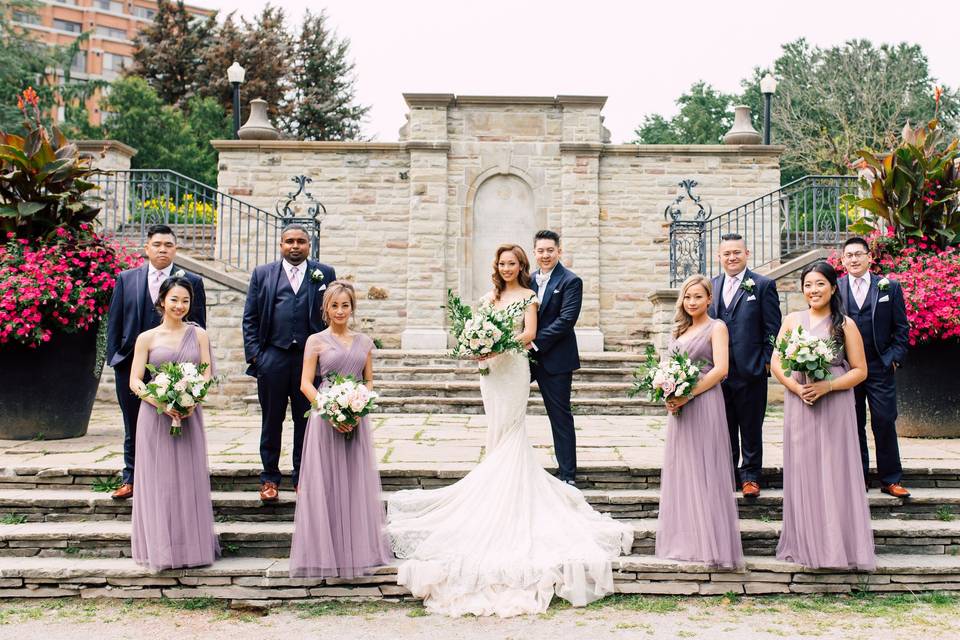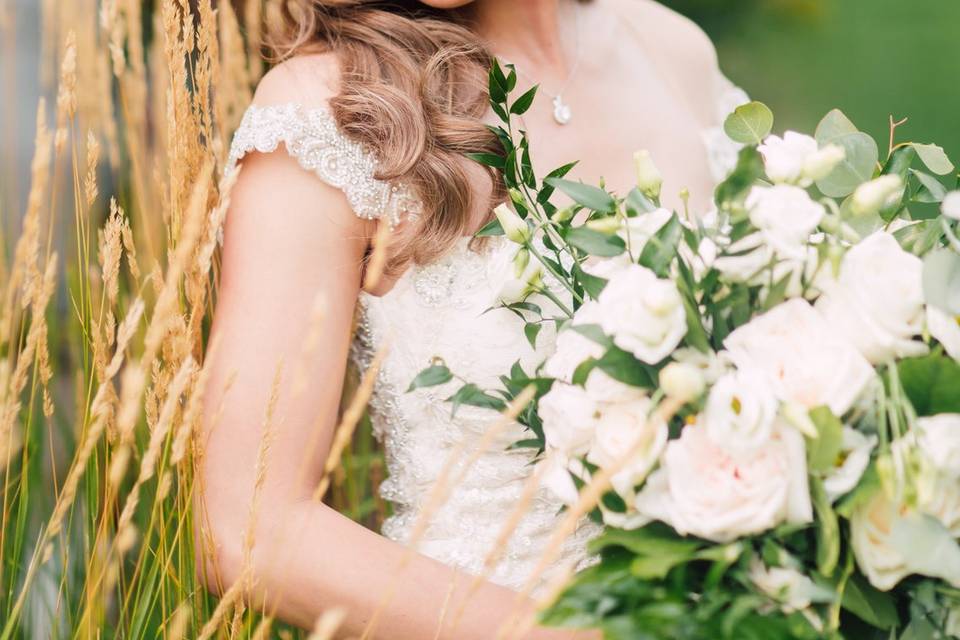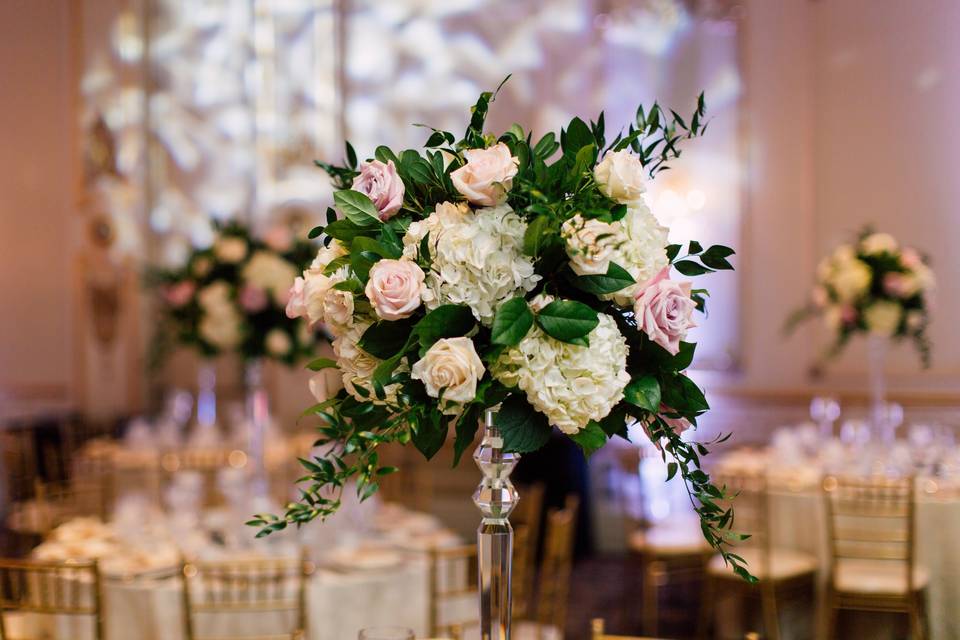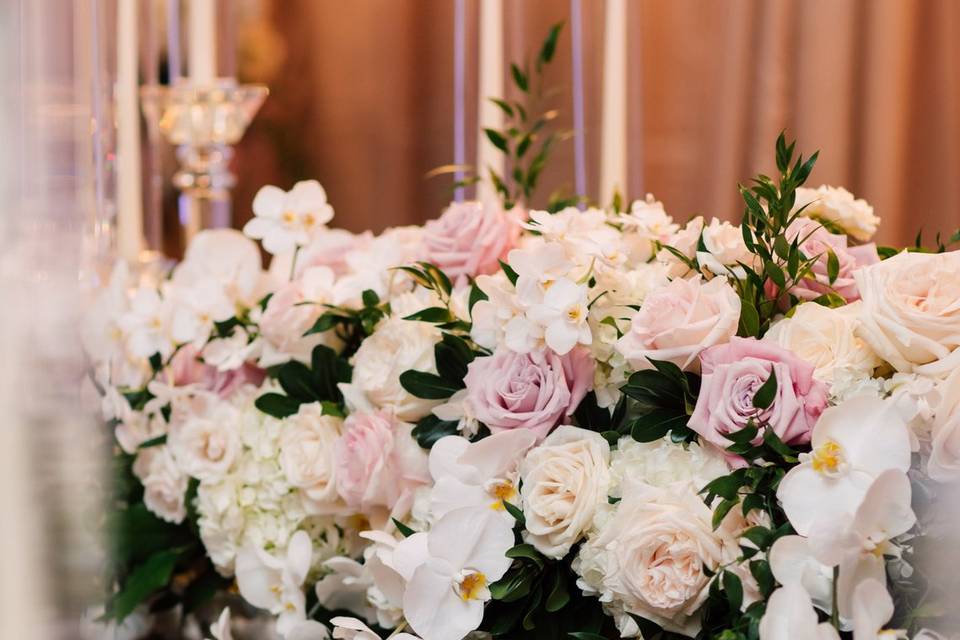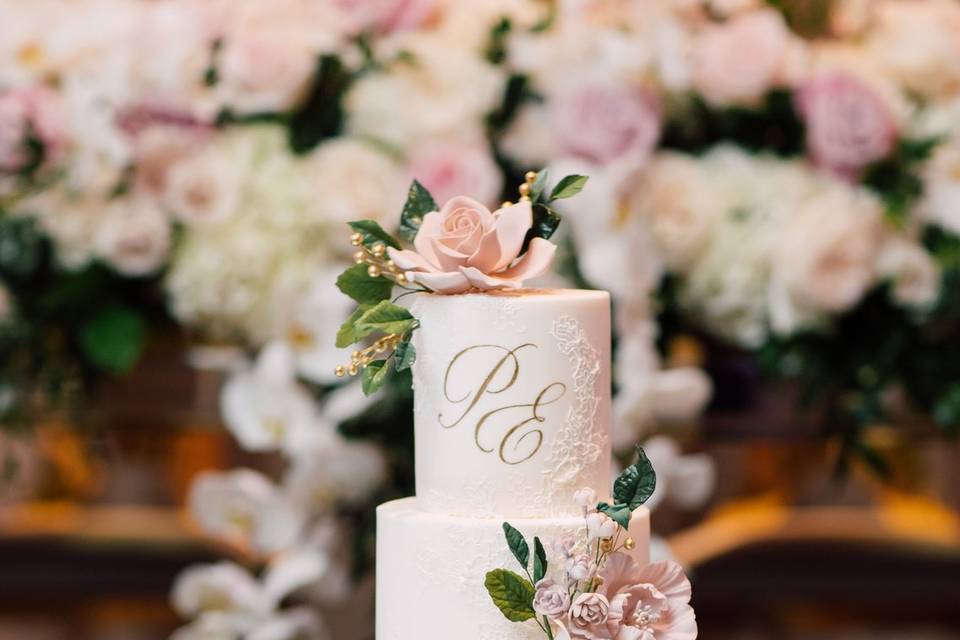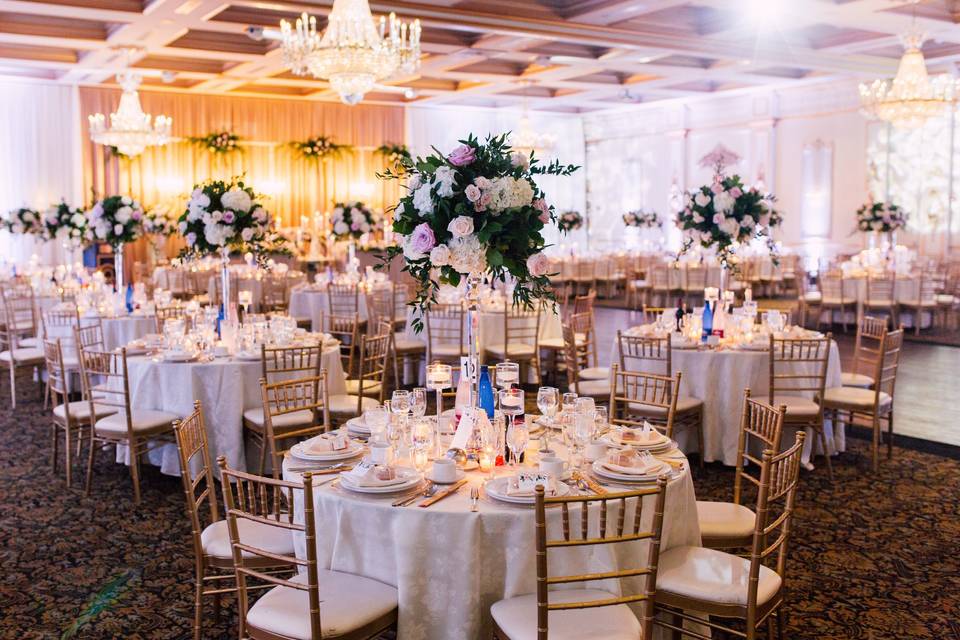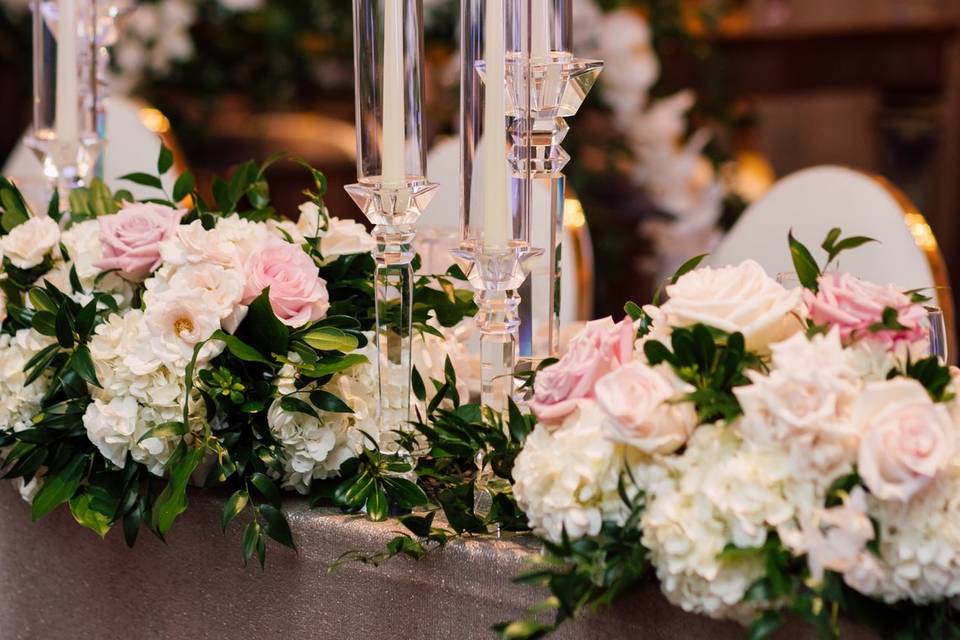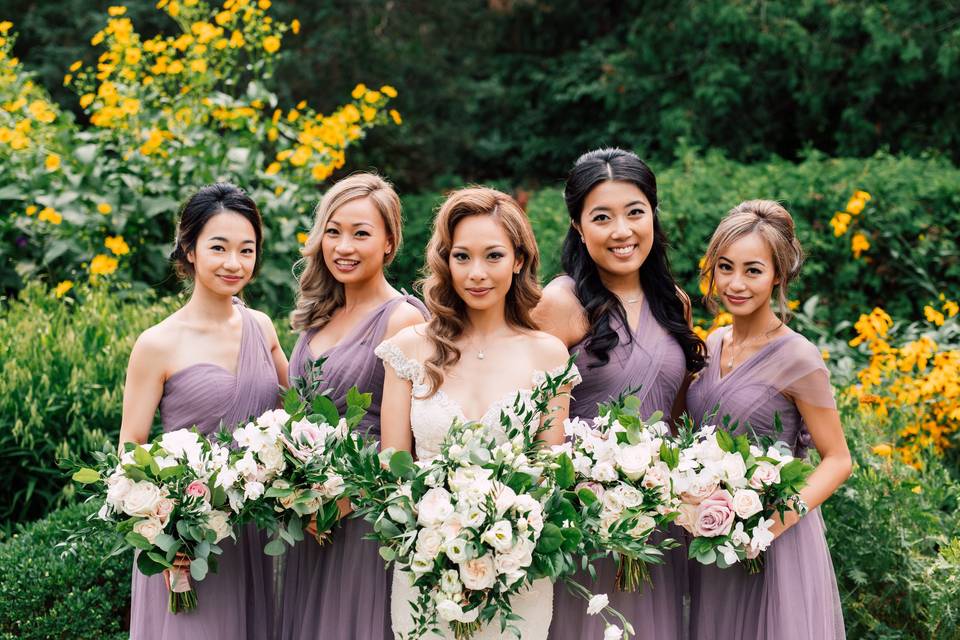 About
Thank you for looking into Rias Designs for your floral, decor and planning. We would love to connect. Please check out our website www.riasdesigns.com for further information.
Your event and inquiry is very important to us. Please
DO NOT
send a message inquiring about our services via Wedding Wire as we could miss the inquiry. Please send us a email and we would be happy to help.
More information
What lighting services do you provide?
Accent
Chandeliers
Uplighting
What decor services do you provide?
Day-of coordination
Delivery
Drapery
Event design
Event planning
Floral design
Setup
Venue selection
What decor items are available?
Backdrops
Candles/holders
Signage
Trinkets
Vases
Any other questions?
Request pricing
Quality of service

5 out of 5 rating

Response time

5 out of 5 rating

Professionalism

5 out of 5 rating

Value

5 out of 5 rating

Flexibility

5 out of 5 rating
121 User photos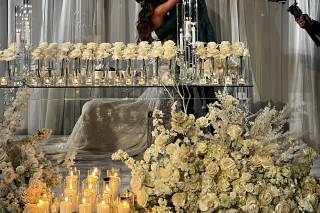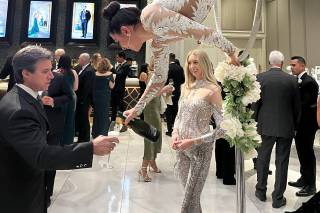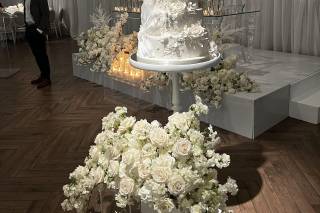 + 117

Photos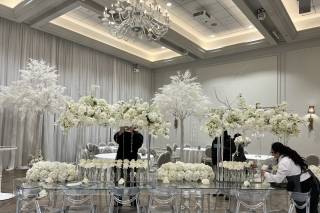 Amina C.

Married on 09/10/2022

Hooria is a miracle worker!

I made the mistake of leaving flowers/decor to the last minute and was left scrambling. Hooria took on the challenge of putting together my wedding decor in such a short period of time and really delivered! Although I ended up spending a lot more than I expected to spend, she was worth every penny! I also hired her for month-of planning and that was the best decision I ever made. Not only did she bring my decor dreams to life - she also helped me put the final touches on my wedding and took care of several miscellaneous things I didn't have time for. On the day of my wedding, I forgot one of my dress accessories at the park we were taking portraits at (40 min away from the venue). She was on it right away, and arranged for an Uber to drive to the park, look for my dress accessory, and bring it to me in time for the reception. Hooria went above and beyond to help me, calmed my nerves, and delivered the most beautiful centerpieces I could have asked for. I felt so stress-free on the day of my wedding - I highly recommend hiring her for month-of/day-of planning as well as decor. Thank you Hooria and everyone else at Rias Designs!

+ 11

Photos

Sofia M.

Married on 05/08/2022

Rias Designs made my dream wedding a reality!!!

Where do I even begin with Ria! When she becomes your wedding coordinator and decorator, she becomes a lot more than that. She becomes your friend, advisor, and therapist because we all know how stressful weddings can get.

I originally had another decorator doing my decor. But closer to my date, they kept messing up my colors, misunderstanding what I wanted and they were not accommodating at all.

So last minute, I decided to have Ria be my wedding coordinator and decorator which is the best decision ever and I'm so lucky she had availability. She listened and understood what I wanted, then advised me on how to make it even better than I could have ever imagined. I trusted her and she literally made my decor dream come true. I wanted my wedding to look like a fairytale and that's exactly what Ria did. I am obsessed with baby pink, and on my wedding day, I wanted to be surrounded by pink flowers and candles. I wanted my head table covered in roses and candles and to have cherry blossoms behind me. Unfortunately, the hall wasn't the prettiest and the stage the hall originally had wasn't nice at all. However, when I walked into my hall for the big reveal, I barely recognized the banquet hall. With the gorgeous draping, the beautiful blush/baby pink roses, the candles, the candelabras, the trees, the lighting… omg it was literally straight out of a fairytale. She really transformed my hall. I cannot adequately express how gorgeous, elegant, and grand she made my decor. I really got what I paid for and I would do it all over again and again and again. A couple of days before the event, she made sample centerpieces to make sure I liked them. I didn't even have to ask her to do this. She just did it because she wanted to make sure I was happy every step of the way.

Ria made the wedding process so easy. From choosing the colors, designing the decor, dealing with all my vendors, and making sure everything is on time and running smoothly, she made sure everything was perfect. Whether I messaged her at 1 AM or 6 AM, she always responded to me promptly. She made my dream wedding a reality. I cannot adequately express how happy I am to have chosen her for my wedding day.

Ria also made the most unique and tasty grazing table for my wedding. Ria plans your wedding as if it were her own and by that I mean she gives the best ideas and goes above and beyond to make sure everything is PERFECT. The grazing table was not only gorgeous but it had soooo many options to choose from. She also took care of my dessert table. We wanted something different in terms of dessert options and that's exactly what she did. She went all out. She had soooooo many different dessert options, and it all tasted so amazing and the setup was absolutely breathtaking. Everyone is still talking about the variety and taste of the dessert table as well as the grazing table.

Ria also had my back the entire day of the wedding. From calming me down because I'm an anxious person, to fixing my hair because I wasn't completely happy with the look, she did it all. Yes, she was my coordinator and made sure everything was on time and happened the way we wanted it, but as I said earlier, she's so more. The moment I mentioned, I wasn't completely happy with my hair and something felt off, she got to work and fixed it. She may not be a hair stylist, but she definitely knows what she's doing. Within minutes, she got bobby pins and fixed my hair. She also had this emergency kit with mints, deodorant, hair spray etc., and honestly, that came in soooooo handy for me and my bridal party.

I also really wanted a Mcdonald's bar at my wedding and she made that happen. She ordered everything the morning of and had everything delivered and set up at my wedding. This was definitely a hit. As I said, if I wanted something, she made that wish come true.

She truly made every one of my wedding dreams come true and I'm scared to think how things would have turned out if she wasn't there. Everything was perfect. Ria is not only extremely talented but she works really hard to take care of her brides and take away the stress that comes with weddings. If I could go back and do it all again, I would without a doubt choose ria every single time. Thank you sooooooo much Ria!!!!



Edona S.

Married on 19/06/2022

Magical day

Hooria you went above and beyond what I would have ever imagined. The cherry blossoms, flowers,decor were so stunning! You are truly so amazing at what you do! Thank you so much for the wedding of my dreams! Best GTA wedding planner🤍

Are you interested?

Request pricing

Stephanie N.

Married on 06/11/2021

Breathtaking Modern Elegance

We were first blown away with the beautiful work Ria did at my sister's wedding in 2019 and knew right away when we got engaged to look no further than Rias Designs! Ria is such a wonderful person and a pleasure to work with. We had to change our wedding date 3 times due to the pandemic, yet she was so accommodating and reassuring throughout the entire process that she would ensure everything would be beautiful and work out….and that she did. Ria is very responsive, offers great design ideas and honest feedback. She went above and beyond in all aspects of planning, designing and execution. There are no words to describe how blown away we were when we walked into our venue on our wedding day! The historical train station was transformed into a breathtaking space with modern elegance. She is a true professional and talent, and we would strongly recommend Ria and her team. Thank you for everything and making our wedding vision come true!

Jessica C.

Married on 09/10/2021

For anyone looking for a WOW factor for flowers and decor!

For anyone looking for a WOW factor for their wedding day (or any other special event), I would highly recommend going with Ria. Ria is so unbelievably talented in her craft that she makes her work look effortless. She is able to take your vision and execute it with such precision. My guests, husband and I were honestly blown away at the results when we walked into the reception hall. It was beyond what we had expected and wished for. Everything including the wall wraps, chandeliers, flowers, linens etc was utter perfection. It exuded the vibe we had wanted for our wedding day. You truly get your value for your money, and she is by far the most reasonably priced vendor in the Vaughan area. Thank you so much for everything Ria, you are amazing!!

Nina

Married on 08/08/2021

A literal Fairy God mother

The best wedding decision i made was booking Ria. I interviewed maybe 30 planners and thank god i found Ria. Not only was she incredibly professional, knowledgeable, and useful. She made me feel like she devoted her life and soul to me and my wedding. She made sure everything was exactly how i wanted, she argued with vendors on my behalf to get what i wanted, and she is so responsive. She got stuck planning my wedding prior during and post covid and she made an incredibly difficult time so positive. And last but not least, she designed my wedding SOO DAMN GOOD!!! whatever it was that i had in my head she recreated just better. From the moment of booking to the cutting of the cake every single moment was incredible with Ria and her team. If i could recommend just one vendor to a bride it would be Rias Design

Sara S.

Married on 17/07/2021

Our Wedding Experience, Simply The BEST!

WOW!WOW!WOW!
Ria and her team are phenomenal and beyond excellent.

Her vision is on point and anything she does is with passion and hard work.

I first was recommended to Rias Designs from my best friend, she did her wedding and I was left in awe! I knew if I ever had the chance, I needed to hire her...

and I am so so thrilled we did!

Our wedding was a last minute change up to an outdoor farm wedding. Less than 3 months I booked the venue, updated her with the change and found out about 3 weeks before when we finally made it to stage 2, we knew the wedding was going to happen and Ria wow'ed all of us! Especially with short notice!

Never in my life did I ever think I was going to throw a wedding anywhere close to this (because pre-Covid, I would have NEVER even looked to having an outdoor event, let alone a farm wedding.)

I was nervous because I had no idea how it was all going to look or come together.

Ria asked me all the questions and together she not only totally impressed me and my husband, but also all my guests.

From the bridal and bridesmaid bouquets, to the STELLAR décor completely threw me away.

She was honest throughout the entire time and told me everything I needed to do - she recommended other vendors to help (tables, chairs, dance floor) because she trusted them to help bring our vision together.

I am so so happy I trusted her too and took all her advice from start to end - I also trusted her vision would look way better than I can ever imagine and now I am even more thrilled - blew me away!!

I know understand why people use the saying "overflowing with happiness" because I was pouring out, especially after seeing the IMPECCABLE set-up. My bridal table I cried for how beautiful it was let alone all my guest tables!!

She worked with my vendors with such ease, as if we were all family.

I really feel a connection with Ria and it is so beautiful to work with AMAZING and talented people. It really brings more than just the "vision" come to life...it is apart of the entire experience.

I cannot thank you enough Ria for all the patience, planning, going with the flow and your time with me really really touches my heart.

You are so amazing and I will use you in the future and recommend you to EVERYONE!!

Thank you so much and our wedding would not have been the same without you!! XOXO

Orestes P.

Married on 17/07/2021

Stunning Decor

We had an outdoor wedding and Rias decoration arrangements for the whole place were amazing. Head table was unbelievable. Our place looked so beautiful. The were attentive to details and worked excellent with other vendors. Thank you so much

Jamie P.

Married on 21/06/2021

A Transgender Bride's DREAM became REALITY!!

Weddings are special and meaningful to every couple getting married; however, being a trans woman, finding love and getting married is something I thought would never happen to me. This was more than just a wedding; it was showing the people around us that LOVE is LOVE. A message we wanted our guests to leave with. Back in 2019, I hadn't come out yet (was living in stealth) and was nervous planning a wedding. I didn't think I needed a wedding planner until I saw Ria's planning/decor in a wedding my husband (now) and I attended. We remember meeting her on a rainy evening, her energy and smile was contagious. We just connected instantly. We didn't bother looking elsewhere and decided to trust Ria with the most special day of our lives. What I loved about Ria is that it felt "personal" and not like a business transaction. You can tell she puts heart and soul into what she does and the people she works with.
Months went by, the pandemic hit, I lost my job and I debated on coming out before our wedding - I was scared. I finally told Ria (after trying a few times but couldn't get the words out of my mouth). I was nervous if she would be inclusive, often people including wedding vendors REALLY are not inclusive to gay or lesbian couples, let alone someone who is trans. Although Ria did not understand my unique identity or the depths of my struggle, she was not judgemental and understood the importance of this wedding. Ever since then, I feel like she just took it up a notch in trying to make me feel comfortable, seen, and heard in ensuring I and we as a couple felt represented through the details of our wedding. Ria wanted to get to know "me" and about our love. Ria had a good balance of personal and professionalism (which I appreciated), along with responding to emails/messages/questions at a timely manner (literally faster than anybody I know). My vision was quite extravagant, and we appreciated Ria's ability to problem solve to create a budget/quote that was more realistic but still had that "wow" factor. For example, toning down certain aspects of the wedding in terms of decor when that budget could be used somewhere else. Or reusing materials from one section (ceremony) to another area, in the reception, to make it more cost effective. The theme of our wedding was very "fairy princess running through the woods, fell into a bed of florals with a Spanish twist" and Ria totally captured that. Let me tell you when I had to gasp for air when I first saw the FULL ceremony space. It truly blew my mind, the little details. Our Reception space from the entrance of the hall to the main area - every single detail looked intentional. It truly was the wedding of our dreams. Every single guest told us they have never been to a wedding that was decorated in such way, felt so luxurious, and organized/planned so well. They felt like they were in a forest. It was truly an "experience" - not just a wedding where you sit on the table and don't know what's happening. Guests are still talking about our centre pieces, the floral/leaves hanging off our bridal party tables, the massive and dramatic head table. The pictures truly belongs in a magazine. As we look through our pictures and videos, we keep seeing new details that we didn't notice before. Needless to say, we recommend Ria for her planning and decor services because of her talent and passion for the wedding business. But most importantly, for having a genuine and compassionate heart for being inclusive and kind towards us. Although she maybe doesn't understand the struggles we go through as a couple, she TRIED to understand, and helped us shine on our big day so we could have the dreamiest and most special day of our lives at our wedding. She made my dream become reality. Thank you from the bottom of our hearts. Hope this wedding continues to create more inclusivity and change the direction in the way the wedding industry caters towards the LGBTQ+ Community. Love is love.

Lorena N.

Married on 28/09/2019

A Fairytale Dream come True!

I first learned about Rias Designs when I attended a wedding in 2016 and was blown away by her work! Her unforgettable creations stuck with me and when I got engaged in 2018 she was the first person I reached out to for my floral and decor.

Going through the process of meeting with vendors and selecting a floral and decor team can be overwhelming, but when we met with Ria we knew we were in good hands. She makes herself available, she provides honest feedback and she goes above and beyond your expectations.

After months of planning with Ria, we were blown away by her personal touches and how she brought our theme to light. She far exceeded all our expectations and our wedding day was truly a dream come true!

Ria truly took the time to respond my our countless emails, was flexible when booking face to face meetings, and always open to all new ideas or concepts we would throw her way!

To this day I am still receiving compliments from my guests about her amazing work and would highly recommend Rias Desgins!
Awards
Rias Designs Real Weddings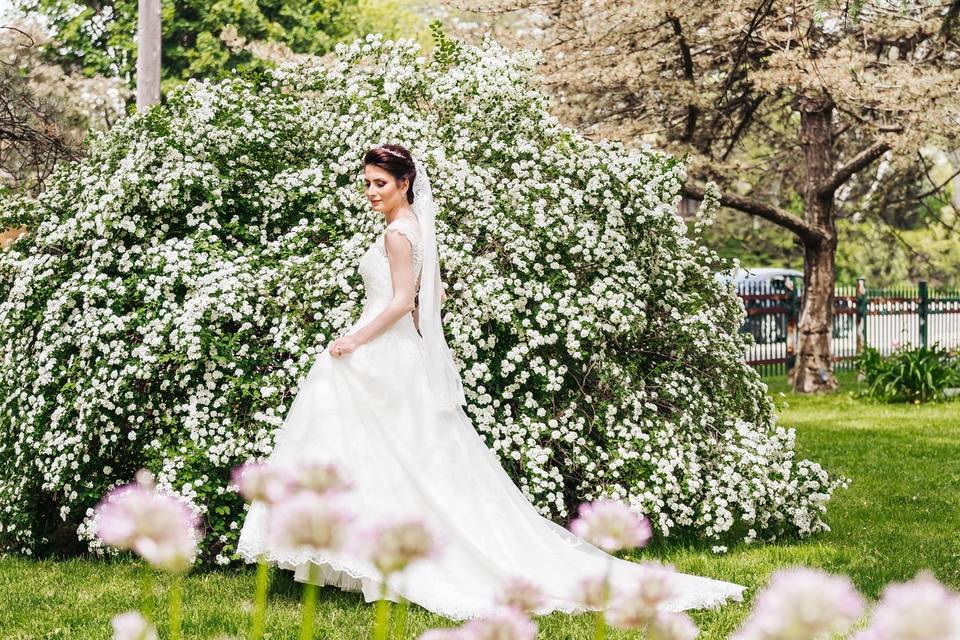 Maryam & Erind
13 Photos · 09/Jun/2019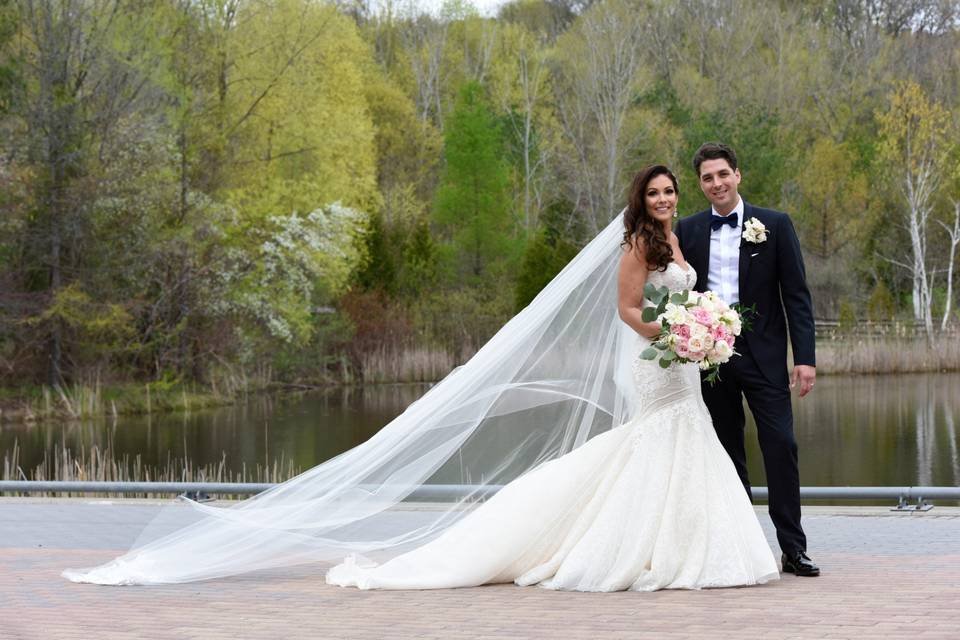 Lisa & Salvatore
14 Photos · 06/May/2017
Map
59 Alness St. M3J 2H2 Toronto&nbsp(Ontario)