Reviews for Creations Special Events & Custom Decor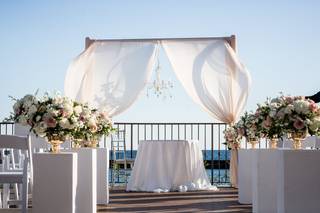 Creations Special Events & Custom Decor
Toronto, Ontario
View more information
36 reviews
Quality of service

4.8 out of 5 rating

Response time

4.9 out of 5 rating

Professionalism

4.8 out of 5 rating

Value

4.8 out of 5 rating

Flexibility

4.9 out of 5 rating
Areeba R.

Married on 31/03/2018

Ease of mind

I had my wedding in March 2018 and Decor was one of the hardest services to pick as each company I went to see had different ideas/visions and completely different prices. When I met Debbie, it was easy to talk to her and get my vision across and she totally understood what I wanted. I was very relaxed when I booked her as I knew I could trust her to do the job and she did not disappoint. She remembered every detail during each of our meetings and made sure everything was on paper for clarity. The decor was exactly as I wanted and the quality of candelabras, table overlays, etc. were much better than other vendors. I would definitely recommend her to any future bride!

Bianca E.

Married on 04/11/2017

I got married in November 2017 at Paradise Banquet Hall and used Creations for my decor and floral, and everything was beautiful! Debbie was easy to work with, and helped me plan the wedding of my dreams. 100% recommend.

Vera T.

Married on 02/07/2017

Debbie did a fantastic job bringing our vision together! She listened to our interests and combined her expertise to make our classy and elegant look come to life. Her flexibility and willingness to help us make our day special was evident in the flowers, centerpieces, and venue decor we had. We highly recommend Creations Decor!

Did the reviews win you over?

Send a message

Josi S.

Married on 16/06/2017

Debbie did an amazing job of making my decor vision come true!!! I am an overly detail-oriented person and had very specific visions that I brought to Debbie in an overly detailed spreadsheet (of course) - I was not disappointed! Prior to signing the service contract, Debbie was reasonable in negotiations and even granted me her Bridal Show offer despite not having met me at a bridal show. I described my preference for "soft, romantic" ambiance, with a focus on florals and candlelight as opposed to opulent rhinestones and feathers, and Debbie did a great job of staying true to my vision. She has a decent selection of decor and linens within that description, and was able to offer me nice decor/floral options within my price range (we had a bridal party of 12, plus 21 guest tables). Debbie was also flexible - I had requested 2 day rental of some of the decor pieces as we had a 2-day wedding event and she had no problem with this. Thank you Debbie for your wonderful service :) !!!

Andrea D.

Married on 19/09/2015

Debbie is so amazing! Everytime we have met with her she has been super easy to work with. We are doing all our flowers and decor with her and she's open to any design the we can change up to a month before. Her showroom is exciting to walk in to and we can't wait to see everything on our wedding day!

Ann S.

Married on 01/08/2015

Just want to say what a wonderful job Debbie did for our daughter's wedding. Everything was beautiful, especially the flowers, wow! Debbie was a pleasure to work with, we're totally happy with her work. Thanks Debbie! Highly recommend.

[Anonymous]

Debbie was amazing at creating the look I was going for! Her flexibility and meeting customer needs was great!



Jessica S.

Married on 06/06/2015


I could not ask for better décor and flowers! Debbie did an absolute amazing job! She was quick and easy to get a hold of, she was friendly, helpful and put together my vision perfectly. I got a lot of quotes for décor and Creations was by far the best price for such great quality. I would recommend Creations Décor to any couple getting married as you will not be disappointed!


Daniela S.

Married on 23/05/2015

Great experience working with Debby. She worked really hard to make us happy. We will definitely recommend Creations and will use them again!

[Anonymous]

We first selected to go with Creations Decor because of a family referral. The initial meeting went well and we discussed the look and feel of what we wanted. In the end, they did everything that they said they would, but we felt very mislead on everything. For example, when asked how many guest at the very beginning we said 200 and the final count ended up being 150, and there was no lead way to change that. We were charged for 200. Every other vendor we dealt with asked for final numbers a week before and altered the cost accordingly. Secondly, it was requested that we pick up our flowers on Friday afternoon for a Saturday afternoon wedding. We are staying in a hotel and with no where to keep them cold enough the flowers would be wilted by the ceremony. After many many emails of discussing, I had to send a familiar member Saturday morning to their office and pick up everything to bring to me in Toronto. Creations Decor was unwilling to accommodate a delivery. Finally we had centre pieces made by them and we had discussed cherry blossom branches with hydrangeas. Not once was it disclosed to use that they would be fake cherry blossom branches. So I was shocked to see that upon my arrival to the reception venue. Two or Three days after our inital conversation I sent a reference picture of what I was looking for in my bouqet and they did not make any notes on their end. Three days before my wedding Creations decor was asking for the reference photo to be re-sent and then discovered that the flowers differ than what was on the contract. Overall we felt they are poor communicators and mislead us in the quality we were getting. The biggest disappointment is the Cherry blossoms considering they were in season. They need to work on their customer service skills.

Creations Special Events & Custom Decor's reply:

It is stipulated on our contracts that there is a minimum requirement on chair covers when reserving and booking them. The client was aware of this clause upon signing. This ensures that the full # of chair covers are reserved for the clients and cannot be rented out to others. We do however offer substititions in lieu of guest #s decreasing as we are aware that this often does occur. Therefore, we provided rose petals as well as a throw away bouquet that was placed on the cake table for her.
In regards to the bouquets and personal flowers all deliveries were included to the venue. To avoid an additional delivery fee, we agreed at our final meeting to instead deliver the flowers in the morning to the church so that the groom can pick them up from there. However we received an email a few days prior advising that the church would not be open until a later time. Unfortunately this did not work with our driver schedule so the client agreed to have them picked up from our office the morning of the event.
The centerpieces were artificial cherry blossoms branches as we can not guarantee that the fresh ones would be available or if they are available that they would be in full bloom. We did not agree to fresh cherry blossom trees.
In regards to fhe picture of the bouquet, we had lost all previous emails because of a computer glitch and we requested that the pictures be resent. The bride received the exact bouquet that she had requested. We have numerous emails going back and forth in a very timely manner and we were very open and communicative with the bride.
We wish the very best for the both of them.

Did the reviews win you over?
Send a message