Reviews for The Cocoa Cakery
Awards


4 User photos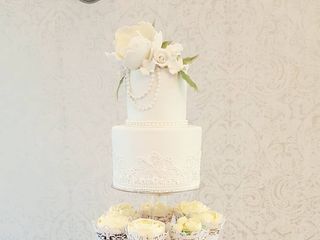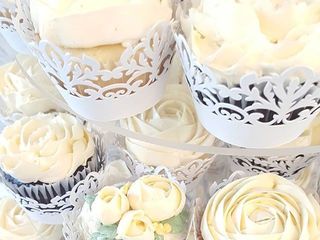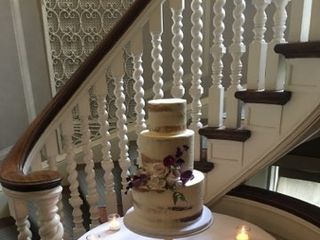 Nadia Toppin · Married on 05 of July of 2019

Beautiful Work of Art!

Christina does an amazing job with her cakes! Beautiful, delicious, creative and affordable!

Sent on 19/08/2019

The Cocoa Cakery's reply:

Thank you Nadia!

It was a pleasure to create for both you and Craig :) many blessings on your years ahead!

Tam Carv · Married on 25 of May of 2019

Pretty cake and cookies - ok experience.

The cake was beautiful and the give away cookies very pretty, but I found the coordination and organization not the best. There was back and forth on delivery time with the vendor wanting to deliver over our ceremony time, which obviously wouldn't work and the delivery time was clearly noted in our contract so it really shouldn't have been a discussion. Missing one give away cookie somehow although all others were present.

Sent on 27/05/2019

The Cocoa Cakery's reply:

Hi Tamara, I'm so glad you enjoyed your cake and cookies. I strive to ensure that all cakes are delivered on site with plenty of time. I coordinated directly with the restaurant to ensure a delivery time that was earlier than originally stated as the original closure of the DVP that day changed all of my deliveries. I'm sorry that it caused confusion, but I am glad that everything was there on site early. The missing name cookie will remain a mystery, but thankful I added the 3 extra cookies for you, free of charge. I wish you and James all the best! It was a pleasure to design your cake and cookies!

Danielle Dacosta · Married on 04 of August of 2018

Beautiful, yummy cake

The Cocoa Cakery did our wedding cake. Christina was very easy to communicate with and quick to respond to emails. The cake was beautifully decorated - Christina is an amazing artist! And it was so delicious - vanilla, chocolate and salted caramel layers of cake with Bailey's buttercream in between and vanilla buttercream on the outside...mmm!

Sent on 07/08/2018

Ioana Moca · Married on 21 of July of 2018

Christina is a genius!!!

Christina created the most beautiful and delicious cake for us. She helped us understand our options and made our vision a reality. She's incredibly talented both as a fine artist and as a baker and despite being four tiers tall, it was incredibly moist! Amazing price, customer service and final product. Thank you for helping our wedding day go off without a hitch!!

Sent on 09/08/2018

unan0mous · Married on 01 of July of 2018

Design Excellence and Service!

Thank you Christina for creating my vision perfectly of a vintage, old-world charm and sophisticated Wedding Cupcake Tower! The subtle tones used throughout, along with the simple lace, pearl and floral design elements were just lovely, and suited our warm and elegant decor famously. We are still eating and enjoying the leftover deliciousness of your fondant, buttercream and cake flavours. Thank you for meeting all of my expectations in design and taste, and for being so patient during the many phone calls and emails going back and forth during the planning stages. I highly recommend Christina for her keen design sense, creativity, easy-going mannerism, and passion around all things baked! Christina aims to please and really pays attention to what the client is requesting as well as the details in her design elements. Thank you for making the planning process so enjoyable and fulfilling our expectations on design and taste too! 'Till we meet again...

Sent on 15/07/2018

Jessica · Married on 16 of June of 2018

Great taste

Christina's wedding cake was not only stunning, but tasted incredible! We used it as our desert, and our guests were floored. I highly recommend Christina, as she is polite, professional, and creative.

Sent on 19/06/2018

The Cocoa Cakery's reply:

It was SUCH a pleasure to create for you guys!!! I'm thrilled to hear that and thank you very much for the kind review!

Congrats on the beginning of this very exciting adventure together!

Much love,

Christina

Shirley Hao · Married on 23 of July of 2017

Christina made my wedding cake (I found her through IG). Her cakes are beautiful AND delicious. Everyone loved it and even my photographer (who goes to a million weddings) said it was one of the best cakes she's ever had. Thank you so much Christina!

Sent on 26/07/2017

The Cocoa Cakery's reply:

Thank you so much Shirley!!!

It was such a pleasure to create your cake!!! Such high praise!!

Congrats!!

Allison · Married on 08 of July of 2017

Christina designed a truly beautiful wedding cake for my July 2017 wedding; it was exactly as I had envisioned it! Moreover, the cake was delicious and a big hit with the guests. Christina is easy to work with, professional, and talented - I would absolutely recommend her!

Sent on 05/01/2018

The Cocoa Cakery's reply:

Thank you Allison!

The pictures you sent me are some of my all time favourites!!!

Hope all is going well.

Congrats,

Chrsitina

Nav Bali · Married on 23 of April of 2016

So everyone gets a cake for their wedding right? Not this bride! I am the biggest cake fanatic that my guests were definitely expecting nothing less than a spectacular cake! Christina met with us to capture our ideas however what she got was a clash of the bride and grooms tastes. She managed to somehow combine our tastes and created a work of art! I wish I could upload a picture of my cake. She took the embroidery of my dress and sketched it onto my cake. It created an unique Indian twist that I didn't even know I was looking for! And most importantly, the cake tasted every bit as delicious!
Thank you Christina for your beautiful cake, your professionalism and outstanding pricing! You were really too good to be true! - Nav Bali

Sent on 28/04/2016

The Cocoa Cakery's reply:

Oh Nav!!! You're so kind. It was my pleasure to create for both you and Salil. I'm so glad you enjoyed your creation and I'm glad you went with your instinct on your design choices! I still think it would have been fun to do that food inspired cake you loved!!! Haha, another time!

Many many blessings to you both in all your years together. Congrats again on a beautiful wedding!

Christina

Sivan K · Married on 09 of August of 2015

Christina was our favourite vendor by far. So easy to work with and her cakes are gorgeous and absolutely delicious! We loved the creative meeting with her and she made the cake exactly as I'd envisioned. Our wedding planner referred us to her. Thank you very much, Christina :D

Sent on 13/08/2016

The Cocoa Cakery's reply:

Thank you so much Sivan!!! It was a pleasure working with you =) I'm so glad you were happy with everything!!!!