Reviews for Melanie's Cakes
Awards
21 User photos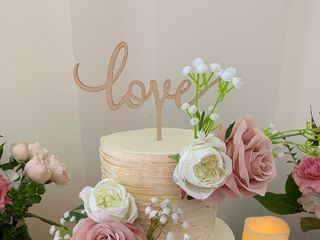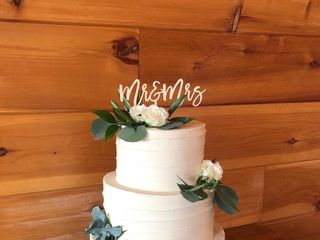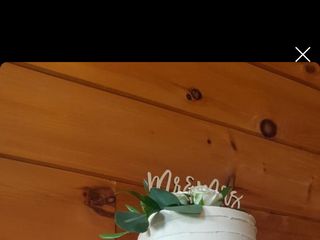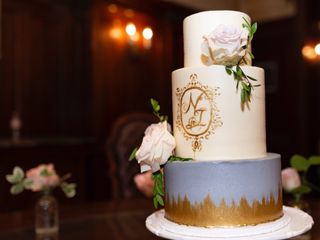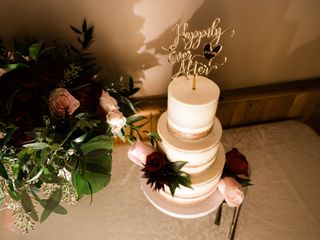 Melissa Ryan · Married on 24/10/2020

Carrot cake!!

We did a two tier cake, one layer carrot and 2nd layer vanilla. Both were great but the carrot cake is SO good! So happy I listened to the other reviews which mentioned this. Melanie was quick to respond and easy to work with. Would recommend

Sent on 29/10/2020

Melanie's Cakes's reply:

Thank you so much Melissa! I know you didn't have the best of luck with the state we are in, and I appreciate your flexibility and support. I wish you all the best in your life together!

Heather Gaskin · Married on 08/11/2019

Beautiful & delicious!

Melanie's cakes did an excellent job of our wedding cake!! She delivered EXACTLY what I had pictured & it tasted absolutely delicious!! Can't wait for our one year anniversary to cut into our top tier!!

Sent on 05/12/2019

Melanie's Cakes's reply:

Congratulations Heather! I am so happy I could deliver on your vision!! Your wedding was beautiful overall.

Tricia Demmers · Married on 01/09/2019

Delicious Macarons and Cake

Melanie was lovely! Everyone was impressed with the cake topper that we had and only wished that we'd ordered more. Melanie is very talented, listened to our vision and executed it very well. Thank you!!

Sent on 15/12/2019

Melanie's Cakes's reply:

Thank you Tricia for your kind review! I loved your vision of grey and gold! It was definitely a fun one to work on with the gold leaf.

Congratulations!

Nurisha Wright · Married on 30/08/2019

Love love loved my cake

My guests and wedding venue were so shocked when they saw we chose carrot cake as our wedding cake and everyone loved it. Carrot cake is really hard to nail perfectly and Melanie did. Melanie was so easy to work with, she worked within my budget to give me exactly what I wanted, and most of all her cakes tasted amazing. I couldn't believe how many other vendors told me to call them if my budget increased bc they couldn't help me. Horrible service. Our hardest choice in the whole process was choosing flavours. Thanks Melanie

Sent on 09/12/2018

Melanie's Cakes's reply:

Thank you so much Nurisha! I pride myself in trying to work within a couples budget to the best of my abilities while still meeting their dreams. I am so glad I could help you and create you a beautiful and delicious cake! I wish you all the best in your life together!

Krystan Bushe · Married on 24/08/2019

Stunning and yummy

What a beautiful cake Melanie made for our wedding not only stunning with her hand made sugar flowers that absolutely looked real, but even the taste of her cakes are spot on! I would highly recommend Melanie! Thank you Melanie for making our day even more special!

Sent on 05/09/2019

Melanie's Cakes's reply:

Thank you Krystan for your recommendation! Everything came together so beautifully in your reception tent. You had a great vision for your special day and I am glad to have been apart of it. Congratulations to you and Jamie!

Eugenie Leung · Married on 24/08/2019

Lovely cake!

We requested a small two-tier cake and 24 cupcakes for our wedding with a succulent theme. Unfortunately for us, we were so busy on our day we didn't get to see the final cupcakes or taste the cake. But we tasted them prior and had compliments, so we're assuming everything went well. Melanie was lovely and we got to meet her during our tasting. Cake tasted great then, at least! Really wished we had a picture of the cupcakes at least.

Sent on 23/01/2020

Melanie's Cakes's reply:

Thank you Eugenie for the review! I am sorry I also didn't get a chance to take a photo of the cupcakes either and it is too bad your photographer didn't either as I would have loved to see them all set up at the late night station. I am glad your guests enjoyed them though!!

Heather · Married on 27/07/2019

Excellent!

Melanie was awesome to work with. She was accommodating on our budget and produced a perfect cake for us. We couldn't have been happier!

Sent on 15/08/2019

Melanie's Cakes's reply:

Thank you Heather for your kind review. I am happy to be able to accommodate both your budget and the style of cake you desired. It was a pleasure working with you as well!

Caitlyn Tranter · Married on 27/07/2019

Great experience

Melanie did our wedding cake, it was absolutely beautiful and exactly what we wanted it also had an amazing taste.

Sent on 04/09/2019

Melanie's Cakes's reply:

Thanks Caitlyn for your sweet review! I am glad I meet all your expectations and delivered exactly what you had envisioned. best wishes in your life together!

Marysia Parry · Married on 26/07/2019

The dessert bar of our dreams!

Melanie's Cakes exceeded our expectations! Melanie created the dessert bar of our dreams - which included cupcakes, cookies, cinnamon buns, and more! Each and every dessert was delicious - especially the wedding carrot cake (... it was the most talked about "event" of the night).
We could not have asked for a better wedding dessert baker! Thank you Melanie!

Sent on 09/08/2019

Melanie's Cakes's reply:

Thank you Marysia for allowing me to apart of yours and Stephen's special day. It was fun being able to provide all of your favourite dessert in one display. I wish you both an amazing and happy life together!

Tina · Married on 06/07/2019

Wedding cake

Beautiful cake! Guests loved it!

Sent on 11/07/2019

Melanie's Cakes's reply:

Thank you Tina for your review! Glad your cake was a hit and everyone enjoyed it! Hope you had an amazing day and all the best in your marriage.