Reviews for Dolcezza Custom Cakes
Awards
5 User photos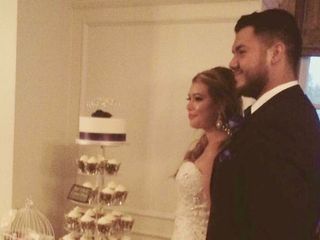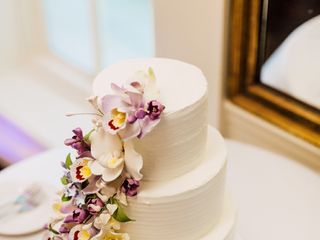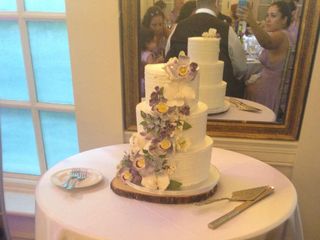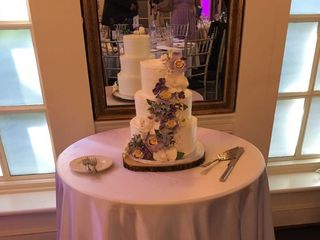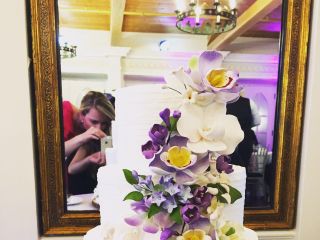 Stephanie S. · Married on 17/08/2019

Amazing! Delicious!

The cake that we received was amazing and delicious! They made it just the way we wanted it to look and accommodated my gluten allergy making it the best experience ever! They were very helpful and made it easy for us to choose flavours by allowing us to have both regular and gluten free cake tasting options. Definitely recommend using them! 5 stars across the board!

Sent on 11/10/2019

Amanda B. · Married on 08/06/2019

gorgeous and delicious

The cake was beautiful and delicious. Best wedding cake I have ever had. Our guests loved it and we got a lot of compliments.

Sent on 11/06/2019

Dolcezza Custom Cakes's reply:

Thank you, Amanda! It was our pleasure! So glad you enjoyed your cake. Hope your day was wonderful!

Arpan P. · Married on 12/01/2019

Worse cake ever

I ordered the cake for my first anniversary and i really wanted to be special and i spend about $95 for the cake. Cake was gorgeous by looking at it but when you eat it, it was so disgusting. The outside cream was really really bad test and inside feeling i ordered cookies and cream, but i can only see bread without any flavors. It did ruined my 1st anniversary please you don't ruined your special concussion. I would never go with them again and i would not recommend them as well.

Sent on 14/01/2020

Karen S. · Married on 27/10/2018

The wedding cake was amazing!

Our wedding cake was amazing! We met with Kristina to discuss our concept and what we wanted. She made it into an amazing cake. Not only was the design just what we wanted, it tasted great too! I would definitely use Dolcezza again.

Sent on 28/11/2018

Dolcezza Custom Cakes's reply:

Thanks for the review and the lovely words, Karen! It was great working with you too! We're so glad you loved the cake. Can't wait to see you again soon! 💖

Marsha M. · Married on 22/07/2018

The Best Cake

This was the best. We had a West Indian black cake for our wedding, that is not easy to decorate. But, they did a fantastic job. They were so helpful and accommodating. She made sure that we got everything we wanted.

Sent on 26/07/2018

Dolcezza Custom Cakes's reply:

Thank you Marsha! We loved working with you! I'm so glad you loved everything. It's our pleasure to make sure that you get exactly what you want!

-Kristina & Team

Diya S. · Married on 24/06/2018

Best egg less cupcakes in city

A lot of our family is vegetarian who does not even eat eggs. We had to look around a lot to find a cupcake place that can make eggless cupcakes without them tasting like cardboard. Dolcezza fits the bill. The cupcakes were one of the best we had. We will definitely be going back for more.

Sent on 06/07/2018

Dolcezza Custom Cakes's reply:

So glad you loved them, Diya! We can't wait until your next visit! Hope to see you soon!

-Kristina & The Team

Kara A. · Married on 15/04/2018

Fabulous wedding cake and cupcakes

I had a picture of the three tier cake I wanted. It was simple, and elegant, but maybe a bit tricky to pull off. Christina, looked at the picture, and said that she could do it. I had asked other vendors, but they were unsure that they could do it. We had a taste test, and decided on Dolcezza Custom Cakes. Our wedding cake was what I wanted, elegant, just like the picture, and very tasty too.

My mom, also hired Dolcezza to make cupcakes for my surprise bridal shower, 2 months before the wedding, and they were boxed and given out as the party favour. The flavour was so yummy!

Sent on 24/04/2018

Nicole A. · Married on 11/11/2017

Kristina truly was wonderful! Her pricing is very reasonable and her cakes are beautiful! Of course it is one thing to have a cake look beautiful, but then when we ate it OMG!! DELICIOUS!!! she has so many flavours and you can mix and match in each tier. She gave us samples to try and made the cake selection experience wonderful. Our entire family ate the wedding cake, it was moist and tasted amazing! I have already told her we will be back as a customer and I highly recommend this place for your all your cake and cupcake needs. Thank you so much for making our wedding cake and being a part of our special day!

Nicole and Matt

Sent on 21/11/2017

Cathy P. · Married on 01/09/2017

This is our short and sweet unbiased opinion when dealing with Kristina from Dolcezza Custom Cakes.

Presentation:
She did an amazing job of recreating our vision from a picture that we found. It was simple yet elegant and was just breath taking to look at.

Value:
Considering the price and the quality of the cake, we have no complaints. There are better vendors out there if you are willing to spend triple of what Kristina charges.

Communication:
This is where there was a little negativity. We found our initial appointment very easy but only in person. Once we had to deal via phone and email then we never got responses.

Taste and Freshness:
Another area that we found could be improved upon. Kristina guaranteed that they do not need to imbibe the sponge with any syrups because it is baked very fresh and is so moist. This unfortunately was not the case for us, for our cake. It was a little dry and since the fillings are only buttercream, texturally it was just not there.
When we sampled the cakes at the consultation, we found the flavors to be a little lacking the zing factor. We instructed Kristina to double the flavors with the Lemon and Raspberry fillings but we got no response and our cake tasted exactly like the sampling.

Final Say:
Kristina met us and took us in on such short notice (my original vendor cancelled on me last minute after i spent a month back and forth). Kristina knew we were strapped as our wedding was only a month away but she took us without hesitation and provided us a take-out box with 9 beautifully presented cupcakes. Her value does not equate to a substandard product and mediocre job so do not be fooled by the reasonable price. Unfortunately taste is subjective and it was not to our expectation but we urge you to go for the consultation and make up your own mind.
In our opinion, overall we were happy to have dealt with her because our cake looked heavenly, the epitome of elegance and beauty. Thank you Kristina! Thank you Dolcezza Custom Cakes.

Sent on 11/11/2017

Kelly H. · Married on 17/06/2017

Kristina was great to work with and made everything very easy. We thought the procing was very reasonable for the value. The cupcakes were AMAZING and enjoyed by all our guests! We would highly reccomend Dolcezza Custom Cakes!

Sent on 21/06/2017

Dolcezza Custom Cakes's reply:

Thanks so much, Kelly! We appreciate your taking the time to review us. I'm so glad you enjoyed your wedding cupcakes!