18 reviews
Quality of service

5 out of 5 rating

Response time

4.9 out of 5 rating

Professionalism

4.9 out of 5 rating

Value

4.9 out of 5 rating

Flexibility

4.8 out of 5 rating
36 User photos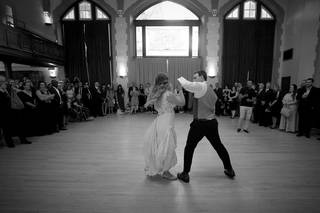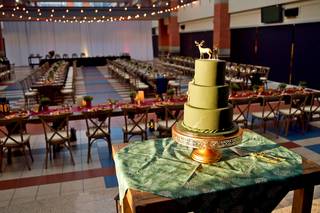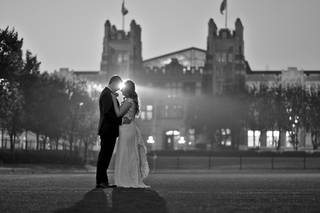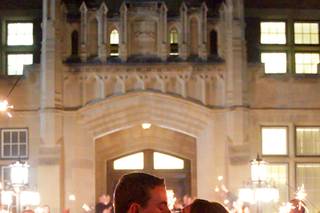 + 32

Photos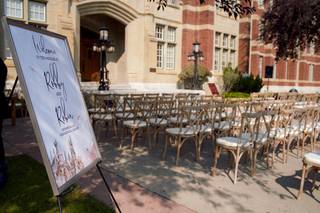 Featured

Jillian

Married on 10/08/2019

SAIT - Amazing Venue & Catering with an Incredible Team!

SAIT was the perfect venue for our wedding and the events team (Jill Glasgow) was absolutely incredible to work with. Jill & team was fun, professional and very responsive to our many calls, emails and questions. The entire time we felt we were in good hands and if there was anything we were uncertain about, she was able to answer us quickly and help make recommendations based on her prior experience. When looking for a venue, one of the biggest recommendations is ensuring you feel comfortable and trust the venue team, and I would highly recommend SAIT based on our experience with their team.

Venue - The entire venue is what we would consider a hidden gem of Calgary. Our ceremony, reception and cocktail hour were all held inside the Heritage Hall building, which is historical building that is elegant, fun and unique. A highlight of the SAIT venue is that the areas for the various events are all close together, which made the entire experience for ourselves and our guests feel easy cohesive, and connected.

Our ceremony was held in the Irene Lewis Atrium. It was the perfect location for us because we wanted the feel of a bright, outdoor ceremony, but didn't want to worry about poor weather. The Atrium has a stunning backdrop with the 1920's style brick building, beautiful glass doors, and stained glass windows. The massive skylights brightened up the entire room and made it feel like a beautiful joyful space. This space can also be used for the reception location.

The Cocktail hour was held in the main foyer space at the entrance of the building and it was the perfect location because it can fit a large amount of people, and allows for lots of mingling with soft seating, cocktail tables, and a permanent bar.

Our Reception was held in MacDonald Hall, which is a beautiful room that has been transitioned from a 1920's lecture theatre into a gorgeous event space. It has a beautiful balcony, stage, and high ceilings that make it such an impressive space. It also comes with a sound system and projector that was great for our slideshow. Many of our guests commented on how beautiful they thought the room was and that it was the perfect location for our party.

Photos - Another bonus is that the SAIT campus has so many great locations for photos. There are downtown views, historic buildings, and the unique architecture of the parking garage and other campus buildings. We found that because of how diverse and well kept the campus is, we didn't have to leave the area for our wedding photos. So far our photos have turned out beautifully and we were able to save some money on transportation costs.

Catering - The Chartwells catering team (Amanda Williams) is the exclusive catering team for SAIT events and they went above and beyond for our wedding, rehearsal dinner, and wedding morning breakfast. We received so many compliments from our guests about how delicious the meals were and how beautifully they were all presented. The catering team was super easy to work with, helped us find cost friendly options that worked with our budget, and made it feel incredibly special. Their bar team created some fun custom cocktails for the day and they were even able to supply us with a donut wall and donuts for a fun treat! (It was a HIT!)

Residence/ Hotel Space - One of the biggest perks for us with hosting our wedding at SAIT was the hotel space that is at the top of their residence tower. We had a lot of family and friends travelling to be here for our wedding and having hotel space available on site made the entire experience seamless for them as they didn't have to travel back and forth from the venue to hotels or rentals off-site. We also had many local guests stay overnight as well, because of how convenient & affordable it was. The rooms were very affordable, large and had kitchenettes. We used the penthouse suite for the night before the wedding for the bride and bridesmaids and for the wedding night. It is a massive suite with two full bedrooms, two full kitchens, two full bathrooms, and two living areas. It has fantastic views of the city and is very modern and comfortable for a team of bridesmaids to sleep and get ready in for hair and makeup. The Residence team (Hollie Coville & Samantha Smith) were also great to work with and looked after every detail for us so we didn't have much to worry about!

Overall, we had an amazing experience and highly recommend checking them out for your wedding!


+ 4

Photos

Robin K.

Married on 10/09/2022

Beautiful Venue

SAIT is a stunning venue, we hosted our ceremony outside Heritage Hall and had the cocktail hour and reception in MacDonald Hall and the Atrium. There was so much space for us to accomplish our Harry Potter themed vision, the atrium gave us the exact great hall feeling we were looking for and the area around SAIT is great for photos.

We worked with a number of contacts through SAIT, all of whom worked well with us to make sure we were getting what we needed to make our big day successful.

+ 2

Photos

Jen M.

Married on 19/09/2021

Beautiful event space

Our wedding at SAIT was nothing short of magical! We had our ceremony in the Irene Lewis Atrium with an intimate number of guests, we used red carpets for walking down the aisle, and SAIT provided white drapery to divide the space. It didn't need much decorating as the backdrop onto Mac Hall was stunning.
Our reception was held in Macdonald Hall. It does provide such a nice skeleton to be able to decorate in any way you'd like. The round tables and chivari chairs were elegant. We rented bistro lights to add to the ambiance and we also rented a lovely back drop behind our head table. I need to give a big shout out to SAIT's wedding coordinator, Jill Glasgow as she was a dream to work with. She really took her time working with us and going over all of the details. She was always available to answer all of my questions (and I had lots). Jill gave great suggestions and really brought our vision to light. We received so many compliments on the venue! 10/10 recommend.

Are you interested?

Send a message

Danielle

Married on 30/04/2021

Beyond helpful

The team at SAIT has been beyond helpful and kind. The value for money spent is also some of the best I've seen for the size I was looking for. And Heritage Hall is WOW beautiful! Our wedding is April 30 and we are beyond excited to have our special day here

+ 5

Photos

Meagan

Married on 05/10/2019

The Perfect Day!

I can not say enough great things about hosting our wedding at SAIT. There was great communication from the start, and we were able to pop in and check out details of the venue whenever we wanted. We even were invited in to the set up of other weddings to see how things were going to look. SAIT is also very flexible with timing, decor, set up, take down etc. The food choices are plentiful and both the food and bar prices are extremely reasonable compared to other venues we looked at. All of the food we chose was great, and we received many compliments on it. Amanda and her catering team did an amazing job at following all my schedule details and requests. The location is unbeatable. Inner-city Calgary makes its so easy for guests to attend. We had our ceremony in the Irene Lewis Hall, which is all natural light and brick wall backdrop, and the reception in the MacDonald hall which was beautiful and romantic. Jill and Cary did an amazing job with all the set up, and making sure every detail of our day was perfect! To top it all off, the penthouse suite in the Residence/Conference Center tower is offered to you when booking a wedding. The suite is HUGE and beautiful with floor to ceiling windows and an amazing view. I stayed there the night before, and used it to get ready in the morning, host people in the afternoon, and we came back there after the wedding. We were treated like royalty there, from the staff blocking off an elevator for us to get down to the ceremony on time, to full cleaning and turn-down service before we arrived back after the wedding, to coming back to a bottle of champagne on ice and a chocolate gift.
The day was absolutely perfect and I highly recommend SAIT as a wedding venue.

Ginette G.

Married on 04/05/2019

Prompt and informative

Sait contacted me right away with my information request about holding our wedding at their facilities. They had all the information on hand that we needed to make our decision and we truly appreciated it!

Lelia P.

Married on 27/04/2019

Thank you SAIT!

Our experience with SAIT exceeded our expectations. The venue was amazing: the high ceiling with the fairy lights in the Irene Lewis Atrium provided such a unique atmosphere that was both spacious and intimate, and MacDonald Hall was perfect for both the ceremony and the reception. But what impressed us most was the amazing service we received from the events staff: Jill, Amanda, and Blaine (just to name a few) were so accommodating and helpful throughout the entire wedding planning process and made sure that we were completely satisfied with every detail of our special day. The events staff ensured that everything went smoothly and we couldn't have asked for a more perfect day. Thank you SAIT events team for your incredible service; we will be sure to recommend SAIT as a wedding venue to our friends and family!

Andreas S.

Married on 11/08/2018

Highly Recommended Venue

Great venue. Amazing food.
The people that work there are very responsive to questions and are very accommodating to requests. We had the ceremony in the atrium (Stan Grand Center, attached to Heritage Hall) and the reception in the McDonald Hall (Heritage Hall). The venue layout is great.

Jasmine C.

Married on 21/07/2018

Amazing Venue

We hosted 230+ guests for our wedding and received a ton of compliments as to how beautiful the venue was! We had our ceremony outside with Heritage Hall as the backdrop, dinner inside the atrium and the dance inside Heritage Hall. Jill was a dream to work with, extremely responsive and was on top of all the small details for our wedding to run seamlessly! Tracey (catering) was extremely helpful in picking out menus and was flexible for what we wanted to do. We would definitely recommend SAIT as a venue!

Kristian R.

Married on 30/06/2018

Great venue!

SAIT has a really nice skeleton for almost any type of social event! We had a very unique wedding, and SAIT was super accommodating from every aspect. The staff is really helpful, and kind and I am so happy with the service they provided. They event went above and beyond, and order custom made napkins for us! Thank you SAIT for helping make our wedding everything we hoped it would be !!
Are you interested?
Send a message