Reviews for Occasions By The Bay
Awards
1 User photo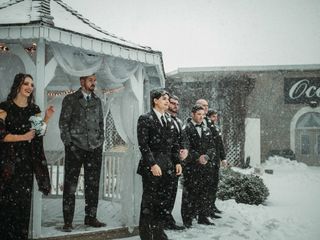 Shareena Marling · Married on 29 of September of 2018

Amazing!! Best day ever :)

We were so happy with the service and and professionalism throughout the entire process.
The wedding day went off without a hitch, wa so beautiful, and the food was amazing. Great reviews from all the guests !

Sent on 30/10/2018

Occasions By The Bay's reply:

Thank you for your kind words. We are very pleased that everyone enjoyed your very special day. It was a pleasure getting to know you, working with you, and sharing in your happiness!

Congratulations, and may you have a lifetime of joy!

Elaine Smith · Married on 17 of March of 2018

Pride and Passion

The most exquisite venue in the Belleville area for any occasion. A team that makes you number one. True professionals. Exceptional service. Chef shows his passion with each plate whether it be in house or catered.


Sent on 19/07/2018

Sheila Doreen · Married on 10 of February of 2018

Nothing but great things to say!

They are all so great. Wedding planning was so easy facilitated by their planners and we always felt so cared for. Personalized service to meet dietary restrictions, timelines, and what we wanted for our big day. We had a washroom accident with a guest at our wedding too and the bartender and wedding planners worked to fix it, even offering their vehicles for a private ride home, and I wasn't even made aware until the next day! We have nothing but great things to say!

Sent on 11/03/2018

Occasions By The Bay's reply:

It was a pleasure getting to know and work with you...helping you to have the best wedding day ever!!!

We were happy to work behind the scenes so that you didn't have to worry about a thing!

Thanks again for sharing you special day with us at Occasions By The Bay. We truly wish all good things for your long, happy future together.

Bonnie Montgomery · Married on 19 of August of 2017

There for u 100% ! Very professional! They go the mile for u and make sure your every want and need are taken care of. And the food there is just absolutely amazing!! Having ur reception at occasions is so stress free because they have it all There! You pick how the hall is decorated and your food and they take care of it all! So easy!

Sent on 25/08/2017

Occasions By The Bay's reply:

It was a pleasure working with you and helping you have a most beautiful day to remember and cherish. Best wishes!