23 reviews
Quality of service

4.6 out of 5 rating

Response time

4.6 out of 5 rating

Professionalism

4.6 out of 5 rating

Value

4.7 out of 5 rating

Flexibility

4.7 out of 5 rating
27 User photos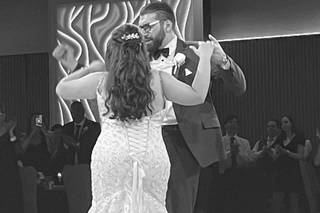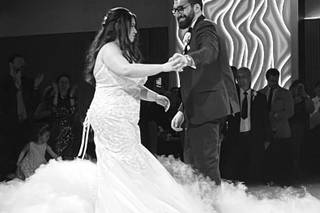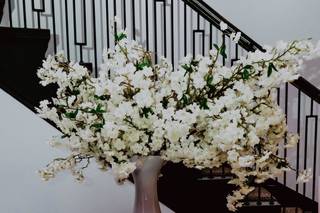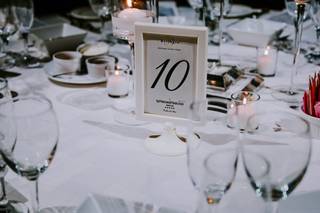 + 23

Photos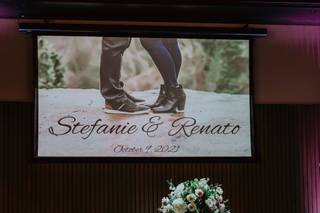 Featured

Katerina T.

Married on 19/09/2020

Worth awaited wedding

We recently just had our wedding at the bellagio and it was the best decision we made. We had booked with them prior to the pandemic, and throughout the entire process they were so compassionate, and accommodating!!! The newly renovated venue is state of the art and I guarantee if you are like us and want that party atmosphere but still keeping it somewhat traditional this is your go to place. Not to mention that it's just YOU and your guests no other weddings to have to worry about. The food was great and the staff were extremely pleasant and friendly. Felt like a Queen and King the entire night! 10/10 would recommend!!

Bellagio Boutique Event Venue's reply:

Thank you so much for hosting your event with us! We are so happy our staff and venue exceeded your expectations. We cannot wait to host your future events soon. Stay safe!

Briana B.

Married on 22/04/2023

A Perfect Wedding Experience at Bellagio

My partner and I recently had the most incredible wedding experience at the Bellagio venue, and we couldn't be happier with how everything turned out. From start to finish, it was an absolute delight working with their incredible team.

Arlene, the event sales manager, deserves special recognition for her outstanding support and professionalism. From our initial meeting until the day of the wedding, Arlene was an absolute pleasure to work with. Her communication skills were superb, always prompt and thorough in responding to our inquiries. She made sure every detail was taken care of, going above and beyond to help us make the best decisions for our wedding. Arlene's dedication to our satisfaction was truly remarkable, and we are grateful for her invaluable assistance.

We also want to express our heartfelt appreciation to Nick, the managing partner at Bellagio. Nick was actively involved and present, ensuring that everything ran smoothly and seamlessly. His attention to detail and genuine care for our happiness made us feel incredibly special and supported on our big day.

The bar tenders, security personnel, and kitchen staff at Bellagio were exceptional in every way. The variety and quality of the drinks and dishes surpassed our expectations, leaving everyone thoroughly impressed and satisfied. Their professionalism and dedication to their craft truly elevated our wedding experience.

We were blown away by the beauty, sophistication and modernity of the venue post-renovation. We couldn't have asked for a more picturesque setting to celebrate our special day.

Highly recommend :D

Ashley G.

Married on 15/04/2023

Amazing can't say thank you enough!

From start to finish the attention to detail and the amazing food! I have nothing but amazing things to say about the staff, Nick, Arlene, and the chef! Thank you for making our day perfect!

Are you interested?

Send a message

Chris

Married on 30/10/2022

Beyond Poor Service

After all the anticipation and excitement, to then have your special day turn into a panic. Its not something I would want for any couple.

After my experience with Bellagio, specifically the "manager" I would not recommend anyone to have an event there, nor would I even say that I actually had my wedding there. I've been in the industry for over 15 years and I have never experienced a person so unwilling to take responsibility for their mistakes. If your in charge of an event for the evening and things don't go according to plan, as a manager your held accountable. So acknowledge your clients feedback, accept your shortcomings and make things right with your client. But Hey, what do I know. As a client you pay for the venue and you expect to get what you paid for and at the very least, what was in your contract.

Poor service, lack of communication, zero empathy, zero problem solving skills, those were not things in the contract. But thats what we got!


Michelle

Married on 30/10/2022

Still waiting on a response.

I don't usually write reviews, but I feel the need to share my bad experience at Bellagio. I had my wedding ceremony and reception here in October 2022. My husband and I were very excited to use this space as it was recently renovated and very modern. We were in close contact with the Sales Manager in regards to planning and major details. A few days before the wedding, we were required to bring anything that had to be setup the day of, e.g. signs for signature drinks, menus, pictures/frames and candles for the memory table, the place cards to be placed on the plates of the guests etc. I was told all of these things would be set up before guests arrived.
As we entered the venue, we noticed NOTHING had been set up. Our welcome sign, our unplugged ceremony sign (which is critical for guests to see before being seated), our guestbook, our memory table decor and our canvas photo were not even taken out of storage. Somehow the menus and programs made it out of storage but everything that was packed with it was not. My amazing bridal party had to do the running around setting everything up for us before the ceremony started, which resulted in an extra charge from our string duo that we hired to play. Also, during all of this chaos, not once did anybody from Bellagio make their presence known to us. It was like we were just renting a community centre for their space with no manager on site which my whole family/bridal party found very odd. We were led to believe that the Sales Manager that we were in correspondence with, would have been in attendance. When one of the groomsmen tracked down someone that worked there and asked where she was, the response was like she never even existed.
We were also under the impression that there would be draping provided from the venue for the ceremony space, but after our arrival we were then very nonchalantly informed that no order was ever placed for the drapes. We were never directly told that WE had to provide the draping through our decor company. So unfortunately, the ceremony space did not have the intimate look we were going for. The place cards were absolutely nowhere to be found even though I brought all of these items in myself and personally handed them to the sales manager days before our wedding. No place cards on the tables meant that our caterer had no idea as to where people were seated and what meal they ordered. I literally had to call Bellagio, while I was sitting in Bellagio, to get Nick (the manager) to do something to help my caterer. This ended up being solved with one of the workers at Bellagio having to follow the servers around with the master list that I prepared of all guests and their meal preferences. It looked VERY unorganized.
But the one major detail that really upset me before I even walked down the aisle to marry my husband, was when I first stepped foot into the venue and went into the bridal suite, there was a frame on the vanity with a personalized letter for the couple getting married that day. But as I got closer to it to read it, I realized it was not for me and my husband, it was for the couple from the day before. I felt so disrespected and heartbroken that these people didn't even have the decency to give us the same experience that they had given to the previous bride and groom. Not to mention the bridal suite was not tidy at all. No toilet paper, not many paper towels to dry our hands and washrooms weren't cleaned.
When I brought up the bridal suite issues to Nick a few days after the wedding, he told us, very casually, that there was extra toilet paper in the cupboard in the washroom, as if we were supposed to restock it ourselves. Nick was not compassionate at all with our concerns when we spoke to him. He was more concerned about finding the literal "value" of the little things like the toilet paper and paper towel. You can't put a value on added stress and frustration on an already nerve wracking day. My husband and I spoke to him for about an hour at the beginning of November. We were promised a call back in 2 days and didn't get any type of response until I emailed over 2 weeks later. We were then told about an "overheard" conversation about sending us a $350 cheque to offset the charge we got from the string duo. After spending almost $20k at Bellagio, $350 is a definite kick in the teeth considering all of the negative occurrences on our one and only wedding day. We declined the cheque and asked for a more serious resolution sooner rather than later. That was on December 4th. We got another email on December 6th thanking us for "continued patience" and it is now January 31 and still no word from Bellagio.
I would never recommend this place to anyone and I will share my experience to any and everyone that asks.

Michael R.

Married on 26/03/2022

Mike and Anj wedding

Nick and Stefany were incredible! They helped us every step of the way planning the wedding of our dreams. They gave us great ideas to make our special day unique and did everything they could to make sure everything went right and that us and our guests had an amazing night! Would definitely recommend Bellagio for your event as it's beautiful! The sound system and lights are world class and every one from s4 especially Demo were amazing in helping set up a great party experience for our guests.

Stefanie C.

Married on 09/10/2021

October 2021 Wedding

Planning a wedding through COVID was not easy but working with Bellagio made it as easy as can be. Our wedding was planned for July 2020 but had to be postponed due to guest numbers. Getting ahold of Bellagio was hard at times, but when it came down to it, they were very easy to deal with. We had postponed our wedding twice and they made that as seamless as possible on their end. The outcome of our wedding was everything we had hoped for and went off without a hitch due to Nick and Stefany's professional. We would recommend Bellagio for anyone's upcoming events and hopefully will work with them again soon!

+ 17

Photos

Bellagio Boutique Event Venue's reply:

Thank you for hosting your event with us! We are so happy our staff and venue exceeded your expectations. We cannot wait to host your future events soon. Stay safe!


Leeann A.

Married on 02/10/2021

October 2, 2021 - COVID Wedding

We got married on October 2, 2021, which as everyone knows would be considered a COVID wedding. The planning around a COVID wedding can be stressful. The journey with Bellagio began just after the pandemic first hit in 2020. We took the chance and booked the venue even before their renovations were done. Thankfully with the help of Nick, Stefany, Luciano, and the whole gang at Bellagio we were put at ease. We knew were in good hands. We are so happy that we took the chance to book the space before it was done. Nick and Stefany were extremely accommodating when it came to dealing with the entire COVID situation, it made the situation so much less stressful (eg. meeting multiple times in person and over the phone). The space was amazing, having a single room for our party really made a huge difference. We recommend couples consider the single space (vs. sharing with multiple weddings) as this pandemic continues. The renovated space coupled with the new sound system made the wedding a real party. To top it all off, the food was amazing. We would recommend the space to anyone looking to book an event.

Bellagio Boutique Event Venue's reply:

Thank you so much Leeann & Luca for hosting your Wedding with us! We cannot wait to host your future events soon. Stay safe

Sandra

Married on 18/09/2021

Love it, 10 out of 10

Everything was perfect! Recommended

Bellagio Boutique Event Venue's reply:

Thank you Sandra for your feedback. We are glad you enjoyed your Wedding here with us at Bellagio. We hope to see you again for other events.

Chris A.

Married on 11/09/2021

Spectacular Venue!

From the moment we booked with Bellagio, Nick Papa was so accommodating and really did make us feel like family. We booked when they were under construction and he told us to come by whenever we wanted to check out the progress. The venue looks spectacular! The food was amazing! The service was spot on! All of our guests were raving at how nice the venue was and how much great of an experience they had. The sound system is also out of this world, and that, accompanied by the lights made it feel like a club!

Nick always kept us in the loop and was always available for us whenever we needed. Throughout the night, Nick personally went around each table to ensure everything was running smoothly. Stefany assisted with the floor plan and was our main contact leading up to the wedding. She was super helpful and very accommodating as we needed to make some last minute changes.

Overall, this venue exceeded our expectations and we were blown away at how beautiful everything looked. All the finished feel grand and rich and it was everything we were looking for and more!

Thank you so much!!

Bellagio Boutique Event Venue's reply:

Thank you so much for hosting your event with us! We are so happy our staff and venue exceeded your expectations. We cannot wait to host your future events soon. Stay safe!
Are you interested?
Send a message