Darren and Stephanie's wedding in Edmonton, Alberta
Modern Winter Burgundy 11 wedding vendors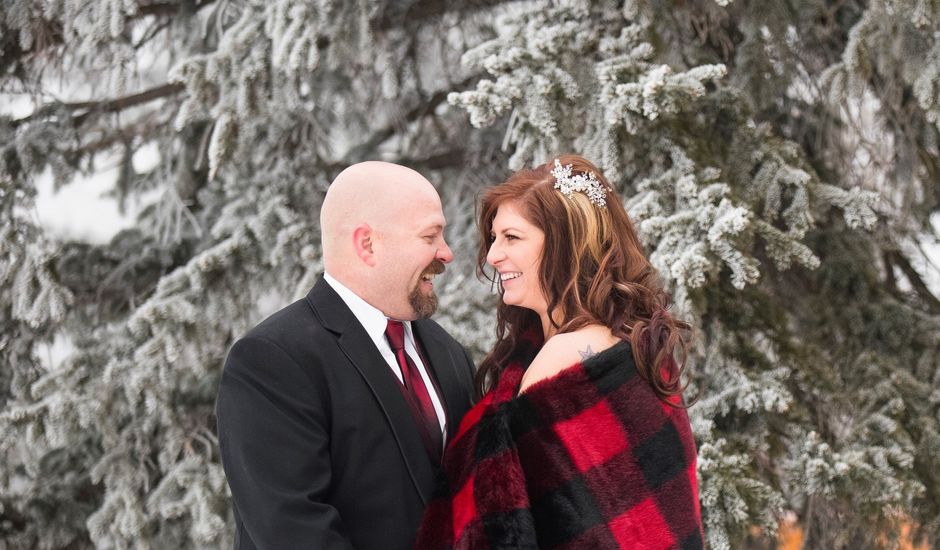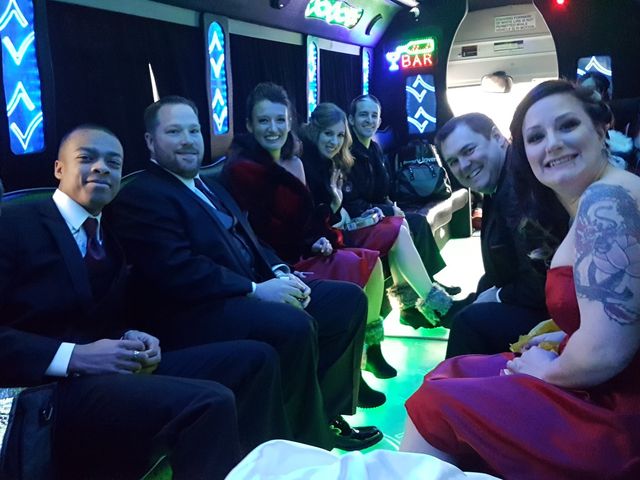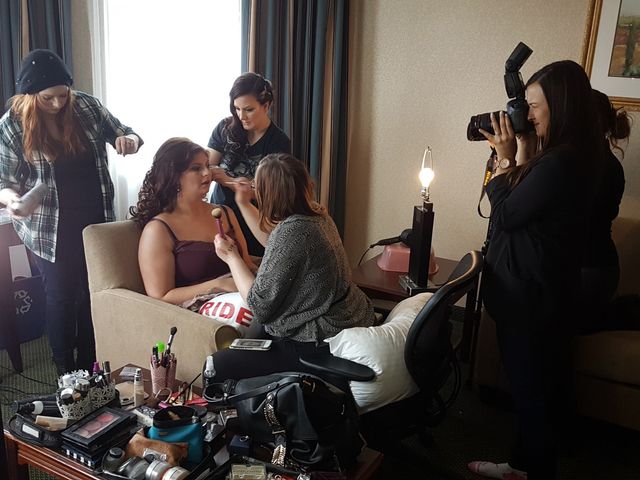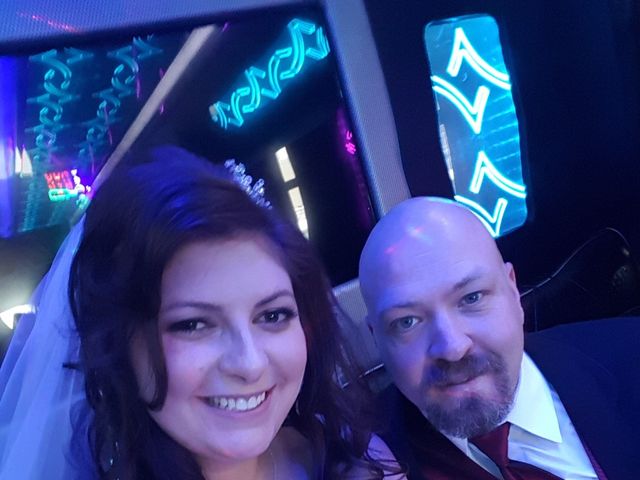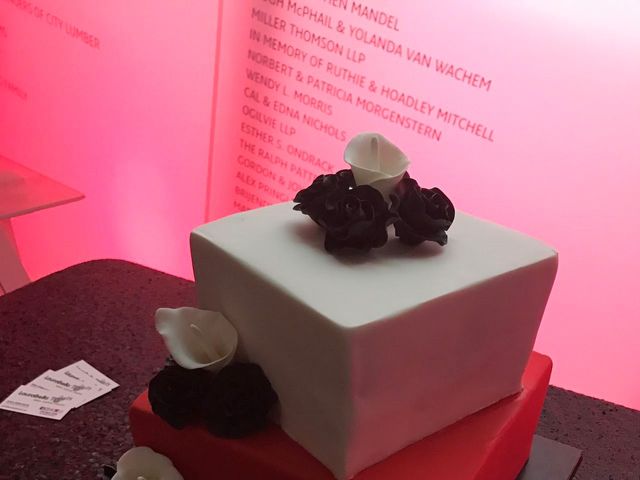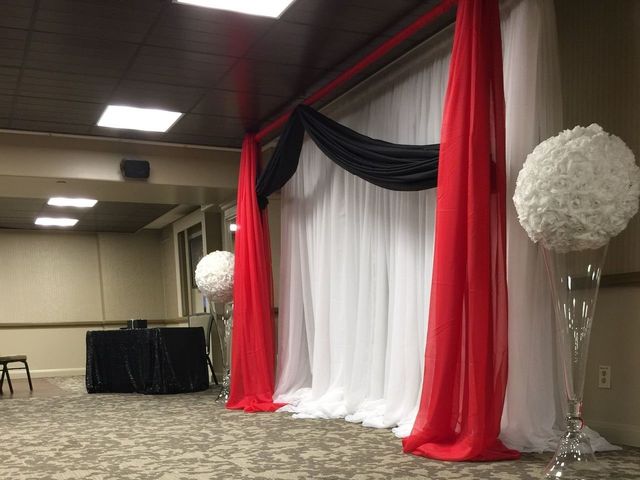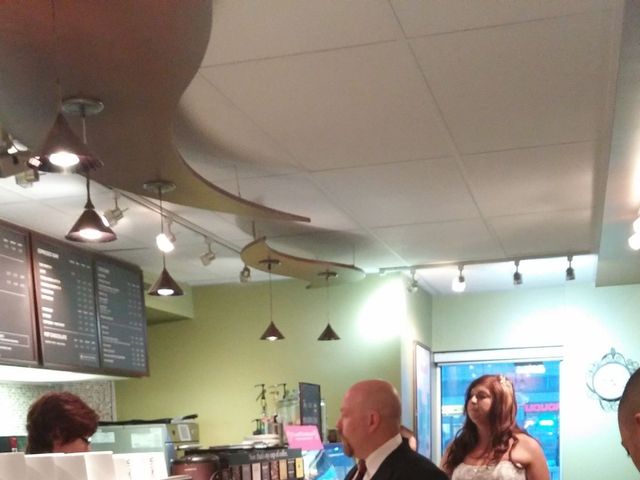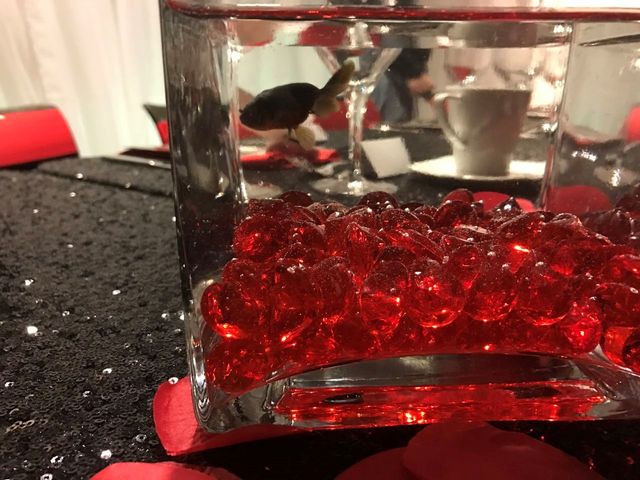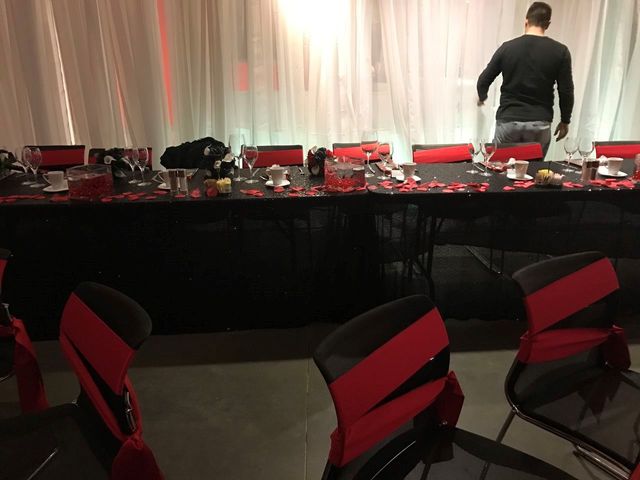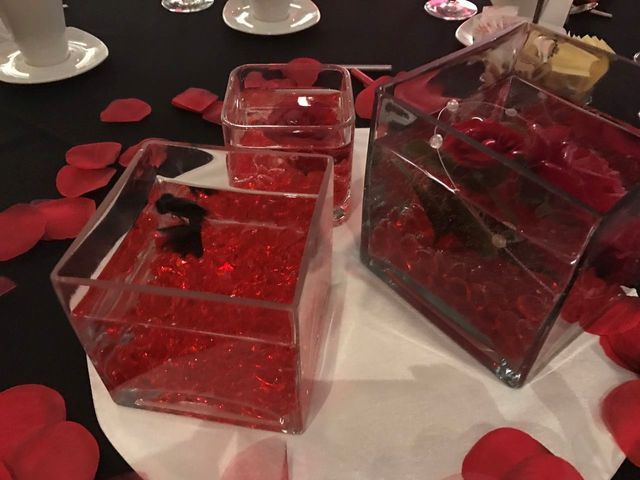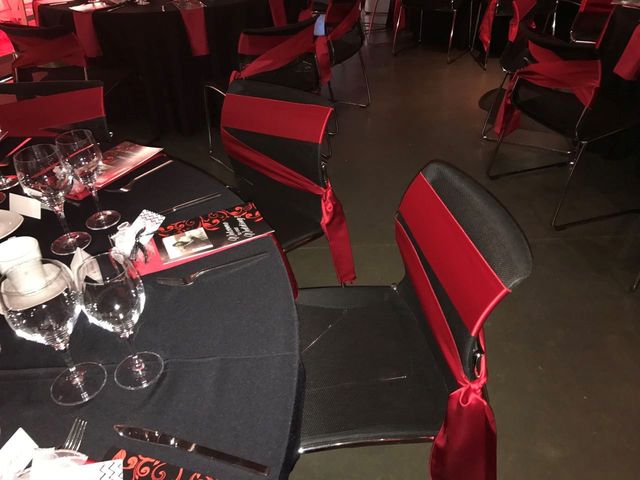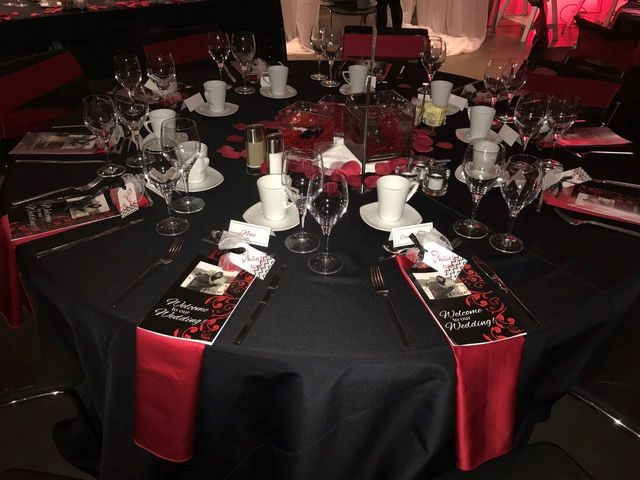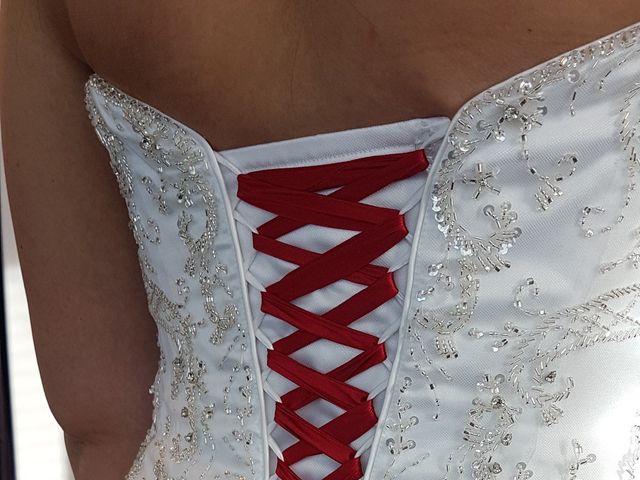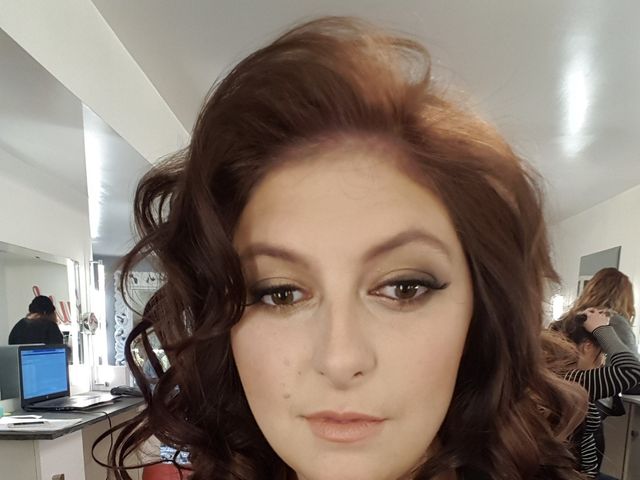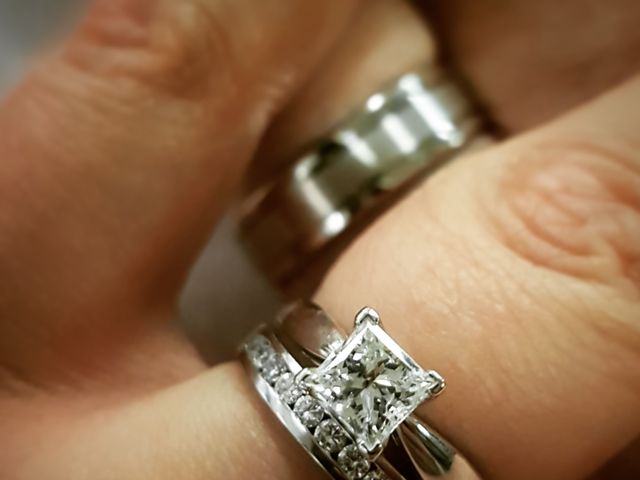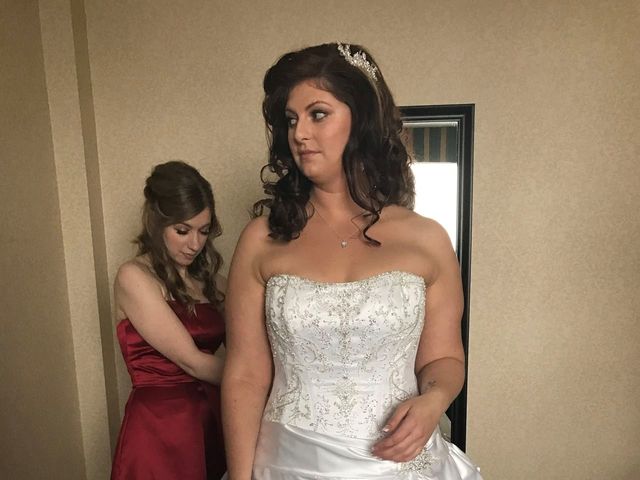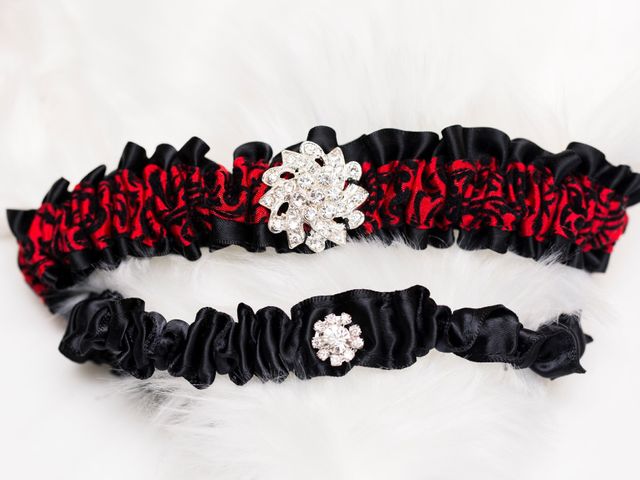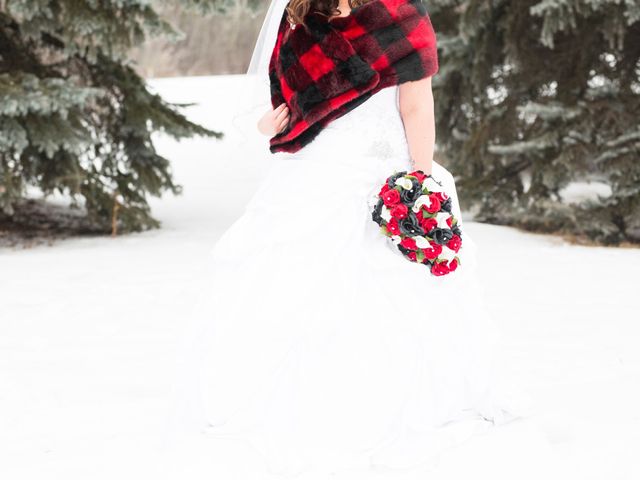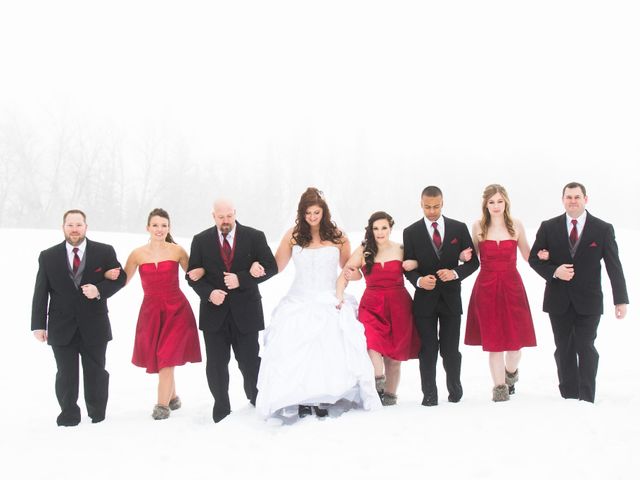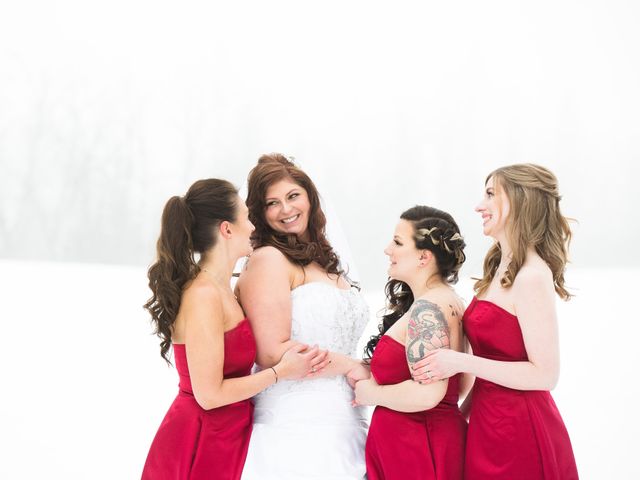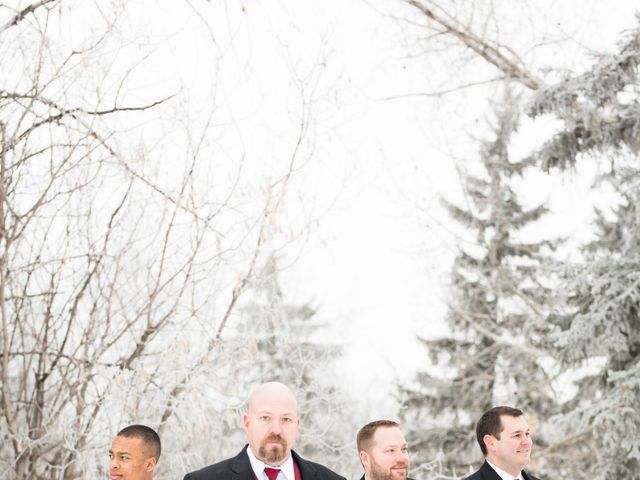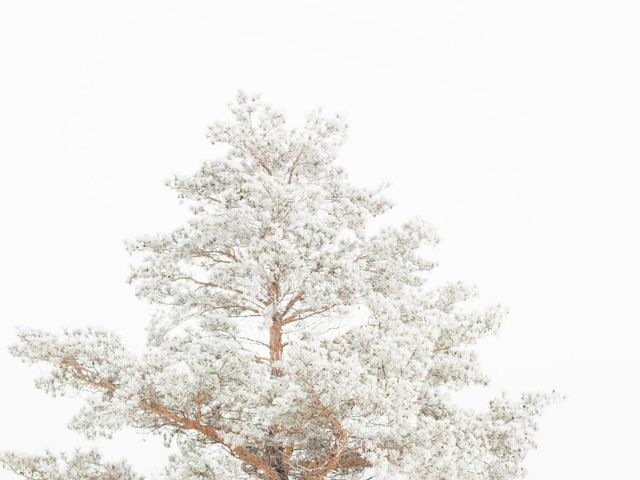 The story of our wedding
The night before the wedding it still felt like it wasn't real. Like this moment hadn't really come yet. All these years I've been waiting, after all the weddings my Barbie's have been through; it still didn't feel real. We had rehearsal and the second time I fake walked down the aisle was the first moment I felt butterflies.
The evening went on which ended up us all grabbing a bite to eat at the hotel and us ladies going back to my room. One of my ladies went home, the other had a room in the hotel with her husband, and my other friend spent the night with me. I wasn't sure if I was nervous or excited but neither one of us would shut up. We were laying in this king size bed, lights out, 1am and kept talking. Eventually (reading each other's minds) we knew to just not reply to the other and eventually we fell asleep. Let me tell you that 7am door knocking from the makeup and hair ladies came really quick. Luckily they came with high spirit and high energy; it was easy for us all to wake up.
Continue reading »
The day was very foggy as the sky lit. I was thinking "Oh crap. This is seriously going to mess up my city scape photos I wanted down in the river valley". But I didn't even really let it bother me. Like really, what could I do. So the girls got to work on beautifying my bridesmaids while I kind of wandered around in my p-jays delaying my shower. Soon my room was full of people: mom, dad, sister, 3 bridesmaids, 2 stylists, photographer, videographer, 2 coordinators that were in and out. It was so intense.
By the time I had showered and it was my turn to have my makeup done, I started to feel cold and clammy. It was an odd feeling. At one point I had make up ladies working on my face, hair lady behind me, my friend putting in my earrings, the photographer taking photos, the videographer taking a video all while someone was taking photos of the whole thing and it was in that moment that a) I seriously felt like a superstar and b) "Oh my god I'm going to puke". I was so dizzy and light headed, my hands were soaked with sweat and I was freezing! I didn't even feel nervous! What was this feeling? Maybe this was what true genuine nervousness felt like. I had to leave the chair, go pee and take a breather. Eventually I was able to get it together and sit down and get it all done.
Before I knew it I was climbing into my dress for real this time. When I first saw myself in the mirror I had a real "me" moment. Wow I thought. That's the only word I had. Wow. Clearly I looked gorgeous. But I never thought I could look like that. A true bride. My Barbie's aint got nothin on me. The time finally came where we all had to head downstairs; I was clinging to my dad's arm just shaking. I don't even know why I was so scared. I had in my mind no doubts about the man I was about to marry, I think maybe it was all the preparation and emotion and it had finally come down to this moment. Dad and I were standing at the doors and my coordinators said "Whenever you're ready" and I was trying so hard to hold back tears that I made everyone wait about 5 minutes. We stood there while I tried to gather myself because for some odd reason I was terrified. I couldn't tell if I was going to pass out or throw up. Finally I said "Let's just go" and the doors opened and that moment I had been waiting for my entire life had begun. All my friends and family were there and I barely recognized anyone!
They all looked so nice. Then I stepped and tripped slightly on my own dress, I don't think anyone noticed but it was all I could think about. When we turned to go down the aisle and I faced my husband to be, I couldn't hold in all the emotion I had been holding back, and of course, I started balling. Typical. All that makeup work gone. I stared at Darren and I could feel everyone's eyes on me as we walked and semi stumbled on my giant dress down the aisle. As soon as I took his hand I felt more comfortable and all my butterflies were gone. The ceremony was perfect. I even made the man of my dreams cry with my heartfelt vows. It was awesome!
Things were much easier after that. We did a small receiving line... more like exiting line, as everyone left. And before we knew it we were all hopping in a HUGE bus limo. Definitely worth it, so easy to get in and out of with dresses and boots and a bunch of glam. I sat in the limo as we started to drive away and all I could think was "Wow, that just happened". So surreal. I just sat quietly at the back of the limo while everyone chattered. I felt so amazing I literally didn't have words. Which is why I find it hard to describe. I just was in pure bliss.
But it didn't stop there, oh no. Our first stop was in the Whitemud Park, we had to trudge through snow to get to my ideal photo spot that I chose long ago. Who's idea was it to choose I spot way into the field full of snow!?! That's all I could think as we all made our way through the snow to the first photo spot. It was beautiful though. The fog still remained, and the frost on the trees was gorgeous. The poor boys had frozen feet by the time we were done but it was well worth it for those shots. *says the one wearing winter wedding boots*
Back in the limo we warmed up on our way to our second photo spot, right behind the old timer cabin, overlooking was supposed to be the downtown skyline and the river. Nope. Months of photo planning gone in one day. It was all fog. You couldn't see anything. But our amazing photographer that I had was super creative and used the fog and the frost to her advantage; I knew those photos would turn out amazing! All during these photos, we were being spied on be people in houses nearby, I caught one lady as she jumped out of the line of sight from the window, I thought it was great! I just smiled and waved! Soon a man opened the door and yelled "Congratulations!!" It was quite a funny sight.
Eventually we were all frozen and piled into the limo and decided to axe out our 3rd location and get a coffee instead. The limo driver thought it was a great idea and brought us to a Second Cup. We all piled out and into the coffee shop; tuxes, dresses and all. The ladies at the counter thought everyone looked nice but didn't pay no mind to what was happening until they asked me what I wanted. She screamed!! She immediately realized what was going on. It was fun to be the center of an event at a small coffee shop.
We got to the reception a few minutes behind, of course. And right away family photos began. This was a daunting task. I started to feel really tired and not well at all. Probably coming down from my high of the day. I remember feeling, man I just want to go home now. Darren laughed, clearly that wasn't happening. Everything was pretty quick after that. We had a grant entrance and mingled with everyone before dinner.
Dinner at the AGA was probably the BEST food I have ever eaten. PERIOD. Although I couldn't fit much with that dress on. So dinner was minimal. The speeches had to be my favorite part. They weren't long and boring, they were perfect. And let me tell you there wasn't a dry eye in the house when Darren's 93 year old grandmother came up and did an unexpected speech. SO much love and so much emotion ran through that place that night. By the time the night was coming to a close and a few of us were getting in the limo to go back to the hotel, I had the worst pain in my gut, I needed this dress off! Yes,, in the limo. My sister in law was behind me and I made her undo the corset in the back of my dress. In the limo.
By the time Darren and I got to our room it was so quiet, I couldn't believe it was over. My first words..."Get me out of this dress!!!" I put on some wedding night appropriate nightwear...and we passed out. No romantic time... nothing. Fell right asleep. So much for that nightwear.
When I think back now I have a hard time remembering all the fine details. My mind was going 100 million miles a minute that day and was running on a high of adrenalin. But I remember the best moments when we said "I do." And that's all that matters. I wouldn't change anything about my day. It was perfect.
Darren and Stephanie's vendor team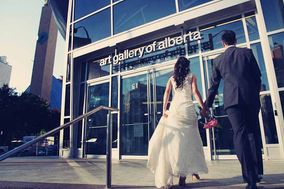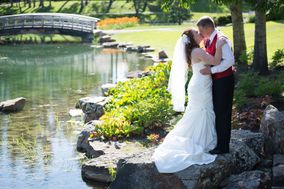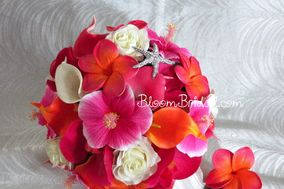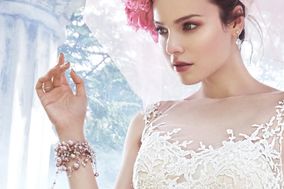 Pink Sky Photography
Photographer
Bridal & Tuxedo House
Suit
Blush Artistry
Bridal beauty
Revolution Entertainment
Wedding planning
LaruaBella Treats
Wedding cake
Other Art Gallery of Alberta weddings
View all
Other Alberta weddings
View all
Get inspired with Real Weddings
Other burgundy weddings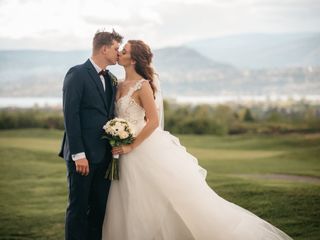 Show all
Other Winter weddings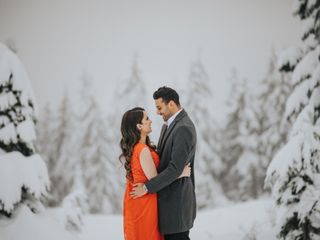 Show all
Other modern weddings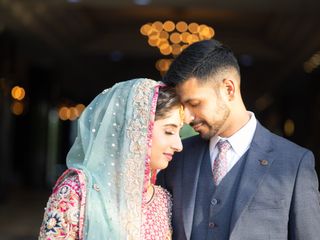 Show all