Chase and Emma's wedding in Lanark, Ontario
Countryside Spring Pink 12 wedding vendors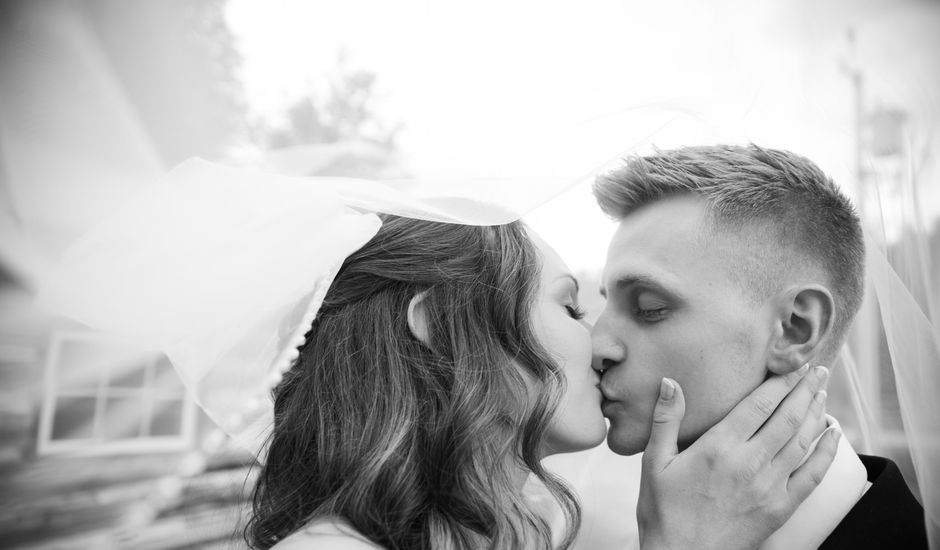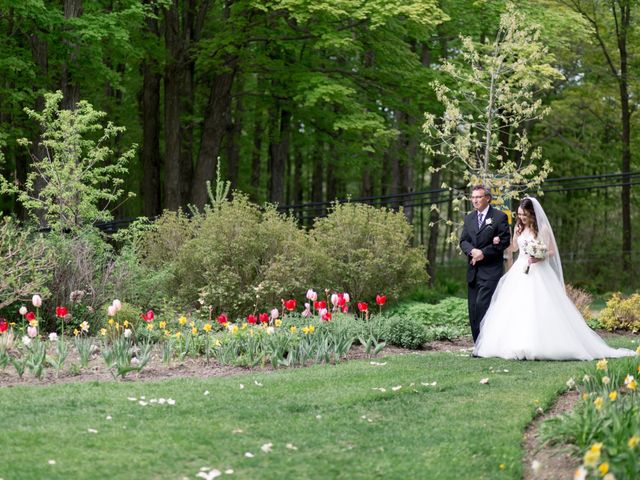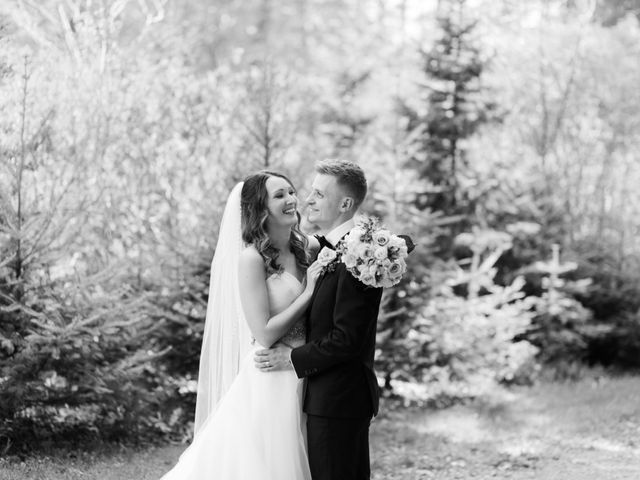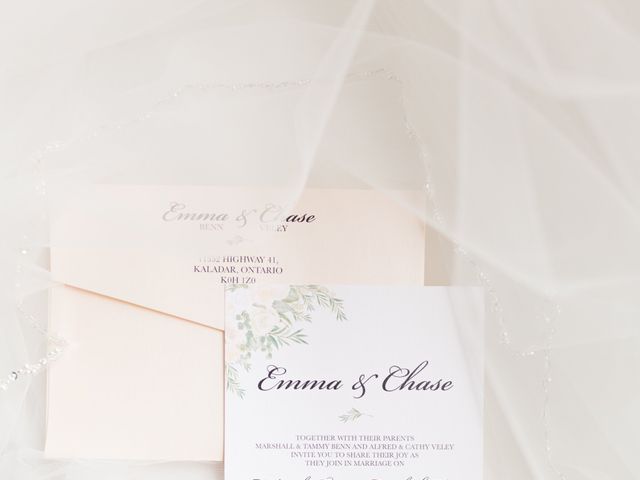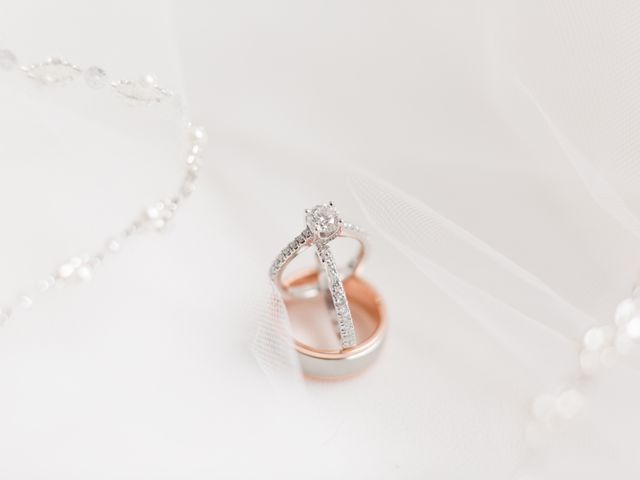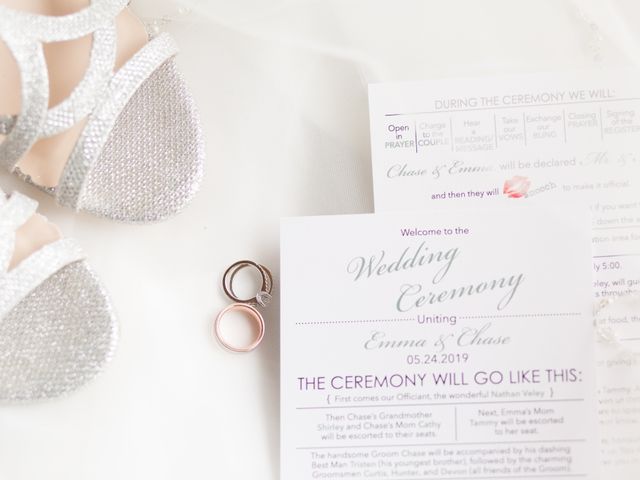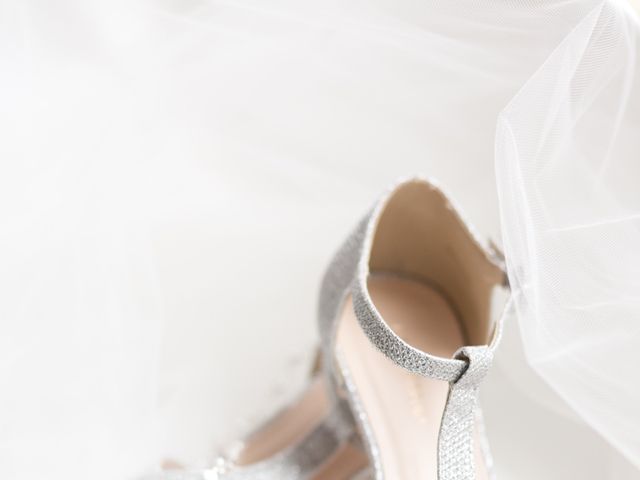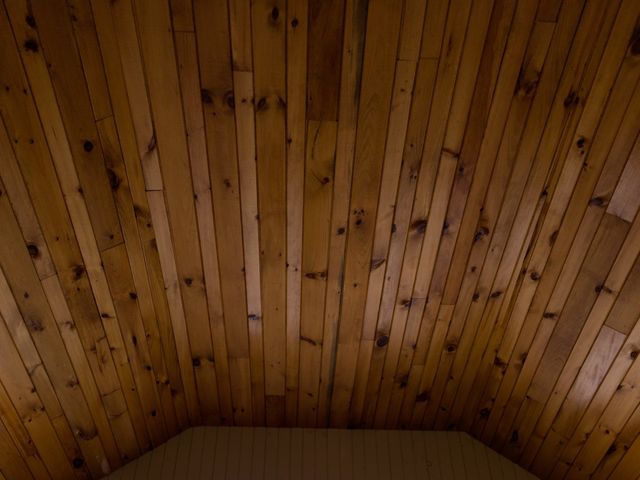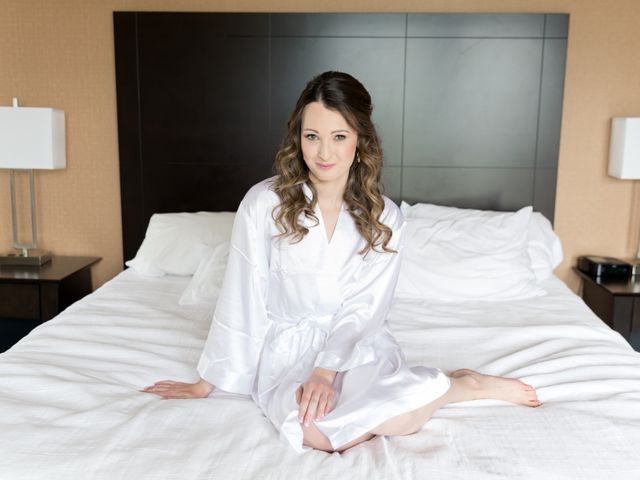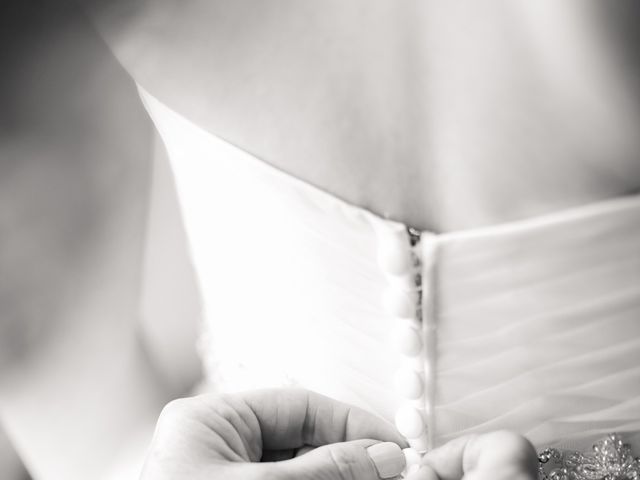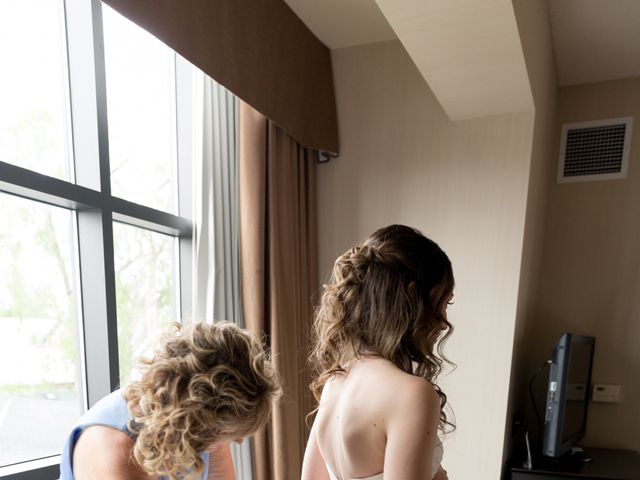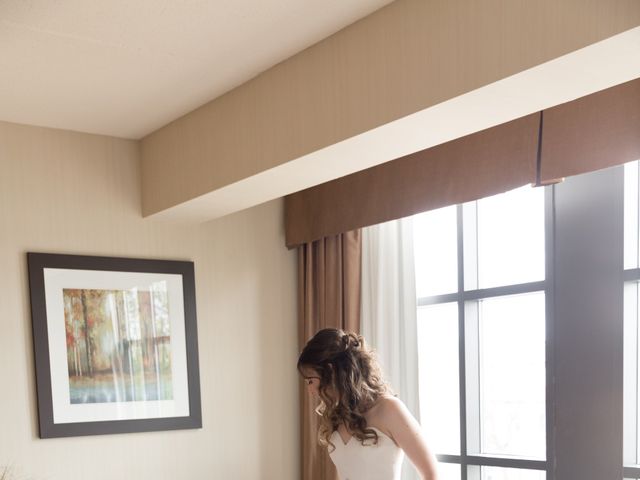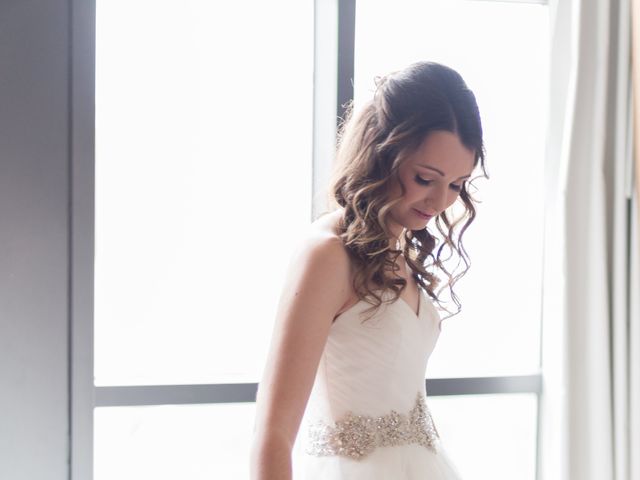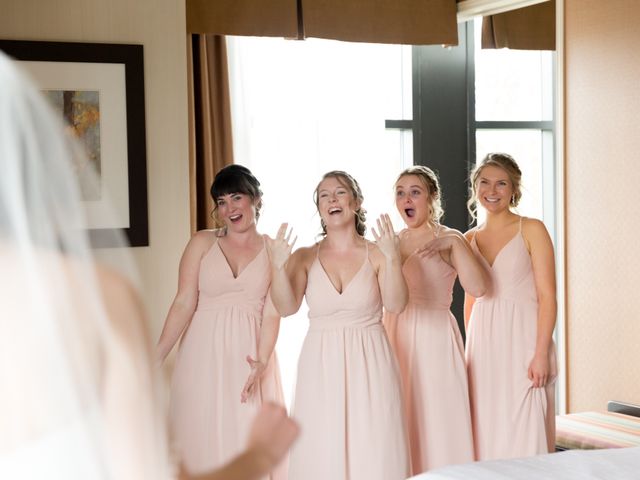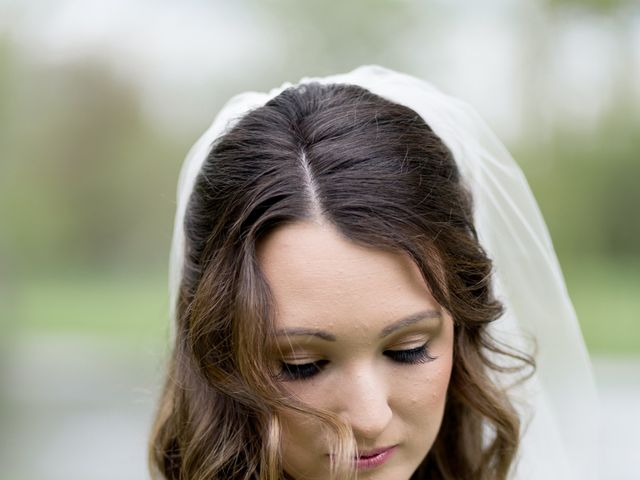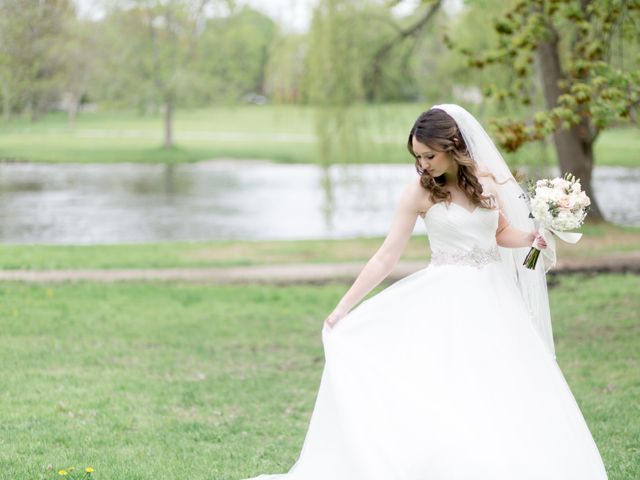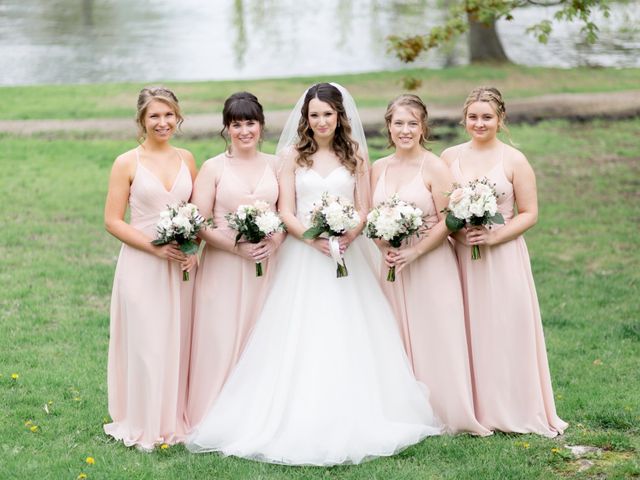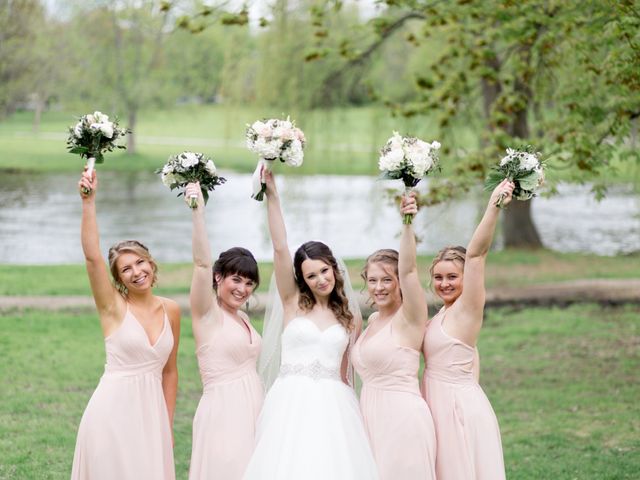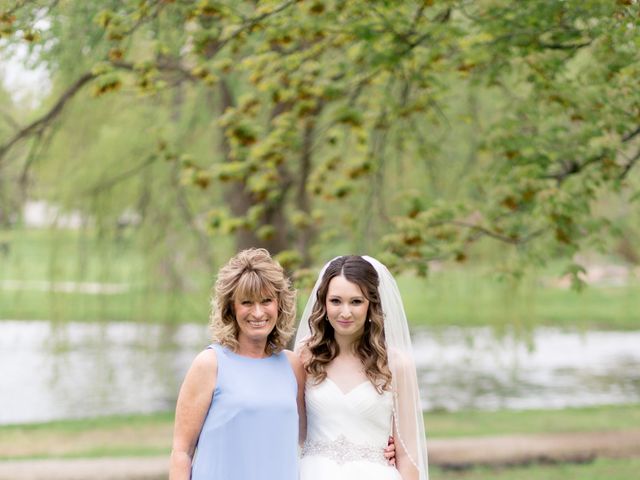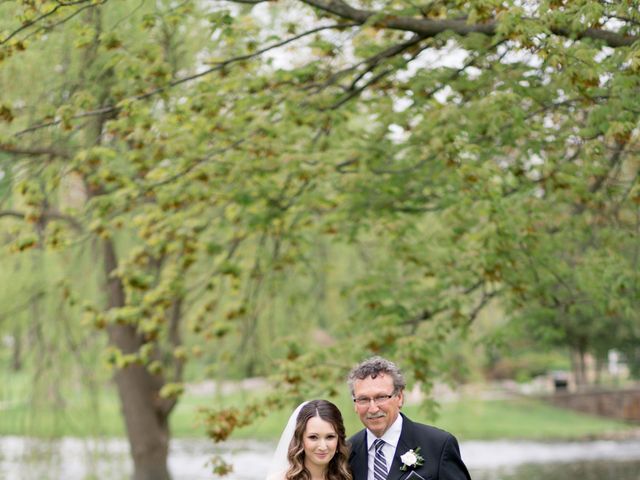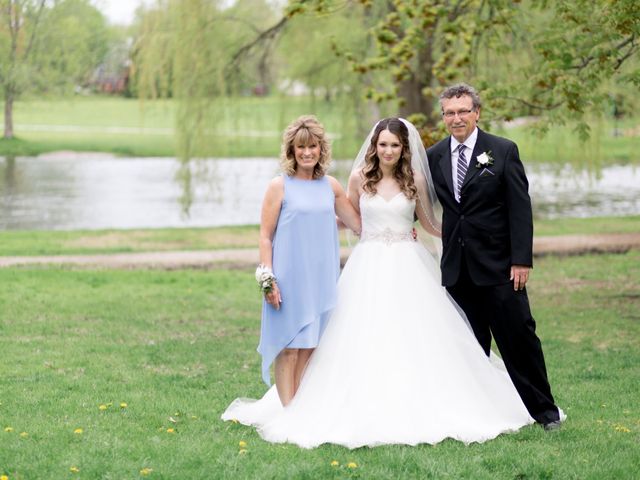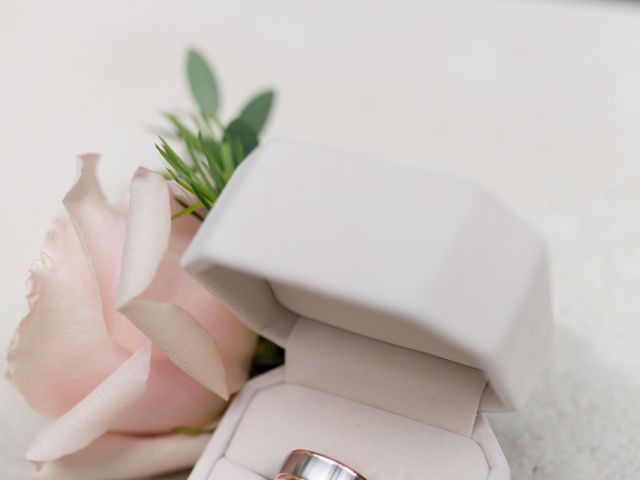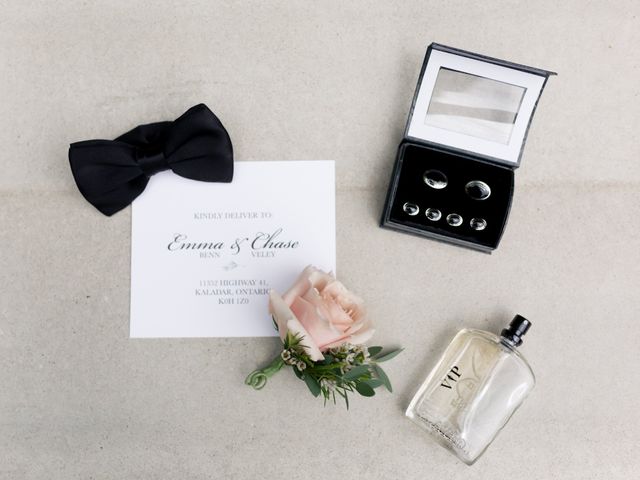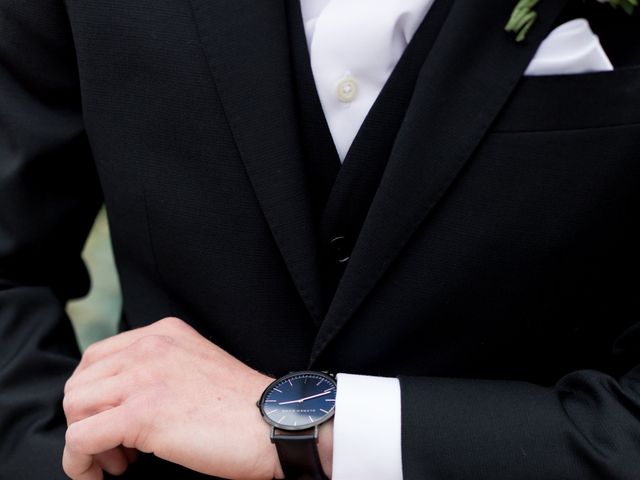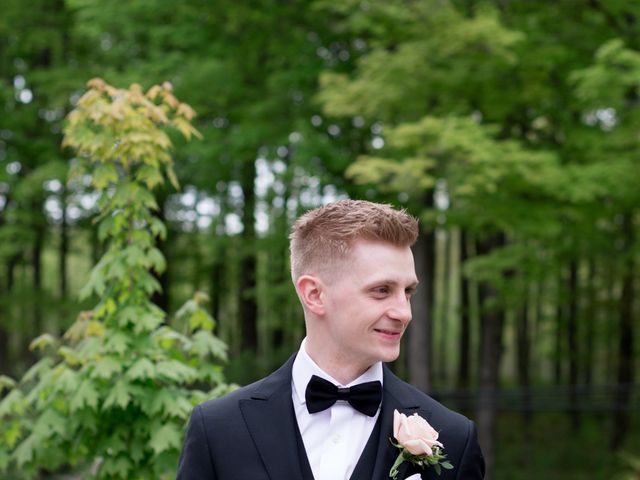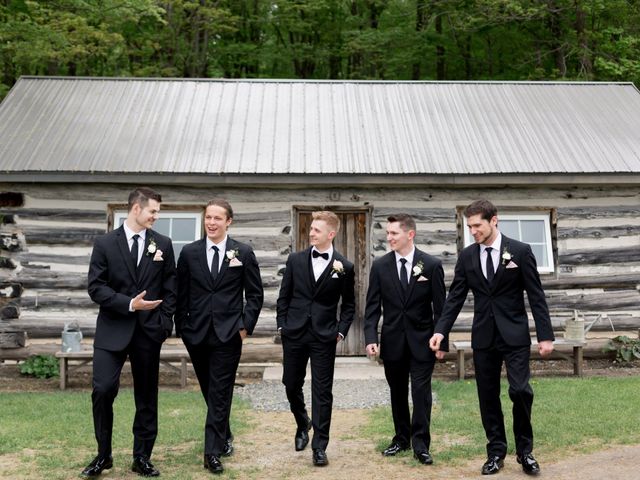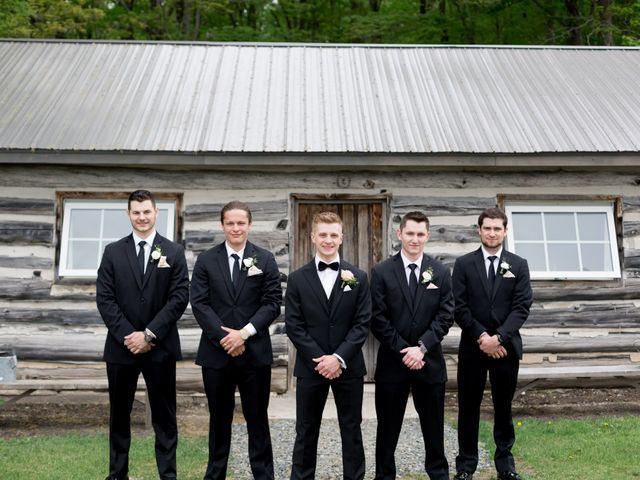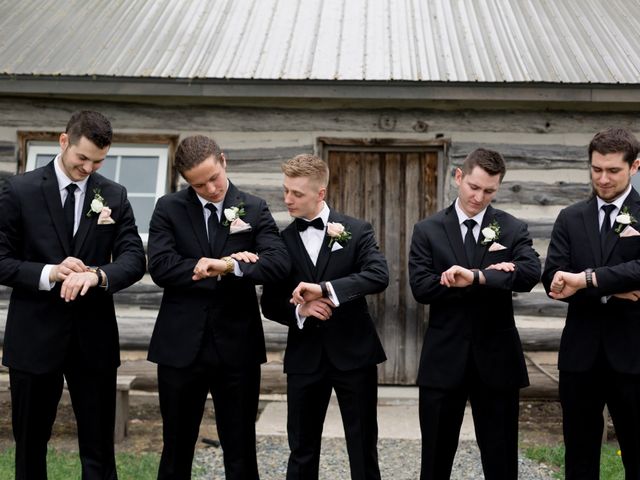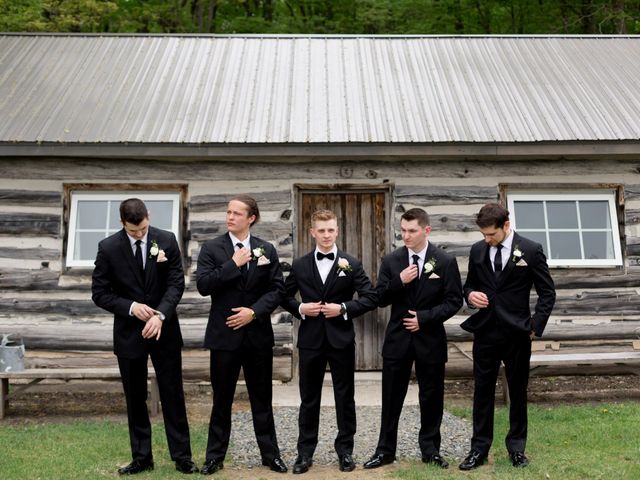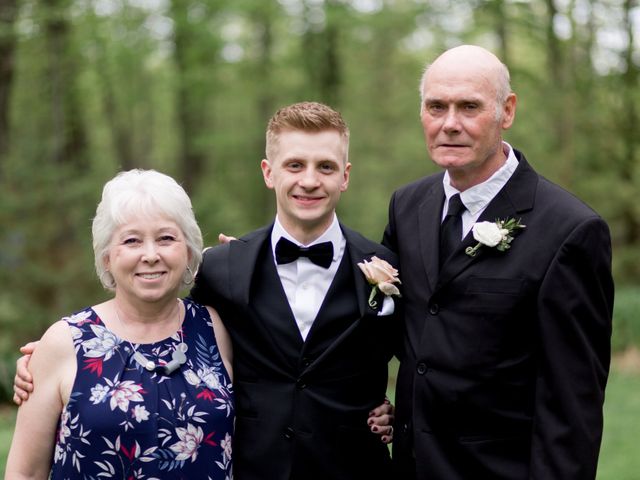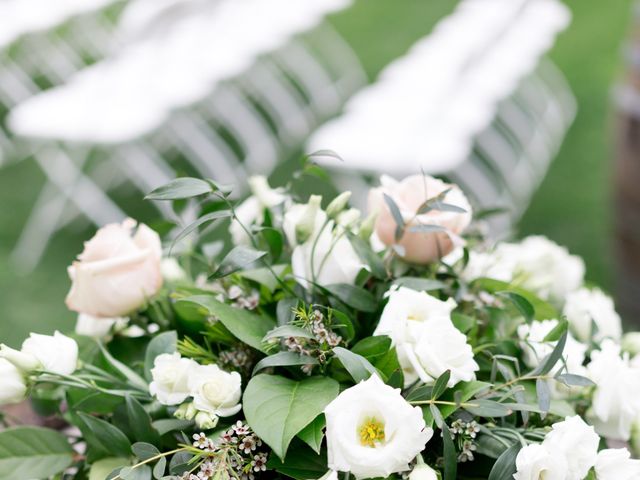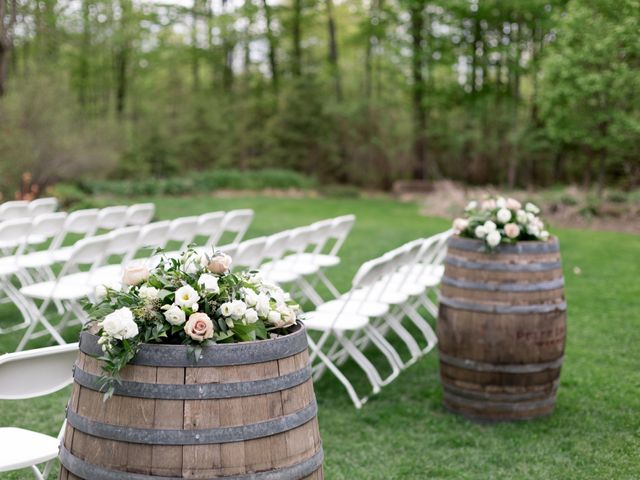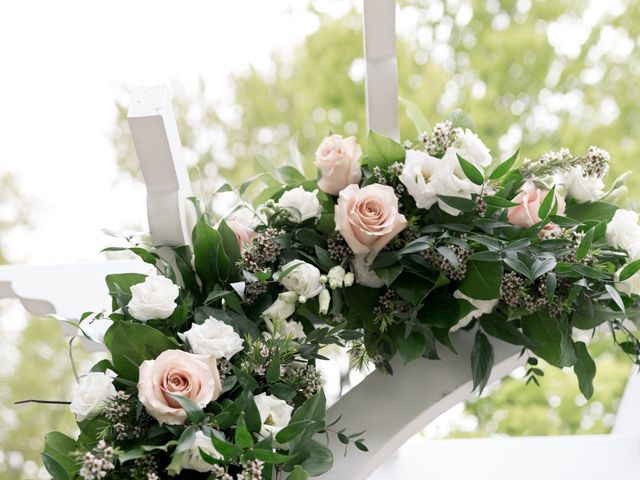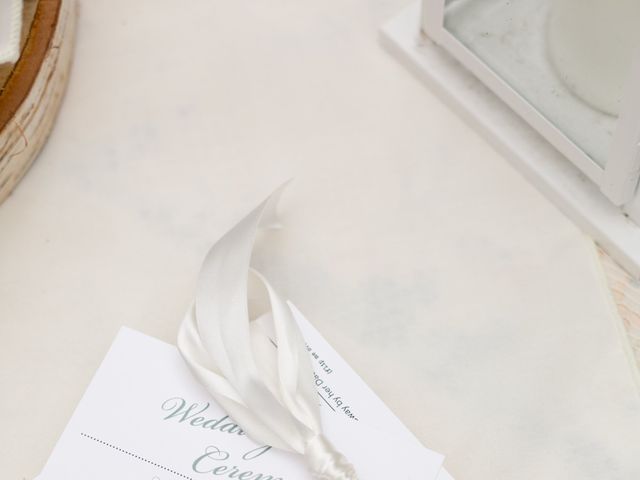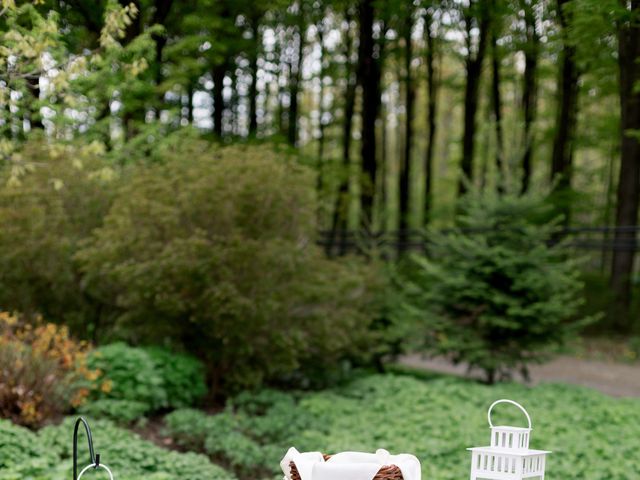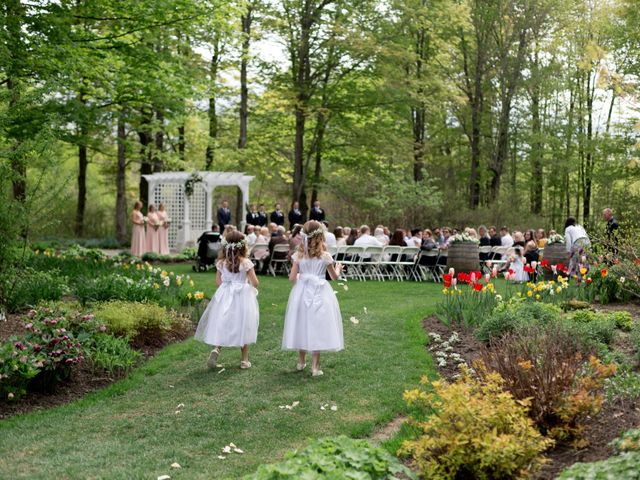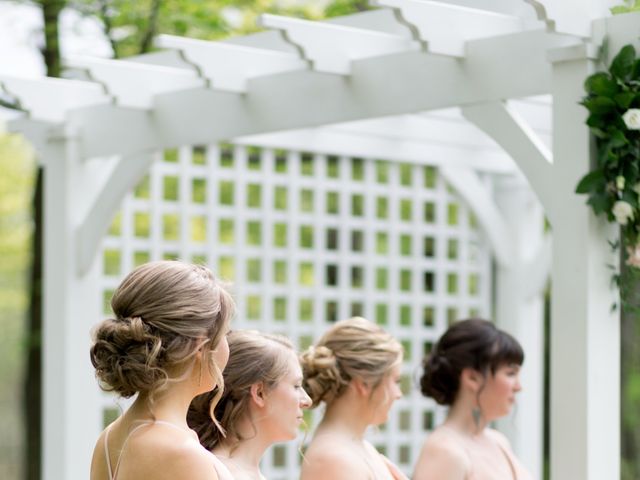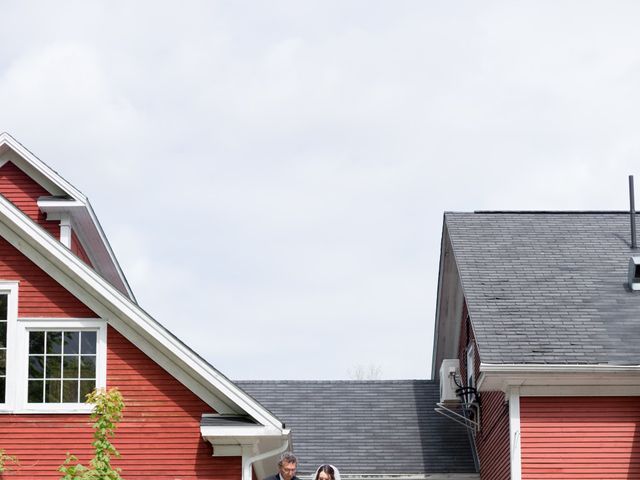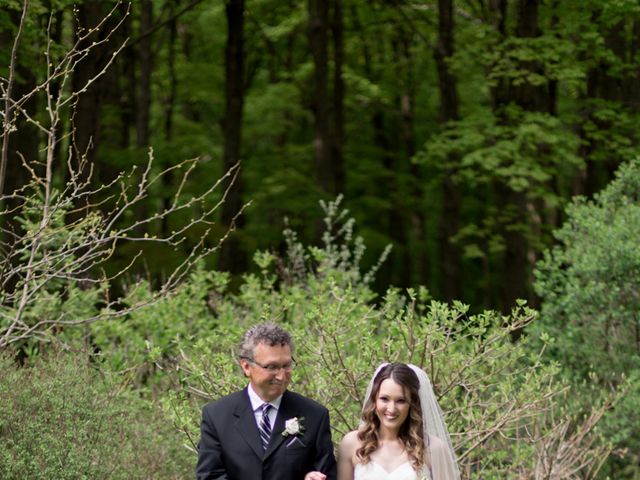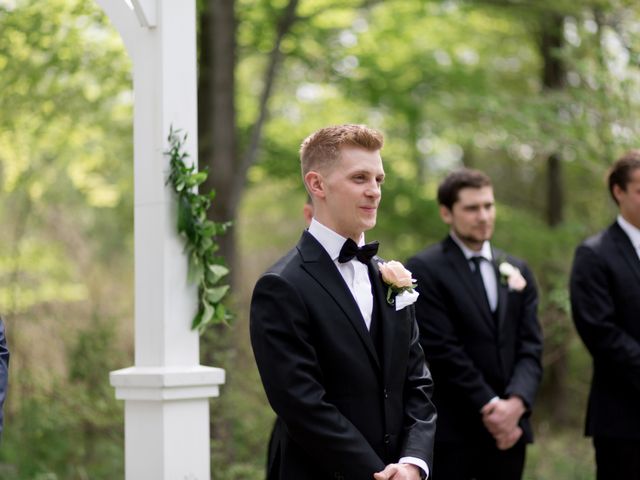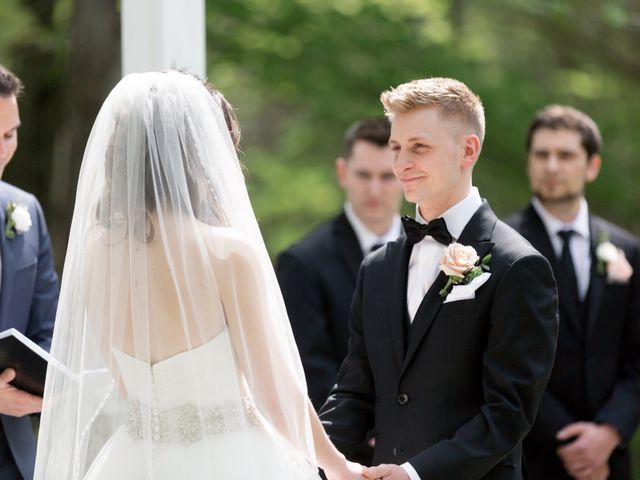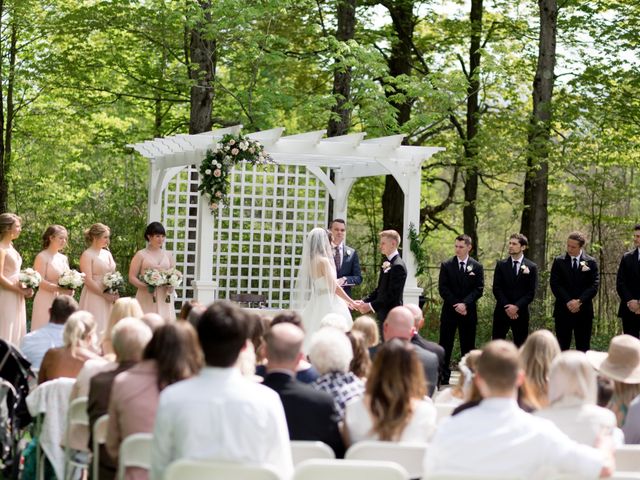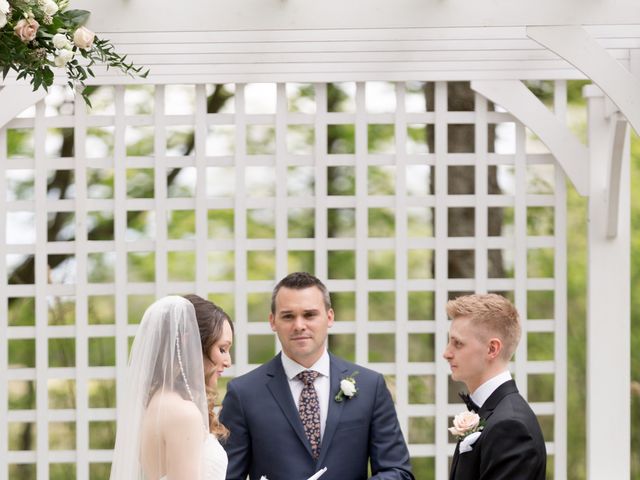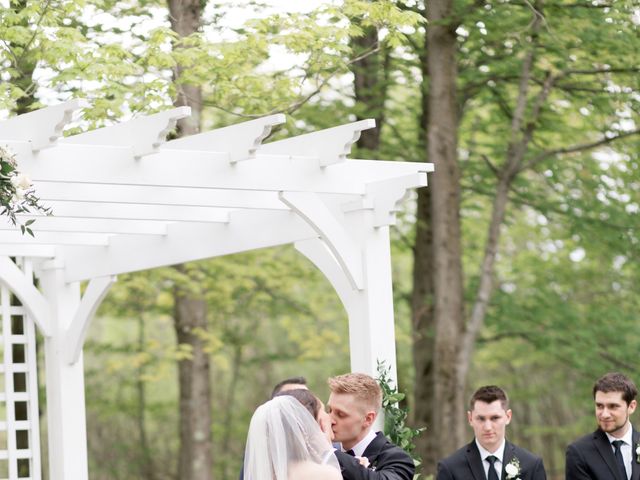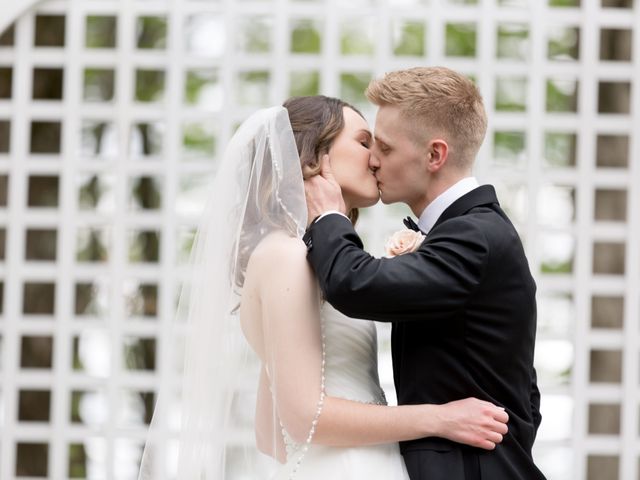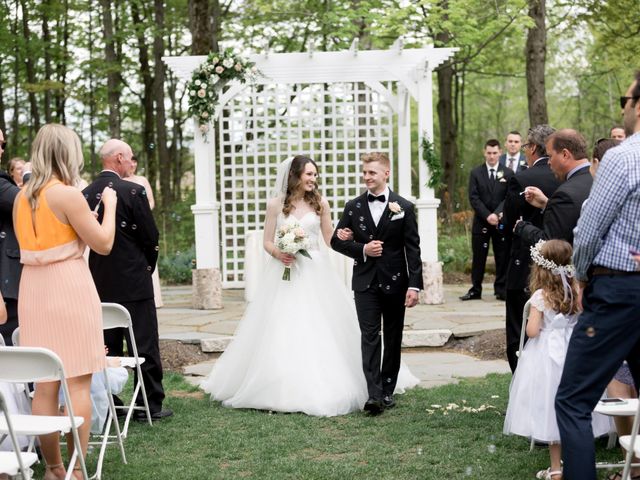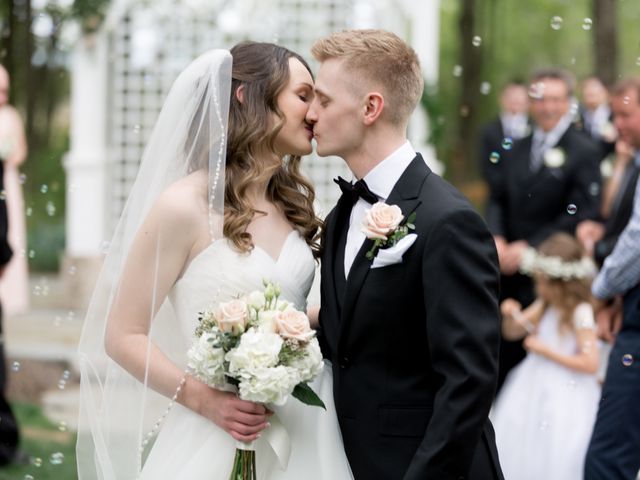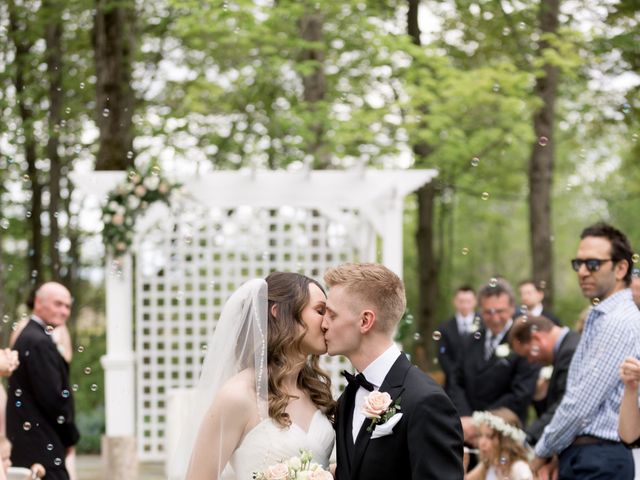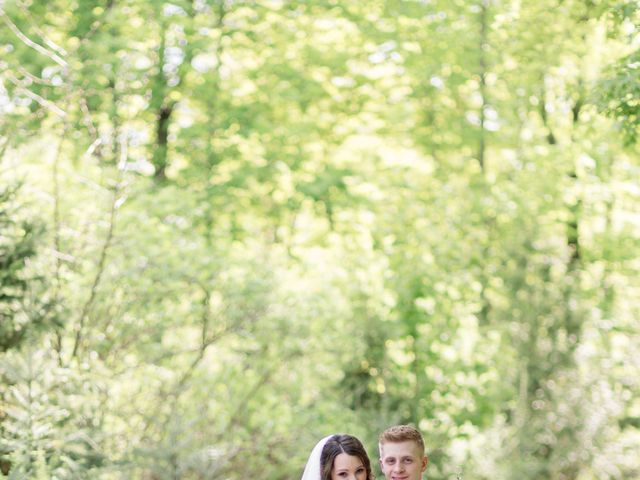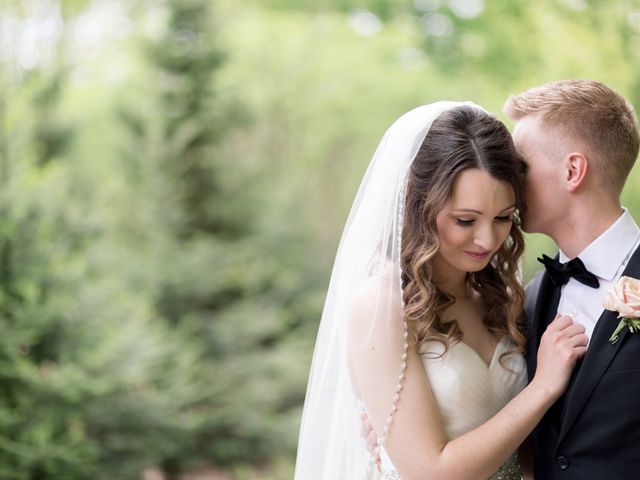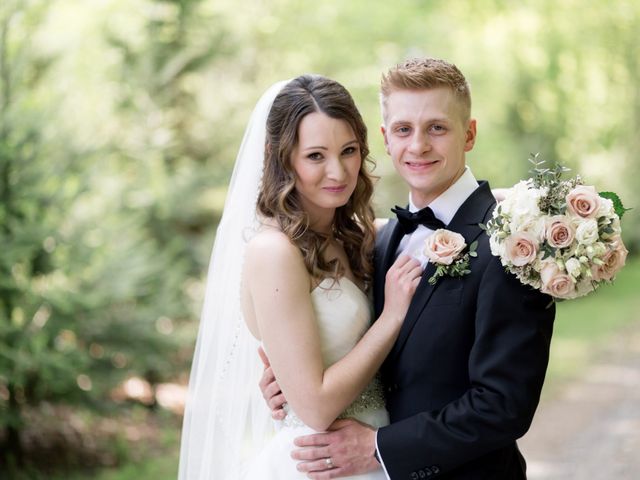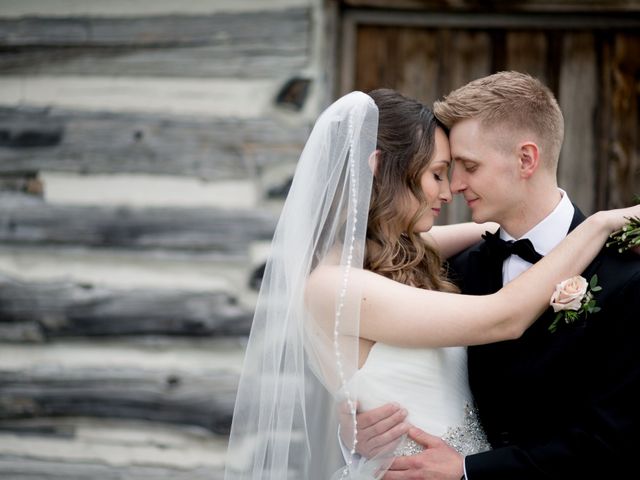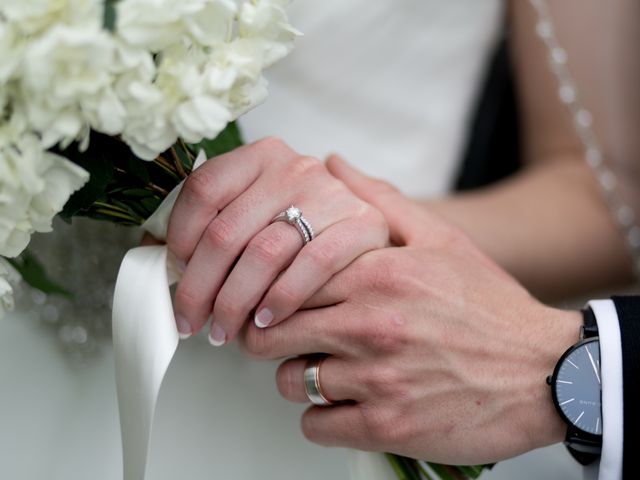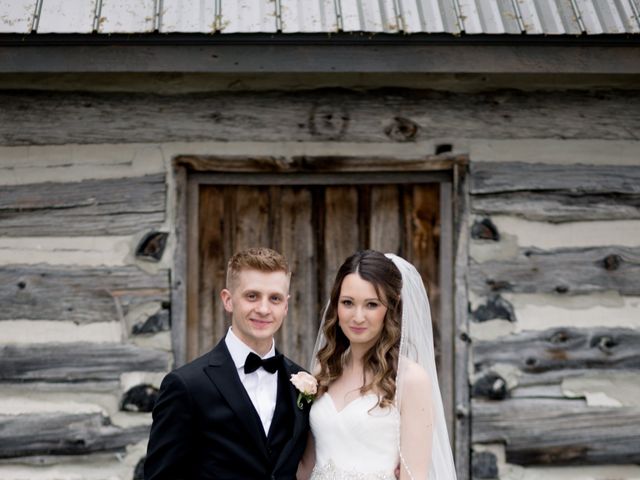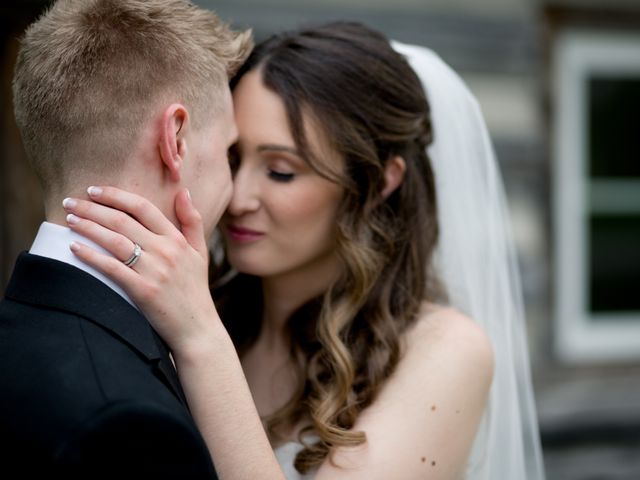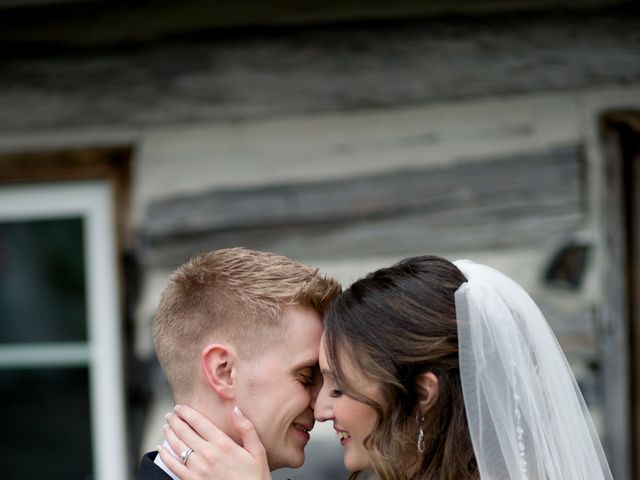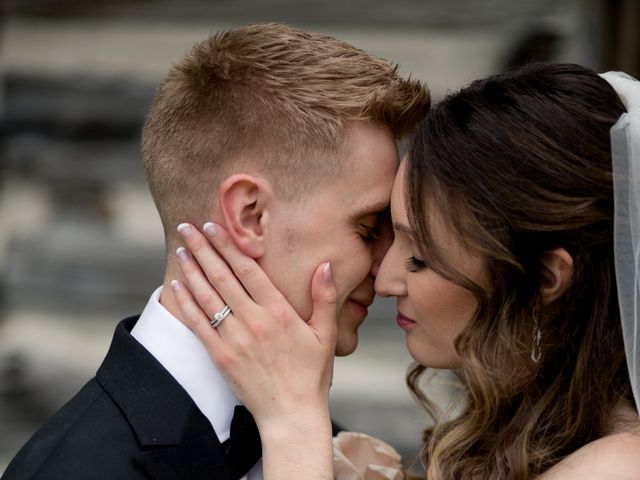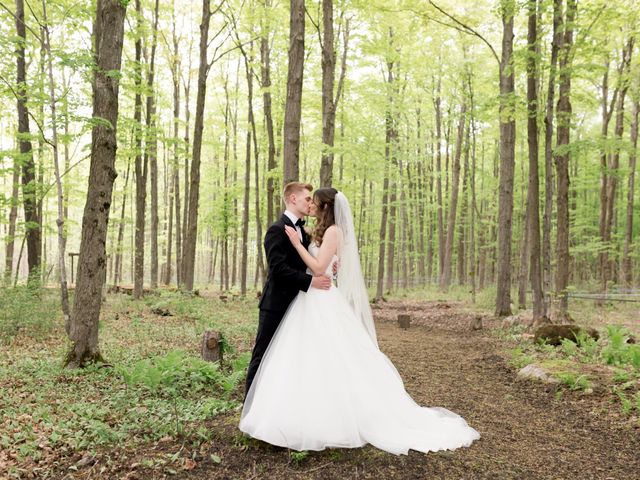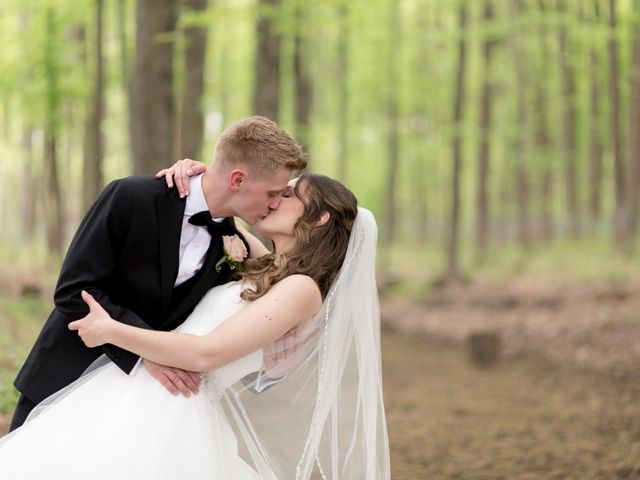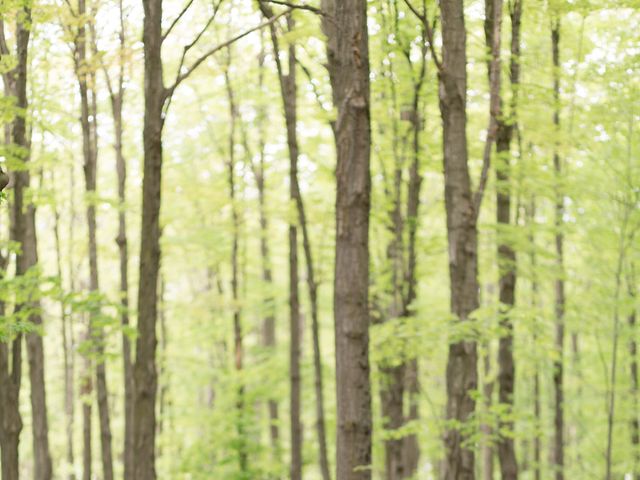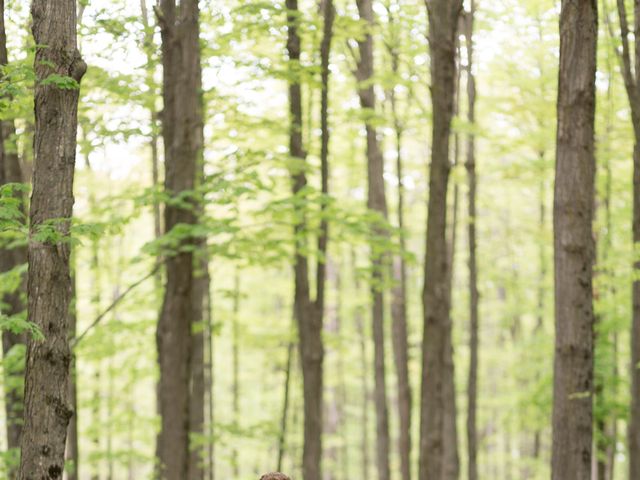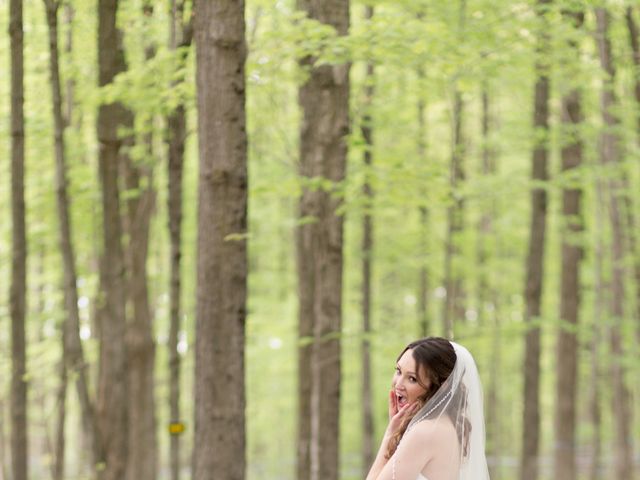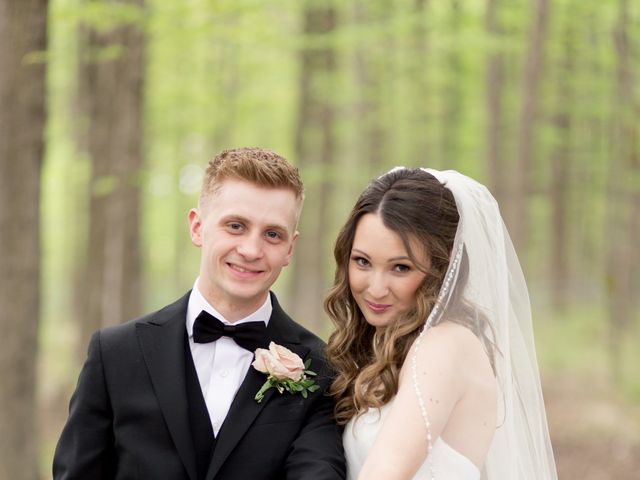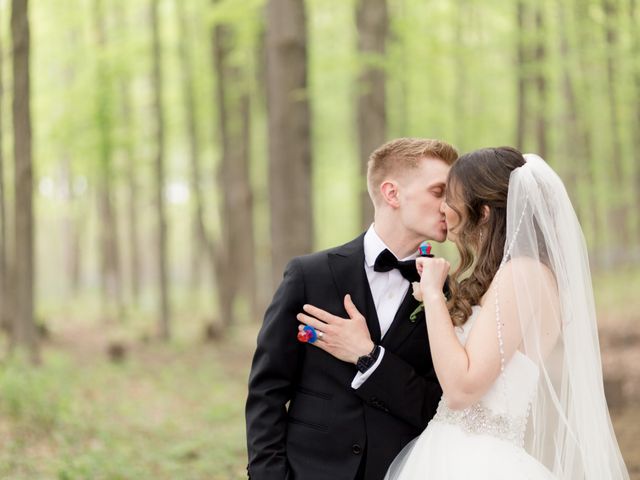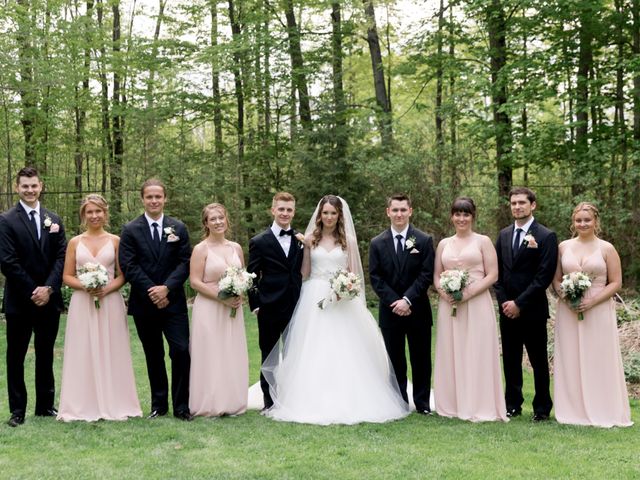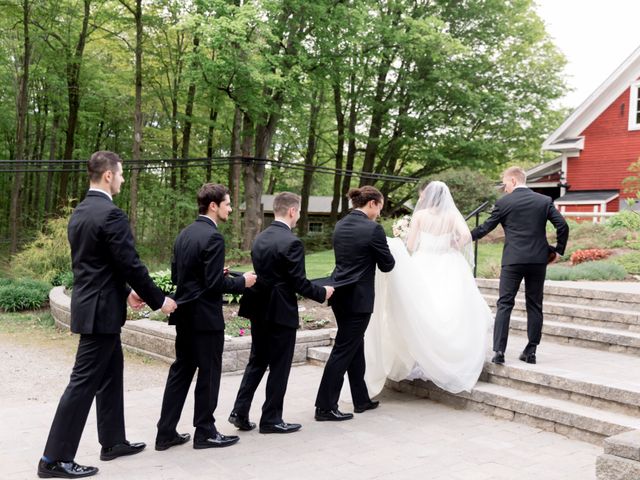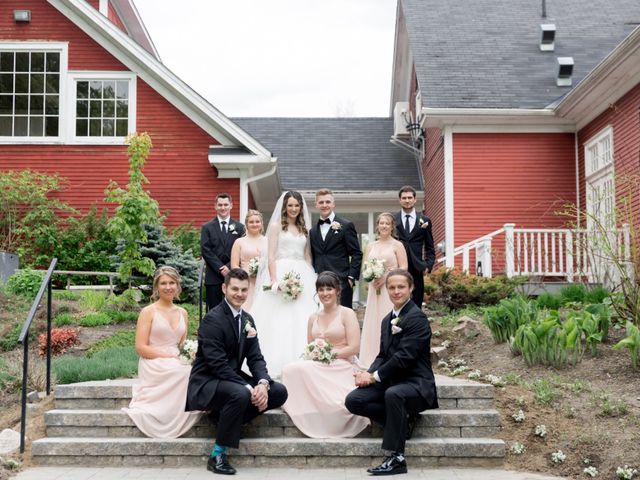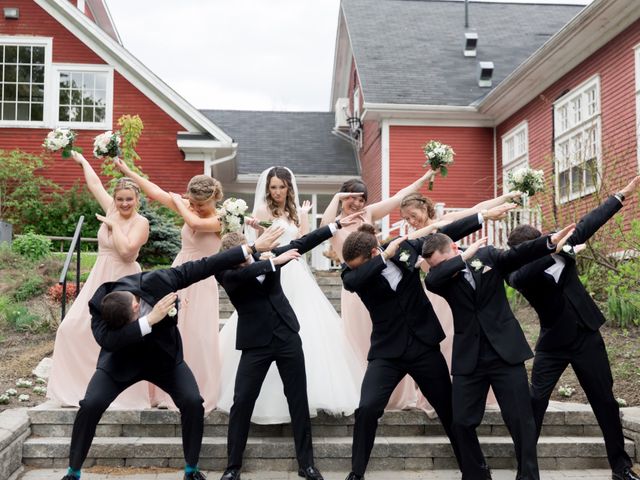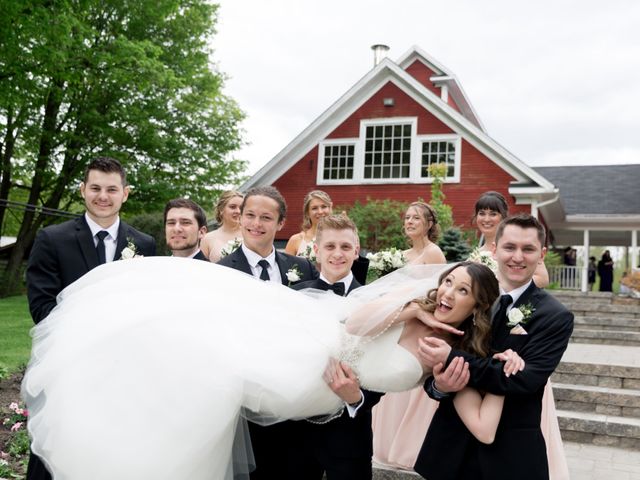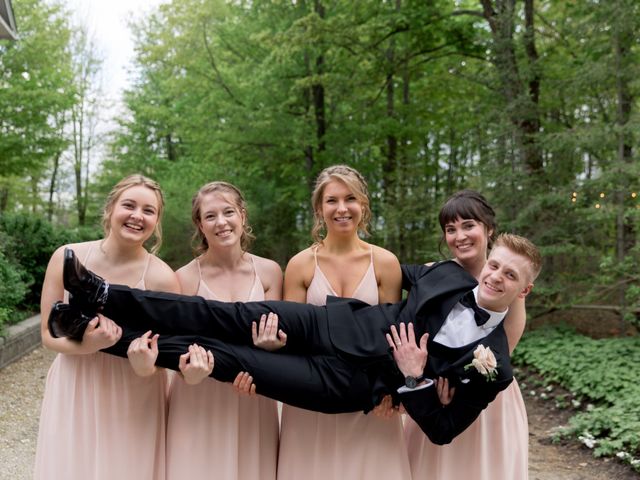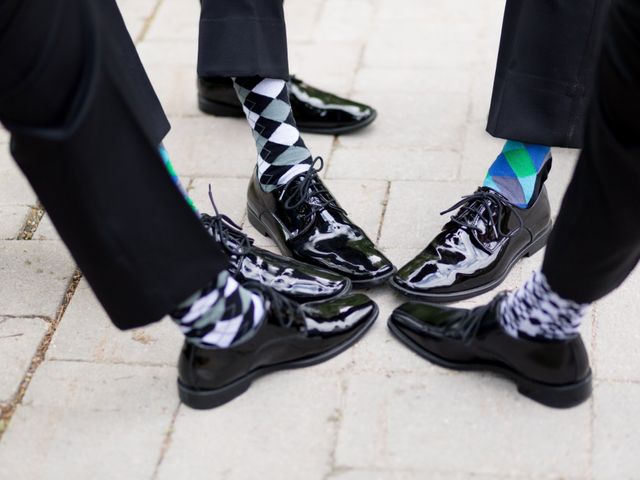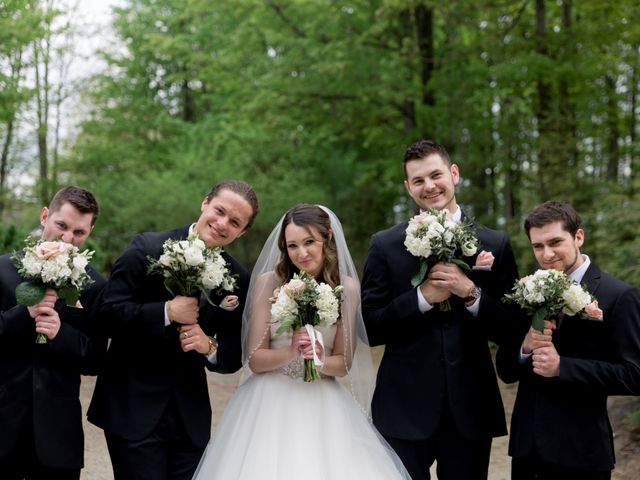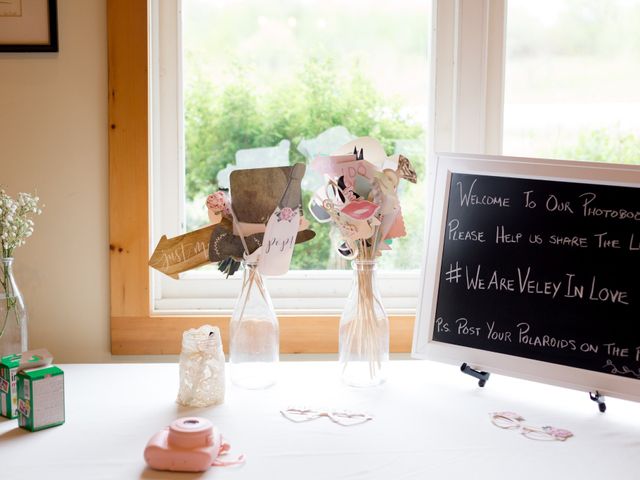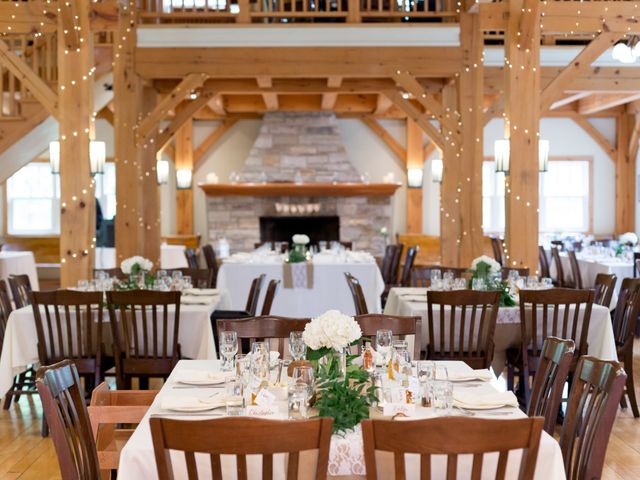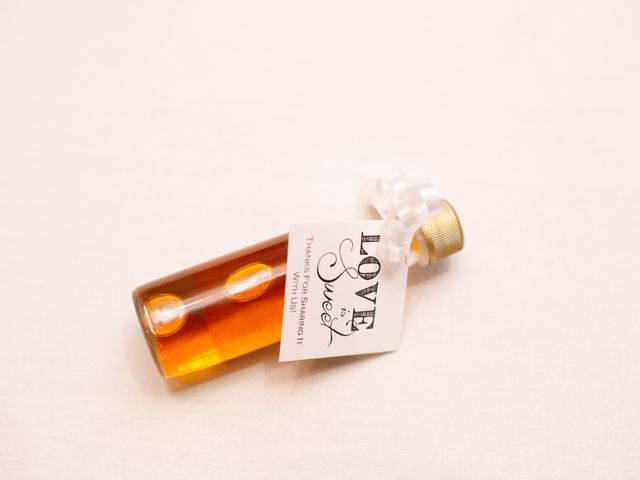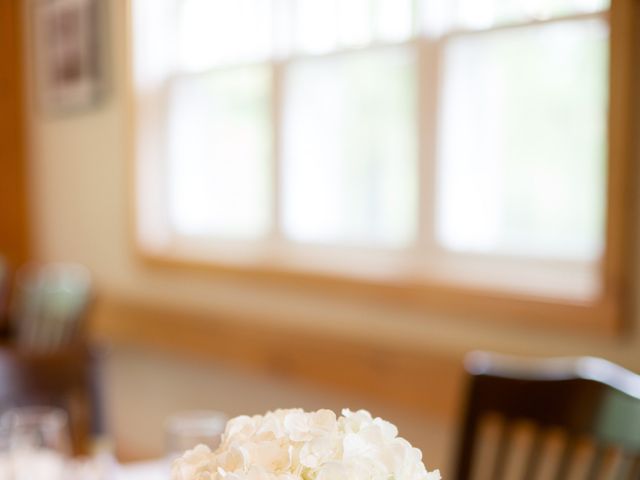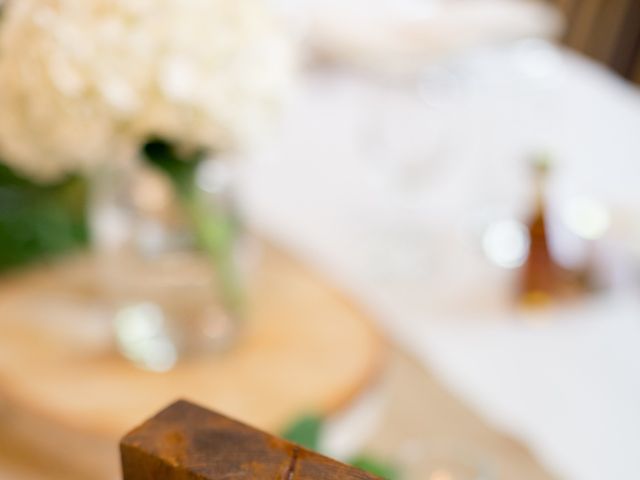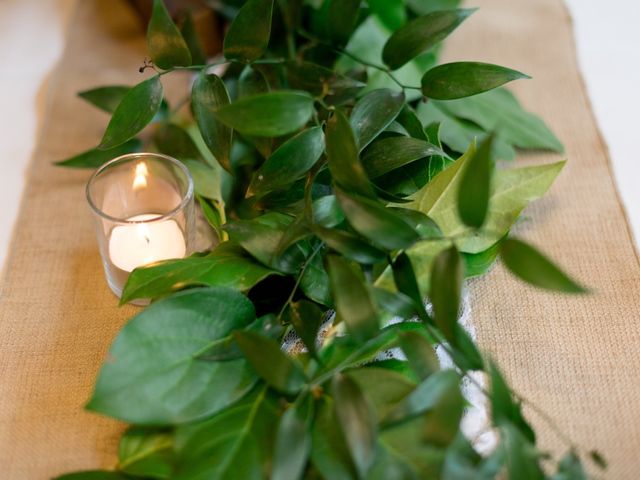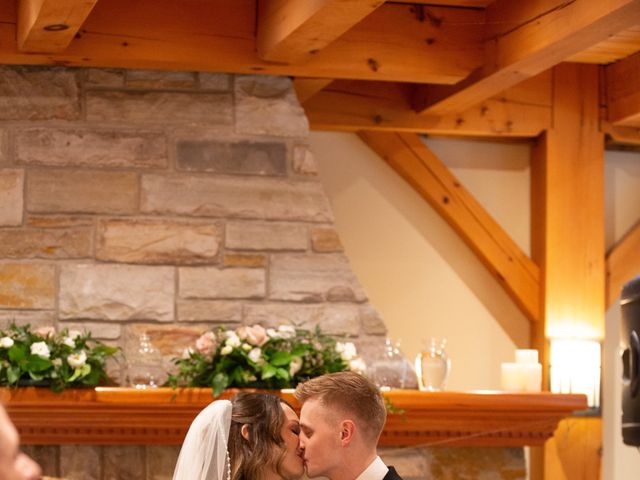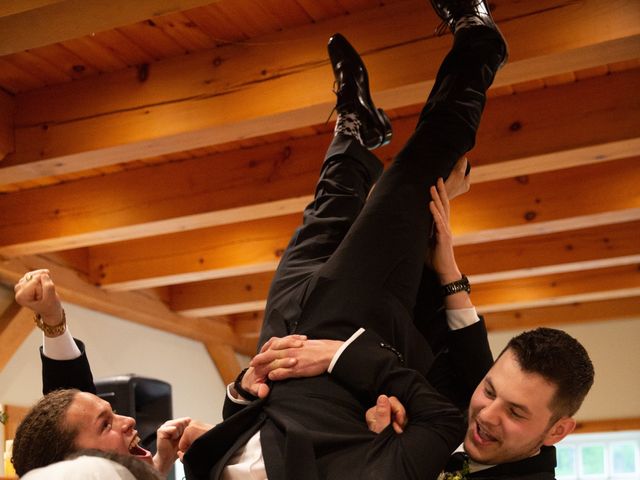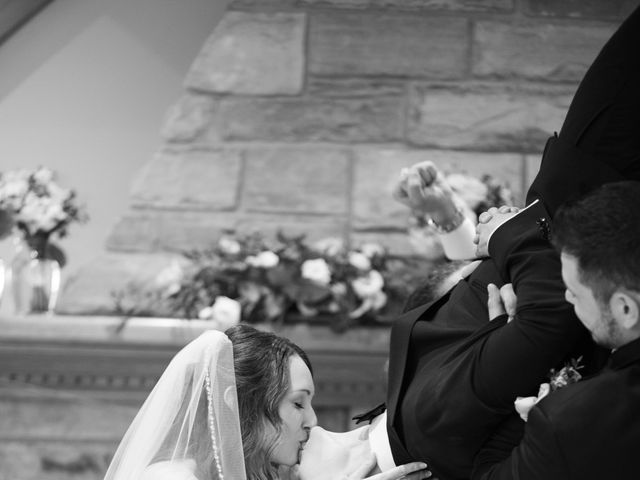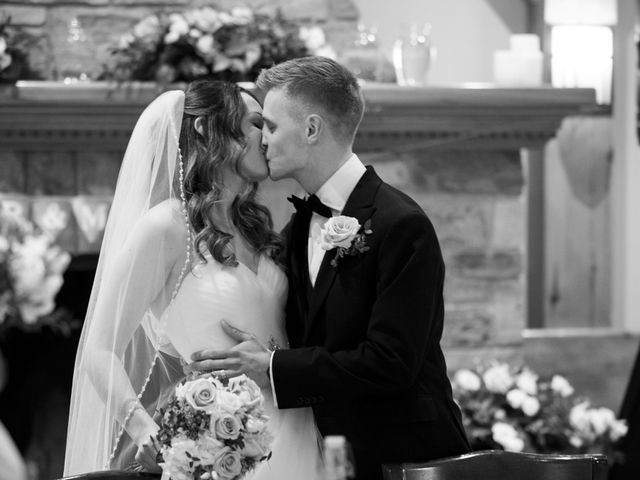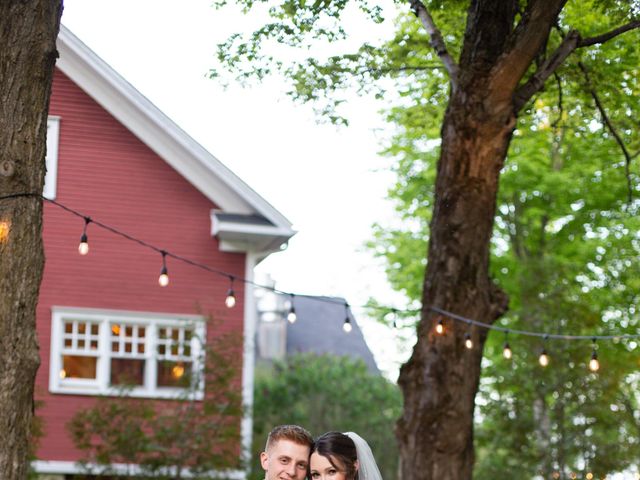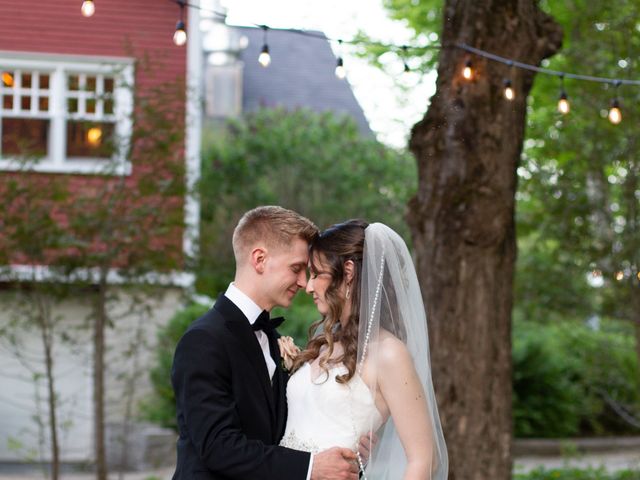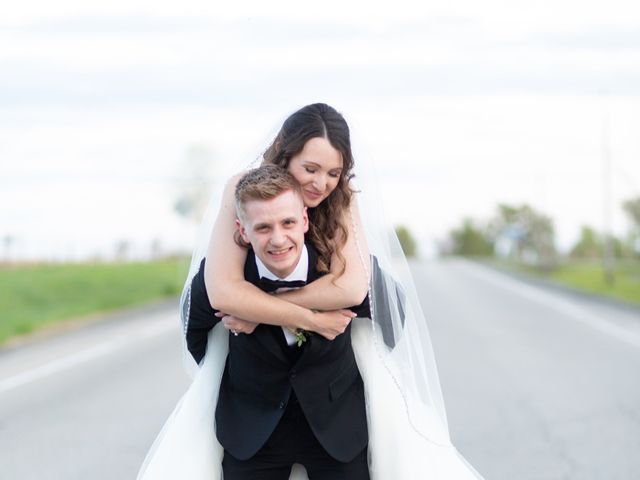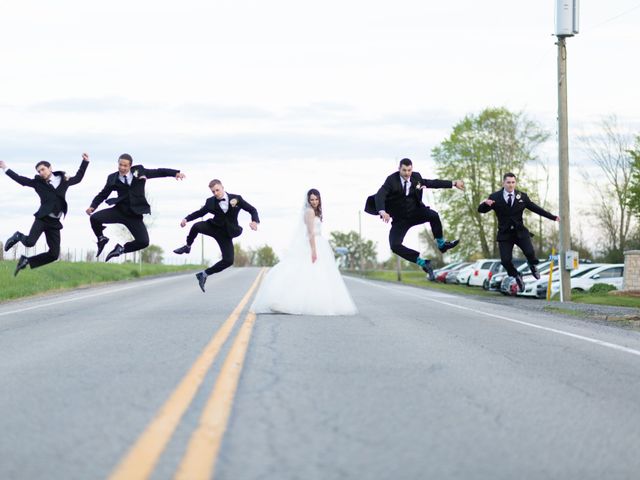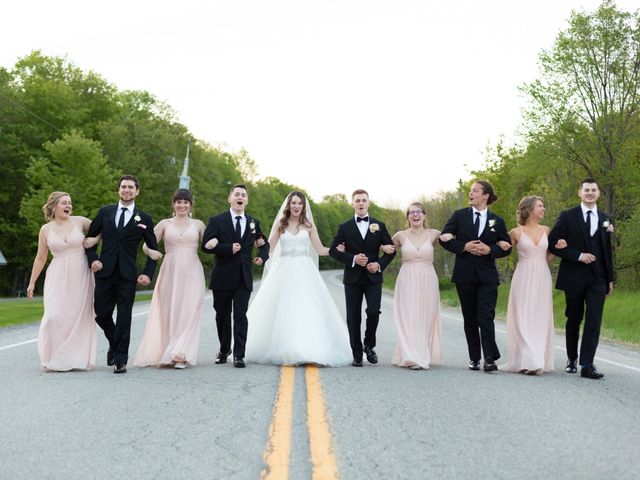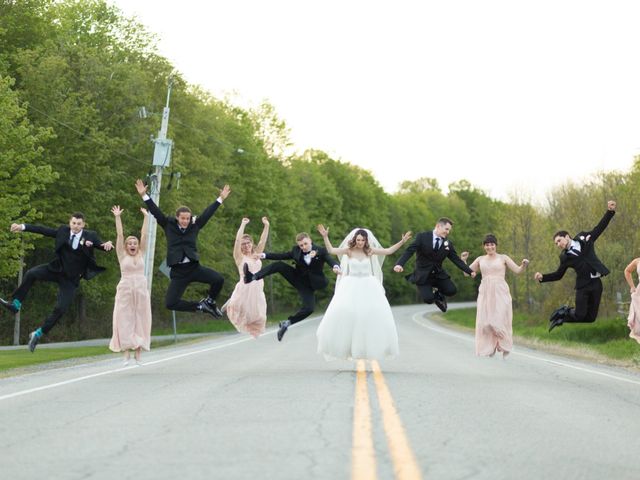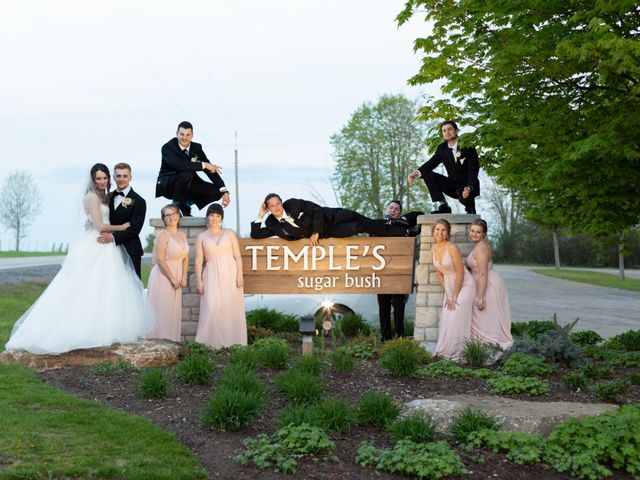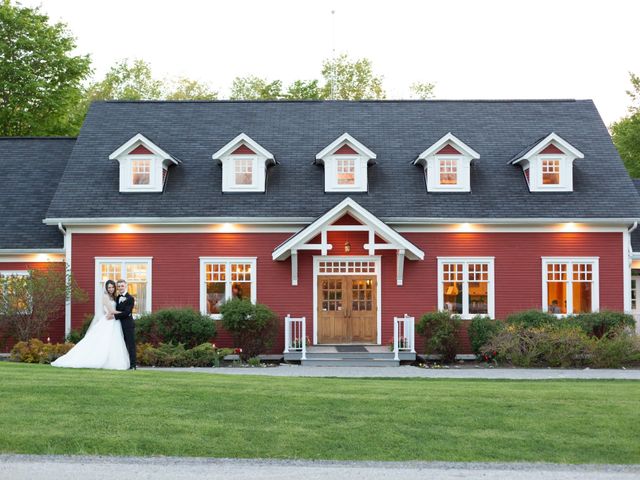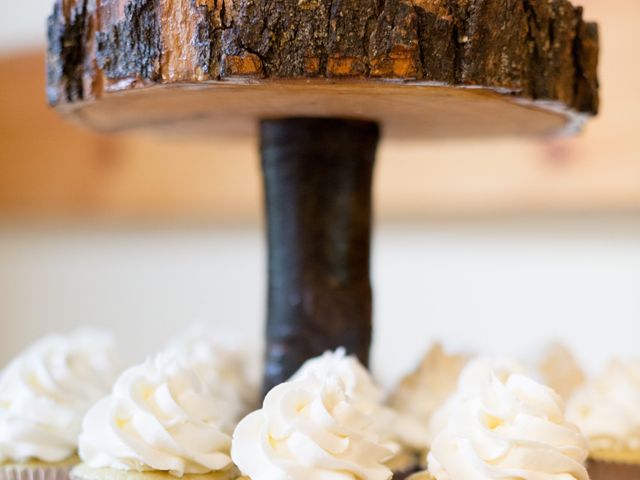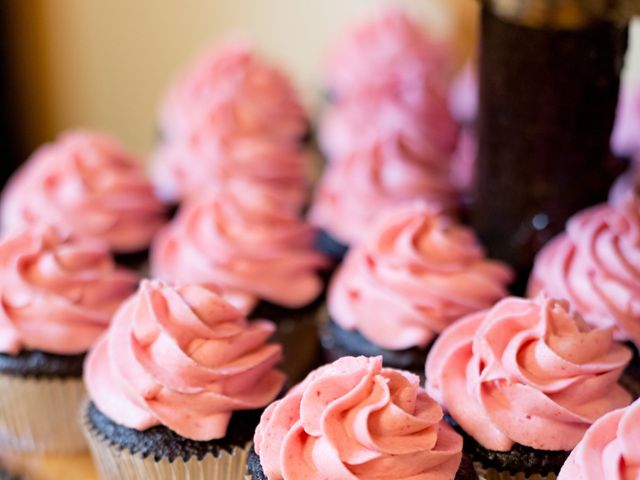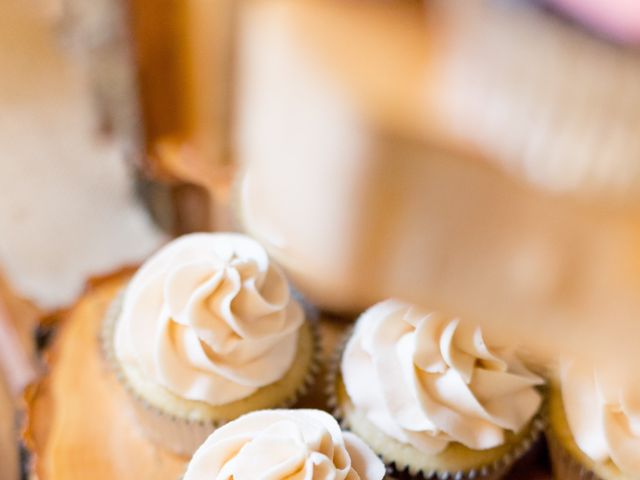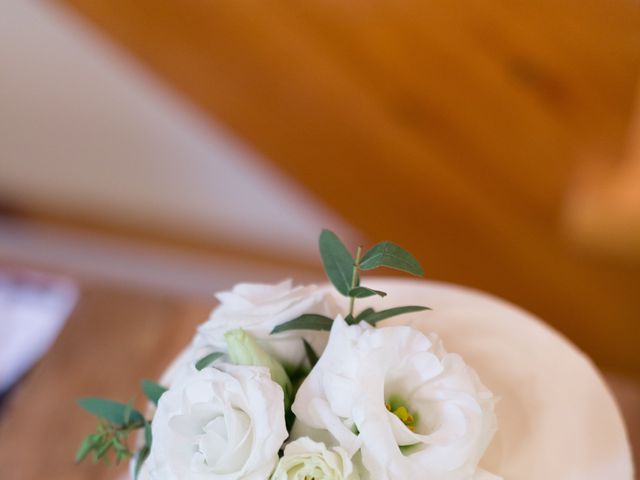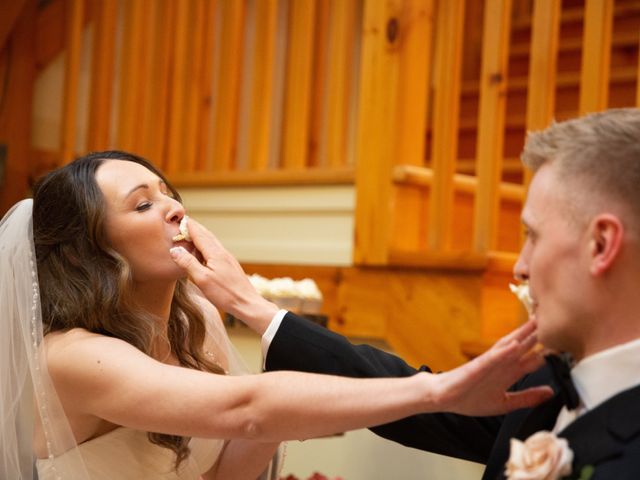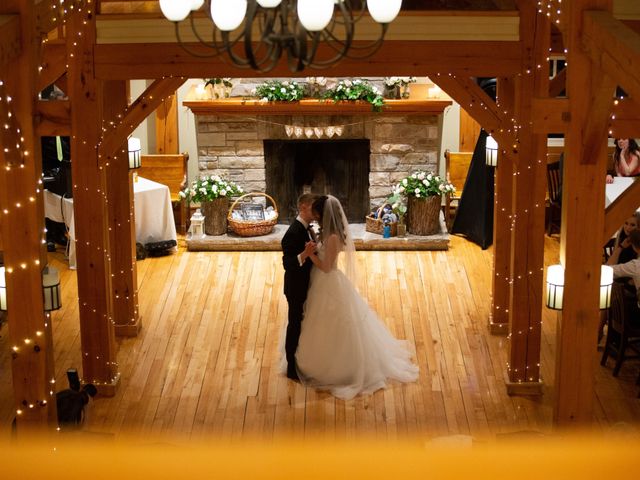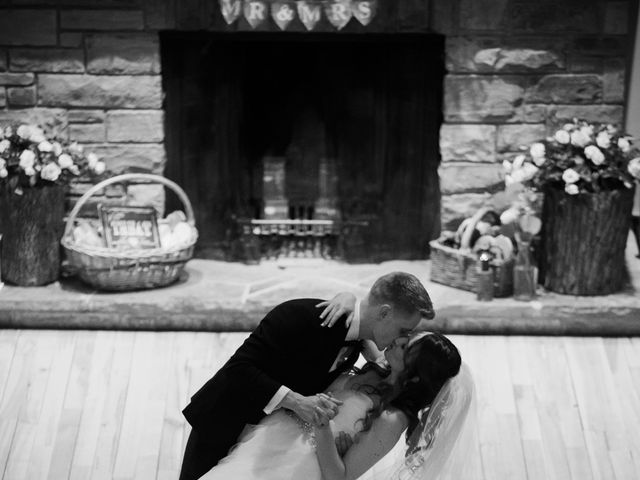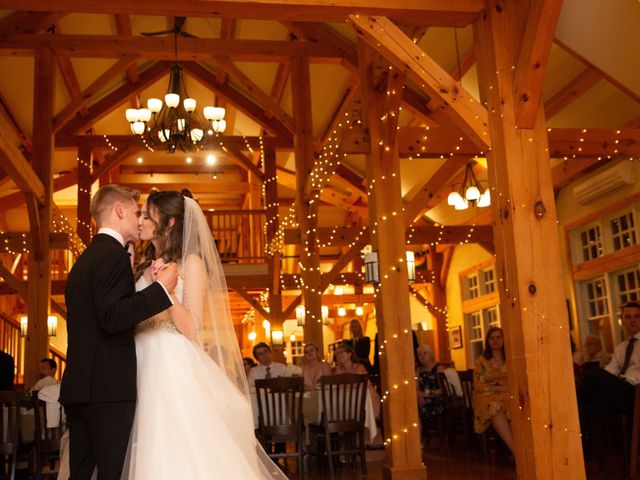 The story of our wedding
My husband Chase and I are high school sweethearts who started dating when we were 15! After being together for 6 years, at the age of 21, Chase popped the question on our anniversary trip to Niagara Falls in November 2017. It was night time and he basically had to drag me down to walk by the falls as I was sick with a cold. It was pouring rain and we had to hide under a gazebo. With the falls lit up behind us, Chase asked me to be his wife - I completely blacked out and can barely remember any part of his beautiful speech. I began wedding planning almost immediately. Weddings are a passion of mine and planning my own wedding has been something I have longed to do. I thankfully had a very patient fiance who dealt with "the book," which was a massive wedding planner binder that I insisted be carted around to each and every appointment.
The first thing to check off the list was the venue. We fell in love with the second place we visited, Temple's Sugar Bush, in Lanark, Ontario. I had dreamed of an elegant rustic venue, and this one definitely checked all of the boxes. It wasn't too far from where we, and our families, lived. The venue also operates as a restaurant during maple season, meaning we would be able to visit it each year and bring our future children to it one day (this was also a big selling point for us). The second we walked into the building and saw the exposed wooden beams and a huge fireplace, we both had to take a second to catch our breath. When we looked at each other, we could both tell this was the one. Not only was the interior stunning, but they had a gorgeous garden with a raised stone platform and archway outside to get married. When it came to a venue, my biggest "must-have" was that I loved the inside as much as the outside - I wanted desperately to get married outside, but knowing my luck, was convinced it would rain, and knew I had to be in love with the interior choice in case it became the ceremony space. The staff were outstanding to work with. We chose to blush pink, green, and white as our colour palette and wanted to convey a theme of rustic elegance, nature, and fairytale.
Continue reading »
Although wedding planning came with its share of disasters and breakdowns, we made it through to the big day. Everyone who knows me knows I am a perfectionist and they worried that if something was wrong or out of place I would panic on the wedding day. But that day, all I could think about was marrying the love of my life. I woke up incredibly nervous and excited. My girls and I got ready at a nearby hotel and took photos in the park before the ceremony. Everyone who knows me also knows I'm always late - today was no different as I was running ten minutes behind. My father cried when he saw me, which is a moment I will always cherish - I am the youngest of five. I remember driving over to the venue and freaking out because it was cloudy and praying that it would not rain until the ceremony was over. Our venue had an upper-level room with a huge window and my dad and I did not want to miss the processional. So we ran upstairs (which was difficult in a ball gown), and I watched from behind my dad's shoulder while he held up a towel to cover me. It was far enough away that no one noticed and we got to watch everyone walk down the aisle. We almost lost track of time and I had to remind my dad that it was almost our turn and he still had to help me, and my large gown, down the stairs to the starting point. The aisle included another long descent down stone stairs, a walk across a narrow lane and behind the chairs at the edge of the garden, and then a turn and final walk down the main aisle.
I remember stepping out onto the top of the stairs and the sun shining down. I remember hearing the music (we chose an instrumental version of "A Thousand Years"). I remember rounding the corner, having my train on my huge princess ballgown fluffed, and looking into Chase's eyes for the first time that day. It truly took my breath away (honestly I may have blacked out again). Between the sun shining and perfectly timing our aisle walk with the chosen music, nothing could have been more perfect about that moment. From the moment I took Chase's hand, I knew the hard part was over. Just being with him felt like home and I was overwhelmed by comfort. We were so blessed to have his brother perform our ceremony beautifully. May is a terrifying time to get married with unpredictable weather and bugs, but everything was absolutely perfect - it was a sunny, warm, and bug-free day. When it came time for the vows, I was ready. It takes a lot for me to get emotional, and so naturally, I was shocked at the shakiness and tears that immediately began when I pronounced "to have and to hold" and for the remainder of the vows. I remember looking into Chase's eyes and feeling so overwhelmed by love for my future husband, my forever love.
We signed we kissed, we walked down the aisle to bubbles, we finally were alone and said "we did it" and hugged and kissed before being bombarded with love from our wedding party. The remainder of the day, I can only describe as, the best blur in the world. It was a whirlwind of picture taking, laughing, visiting, dancing, crying, and joy. The decor was incredible, the food amazing, and the company wonderful. Some highlights included stuffing our faces with appetizers when we got a spare minute, doing a mini photoshoot with ring pops as an ode to Chase proposing with a ring pop to me in high school, taking some hilarious photos with our wedding party on the road, our groomsmen tipping Chase and holding him upside down during dinner to give me a "spider-man kiss," sharing some magical kisses with my love in the garden after dinner, the gifting to each of Chase's brothers of an inside-joke mug that has haunted me throughout the relationship, and, of course, shoving cake in each other's faces. Our first dance to the song "Perfect" by Ed Sheeran was exactly what I always wanted it to be, while Chase both sang the lyrics and pronounced that I truly did look perfect that day. I remember saying goodbye to everyone, stuffing myself into the car, and driving towards our hotel. I remember pulling off to the side of the road and Chase digging through my dress to remove my shoes because my feet hurt. Then going through drive-thrus for both iced caps and cheeseburgers because we were both starving! And I remember finally relaxing after the long day and just sitting there smiling at each other and reminiscing the perfect day. I remember being so happy because that day, I got to marry the love of my life. He is my rock and my best friend and that day will always be my favourite. His smile and laughter from that day will always be in my head and heart. Sometimes, Cinderella truly finds her Prince Charming.
All Photos Courtesy Of Starts With A Dream Photography
Chase and Emma's vendor team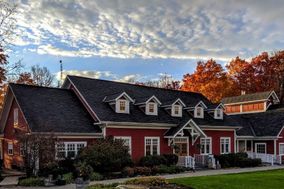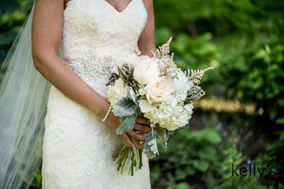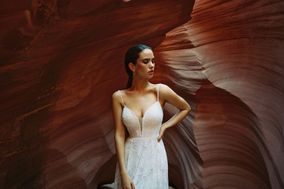 Capital Entertainment Services
Music / DJ
Temple's Sugar Bush - Syrup Bottles
Wedding favours
Starts With A Dream Photography
Photographer
Topknot Hairstylist and LaceFace Makeup Artistry
Bridal beauty
Charm Diamond Centre
Jewellery
Sweet Clementines
Wedding cake
Temple's Sugar Bush
Catering
Other Temple's Sugar Bush weddings
View all
Other Ontario weddings
View all
Get inspired with Real Weddings
Other pink weddings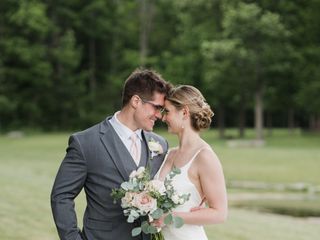 Show all
Other Spring weddings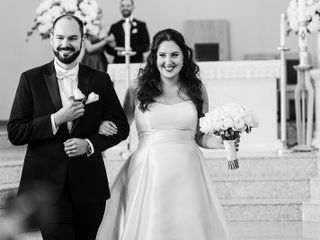 Show all
Other countryside weddings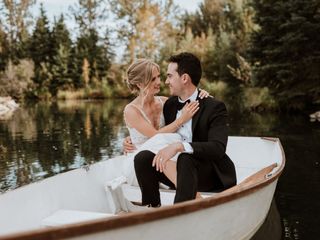 Show all