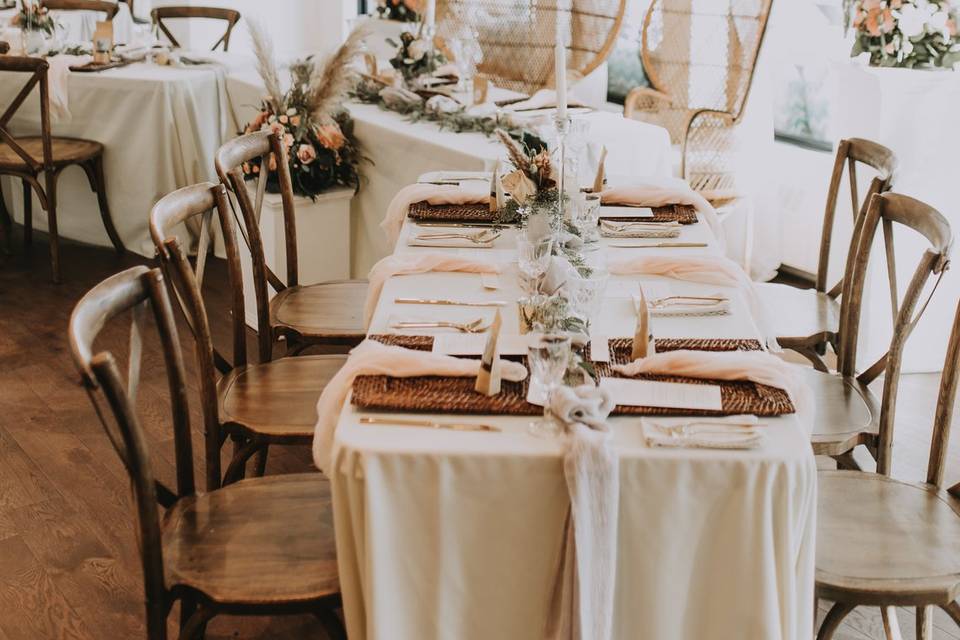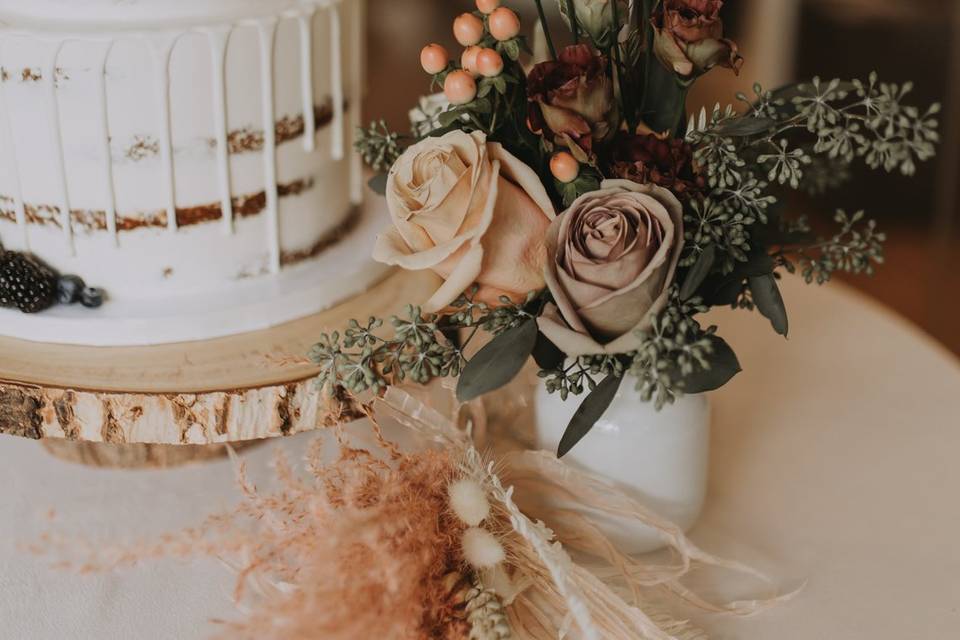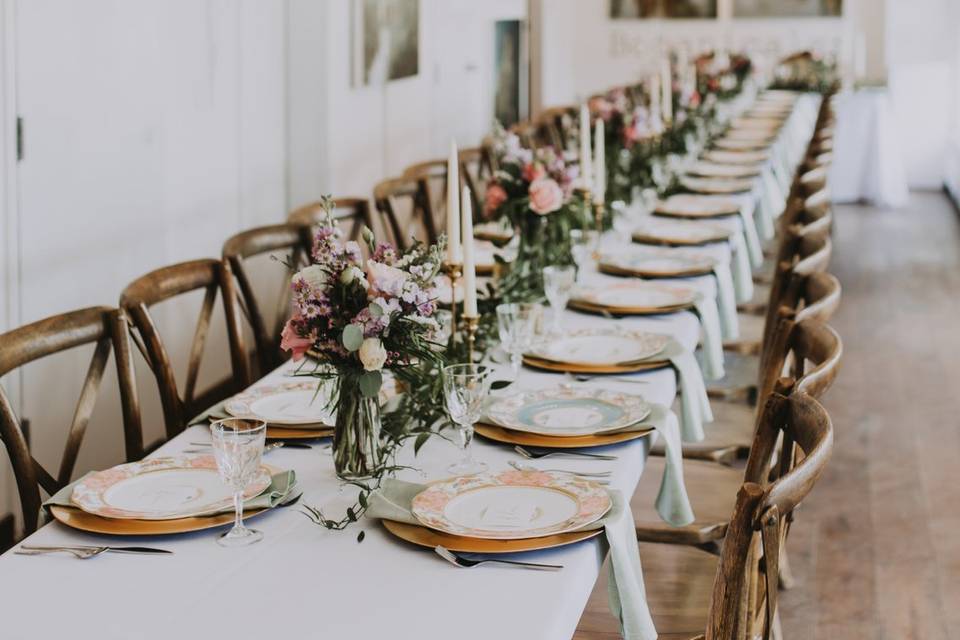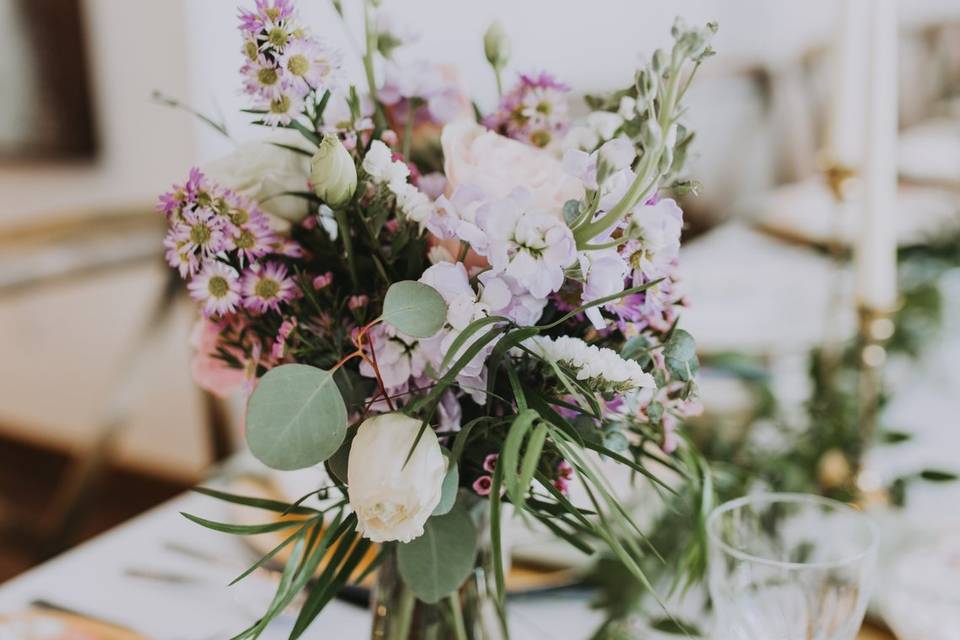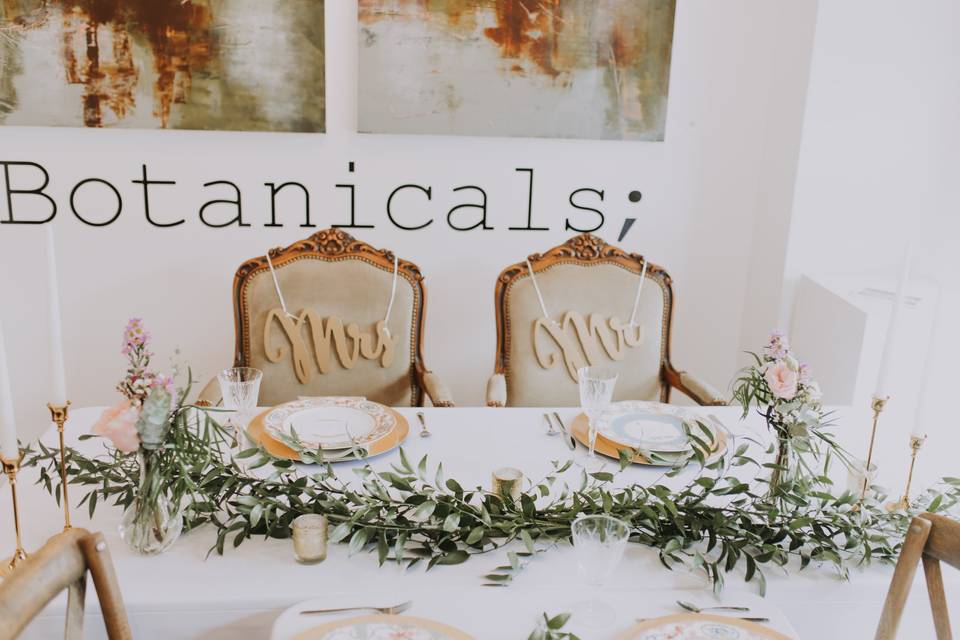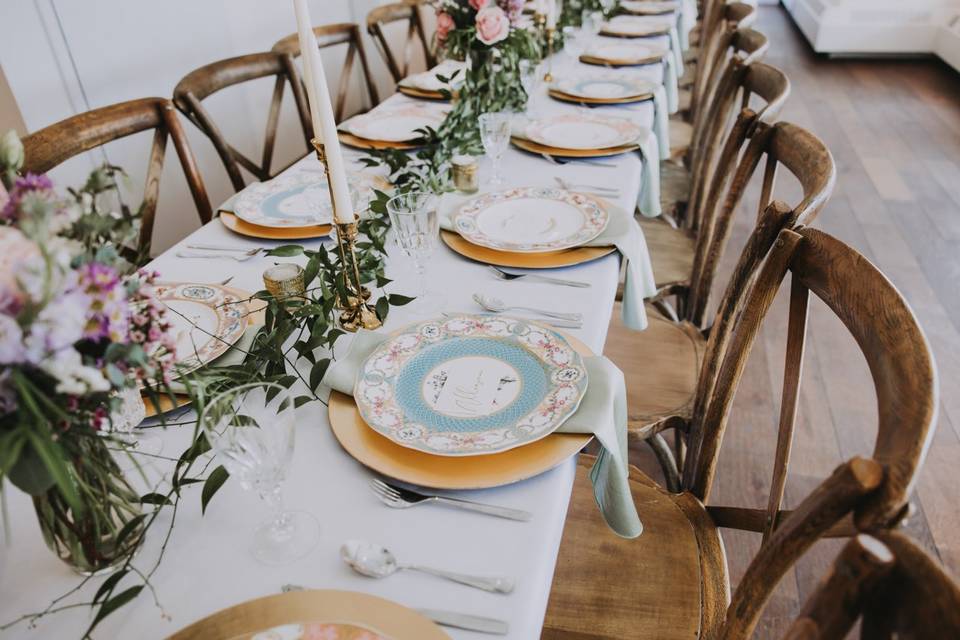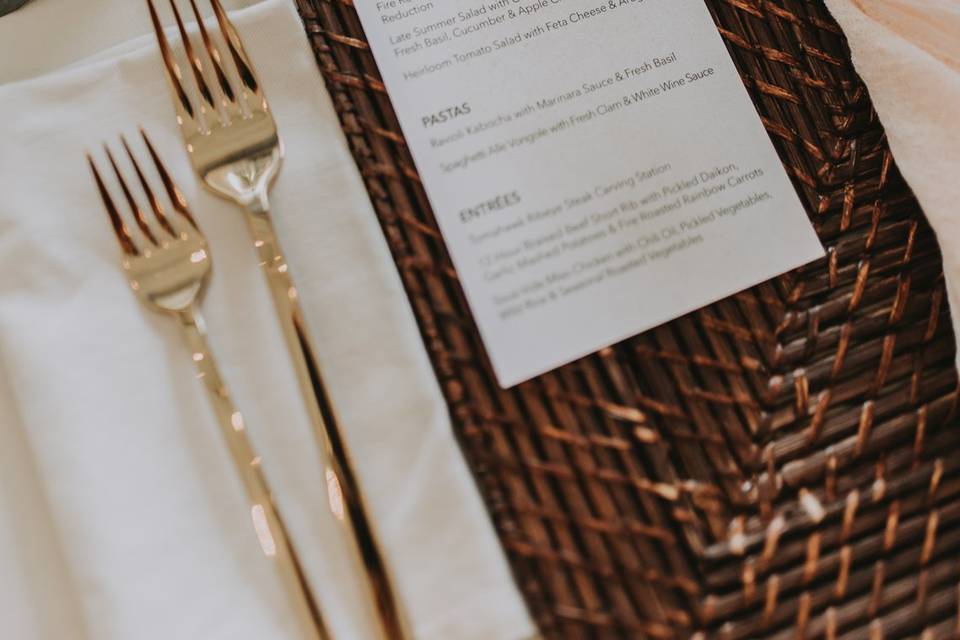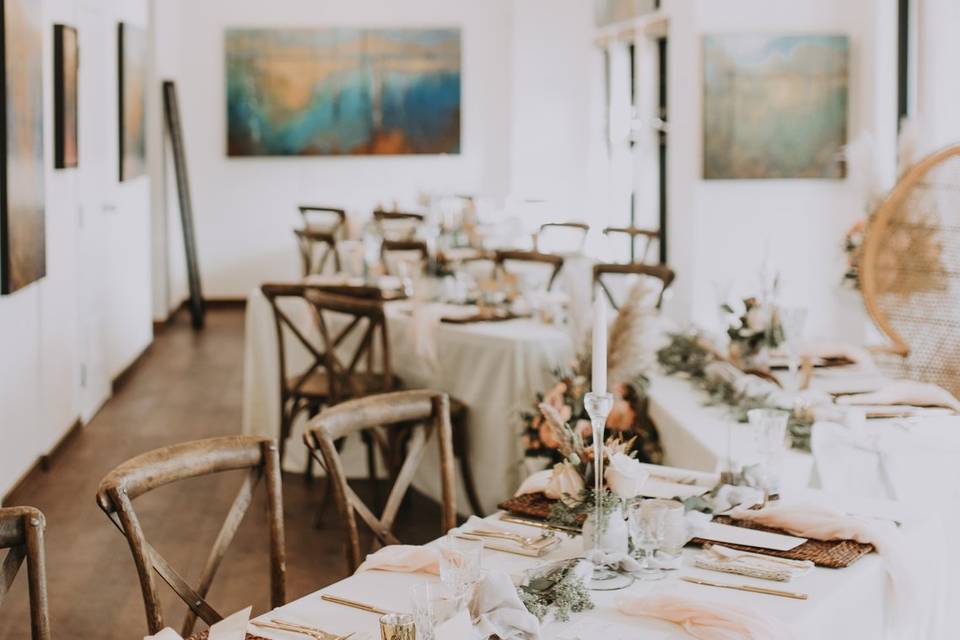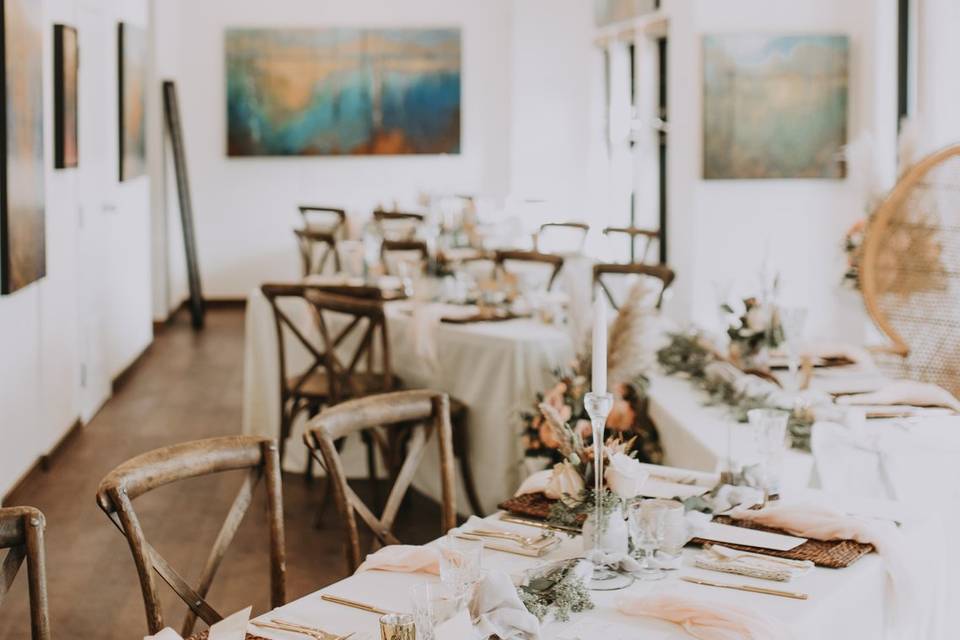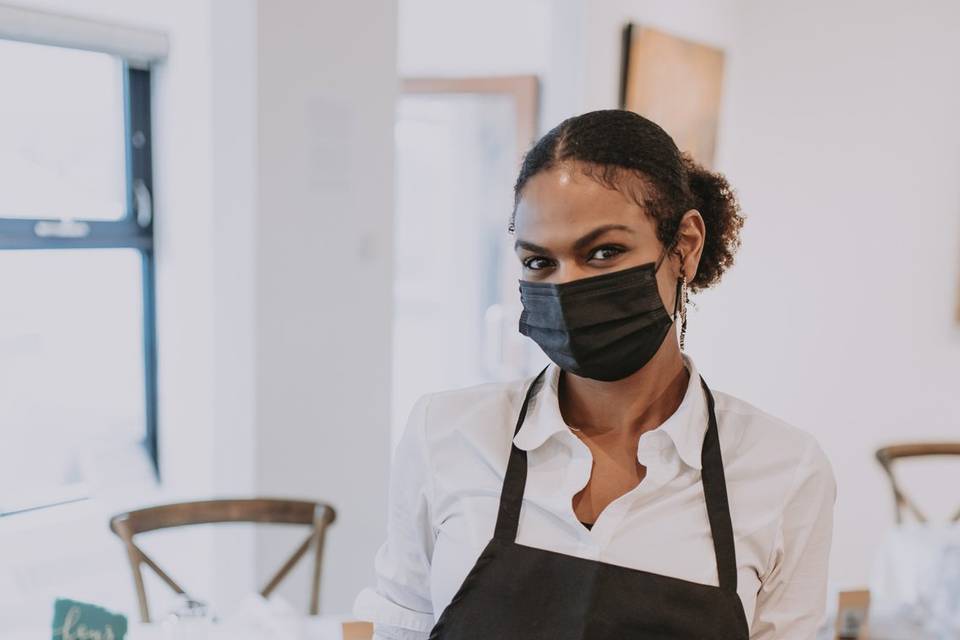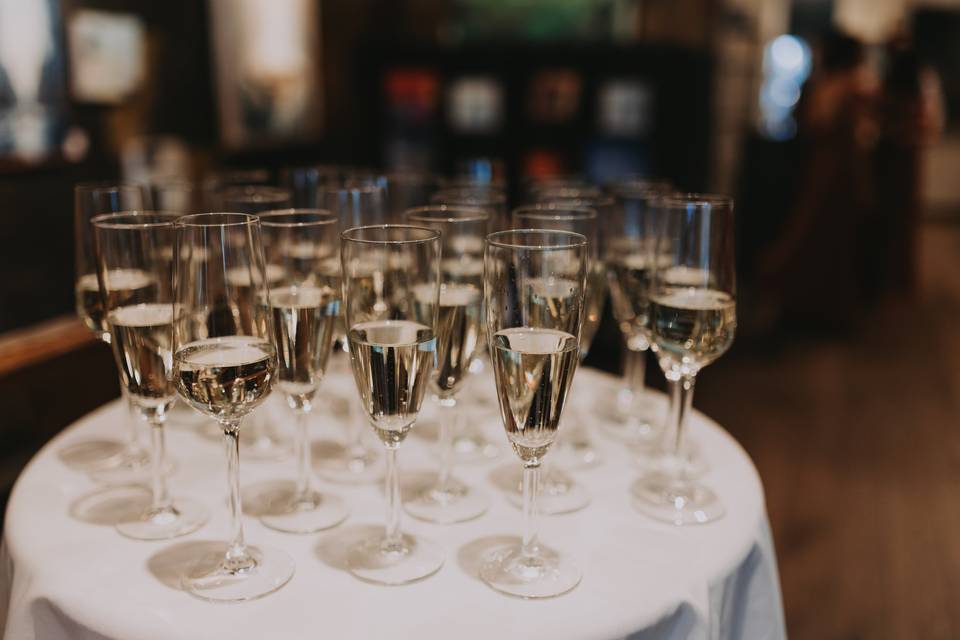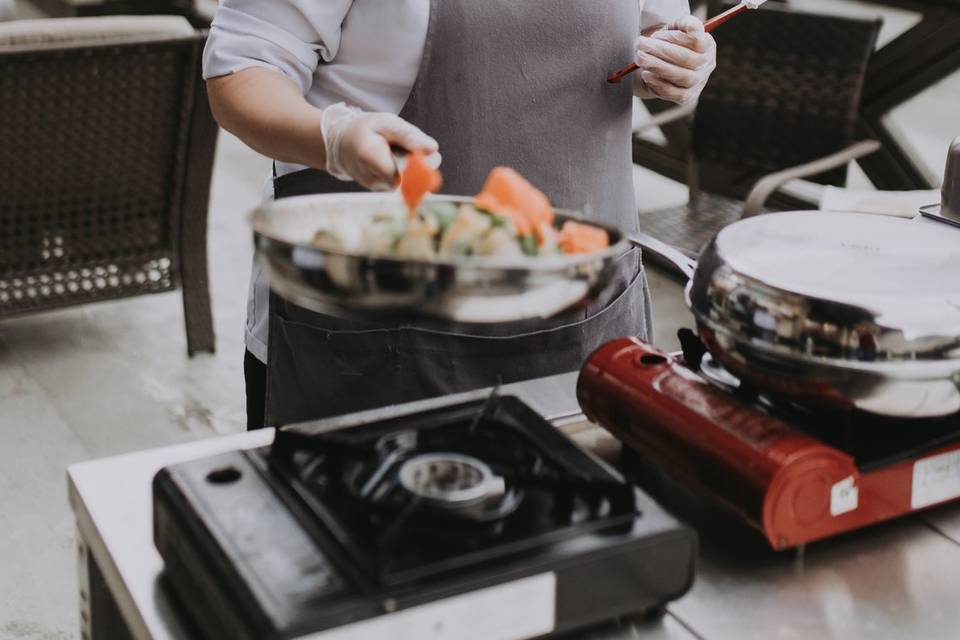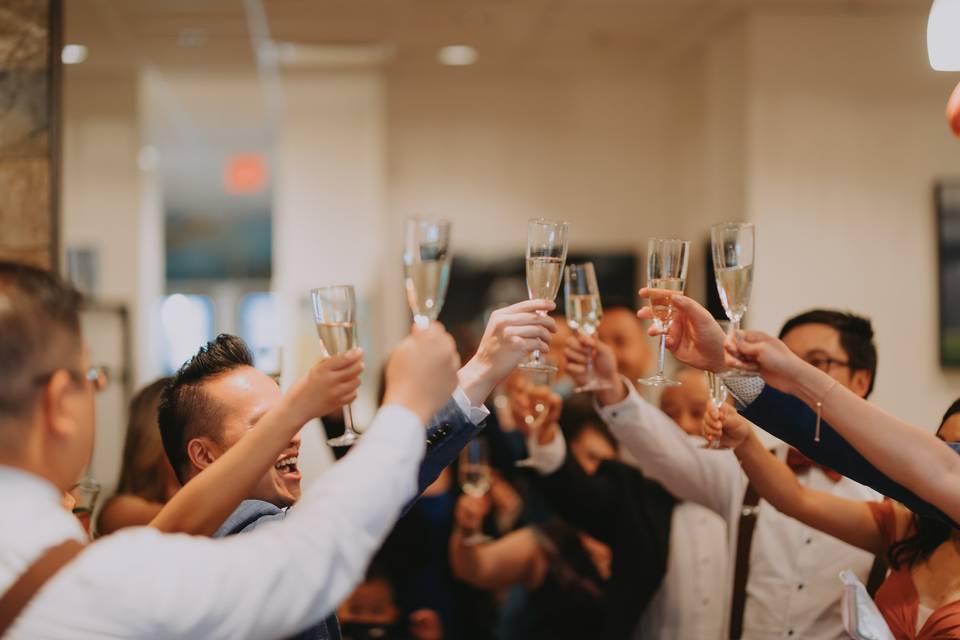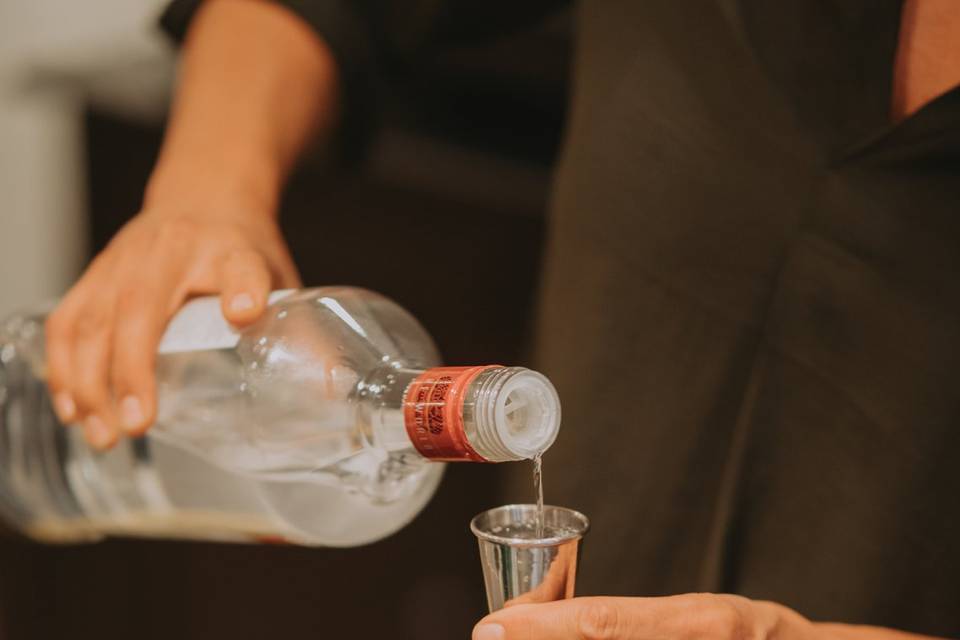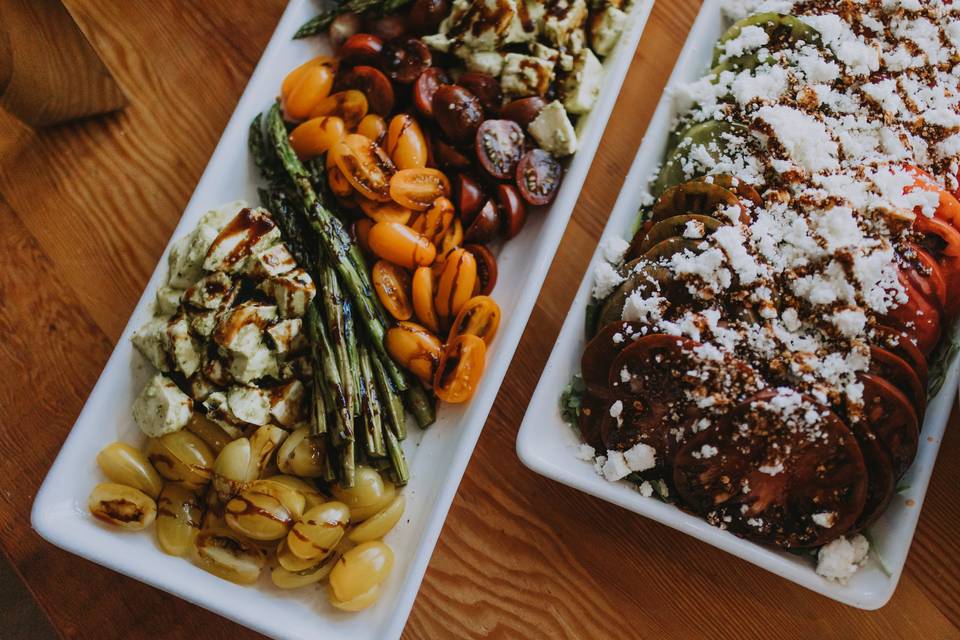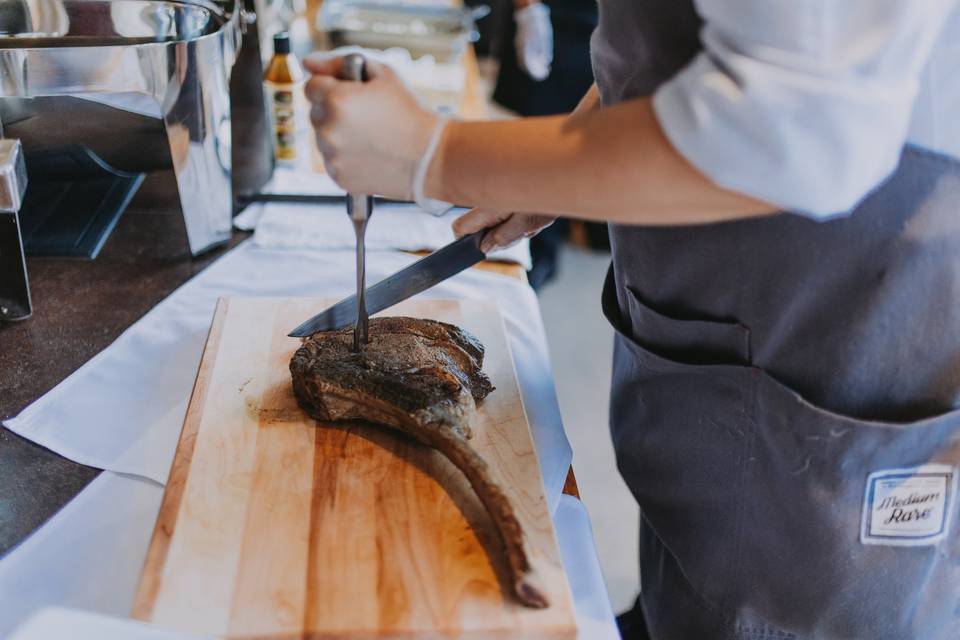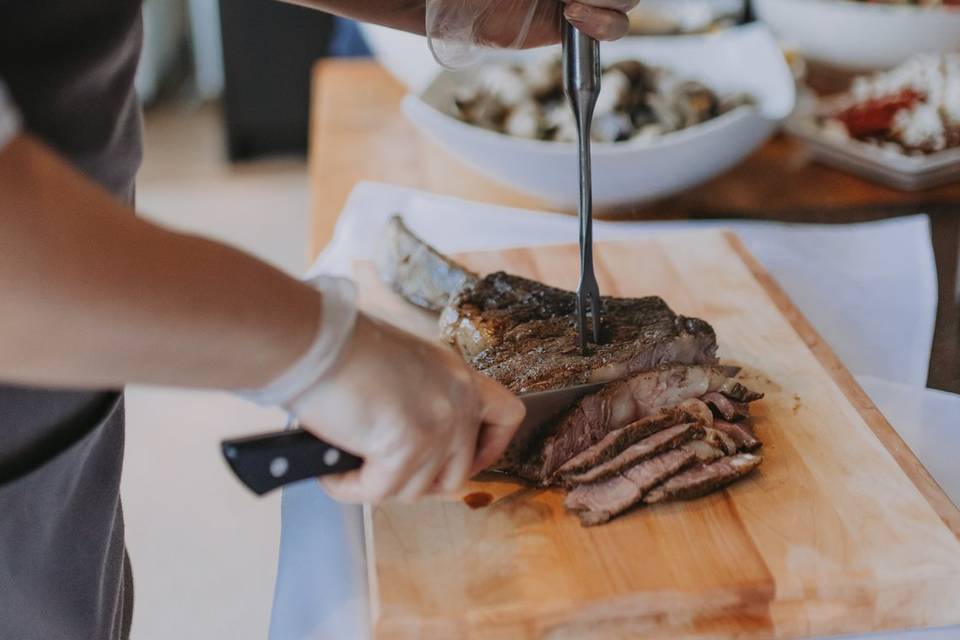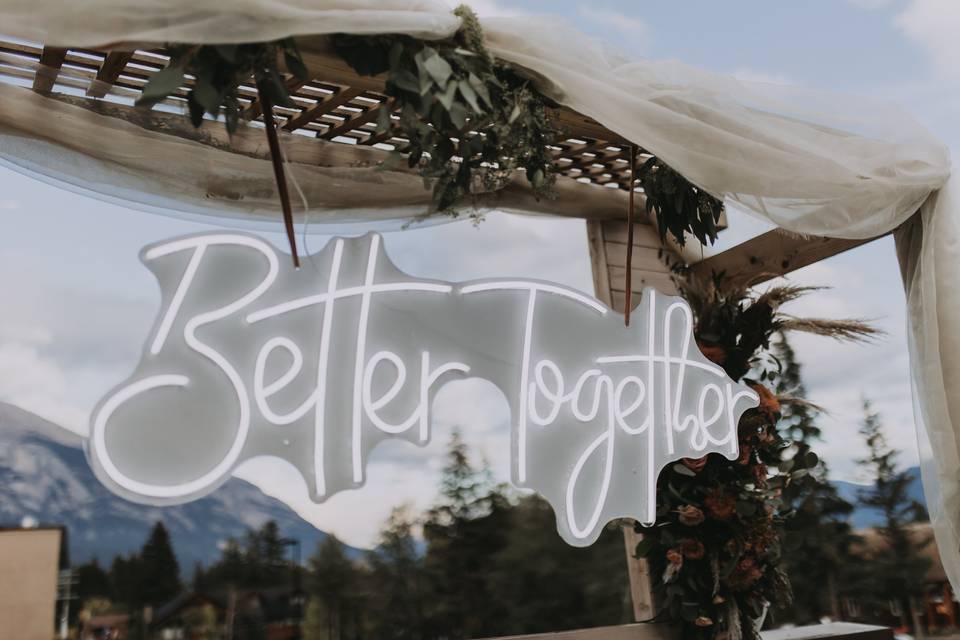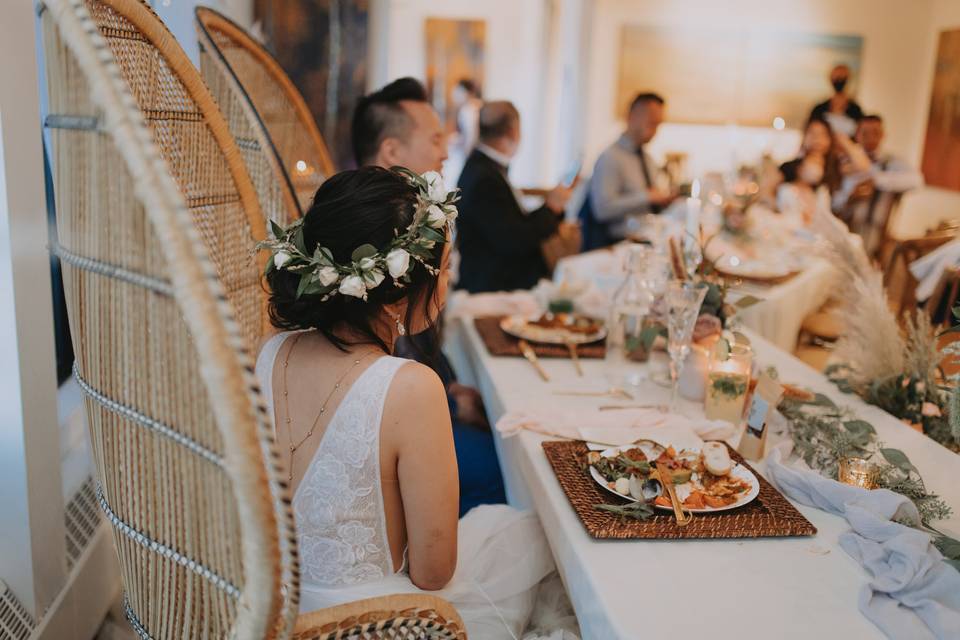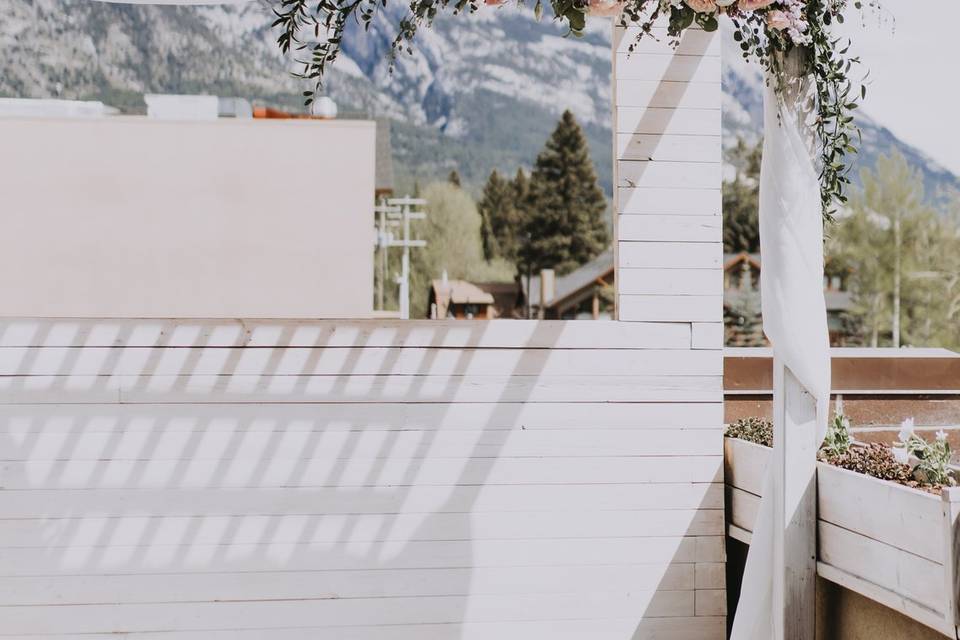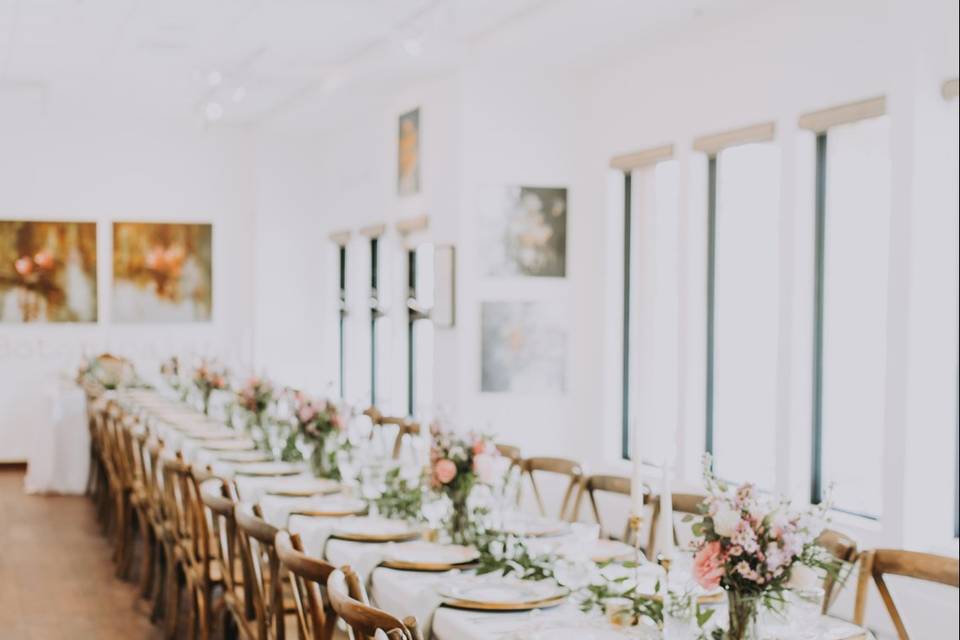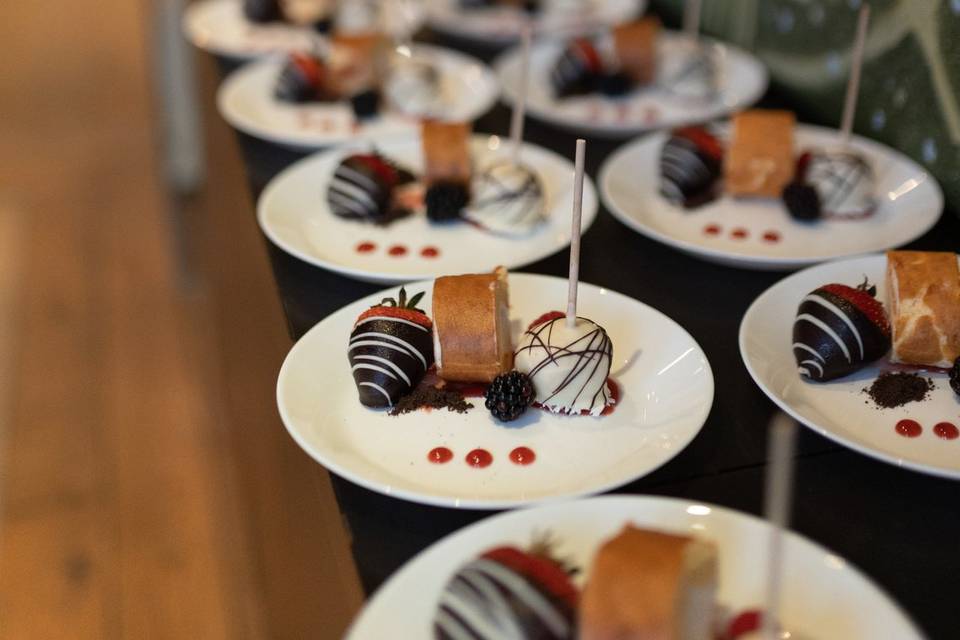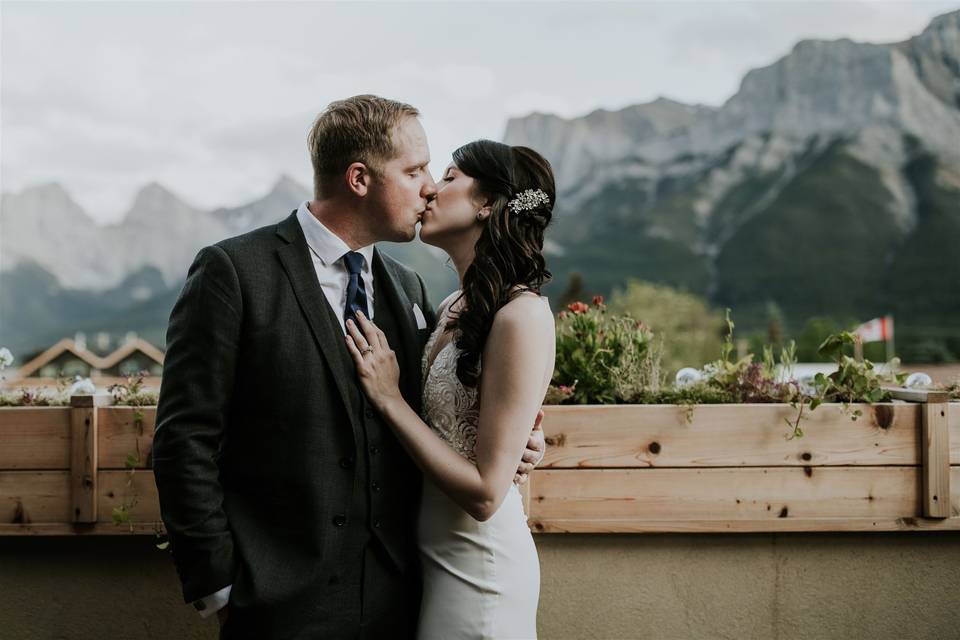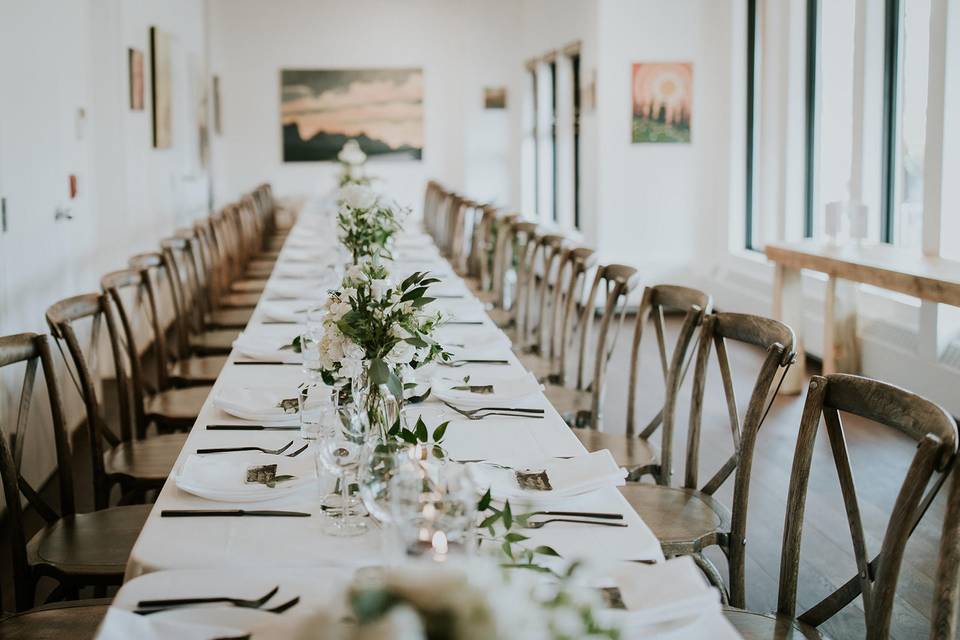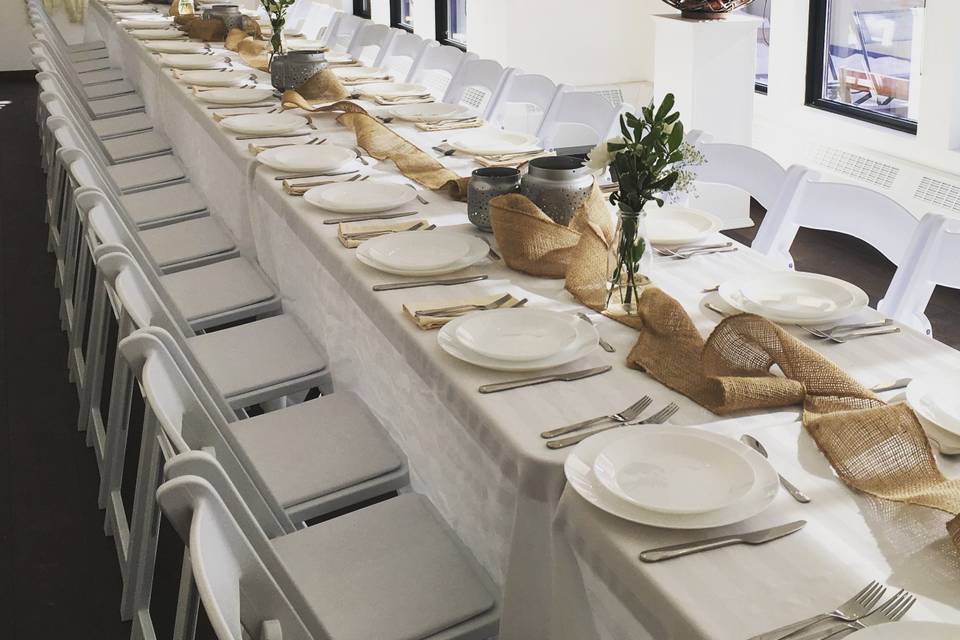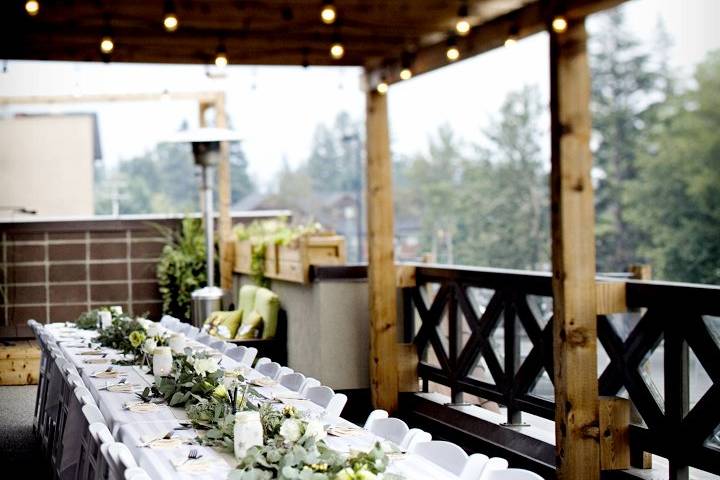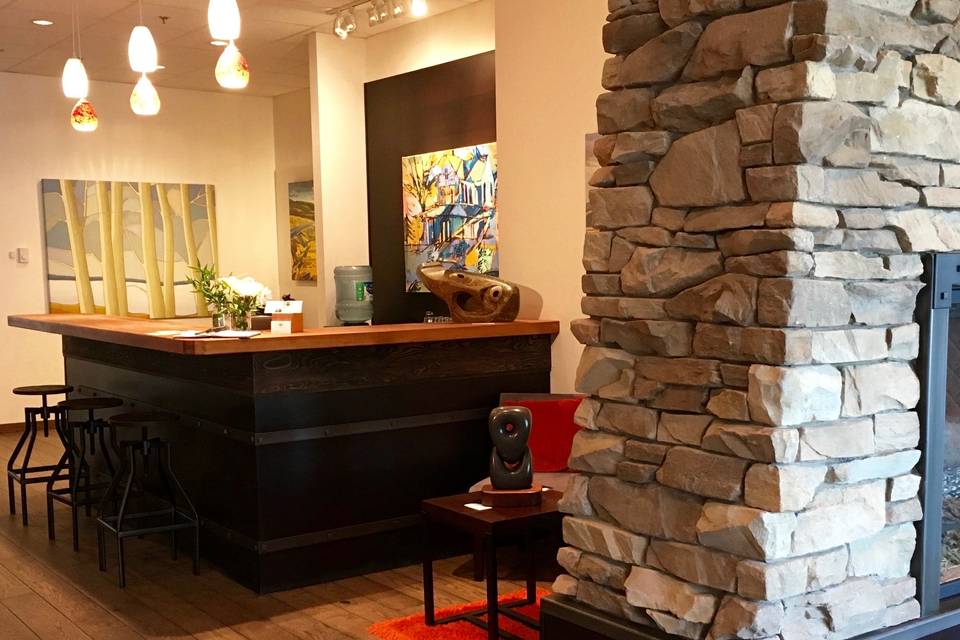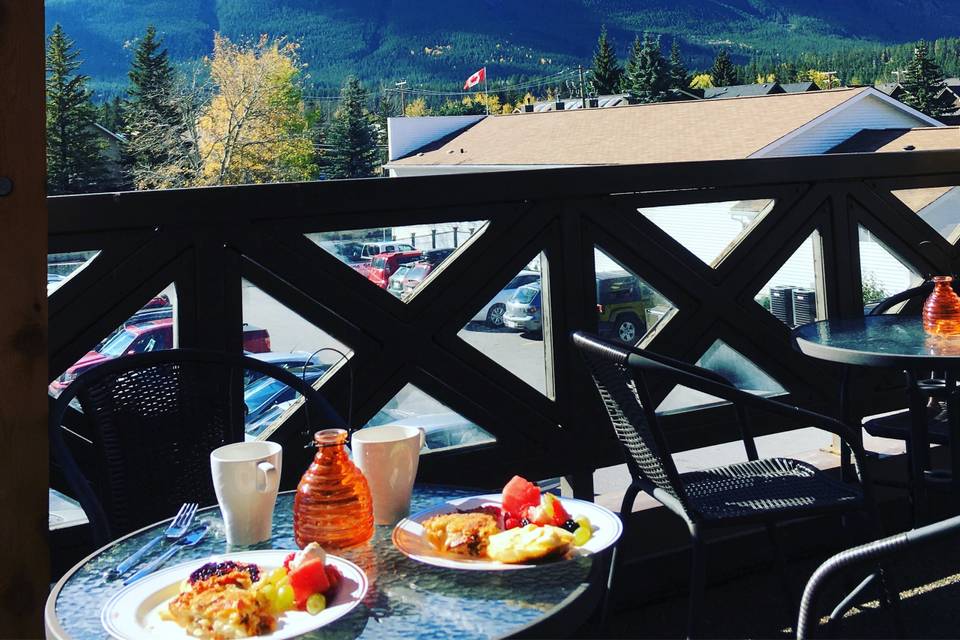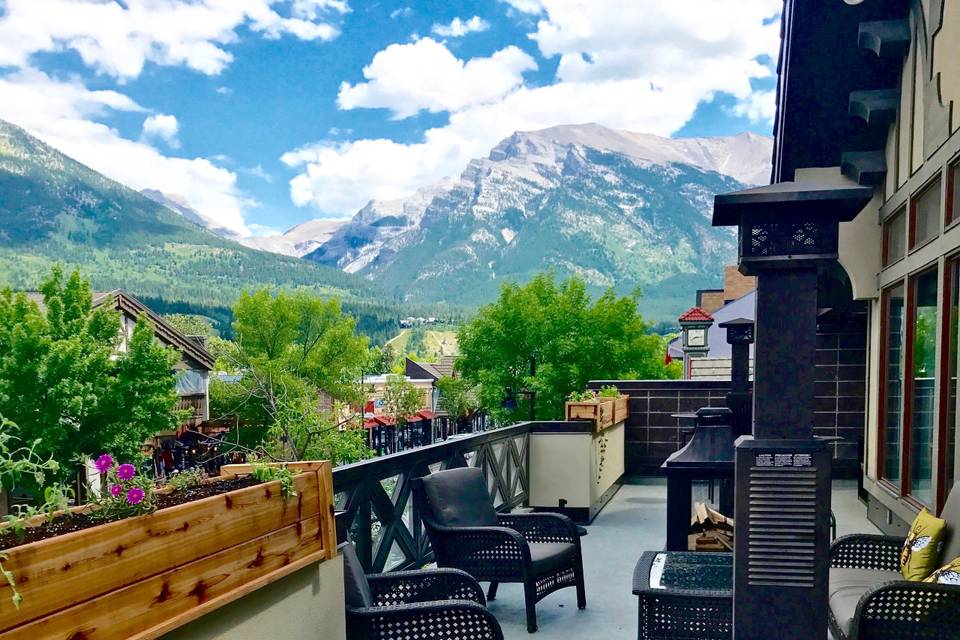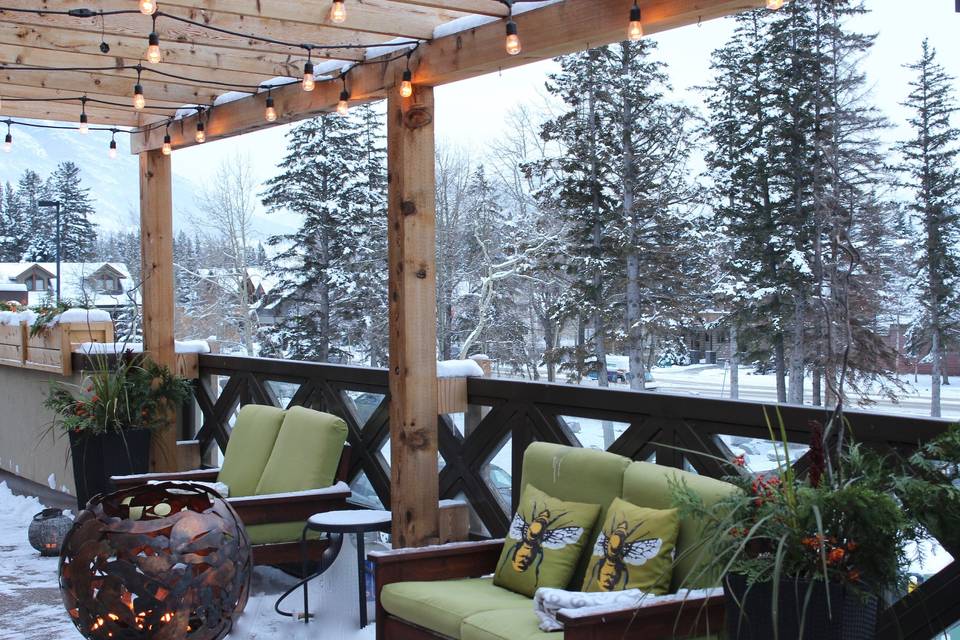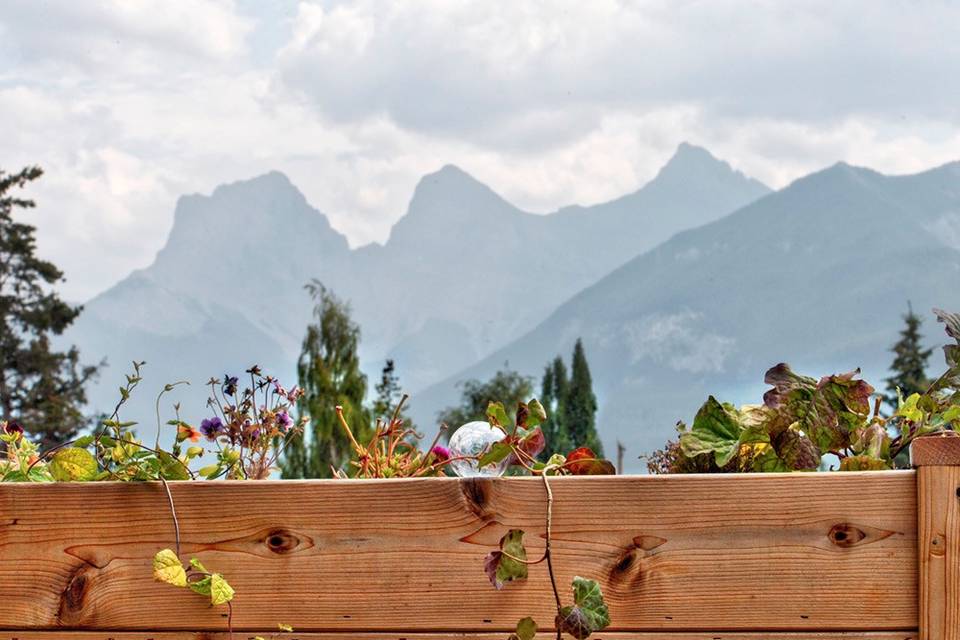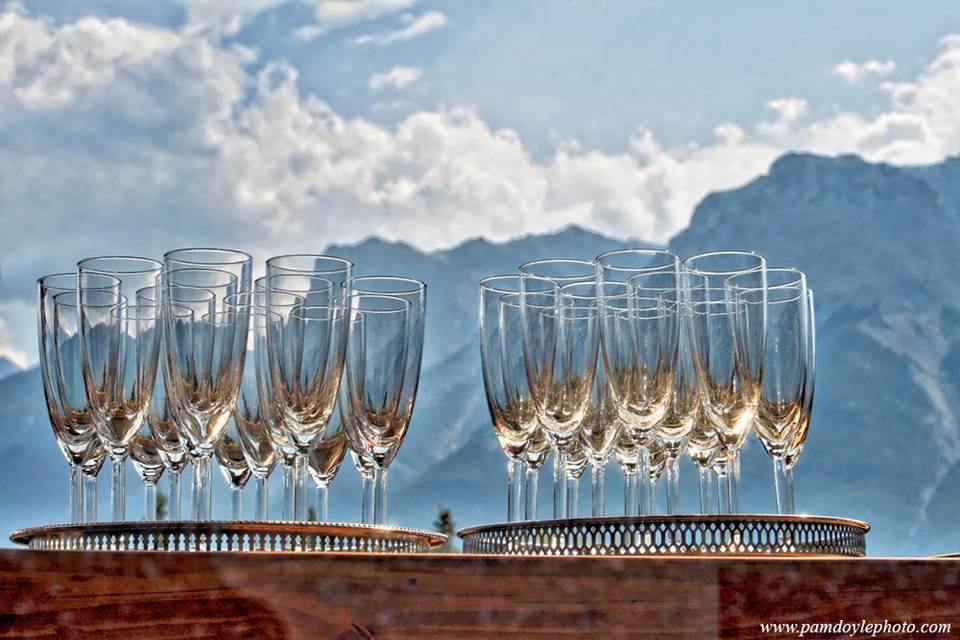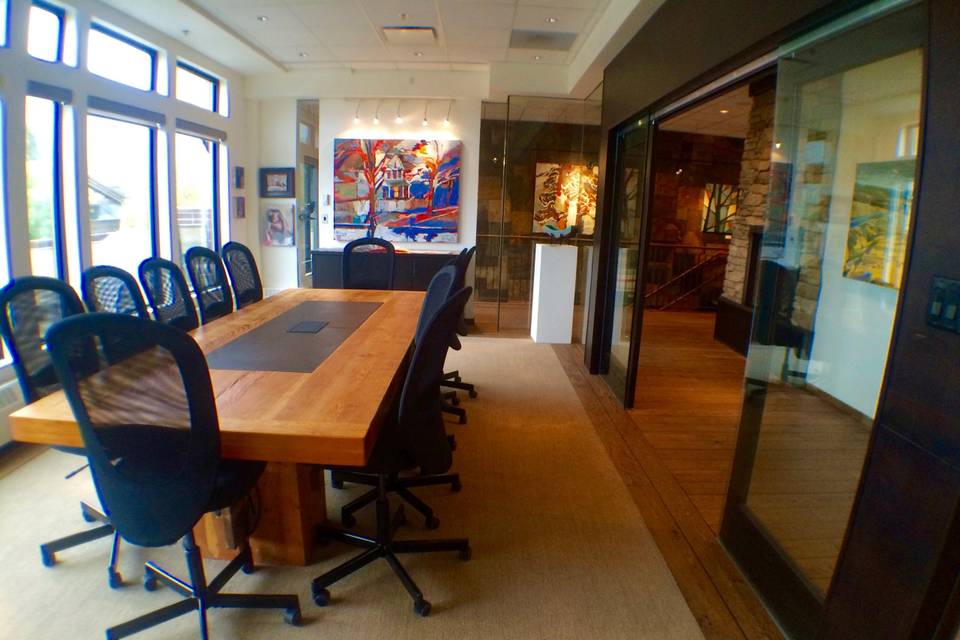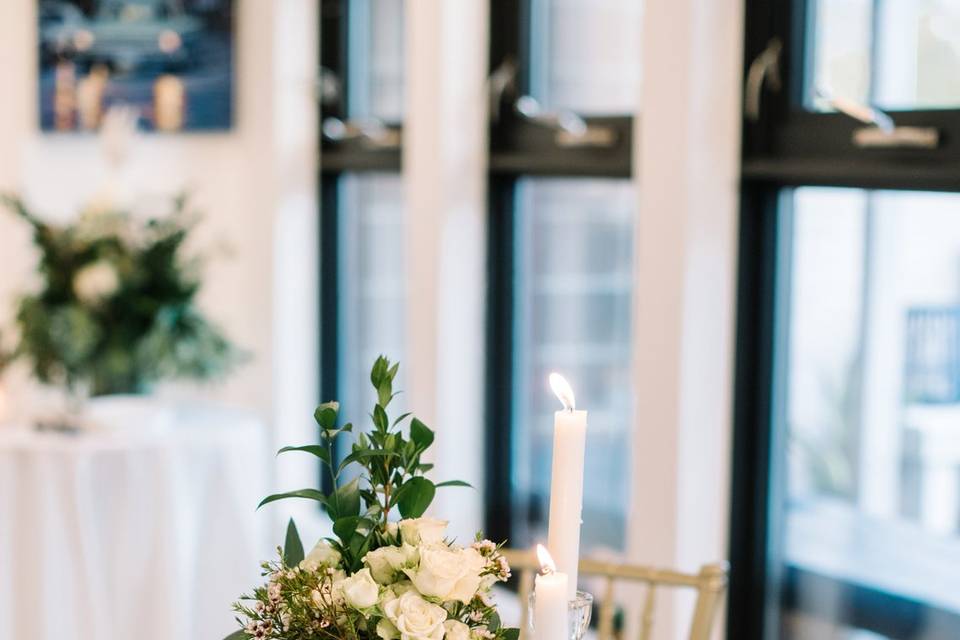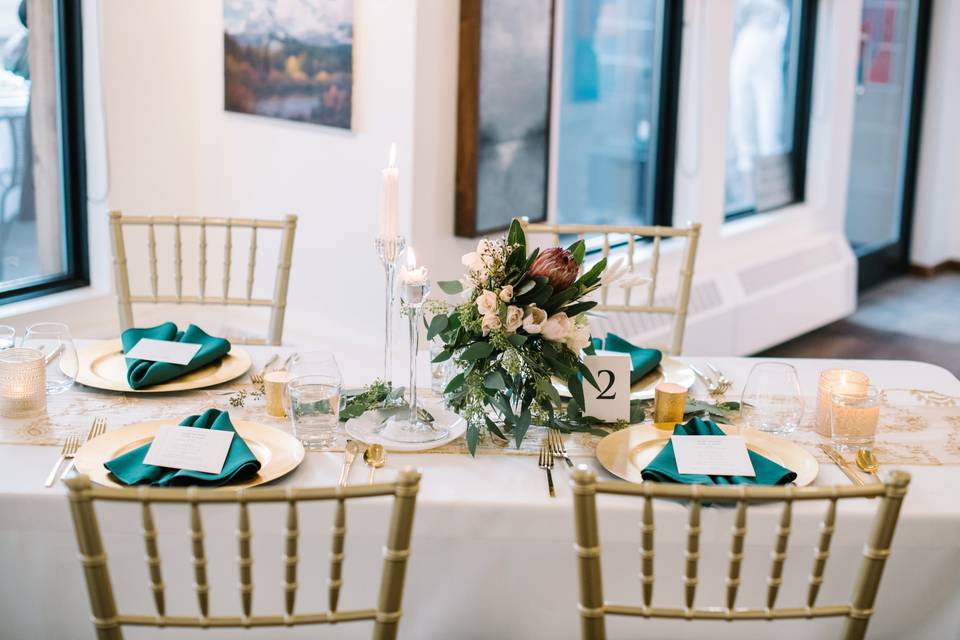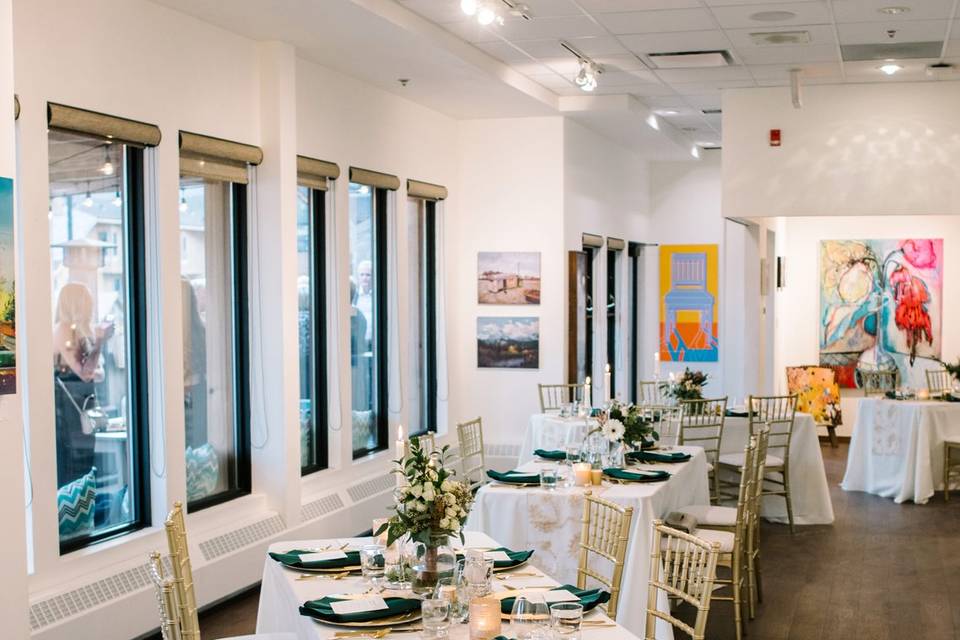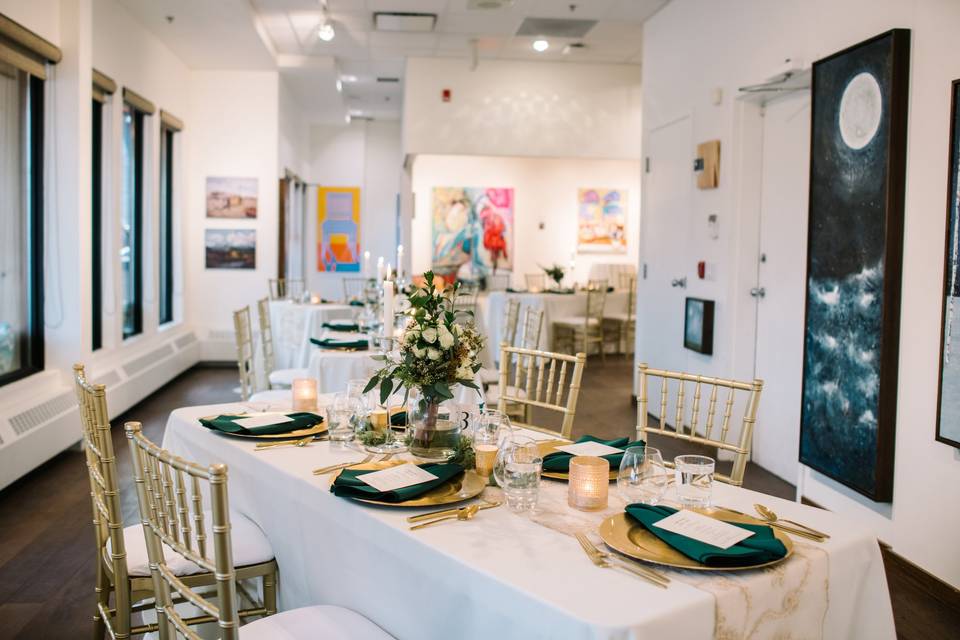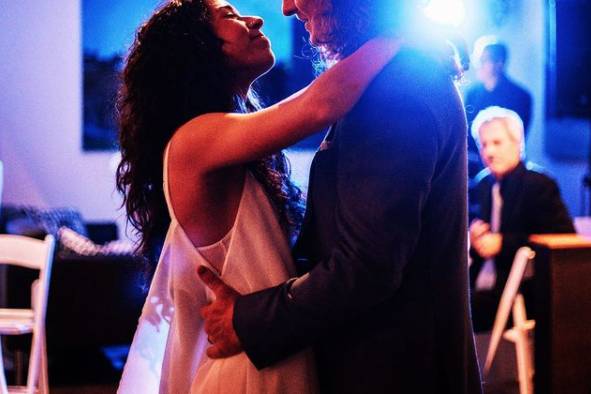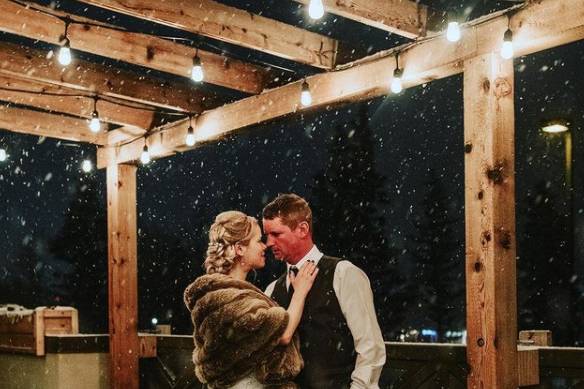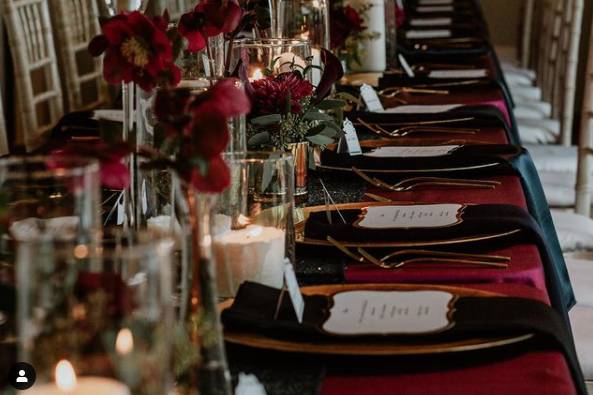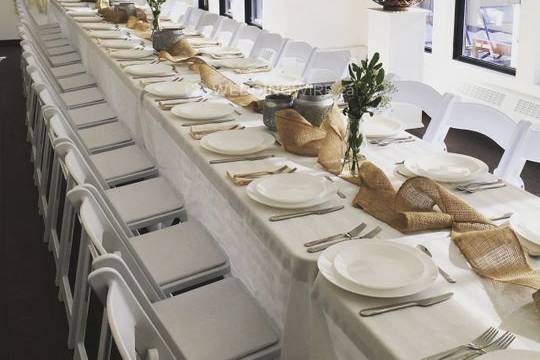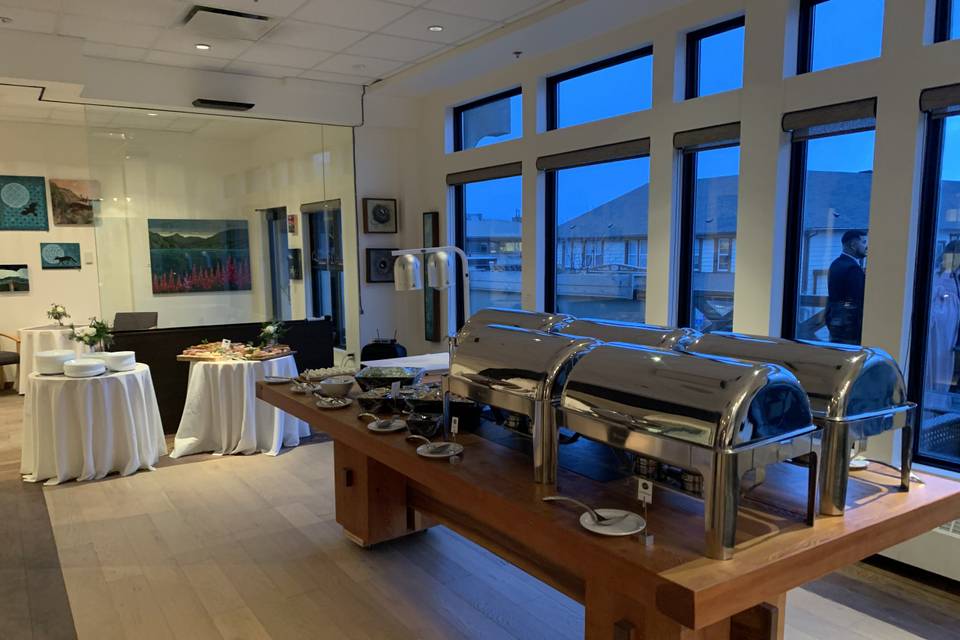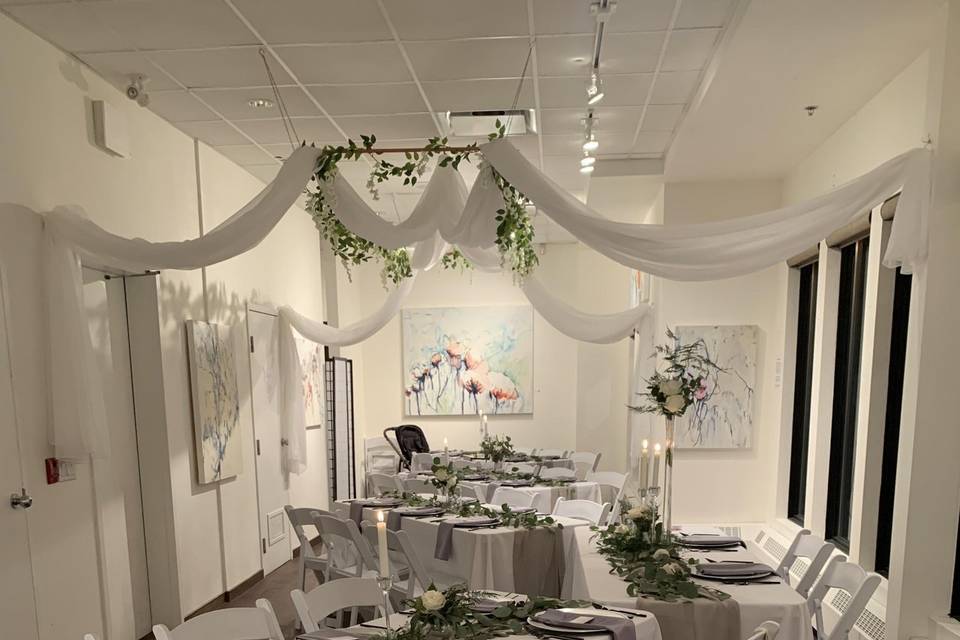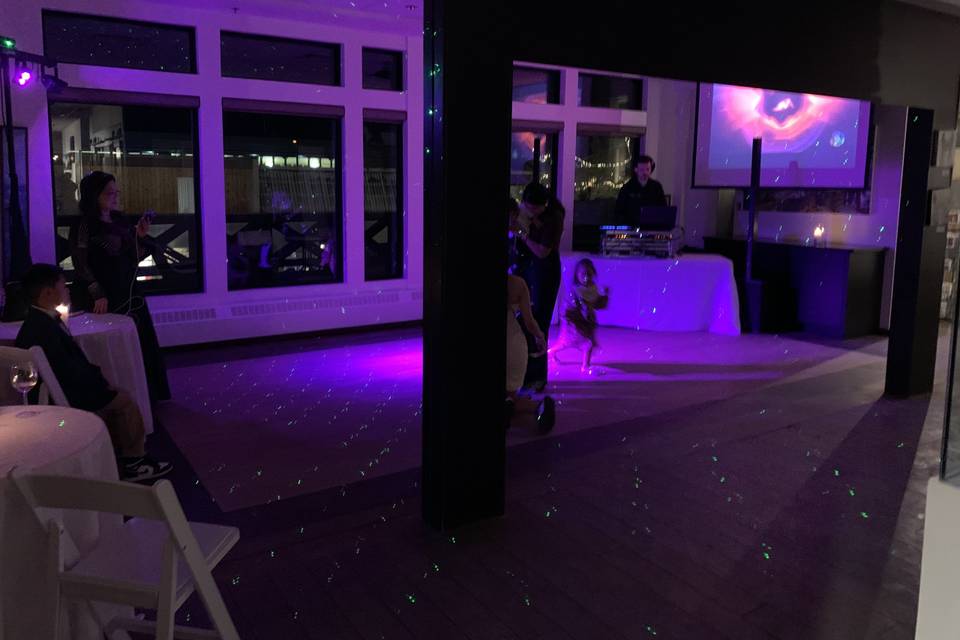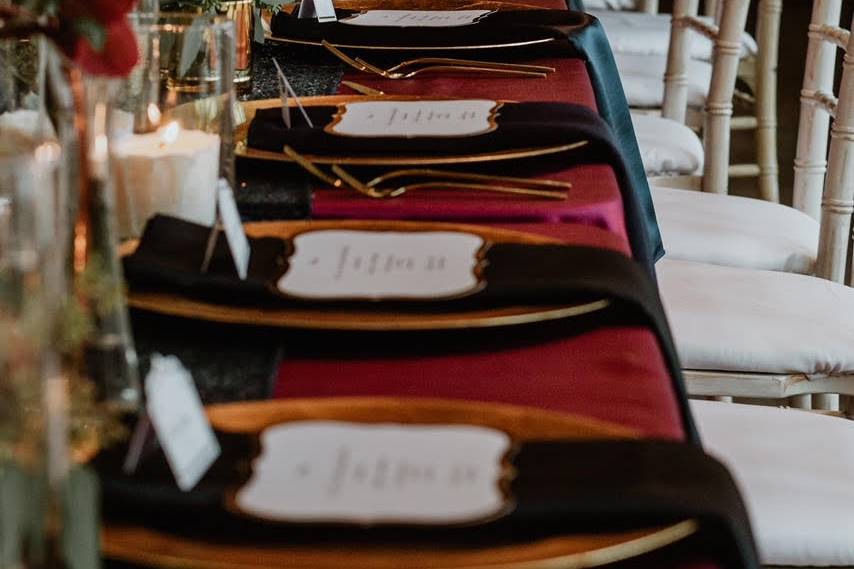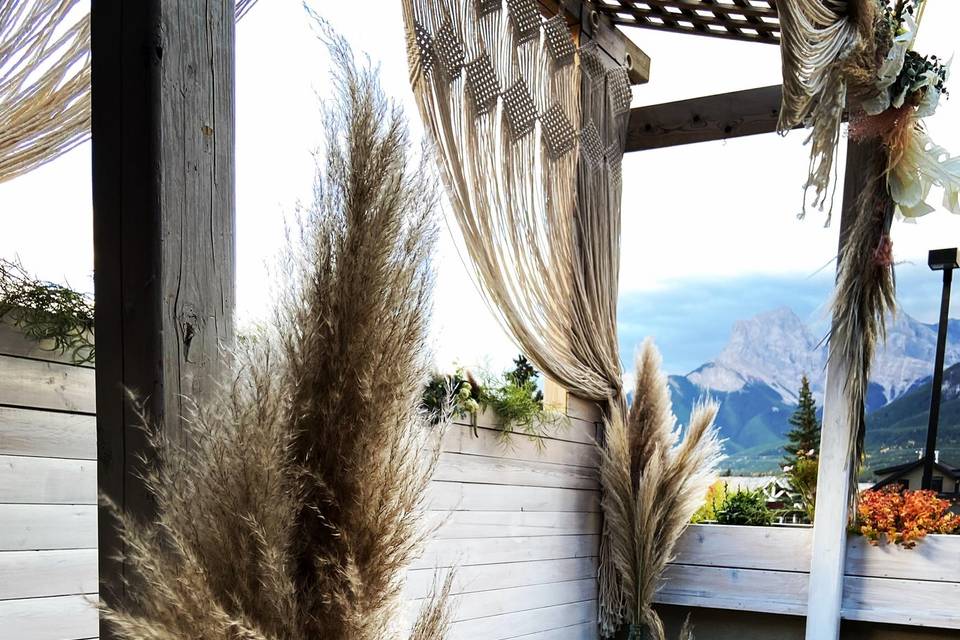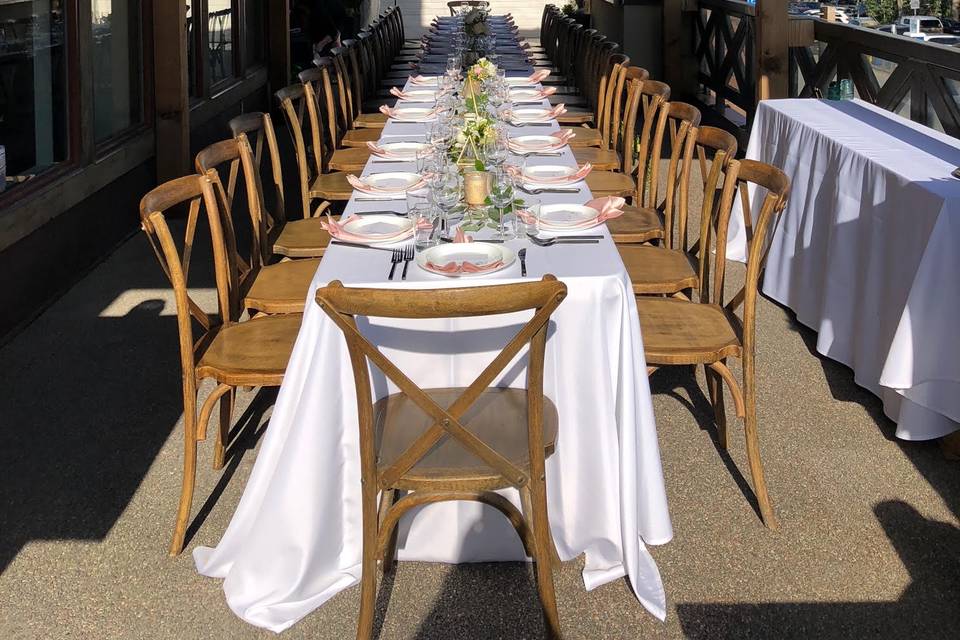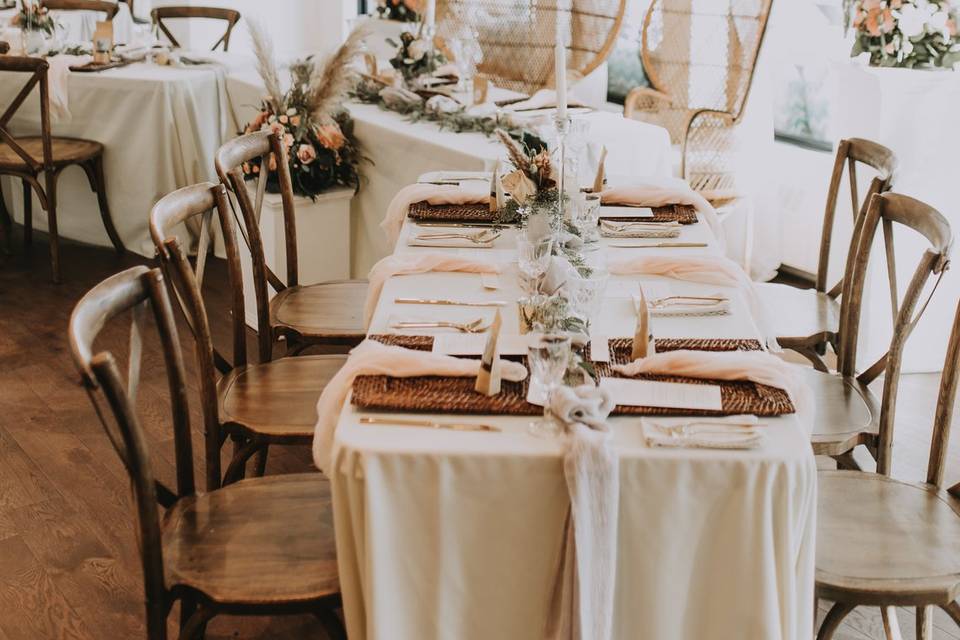 About
MAINSPACE is centrally located in beautiful Downtown Canmore, Alberta. If you were looking into creating the Rocky Mountain wedding of your dreams, this venue is the perfect place to celebrate your love alongside family and friends. The venue is housed within a contemporary art gallery, with a completely unique layout and vibe. With 2 amazing terraces large enough for dining and dancing, this picturesque location and professional assitance will make your wedding something to remember.
Facilities and capacity
Mainspace facilities include both indoor and outdoor spaces, making your event versatile in its setting. This gathering space and events venue has a fine art gallery which can accommodate up to 60 seated guests for an intimate wedding.
Services offered
Mainspace offers couples the following services for their big day:
Bar setup options with bartender for the duration of your event
On site event coordinating
Vendor liasing: DJ, caterers, event planners, officiants, photographers, videographers
Access to event rentals
Lighting / Sound system with iPad & Spotify
Use of all standard tableware, servingware and linens (upgrades are available)
Set up and tear down
Liability insurance
Cuisine
Mainspace does not provide catering, we work closely with the city's finest restaurants and caterering vendors. Mainspace can accommodate the following catered styles:
Buffet
Cocktail reception
Dessert
Family style
Hors d'oeuvres
Plated
Server(s)
Tastings
Quality of service

Rating 4.2 out of 5

Response time

Rating 3 out of 5

Professionalism

Rating 3.6 out of 5

Value

Rating 4.6 out of 5

Flexibility

Rating 4.4 out of 5
7 User photos
+ 3

Photos
Kristina M.

Married on 29/02/2020

Perfection

I would one hundred million times recommend Cheryl at the Hive Gallery for a wedding. My day was absolutely perfect! Planning a wedding out of town is always nerve racking and Cheryl helped put my fears at ease. From the minute I walked in the gallery and spoke with Cheryl I knew this was where I wanted to have my special day. From the little personal touches to having my vision become a reality Cheryl helped with it all. My day couldn't have been more perfect!! Cannot say enough good things!! I will forever be grateful that I had my wedding at your gallery!!!

MAINSPACE's reply:

Oh my, Kristina! I felt equally grateful for you guys.....your vision was clear, and I was thrilled to take those ideas and make them a reality. You were a beautiful bride, and I know that your happiness that day was just a small indicator of what is to come for your two.
Congratulations!

Erica P.

Married on 26/09/2019

The most amazing venue for an intimate wedding day

My husband and I recently got married at the Hive and we cant speak highly enough of Cheryl and her staff... They were incredibly acommodating and fast responding every step of the way. Cheryl took the time to become acquainted to us during the planning process and was able to tailor the venue to our personalities perfectly. Cheryl's recommendations for caterers and DJ were fantastic. Cheryl was truly a joy to be around the whole process. The day was absolutely wonderful with seamless transitions from ceremony to reception to dance party throughout the space. The venue is in the perfect location downtown Canmore with a 360 view of the mountains. The bar service was perfect with special kombucha mocktails for me a non drinker and any special alcohol we requested was there. Anyone even remotely considering having their wedding ceremony and reception at The Hive Gallery is in excellent hands. Thanks for a beautiful, unforgettable day.

Nicole

Married on 15/07/2019

Beautiful (but stressful) wedding

I'd like to start off my review saying our wedding at the hive was beautiful and overall a success, but not necessarily how we imagined it would be.

Positives:
-The team at the hive made us feel special on the day and ensured the day ran smoothly.
-They did accommodate some of our special requests such as additional flowers.
-They knew great local vendors to put us in touch with for photographers and officiants.

Room for improvement:
-Initially we were led to believe they wanted lots of input from us on ideas and design and then in the last two weeks found out they were expecting to be left to do the planning by themselves. If that is how they prefer to plan that is acceptable but it should be clear from the start.
-They provided deadlines and timelines they were unable to achieve.
-We felt like everything was left until the last minute for planning, and communication was incredibly poor through to the last week. There was a lot of miscommunication which led to a lot of confusion. Responses were weeks apart and often vague and along the lines of reminding us how busy they are and how many weddings they have.
-Conversations in the last few weeks felt incredibly condescending and made leading up to the wedding quite uncomfortable.

The biggest room for improvement would be quicker and more detailed responses with clear expectations from the beginning. Given some of the positive reviews we read previously we were disappointed. Throughout the experience we felt like they were stretched too thin and not able to give the attention they used to give. I hope the hive can improve from this experience moving forward.

Sam.

Married on 30/06/2018

A Perfect Quaint Mountain Wedding Venue

We got married at The Hive in June of 2018. We had such a wonderful outdoor wedding experience. It was the perfect venue for our size and style of wedding, and was decorated above and beyond what we had expected.

We found The Hive online, and went to view the space. We loved the functionality of the different breakout rooms, and the beauty of the seasonal art pieces throughout the gallery. We fell in love with the mountain views on either balcony, especially the view of the three sisters from the balcony that we got married on. Cheryl, the owner welcomed us with open arms, and was able to give us details on the packages available, and a rundown of how a wedding looks at The Hive. She also mentioned previous weddings, and offered advice on catering and seating considerations. We decided to have both the ceremony and reception for our 80 guests at The Hive – opting with the Mead package.

In the months after we chose The Hive as the venue, we were assigned a wedding planner. We did have some communication issues during the beginning with her – emails going unanswered for long periods of time and communication breakdowns. However, this was resolved long before the wedding, and we dealt with Cheryl directly thereafter. Cheryl was fantastic to work with, and we felt completely confident with her abilities. She sent us a digital list of tasks to be done, and who was responsible for each task; along with a general day-of timeline that we could adjust according to how we wanted the day to flow. Every time we talked with Cheryl, we left feeling so much more relaxed and at ease about the stresses of planning a wedding.

During the week before the wedding, we were in constant communication with Cheryl. She was finalizing all of the small details with us regarding the caterer, the DJ, the live music, and the flowers. There were a few last-minute changes that she was able to handle professionally and gracefully. The Mead package includes flowers provided by the venue – Cheryl does an amazing job of the arbor, tabletops, and throughout the gallery. We were blown away by the amount and variety of flower arrangements. Cheryl also allowed us a rehearsal for the family, and provided complimentary drinks – a lovely touch on a beautiful evening.

On the day of the wedding, the groom's room was stocked with whiskey and water, while the bride's room was stocked with water and an emergency basket for all last-minute touches; it was the amount of little touches that made our experience at The Hive so special. After the ceremony, we were greeted with a prosecco toast and dark chocolate treats (the groom has a dairy allergy, so Cheryl went out of her way to ensure he was able to enjoy them).

Upon return to the venue, Cheryl and her team had transformed the venue into a cocktail style reception, with cocktail tables and centerpieces throughout the venue. Cheryl worked with the caterer to seamlessly set up a variety of food stations in different rooms and on the front balcony. During which time, both the bar on the balcony, and the main bar were serving drinks; the bartender at the main bar, Dorothy was excellent – as was the drink variety. We were able to work with Cheryl to create two specialty drinks, and a variety of craft beers from around Alberta. As the night progressed, the team at The Hive were well aware of the timeline, and were always one step ahead of the party.

One emergency that Cheryl handled excellently was when the mother of the groom had a wardrobe malfunction, and required a sewing kit. Cheryl went out of her way to send a member of her staff out to the store to purchase what was needed to fix it. Cheryl was active throughout the evening, always eager to help wherever she could.

Our midnight snack was popcorn, and of course it was above and beyond what we expected; it was buttery goodness with a variety of flavors. Cheryl was working the station herself with a big smile on her face.

As people began trickling out, Cheryl began packing up all of the leftover food from dinner into take-away boxes for us to take home. She also gave out flower arrangements to guests as they left. The event ended early in the morning, and Cheryl was still there with one other staff member to wish us off and to wish us well.

We can not thank Cheryl enough, and we will always remember her and The Hive for the role they played in making our wedding such a special day. If you are considering The Hive for your wedding, we strongly recommend it!


Kay

Married on 09/06/2018

Negative Experience at the Hive

My wedding reception was recently hosted at the Hive. I am writing this review to provide feedback to others considering the same, and to experience some sort of catharsis after an overall awful experience on what should have been a happy day. I have never felt so belittled, disregarded, and demeaned in a professional relationship.

Before I provide insight into my negative experiences, I should recognize areas where the Hive excelled. The Hive is a beautiful facility with an interesting layout that lends itself well to smaller groups hosting events. The art work is top notch, and the décor of the wedding itself was put together beautifully. They provided amazing flower arrangements. Staff members accommodated our guests with specific food restrictions, and ordered/picked up 2 meals from a local restaurant. This was going above and beyond as I expected needing to ask a family member to do this. The Hive hired an exceptional bartender to work the main bar. I had nothing but positive interactions with her and received good feedback from our guests. I will also say that our guests generally had a good time, enjoyed the venue, and had fun with the adult paint room. Hive members accommodated a photo booth set up with short notice (although this only required setting up a small digital camera on a tripod, a black sheet over a wall, and props I had already purchased on tables/hooks). The Hive was also good at adding small touches, such as placing blankets on the backs of chairs of outdoor guests for comfort.

I realize this review is lengthy. In this case, the length is directly proportional to the level of difficulty we had in planning the wedding with the Hive. If you do not have time to read the details of this review I will briefly sum up my experience. From the onset, there were communication issues. Complete information was not always provided; contradiction and inconsistency were instead the standard. I felt that the process was poorly organized and scattered. Major changes were proposed to our program, and contracts with the caterer as many as 5 days, and as little as 1 day before the wedding. Arrangements were not carried out as requested and agreed upon. I urge you to continue reading for more concrete evidence of these statements.

One of the first warning signs that our wedding planning process was not going smoothly occurred when there was a 2 week lapse in email communication from the individual in charge of our file. I already had some concerns with our interactions and this made me feel quite uneasy. In hindsight, I should have sought out a different venue at that time. When there was communication, I often felt that my concerns were not addressed completely. Frequently, I had multiple questions and only a few would be answered, with other important points ignored completely. The trail of communication with this person became embarrassingly sparse 3 months before our wedding with a lot left to plan.

At this point, I requested a meeting with the owner in person to discuss progress of planning (2 months before the wedding). Our meeting culminated with her reassuring me that information would be forwarded to us immediately. 6 days after our meeting, a bar menu was forwarded to me via email. This email, however, was missing many of the items on the comprehensive list of information we talked about. I emailed my contact to request the rest of the information (10 days after the meeting) and did not ever hear from her again.

Secondary to the complete loss of contact from our initial arranger, I had to email the owner approximately 6 weeks before the wedding expressing my concerns. At this point I was unsure that an event would even be thrown together. The owner was apologetic, and promptly agreed to take over our file. She did express that the original staff member "is doing the 3-5 hrs of wedding planning (per the individual packages) for 30+ brides between June-August, and I'm certain that all of the individual details of that get daunting." While I can appreciate that this may be the case, as a paying customer, this is not my concern.

My husband and I expressed interest in speaking directly with the DJ who would be working our event. I requested this information via email on February 27, 2018. Over 2 months later, on May 3, 2018, I received another email indicating that we would be put "in contact" with the DJ soon. On May 27, (1.5 weeks before the wedding), after continuing to inquire about contacting the DJ we were told via email that "we generally don't connect couple's directly with DJ's." I was so frustrated with this response and the inconsistent information that had been provided by the same person. I felt that we were misled over the span of 3 months about something so simple. I do not feel that this was a huge deal, but it is an excellent example of just one of the many times we were provided with inconsistent, contradictory, and untimely information.

On May 3, 2018, I asked for a diagram of seating arrangements for the wedding. I assumed this should be something standardized at a venue that hosts weddings frequently (e.g. I thought they would have a drawing on file). This information was not shared until nearly 3 weeks later (May 21, 2018) after continuing to request it, and was provided as a hand drawn diagram. I promptly worked on the table arrangements and emailed them back the same day. I am sad to say that on the day of the wedding the tables were set up incorrectly. Important people in our lives (e.g. parents, siblings) were seated with their backs facing our table and the "drawing" I received was not exactly representative of how the tables fit into the space.

One day before the wedding, the Hive suggested to move our dinner "earlier" (via email) because the weather might not hold up into the dinner hour (half of our guests were sitting outside, under a sheltered and heated Pergola). This dumbfounded me. I cannot comprehend moving a dinner start time a day before a wedding. It would have been a logistical nightmare to organize our guests and change the catering with that short of notice. I was very clear in an email response that we were firm on the dinner start time. Despite this, our caterer reported that he had been requested to show up 1 hour earlier than initially agreed upon because guests would be there at that time. The caterer, who was coming with prime rib prepared off site, showed up 1 hour early to the event. I believe this effected the quality of the meat. In the end, the weather held up fine and the focus on moving the dinner was unwarranted.

The caterer also informed me 5 days before the wedding that the Hive was attempting to change the initial agreement he had with them. A fee had been worked into the catering contract for the Hive to hire someone to clear the dishes from the dinner service. He indicated they may not honor this, and he would be short one staff member for our service. Of note, I received a rather unprofessional email regarding this where the Hive had the audacity to suggest that I had not paid for this service. The Hive said (as per an email) "because I brought someone extra in (who you didn't pay for), we were able to clear and do the changeover efficiently." I immediately responded to this email indicating that I paid a fee for this service to the caterer, who was supposed to forward it to the Hive, as per their initial arrangement. I received this response back "As of this morning, I had no intention of billing him anything, as my extra person only came in for 1.5 hrs and it didn't seem worth revisiting." There is absolutely no sense in choosing not to accept reimbursement for a service and then accusing your customer of not paying for it.

When I arrived at the reception I was immediately approached by guests indicating that they needed exact change to take advantage of the toonie bar. There was no float on hand for cocktail hour. I consider this especially irritating as my husband explicitly asked earlier in the day whether we needed to provide a float or not. We needed to flag down a Hive staff member to retrieve the float that was not at the bar and ready to go, but sat waiting in the art gallery below. Again, this is not the biggest deal on its own, but in the context of the overall experience it became an issue for us.

The Hive also decided to completely change the domestic bar menu we had requested. Our guests prefer domestic beer like Canadian, Coors etc. When this was brought up as an issue, this is the email response I received "I bought what I thought were better beers than on our list to do something nice, but apparently, that was wrong… I am sorry." The blatant passive aggressiveness of this written statement negates the feeble and disingenuous apology at the end of the sentence. Instances like this made me feel like a second-class citizen approached with judgement. At the end of the day, a good business person follows a "customer first" approach, which should include respecting basic requests such as a bar menu. It is not rocket science to follow simple instruction. Additionally, several guests complained that the beer was warm towards the end of the evening.

We received flack for our "special requests" and for the Hive not selling enough and/or charging too little for them. The email quotation for that is as follows "I did have all of your special requests on hand, to a fault.  No one touched 2 40oz Crown Royals that I will be stuck with into eternity.  We supplied over 100 Miller Lite, which cost far more than any beer on our upscale menu, for $5 each." I would like to note that I did not ever suggest the Hive supply a certain amount or charge a certain amount for any of the special liquor requests. If I am a business owner, and I choose to sell something for less than it is worth, the onus is on me for bad mathematics. There is no fault on the people buying the product for any loss in profit. In addition, the Hive mentioned "I wandered around Canmore searching for a bottle of Patron for your friends when they asked." Again, this is not my issue. This was not cleared by me. Neither my husband nor myself knew that this occurred until after the wedding day when we were informed over email.

I am not sure whether the Hive was suited to contain the 74 guests that attended our wedding (even though they advertise a 100-person capacity). The general set up was very tight- guests had to sidle past other chairs to get by. I even recall someone rubbing their back against the wall whilst sidling (like a cat/dog) past tables to reach the microphone stand for a speech. Later in the evening, a door was opened on the dancefloor by a staff member, resulting in a split eyebrow for one of the guests. This is clearly hazardous and should not be in use during an event where the dance floor is operational. Imagine your mother hustling over to you on your wedding day asking, "Do you think your MC needs stitches?" Thankfully, the gash, although profusely bleeding, was rather small, and I could approximate its edges with steri-strips that one of my guests had on hand. If we didn't have our own supplies, he would have been left with a large scar on his eyebrow and likely sparse hair growth after it healed. While I was mending my MC, no attempt was made to provide me with first aid supplies (e.g. something to clean his wound with, a bandage, etc.). My MC indicated that staff members only seemed to relax once he confirmed he would not pursue legal action. In the end, no harm was done, but that event was a near miss that had the potential to cause permanent injury and could have been a lot worse.

Half of our guests sat outside, which was ok and we agreed to. It did make for an awkward and segregated session of speeches. The microphone was connected to the sound system that reached the patio, so guests could hear the speeches but could not interact with the speaker or hear anything else being said that wasn't directly on the mic. An alternative would have been to seat everyone inside in a different style, but it still would have been just a plain weird set up where 74 people cannot see/interact well for a traditional wedding speech segment.

The piece de resistance of the entire weekend occurred the day after the wedding. My husband and I arrived to collect our items and settle our bill (note this was prearranged over email, as the contract did not indicate when we needed to clear our items). We packed some of our boxes into our vehicle outside of the back entrance. We were talking with 4 other family members when suddenly a torrential downpour of water soaked my father in law from head to toe. We were all rather stunned. My husband, already on edge and rightfully irritated, exploded on the individual responsible, who had been clearing an awning of water and had either not checked at all, or not completed an even mildly thorough job of checking whether people were standing below. This individual was rather ignorant in how he chose to deal with the situation, causing my husband to unfortunately become verbally aggressive and scream expletives at him. Given the long and rocky history we had with the Hive, he marched into the Hive and tore a strip off the owner. I want to be clear that I do not condone the way my husband dealt with the situation. In no circumstance is it ok to verbally abuse another person. However, both parties could have improved their responses and behaviors. A fall out email communication from the owner of the Hive after the situation occurred is as follows:

"First, I'd like to say that I enjoyed having you here last night. Your wedding was refreshingly casual and folks were a lot of fun. 
Genuine feedback given in the spirit of both resolving a problem, or even negotiating a 'deal' after the fact is something that I can accept graciously and openly.  But.....screaming 'you fucking retard' repeatedly at a stranger for making an innocent mistake is outside the boundaries of acceptable feedback. When ____ came in the back of the Gallery screaming at me about me fucking husband, my staff member locked the front door and called the RCMP.  ___ had no idea that ____wasn't a crazy person off the street who was about to do harm. I did not file a complaint, but should have."

Once again, I to, was rather appalled at my husband's outburst. However, not once in this situation did any staff member seem to have compassion for their error and ask the 70-year-old man that was completely saturated with water whether he was ok or needed a towel. No one directly apologized to him. Further, RCMP have better things to do than attend a call for service on an incident that a business has created for themselves. A rightfully irate customer is not a crazy person off the street. They could have diffused the situation by offering a genuine apology, offering to have the clothing cleaned, or even asking if he was okay. In reading the Hive's email communication afterwards, I somehow got the impression that the Hive had been victimized (due to my husband's outburst) more than the geriatric man who had been soaked by a staff member. That situation could have been diffused so much better than it was with improved customer service and may not have resulted in a behavioral outburst (again, not condoning said outburst).

After leaving the Hive, thinking we had everything in order, we remembered that they had not rolled up a canvas from the paint room for us. Given the volatile interaction that just occurred we debated not going back for it. However, we decided against this as it held some precious memories of our wedding day. We called the gallery to ask if it was still there. Rather than receive a call back, an email was sent reporting the following (amongst other things):

"I just got a message that you wanted the canvas from last night. 
I will roll it and leave it in the parking lot within the hour.  Please do not come back to the Gallery.  If there is anything further that you require, contact by email only."

Our canvas was left as stated, in the parking lot (where things like dumpsters are located and apparently, water is indiscriminately dumped). It was raining that day, but how fortunate for us that the Hive placed our priceless canvas outside, in a parking lot, under something that prevented water damage. I understand not wanting to see us or communicate on the phone or in person given the heat of the situation. However, someone removed from the event could have easily picked the canvas up from inside, such as another family member or friend. I would also like to point out that like so many other things, the canvas was not ready for us to pick up in the morning, which it arguably should have been.

There is even more feedback I could leave about this place but I won't continue writing a novel. My main motivation for writing this is to stand up for myself. I felt walked all over, and somehow ashamed after this process had commenced. I felt as though things that were not my concern, and were natural, expected byproducts of doing business, were placed upon me or thrown in my face as something I should be grateful for. I tried many times to resolve issues as they arose and was often met with lengthy, extraneous rebuttals. I am truly saddened by our experience at the Hive.




MAINSPACE's reply:

Hello Kaylynn; I, of course, have been awaiting your review.
Point by point, each an every complaint is riddled with untruths, so though I am very open to learning and changing, this review does not help me.
As an example of the misinformation:
Your caterer and I spoke after your wedding. He acknowledged that we were lovely and that he was clearly "caught in the middle of something" that he didn't want to be. I charged neither of you for the extra staffing, though did pay extra people. I expressed that I was unaware that the service charge had been quoted by one of my staff a year ago, and that I wouldn't charge because of that error. It was your own photographer who was roughhousing with the MC near the semi-opened closet door (while getting equipment out of his bag) when Alex hit his head, and my staff and I immediately created an ice pack and brought a bandage. Maybe you could ask him again, as the MC sat with me and another staff for 15 min telling me how unnecessary my fussing was. When your family and group left at 2 am, it was I who attended to the packing up of what you wanted to take then. You had asked not to take home all of your things, and I agreed to pack it all for you for pick up in the morning. It was all carefully packed, waiting inside the parking lot door, save for one box with your iPad and camera, which I kept upstairs until your arrival. To be clear, when you signed your contract, it clearly states that everything must be taken before your evening is done. I can't help but feel that had I not stretched that rule and allowed you the latitude, this whole mess might not have happened the way that it did. Because when you left at 2am after your event, not a word was spoken about dissatisfaction, unhappiness, or even mild annoyance. Your parents were complimentary, you were thrilled, and even your husband seemed satisfied with it all. The massive disconnect that we experienced happened that next morning, when it came time to pay the bill. My husband was cleaning the upper deck at 11am, and it was still raining(as it had all night). The awning had collected a large amount of water, and as he was trying to take it down, water spilled over to the parking lot below. He checked ahead, but the deck has a large eaves, and he did not see them
Under the doorway. I reviewed the camera footage from the parking lot. The bride, groom and family were in the doorway below the deck. The splash did come down, and several folks got splashed. No one was soaked, and the "geriatric" fellow that this bride referred to looked up, brushed water off of his coat, and went back to talking. My husband immediately apologized. What happened next was unbelievable, as the groom proceeded to scream (in a very public parking lot) threats at my husband, and repeatedly "a f'ing ---". My husband is seen in the video apologizing 3 times, then retreating from the deck rail, so as not to exacerbate the situation. He did not come downstairs, as the groom was threatening, and he is intelligent enough to avoid any possibility of a physical altercation. At which point, the groom runs into the back door of my retail business during open hours and starts screaming horrible expletives at me. I was stunned, as I had no idea what had happened outside, then became terrified. His aggressive movements caused my staff witnessing to scurry clients out of the front, and call the RCMP. I tried to ask him what was wrong. I tried to answer to all of his screamed accusations (in particular, about how our bartenders ' f'cked him over' by honouring his guests requests to buy drinks for the next 10 people by putting $20 in the toonie jar....he felt that she should have just kept charging people (despite his friend's generosity) to make more money for the bride and groom. He also screamed about my beer choice(which I genuinely did believe I was doing something nice), and that was it. The bride then entered smiling (I was still silently horrified at being verbally abused by a stranger), said thank you quietly and walked out. It was the most bizarre experience of my life. I've never been spoken to like that, and cannot normalize it as the bride feels that she has to do.
I am infinitely pleased to accept feedback, and there were some constructive things within the review (size of space, indoor/outdoor seating setup, frustration at the early changeover of planners...all very legitimate concerns) , but the massive untruths make it just one more confounding chapter in this story. I am attaching a few excerpts from the brides and my emails during our planning process to exemplify her happiness, and thus the overall confounding nature of this experience. To her assertion that I tried to change the dinner, here is my email "I'm still weather watching, and will send you a note late tonight with thoughts on outdoor dinner seating. Best case scenario is that we can be a bit early with dinner while it's still warm. If we push that too late, it may not be doable outside given the touchy weather. Looks like it's supposed to start raining and wind around 7pm, so we might try to get dinner done by 7-7:30? Then everyone can just move freely indoor/outdoor." And the brides response : "We are completely understanding of the weather situation. We are firm on the start time, but definitely think it is possible for dinner to be complete by around 7:30pm. We don't mind going with the flow as you see fit.".
And to her assertion that the organization of her wedding was scattered and inconsistent up to the date, here is one of her final emails to me "Kaylynn " wrote:
Hi Cheryl!

Time is winding down so quickly! We are very excited :)

Thank you for all your hard work and attention to detail. It is very comforting. "

I, my staff, and my guests should never be threatened and abused by anyone. Nothing makes that ok. This incident happened very publicly, and everyone around was as mortified as I. I am always happy to engage in productive conversation about issues, both in the progress of planning and in the aftermath. I am concessionary, and likely able to empathize to a fault, but this situation was well beyond my understanding.
I am sorry that this bride has had a bad experience, but had they engaged in calm and productive conversation about that on the morning after the wedding, it would have been resolved to everyone's satisfaction. Nothing can possibly get resolved when one is being screamed at, and called a "f'ing ---".

MAINSPACE Real Weddings
Kathy & Chris

29 Photos · 28/Jul/2019
Map
200 729 Main Street T1W 2A3 Canmore&nbsp(Alberta)