49 reviews
Quality of service

4.9 out of 5 rating

Response time

4.9 out of 5 rating

Professionalism

4.9 out of 5 rating

Value

4.8 out of 5 rating

Flexibility

4.9 out of 5 rating
Awards
27 User photos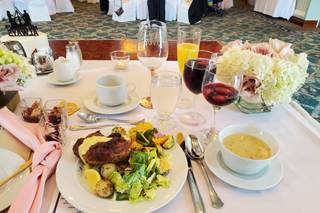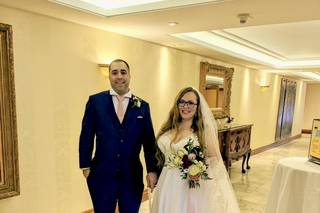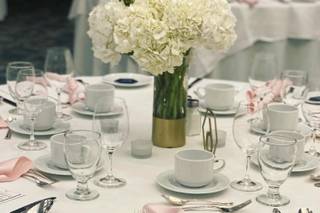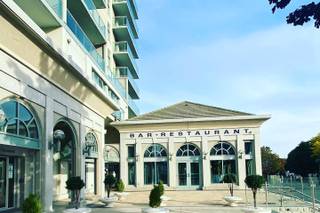 + 23

Photos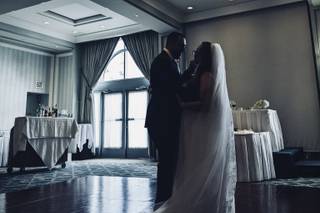 Featured

Sofija B.

Married on 31/07/2022

Incredible Venue!

We had our 200 person wedding at the Waterside Inn a couple of weeks ago and are so happy we did. Marlene was so incredible to work with and was very accommodating leading up to the wedding day. She helped us feel sure that everything would be as we hoped and on the wedding day we were so happy to find that it was. We received a lot of feedback from our guests saying that the food was amazing, the staff was attentive, and that the venue was great. A special thank you to Kristina for dealing with all the guests at the bar. We can't express how thankful we are to have worked with such a great team to make our wedding day special. Thank you! Sofija and Ashwin

The Waterside Inn's reply:

Thank you for your fantastic feedback Sofija and Ashwin! It was great working with both of you and I'm so appreciative of your wonderful comments. Thank you for choosing us to be a part of your day, and I hope we can work together again in the future.

Nicole T.

Married on 17/09/2022

Beautiful Venue

We had our ceremony and reception on site. Marleen the coordinator was wonderful to work with and really helped us plan the big day. The staff at the venue was also amazing, they were friendly and had everything running smoothly. The head waiter Mohamed would check in with us to make sure everything was running smoothly and the way we wanted it. Because of this I felt we did not need a day of coordinator and the venue really came through. I also loved that I was able to set up the day before as there were no events which was really nice for me to be able to do all the set up myself

The Waterside Inn's reply:

Thank you so much for your wonderful review Nicole! I'm so happy to hear that you had an amazing day, and truly appreciate your fantastic comments about the staff. I wish you and Ryan all the best!


Candace S.

Married on 02/10/2021

Most amazing venue and staff!

We got married at The Waterside Inn on October 2, 2021 and it was the most magnificent, happy and beautiful day. The venue itself is beautiful, our guests RAVED about the food and many ended up staying at the Inn even if they hadn't planned to do so beforehand. From the very first conversation I had with Marlene (during COVID lockdowns) she has gone above and beyond for us. She is truly the most professional, kind, accommodating wedding/event coordinator I have ever even heard of! She worked with us DAILY (I am quite the worrier and she would put my mind at ease!) and even communicated directly to other vendors who we couldn't get ahold of to make sure our day went off flawlessly. The staff on the-day-of were exemplary, even fanning out my dress, telling me I looked beautiful and running up to me with water and a straw when I was filled with anxiety before walking down the aisle. The serving staff kept on ensuring my Groom and I were eating, drinking water and taking a second to take it all in and we could not have had a more wonderful wedding day without every staff member there. A heartfelt thank you to Marlene and the rest of The Waterside Inn staff for the most amazing day of our lives! We will be back for a visit!!!

+ 4

Photos

The Waterside Inn's reply:

Thank you SO much for your amazing review Candace (and Leo)! It was such a pleasure to work with you both and I'm so happy to read/hear that you two had a wonderful day! Take care and I hope to work with you again in the future! :)

Are you interested?

Send a message

Mark

Married on 04/10/2020

10/10 would recommend

My wife and I were able to have An absolutely amazing wedding at the Waterside Inn during October 2020. The staff were very friendly, helpful, and flexible to our needs. They did an absolutely amazing job while being understaffed during the pandemic, I can only imagine their service would be even better during normal times. 10/10 would recommend to anyone getting married. Also the food was amazing and the prices were really reasonable.

The Waterside Inn's reply:

Thank you so much for your wonderful review Mark! I'm so happy we were able to host your wedding before another lockdown was implemented! I hope you and Mandy are doing well. Thanks again!

Maureen

Married on 09/08/2020

The perfect place for the perfect Wedding!!

My fiancé and I decided to get married after 3 years of courtship. We wanted something small and intimate and at a place that would cater to us and our guests.
Initially, our wedding was booked at another venue. We changed date 3 times due to covid19. Our venue decided to stay closed even after stage 3 opened in Mississauga so we had to find another venue that could host our wedding. With recommendations from our venue we found The Waterside Inn. We were very anxious about changing venue amid a pandemic. We toyed with the idea of postponing our wedding, but we took the leap and book The Waterside Inn.
From the first meeting to the final invoice the professionalism, expertise and excellent service by Marlene made the entire process comfortable and a very pleasant experience. It went better than expected.
There are many venues and planners out there who "work" for themselves, not the client. This venue and planner are not one of them. It was as great an experience, as promised and I can strongly recommend the waterside Inn and Marleen. The venue was very flexible, the staff was extremely friendly, provided excellent service, everyone was easy to work with and did everything with a smile, the table presentation and service was warm, caring and totally professional. The food and wine were excellent!! The service far exceeded our high expectations.!!!
It's very evident that this company cares and valued ours and their business.
A huge thanks to all the staff & management for their very kind and courteous assistance in making our wedding celebration so perfect! Thank you for exceeding the typical customer service.
You all ROCK!!


+ 4

Photos

The Waterside Inn's reply:

Thank you for your amazing review Maureen! I was so happy that we were able to accommodate you and that we were able to move forward finally after all the postponements! It was a pleasure working with you and seeing your vision become reality. I wish you both the best. Take care! Thank you.

Stephanie C.

Married on 11/07/2020

Highly recommended!!

Marlene (venue coordinator) was so great to work with! She made the wedding planning process easy. She listened to our preferences and was able to make appropriate recommendations for us regarding the set up, menu etc. We had a small wedding so we hosted it inside the Breakwater Restaurant - the food was amazing and the restaurant staffs were all so caring and nice. Our guests enjoyed the food so much and even months after the wedding they still talk about how delicious the food were :) Thank you Marlene!

The Waterside Inn's reply:

Thank you for your wonderful review Stephanie! I'm so happy we were finally able to host your wedding (two years after it was originally planned for!). The restaurant looked beautiful and worked out great for your intimate wedding. It was lovely working with you both and I wish you all the best! Thank you.

Marielou

Married on 28/12/2019

My sincere gratitude to The Waterside Inn (Our Wedding Day 28.12.2019)

This review may come abit late but wanted to express my sincere gratitude to The Waterside Inn (Our Wedding Day 28.12.2019).  It was the perfect wedding we'd hope for and more.  The staff were very attentive to our needs the night before, the day of and even after all the festivities. Marlene was a wonderful coordinator to work with. We were in good hands as the reception part of our day started.

My fiance, at the time, and I had other vendors to look into however the Waterside Inn was the venue we found that could take >50 of our friends and family for a lunch wedding before the end of the year. We honestly had less than four months to plan as we wanted to start the new year together and move into our new place.
Leading up to our special day, I'd say the hardest part of our planning was the dietary restrictions that came with our families.  God bless Marlene for taking my emails, random questions and concerns into consideration.  This venue is very experienced with food allergies and dietary requests for many different kinds of events. She was very professional and provided us with seating charts (often constantly revised), menus printed, candles and other details that we didn't have to worry about.  The children's meals and even the individuals with allergies were well taken care of by the staff, it wasn't even on my radar when everything began.  
We had so many compliments on the buffet and how all things were kept hot and well prepared.  It was a nice sunny day (the only sunny day that week as there were many winter days that Christmas week) that we took even a few photo shots outside near the harbour which was unplanned.  All that planning and it went by so fast!  My relatives enjoyed their condo-style suite the nights they stayed were over.  The staff even helped to print our speeches the night before.  Everyone enjoyed our Christmas-style wedding!
The brunch the next morning was delicious and a nice compliment to end our stay.  I've heard of their Sunday Brunch before and it was amazing to finally try it.  It was so nice to see Mohammad and similar staff faces again take care of us and their excellent service. 

As we are in trying times, I would highly recommend this affordable venue if interested in the micro wedding or brunch or lunch wedding.  If our lunch wedding went this smoothly I'm sure they would have done a phenomenal job for a full-day affair.  Thank you Marlene and the Waterside Inn staff for being a part of the best day ever! 

The Waterside Inn's reply:

It may have been delayed but worth the wait! And it looks like I'm really late to replying to it as well! LOL My apologies for missing it - 2020 was a crazy year!

Thank you so much for your amazing review! It's so wonderful to read your feedback and I'm so happy that you were able to enjoy your day! We definitely have a great team here, and take pride in every event we host.

Thank you so much and I truly hope to work with you both again soon!



Jaimee K.

Married on 06/07/2019

We had the most AMAZING wedding!

I would recommend the Waterside Inn to anyone looking for a venue for any event. Marlene was amazing to work with. She was easy going, attentive, competent, and responsive. If any issues came up she worked them out with me. She made me felt at ease and on the day of my wedding I had nothing to worry about as I had full confidence in her, and she did not disappoint. Our wedding day ran so smoothly and was absolutely beautiful. We received so many compliments from our guests. Many of our guests told us it was the smoothest running wedding they had ever attended. And the food was absolutely delicious! Again, our guests raved about the food. Toni was the manager during our reception and was also very attentive and made sure we were happy with everything. He was also great to work with. I would highly recommend the Waterside Inn.

The Waterside Inn's reply:

Thank you so much for your amazing review Jaimee! I truly enjoyed working with you (and your family!) and help in the planning of your beautiful day. I hope we can work together again in the future! Wishing you and Kevin all the best.

Rachael R.

Married on 25/05/2019

AMAZING! Thank you Waterside!

My husband and I just had our wedding there and it was totally incredible! The prices are reasonable, the staff is AMAZING, the food is incredible!

Marene was an amazing wedding planner and she was always on top of things and just a delight to share in our wedding time with :)

The Waterside Inn's reply:

Thank you so much for your amazing review! It was a pleasure working with you and helping to plan your wedding day!

Meagan

Married on 30/09/2018

Brunch Wedding

We held our ceremony and brunch reception at the Waterside Inn. We were happy with the catering staff, food and venue. Waterside provided all the linens and some light for the table, I provided my own table numbers and small floral centrepieces. The catering manager Marlene Barcelos and her team did an excellent job in all the coordination.

The Waterside Inn's reply:

Thank you so much for your wonderful review! It was a pleasure working with you both and I wish you all the best!
Are you interested?
Send a message