Reviews for Chelsea Hotel Toronto
Awards
9 User photos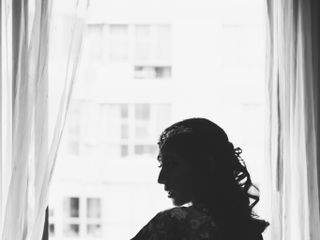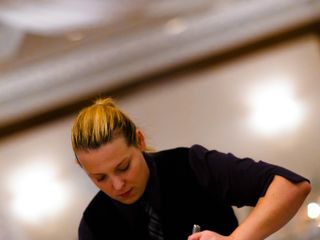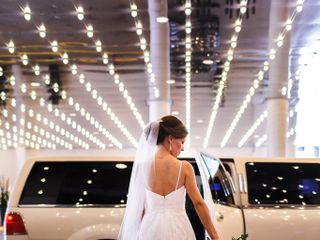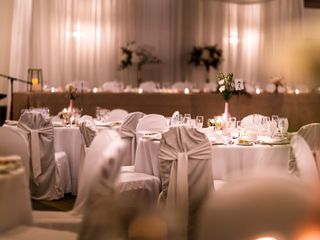 Anne Lise · Married on 25/11/2020

⭐⭐⭐⭐⭐ Outstanding Experience!

We chose Chelsea Hotel both for their inclusive approach and support in organizing a multi-cultural wedding and for the location itself - we found the B33Bistro perfect for our plans.

The Chelsea Hotel team has provided outstanding experience from the very first moment we talked to the wedding specialist at Canada's Bridal Show. Their expertise and open minded attitude in dealing with a wide range of wedding plans made it so easy for us to organize our fusion wedding.

They provided incredible support when we had to postpone our wedding because of the pandemic. We ended up pushing the date from April to November and their team supported our
project with such a positive and stress-free approach that they made it way easier for us to navigate the unknown. A lockdown was declared a week before our wedding so in the end we couldn't have our wedding at their venue... but they still found a way to make our micro wedding-at-home a very special occasion. The dinner from their Chef was one of the highlights of our day: not only was the food delicious but they went above and beyond to deliver it to us. We truly appreciated their dedication and professionalism and will definitely think of Chelsea Hotel for our future events.

Sent on 12/12/2020

Chelsea Hotel Toronto's reply:

Anne-Lise and Naresh, thank you so much for your wonderful note. Although, we weren't able to have you here in person, we were thrilled to have been a part of your wedding day! I have shared your compliments and gratitude with our culinary team. On behalf of the Chelsea Hotel, Toronto we wish you a lifetime of happiness and when it is safe to do so, we hope that you will have a chance to visit the hotel!

Lucy Kpiebewieng · Married on 19/09/2020

A great experience!

Our wedding ceremony and mini outdoor reception were held on September 19, 2020. From the initial process back in June all the way until we checked out, the staff showed kindness, empathy, and respect. We are extremely grateful for this – especially amid the pandemic times we are in and especially given the fact that the Chelsea was the cornerstone for a complete shift in our wedding plans this year.
The management team and or Director of Catering Services, Leslie, was amazing! She was consistent in her transparency, patience, and her ability to accommodate and find solutions to changing scenarios through the many correspondences we had with her.
As a collective, ALL of the staff were thoughtful and flexible during the set up, throughout, and after the event. COVID-19 protocols and planning were well thought out and implemented.
Using this space was convenient because we were able to book rooms for the wedding party, family, friends, and the honeymoon suite.
Our families felt welcomed, safe and all of them could also attest to the great service. Everyone kept complementing our space and how classic and elegant everything was.
Thank you!!

Sent on 02/12/2020

Chelsea Hotel Toronto's reply:

Thank you Lucy & Ernest for your very thoughtful note, I will be sure and share your compliments with the Chelsea team! We were thrilled to be part of your wedding day. Watching your family and friends celebrate your day with you was amazing. All of the special moments are so very important, especially now; sharing joy, smiles and laughter. We wish you a wonderful life together and look forward to the chance to welcome you back!

Ilqua Mahmood · Married on 12/08/2019

A wonderful and beautiful experience

The Chelsea Hotel was the perfect place to get married. We fell inlove with the venue, but what sealed the deal was the amazing team of people who were so helpful, understanding and patient, who made not just the wedding day gorgeous and stress free, but the days leading up to the wedding were so amazing. I did not have to worry about the decorations, the planning, the flowers, the chelsea hotel had it all covered. Everyone loved the food, the salmon is amazing. I personally love all the little touches, The staff and event planners really know what they are doing and are with you at every step. A special thank you, to Carly, Michelle and all the wonderful servers and staff working with us through out the process. I would really recommend choosing the Chelsea for your wedding venue, you get a great price, less stress and most importantly, people who actually care about your wedding process and your and your guests' happiness. I will add more photos of the venue as I get them, but just for now, brides, the honeymoon suite is GREAT for those special getting ready photos. Also there's a hot tub1! The perfect way to unwind afterwards.

Sent on 14/08/2019

Chelsea Hotel Toronto's reply:

Thanks for the awesome review, Ilqua!! We work hard to meet expectations like yours, and we're happy to hear we hit the mark for you. We are honored we got to take part in your celebration of love and marriage. May this be the first of many days filled with love and laughter. Many thanks again from the Chelsea team!!

Charrisse David · Married on 20/07/2019

Everything was perfect, spotless, and just lovely!

We do not think there are enough words to express our gratitude with the outstanding service we received for my daughter's birthday party. Everything was perfect, spotless, and just lovely!

This event would certainly have not been possible and we would not have been able to reach the finish line without the patience and hard work of Carly Boyes. We had changes to the plan throughout our planning period, including some last-minute change leading up to the event. Carly was very accommodating, responsive, open to our suggestions and was ready to provide helpful advice and feedback to enhance the evening and ensure our success. She is truly a planner extraordinaire.

Speaking of extraordinary, the menu for the evening was truly well-crafted, and we have the genius of Chef Brian MacAskill to thank for that.
He knew the perfect set to recommend for our special occasion and always connected with us to ensure we are happy. Our guests were just thrilled and could not stop raving about the excellent, delicious food they enjoyed. We received high praise and our guests to this day will not stop talking about how much they enjoyed their meals.

We would also like to thank Eric Frenzel and Michelle for taking care of us day of the event. Chelsea always stood by the culture of empowering employees to wow guests and Eric has show-cased this value. Our decorator forgot to bring the envelope box but Eric came to the rescue and took the initiative to go to Marshalls and purchase an envelope box for us. This speaks volumes! It was something small but meant a lot to us.


Sent on 25/07/2019

Chelsea Hotel Toronto's reply:

Hi Charrisse, I just wanted to take a moment to thank you for your very kind note. It was such a pleasure to be part of this very special day. The decor was something I couldn't wait to see and it look absolutely beautiful. You truly captured the essence of what you were attempting to achieve, and I had the absolute pleasure of helping you deliver the birthday of Cayla's dreams. We look forward to welcoming you back anytime. Many thanks again!

Chris Go Bio · Married on 06/04/2019

Smooth....

Our wedding reception was held @ BB33. It was perfect!

Sent on 09/04/2019

Chelsea Hotel Toronto's reply:

Chris, thank you for the great review! Many congratulations on your big day and thank you for such kind words! It was our pleasure to host your wedding reception here at the Chelsea Hotel, Toronto. Wishing you and Claudia a lifetime of love and happiness.

Libster · Married on 27/01/2019

Good-we would recommend, Great value

The food was ok, but set-up professionally. The chicken and beef were dry. The serving staff and event managers were all very nice and helpful. There were some surprise fees so I would ensure you look through the estimated costs that they provide you carefully. The value is pretty good given the package is pretty inclusive. Overall, the day was extremely smooth and all looked after. The honeymoon suite was amazing! The other standard hotel rooms were not the best, but good enough for downtown Toronto for what they charge. The event manager was flexible and helpful. Overall, it was great experience.

Sent on 14/04/2019

Chelsea Hotel Toronto's reply:

Dear Patricia, thank you for your time to provide us with your valuable feedback relating to your stay with us. We are sincerely concerned and apologise that we fell short on your expectations in some areas. Your helpful comments are much appreciated, and your feedback will help us to continually improve the standard of facilities and services offered to all our guests. Heartfelt congratulations once again on your wedding day!

robert · Married on 15/09/2018

Everything went great in no small part to their help

We got married in September 2018 and hosted our reception at the Chelsea. Everything went smoothly and was relatively stress free, with so much thanks to our Chelsea wedding planner, Farahna. She was super responsive and helpful with all the back and forth emails in the months leading up to the wedding. She provided so much assistance with how to organize, help with vendors, samples, etc. The day before and of she took care of so many details for us, especially with decorations and coordinating vendors. I can't understate how much stress she took off of us.

The hall we had was more than big enough to fit our relatively small guest list of 75, photo booth, dance floor, and stage for a live band. Our guests were super happy with the dinner the Chelsea prepared, and for us the cost per head with an open bar, quality, and everything else included, we had no regrets. The staff were also all great and professional.

If there was one thing that was a little disappointing was we were told our bar couldn't be in the same room as the band, which was a minor inconvenience, but it created a bit of a divide when people left to get a drink and socialized away from the dance floor for long periods.

Overall though we're super happy with our decision and can't thank Farahna and everyone else at the Chelsea for helping to make our wedding day what it was.

Sent on 01/03/2019

Chelsea Hotel Toronto's reply:

Robert, thank you for the kind words. I'm delighted to hear that you had such a great experience interacting with Farahna. I will definitely relay that message to her and the rest of my team. Feedback like this helps us constantly improve our customer experiences by knowing what we are doing right and what we can work on, so I appreciate you taking the time to send us this helpful response. Congratulations again on your wedding day and best wishes to you both for a happy life together!

Katie · Married on 02/08/2018

A magical night

Could of not asked for a better venue to have my wedding! Carly and Jody were just incredible to work with! Thank you both for making my day so special. From the moment I first made contact with the Chelsea to the very end of the evening, the service was just amazing!

Sent on 14/08/2018

Chelsea Hotel Toronto's reply:

Thank you for leaving such a nice review. We are glad that you and your family loved our services, and our dedicated staff will be pleased to learn of your high praise. Wishing you many more days as happy as this one, many more occasions for celebration, and a lifetime of love and laughter. Thank you, once again, for your kind words.

Nicole Ballantyne · Married on 28/07/2018

The Perfect Venue for your wedding reception

We had our wedding reception at the Chelsea Hotel in the Mount Batten Ballroom. We had our ceremony down the street at the Metropolitan United Church. The planning and lead up to the wedding was very well managed and I had a lot of choices and flexibility when choosing colours, food, decor etc. If something is not listed or mentioned, just ask them and they will make it happen. There are so many things included in their wedding package that help keep your costs down and also make your life easy. Some inclusions were, Save the Date cards, flowers, chair covers and an overnight stay in the gorgeous honeymoon suite on your wedding night! They also helped me with my center pieces by allowing us to use (for free!) gold charger plates and wine glasses for floating candles. The day of the wedding was perfect and we were so happy with everything - the food was delicious, the service was great, and best of all, many of our guests stayed overnight in the hotel, which kept our party going all night! Our guests are still raving about how much fun the wedding was and how great the venue was. I would highly recommend the Chelsea Hotel for your wedding reception - you won't be disappointed!

Sent on 03/10/2018

Chelsea Hotel Toronto's reply:

We are incredibly grateful that you took the time to leave us this note. Its customers like you that make our job wonderful. Congratulations once again on your wedding day! We wish you all the joy and happiness married life can bring you! We look forward to serving you again.

Caitlin Dabrus · Married on 25/05/2018

July 2018 Wedding

The Chelsea Hotel went above and beyond for myself and my husband, they made every little detail perfect. The Chelsea was very accommodating to every need we had! They were a pleasure to work with! Nicole who is one of the event managers, was a pleasure to work with, she helped us the entire wedding process. She made a crazy stressed out bride... feel comfortable and made me feel that my wedding was in great hands!!! Highly recommend. Thank you once again to the Chelsea Hotel, for making our day more perfect that we could've imagined.

Sent on 17/09/2018

Chelsea Hotel Toronto's reply:

Thank you for taking the time to leave us such a beautiful review. It's only when we receive such positive feedback that we rest knowing that we have done our jobs well. Thank you for giving us this proverbial pat on the back, you made our day! Congratulations once again to a beautiful couple. Wishing you a wonderful journey as you build your new life together.