Reviews for Rolling Acres
Awards
3 User photos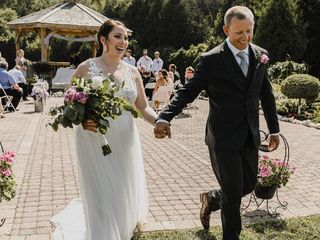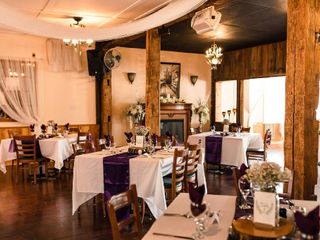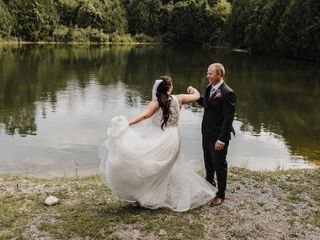 Kaitlyn A. · Married on 15/08/2020

2020 Covid Wedding

Diane was so accommodating and helpful during the constant changes with covid restrictions. We were able to have our very small wedding which turned out better then we could have ever imagined.

Sent on 01/09/2020

Bridget · Married on 02/11/2019

Amazing Durham Region Wedding Venue

I can't say enough good things about this venue! Diane and the team at the Rolling Acres were always very responsive to any inquires we had along the way and helped keep everything organized on the big day.

The food was absolutely fantastic and we kept hearing from our guests how it was some of the best wedding food they've ever had! The portions were very generous and there was a wide menu selection- pleasing all our guests.

The scenery of this venue is perfect - it made for fantastic wedding photos and there was plenty of spots throughout the property for photo opportunities.

Diane and the team were very accommodating to our last minute requests, including an open bar and helped everything run smoothly! The service was great and very quick, no huge line-ups.

For anyone looking to book a venue in Durham Region, Diane is very straight forward, professional and thorough. The Rolling Acres is a well-oiled machine and went above and beyond our expectations for a venue. Based on all of the above, we highly recommend this venue!

Sent on 11/11/2019

Rolling Acres's reply:

Thank you so much for your review Bridget & Randal, we all enjoyed sharing your special day with you both and your entire family.

All the best

Diane

Kim S. · Married on 25/10/2019

Excellent Experience

Very flexible and accommodating, provided great ideas.

I would recommend The Rolling Acres to host your event as our Wedding was a pleasant and experience.
The event was decorated beautifully and has a nice country feel with elegance.
The people at the Rolling Acres are very pleasant to deal with.

Kim


Sent on 08/11/2019

Rolling Acres's reply:

Thank you so much Kim and Brian, we all enjoyed being apart of your special day.

Warm Regards

Diane & Lou & Staff

Mike S. · Married on 02/08/2019

Perfect Wedding Venue, or any occasion!

Put simply, Rolling Acres is the PERFECT venue to host your wedding, or event!
We highly recommend it and cannot thank Dianne and her Team enough. They really brought our Wedding Day together. The location, Venue and the food was all immaculate!

The grounds are beautifully landscaped and manicured which provided excellent backgrounds, contrast and shading for our photos. We did our First Look here as well. The photos turned out so well!
There is a variety of trees, a wonderful meandering River that you can get right up to the banks (really cool photos.), the gardens are well kept and beautiful and the Wedding Gazebo Dias overlooking the turquoise pond is stunning!
The Wedding Dias is an ~500 sq ft paved area surrounded by gardens and planters. It is so well kept we didn't need flowers of our own.

The Venue itself is rustic-modern, very tastefully decorated and well laid out. A lot of class and character! We love the wood beams. There isn't a bad seat in the house for all the Wedding events!
The Bar is large and has a selection to match! The Standard Bar menu was awesome. The exclusive craft beer is amazing. We did consumption-style.
The dance floor was awesome and kept our Wedding groovin' the entire time with Rolling Acres resident DJ, Darryl. You definitely have to go with Darryl. Spot on DJ. He read the crowd so well. We had so many people say how great the music was.

So, the food. The food is SO good! It's all fresh purchased the day of the wedding and made in house. Fresh, never frozen...What!!! Homemade. It was everything you could hope for. Cooked perfectly and delicious. Many of our guests were asking for seconds even though they were full.
The Maple Glazed Salmon was a fan-favorite, the Prime Rib was fall-apart good with a really good horseradish, the oven roasted chicken was savory and the vegetarian meals were great!

Dianne is the Proprietor and she is amazing! Not only was she so accommodating of all our (very short notice) requests, she is a down to Earth, honest and a fair business person.
Plus she's really cool! She made us feel like family and we really enjoyed our experience.

Dianne, thank you so very much for being a spectacular Hostess! We will be back.

Sent on 01/03/2020

Rolling Acres's reply:

Thank you so much for the review Mike & Megan I can't express how much Lou and I and our staff appreciate such kind words

Sarah W. · Married on 22/06/2019

Great venue, not so great staff

The venue was beautiful and the food was delicious! Everything leading up to our day was smooth and dealing with Diane was great, until the day of the wedding she was a completely different person. She ignored guests at the bar who wanted to order drinks, even a bottle of water! She accused guests of drinking in the parking lot when they were not and she did not act pleasant towards really any guests that day. By the end of the night she was yelling at members of my family and friends who she was demanding we pay to fix a toilet when a guest had slipped and fell in the bathroom due to water being on the floor. This should have been something left to handle the next day, not that evening. It was not pleasant experience at all dealing with Diane on the day of the wedding and it put a very bad taste in my mouth as well as many of our guests. I will not be recommending anyone to this venue unless someone new is running the place.

Sent on 07/12/2019

Rolling Acres's reply:

Thank you Sarah for the wonderful comments on our Venue and food, I will not comment on the other matters, the staff and I take great pride in what we do to ensure each and every wedding is wonderful, I am just sad that what you have said in the above is far from the truth. Wishing you all the Best Diane & Staff

Heather C. · Married on 09/02/2019

the perfect venue

Diane at Rolling Acres was brilliant throughout our planning process with her, we booked the venue only 45 days before our wedding so as you can imagine a lot of things were very last minute. Diane was quick to respond and always there if we needed any help. She even sent us numbers for officiants to speed that part of our day up. The venue itself is STUNNING! very rustic and intimate, we had 60 guest and the venue didn't feel empty but a larger wedding could have been hosted comfortably without feeling crowded. The grounds are beautiful, we were limited on our outside photos due to the icy conditions we had the week of our wedding but the grounds would be beautiful for photos or a ceremony in more favorable weather. we were able to set the hall up the day before the wedding which took a lot of the stress off us on the day as we knew it was perfect! We offered our guests 4 meal choices, Beef Rib Eye, Chicken stuffed with Harvati and Asparagus, Cheese Tortellini and Vegetable Risotto. The portions were very generous and the food was AMAZING! all our guests told us the food was great and nearly everyone struggled to eat it all - if you are unsure about not having a tasting, you do not need to be, the food is top notch! My mother-in-law is very fussy with wine and wanted to change the wine available on the tables and throughout the night, Diane was happy for us to choose whichever wine we wanted and ordered it in just for our wedding. On the day Diane made sure everything ran smoothly and we couldn't have had a more perfect day!

Sent on 13/02/2019

Rolling Acres's reply:

Thank you Heather & Kevin, we all enjoyed hosting your wedding and wish you both all the best.

Warm Regards

Diane & Staff

Chad · Married on 14/07/2018

Dream come true

Diane and her crew at Rolling Acres played a large part in making our day perfect (i literally mean perfect). We are not the most organized people when it comes to weddings/ Partys but The Rolling acres helped every step of the way to let us know what stage we should be at at that point. This made the process so simple and fun. The venue was truly breathtaking between the indoor decor and the stunning fountains, pond, structures and gardening outdoors. The staff was very helpful and filled with smiles the whole time. We cannot thank you enough for your great recommendations with our DJ (Darryl Sutton) and lastly just for contributing all your efforts into out special day!!

We 100% recommend Rolling Acres and the lovely staff!!

Sent on 23/07/2018

Rolling Acres's reply:

Thank you Chad & Mandy, it was our pleasure to host your special day and enjoy all your wonderful guests and family, from all the staff and Lou and I we wish you all the best

Tammy B. · Married on 08/07/2017

The Rolling Acres was great Diane and her staff did everything as I requested and were awesome at making everything look beautiful so I didn't have to worry about anything Lou does a great job at keeping the grounds beautiful, and transporting guests on The golf cart. The food was great and served hot, there was a great amount so know one was hungry. Great value for the money. Would highly recommend best staff ever!!!!

Sent on 09/08/2017

Rolling Acres's reply:

Thank-you so much for the review, Lou and I and our staff really enjoyed sharing your special day with you.