Reviews for Kenzerama Productions
Awards
2 User photos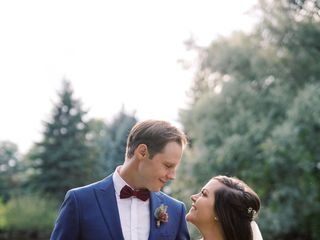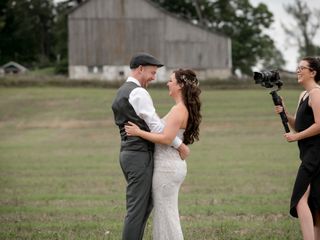 Featured

Sarah Machin · Married on 07/12/2019

Couldn't Recommend More

Mackenzie and Theo were both amazing to work with from the first e-mail to receiving the finished product. They are both so professional and talented but also just such genuinely fun and kind people that it's sort of like having old friends attend your wedding except you get an incredible video out of it too! The actual footage that was shot is stunning but the editing/angles/music selection show what a talent Mackenzie is. You will be absolutely thrilled with the final product if you book her and will have a lot of fun along the way. 15/10 could not say enough good things about Kenzerama Productions.

Sent on 22/09/2020

Kenzerama Productions's reply:

Thanks so much Sarah! It was such a pleasure shooting your day, and to bring all your dogs to the ceremony was icing on the cake! You also couldn't have picked a more gorgeous venue for a winter wedding!

Alessia Ciarrocchi · Married on 25/09/2020

AMAZING!! Best video ever

Mackenzie and her team were amazing! Her personality and professionalism was out of this world! Captured it all and couldn't be more thankful! DEFINITELY BOOK HER!!!

Sent on 30/09/2020

Kenzerama Productions's reply:

You and Michael were amazing!! Thank you so much for your kind words, and being so much fun to work with on the day of! We had way too many laughs together didn't we? I am so glad we snuck out just in time for some shots in-front of the taco truck! It looks so great, and I can't wait for you to see the rest!

Lindsay Risch · Married on 20/06/2020

The best of the best

I wish we could give Mackenzie and Theo even more stars! They are soo incredibly wonderful and talented. I had posted on a facebook wedding group that I was looking for a videographer, and I got TONS of messages, but Kenzerama stood out to me, and I am SO GLAD that it did. Their attention to detail, the music transitions, the audio for our vows, the drone footage - We really cannot recommend them more. In addition to this, they are both so fun! We can't thank them enough for what they have given us. Our video is more stunning then we ever could have imagined, and we will truly cherish it forever. Thank you Kenzerama!

Sent on 16/11/2020

Kenzerama Productions's reply:

Awww thank you so much Lindsay for allowing us to be such a big part of your day. I can't get over how beautiful everything was, and how much fun all of your family and friends had! I think Max and his groomsmen take the cake for making me laugh the most on the job! Haha!

Frances D Morency · Married on 11/03/2020

I love working with Kenzerama

As a photographer in the wedding industry, I would get so excited when I found out I was working with Kenz that day. It truly makes a difference when your photographer and videographer know each other and their shooting styles sync. It's easer to get better coverage and less stressful for the couple. We always look forward to working together at weddings.

Sent on 24/01/2021

Kailin Murfin · Married on 17/01/2020

Kenzerama made our wedding day

Not only is the team at Kenzerama professional, they are also flexible, creative and put their hearts into the work that they do. My husband and I had stages to our wedding, that meant that some people would not be present for the ceremony. Kenzerama did a same day edit of our "getting ready" moment and our ceremony for those at our reception to see. Not only did they complete all of this within 5 hours ( all shots and fully edited), but what they created felt truly like a mini movie of our big moment. It left us and our guests in tears and was a great way to re-live the moving portion of our wedding with those who couldn't be there at the actual ceremony. The shots felt so intimate and yet I barely realized they were there (except when they were cracking jokes which is another great reason to work with these folks). Not only did we have this great shorter same day edit, but the final video they put together for us was absolutely amazing and captured every part of our day beautifully. My husband and I truly cherish this video and are so grateful to have had the folks at Kenzerama capture and preserve our day in such a beautiful way. I truly encourage you to book Kenzerama, they truly capture the memories and magic of your special day in a way that is unparalleled by other videographers.

Sent on 23/09/2020

Kenzerama Productions's reply:

Thank you Kail! Everything about your day was picture perfect! We had so much fun being able to capture the intimate moments of the day to to show the guests at the reception. I think your wedding will go down in the books as the coldest day of the year! aha! Thanks for allowing Alex and I to be so creative with you both when it came down to running around downtown. It really came out beautifully in the edit. Wishing you both all the best!

Mandy Noonan · Married on 31/08/2019

The most amazing human ever. I can't even put into words how phenomenal my experience was.

When looking for a videographer for our wedding we had numerous phone calls, Skype calls and emails with different videographers and I didn't really feel great about anyone. Until that is, Mackenzie came along. We instantly clicked, it was like I not only hired an amazing videographer but I also made a great friend out of it.

Everything from the start of our planning process to the end was absolutely flawless and everytime I watch the final project I am stunned with how perfect it is. Mackenzie truly works with you to make sure the final product is exactly what you want. And she makes the shooting FUN! My husband and I had a blast getting footage and I think our amazing experience comes from what an amazing person Mackenzie is.

I honestly do not have one single bad thing to say about my experience and I rave about her to all my friends to this day. I have made an amazing friend for life, and we still talk to this day!

Sent on 22/09/2020

Kenzerama Productions's reply:

Mandy, way to make me cry! You obviously know by now how much fun I had shooting with you both, since I tell you all the time! Haha! You were both up for anything- including hoping in an ATV and being a few minutes behind schedule just so that we could get the perfect shot by the water (which exceeded both of our expectations).

Thank you so so much for all of your kind words not only on here, but every time we both gush over that day. I am so happy to have made such an amazing friend that day.

Ian Burns · Married on 30/08/2019

Event Planner

Mackenzie is so great! Professional, timely, collaborative, and full of great ideas! Would highly recommend.

Sent on 30/08/2019

Kenzerama Productions's reply:

Thank you Ian! I loved bouncing ideas off of you both throughout the day. We had such a great time!

Charife Rabah · Married on 24/08/2019

Amazing Videographer & such a great person to work with

She was so attentive and did a great job of executing all the little details I had discussed with her! The video turned out exactly how I had wanted it to! Also a fun and vibrant person to work with!

Sent on 22/09/2020

Kenzerama Productions's reply:

Thank you Charife for the kind words! You had quite the party, and it was so much fun diving right in the middle of the action to capture it all! We had a few great conversations leading up to the big day, so I knew exactly what you wanted to see out of your video. I am so happy I was able to be there and capture everything for you.

theo_b@me.com · Married on 16/02/2019

Absolutely Amazing!

Having Mackenzie video our wedding was an absolute pleasure!

From when she arrived in the morning, she was such an incredible help and great to have with us throughout the day. She captured everything we could have possibly wanted, and the video she made for us was amazing! We've shared it with all of our family and friends, and have rewatched it over and over.

It was important to my wife that she had a female videographer, and was extremely happy to have decided on Kenzerama Productions. Mackenzie was a huge help all day, helping with the dress, veil and she just made my wife (and myself) feel so much more comfortable with having some recording us all day.

Highly suggest that anyone who is looking for a videographer speak with Mackenzie, you will not be disappointed!

Sent on 15/07/2019

Nick Dasko · Married on 10/06/2018

Mackenzie is awesme

Mackenzie really made us feel like she understood our needs right away and did every single thing she could to accommodate every insane request we made.

Sent on 27/08/2019

Kenzerama Productions's reply:

Thanks Nick! I loved all of your requests, as you know I always like to push the bar and see how creative I can get. Shooting with the two of you allowed me to do that, and I absolutely loved every minute of it!