39 reviews
Quality of service

5 out of 5 rating

Response time

5 out of 5 rating

Professionalism

5 out of 5 rating

Value

5 out of 5 rating

Flexibility

5 out of 5 rating
21 User photos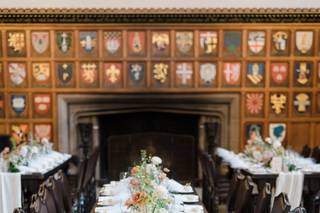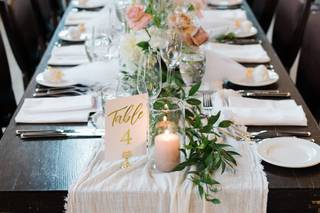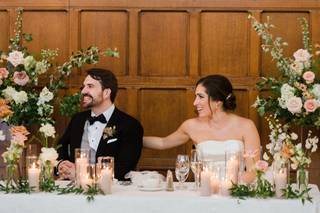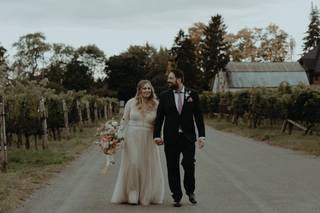 + 17

Photos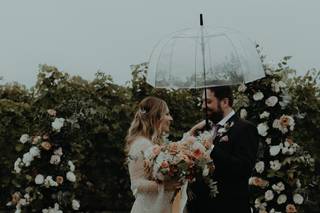 Lorena C.

Married on 15/07/2022

We couldn't have done with without her!

My husband and I got married on July 15th, 2022 at Elora Mill. Karina was a part of our team from the very beginning (July 2020). She was incredible from start to finish and helped us plan the wedding of our dreams. Everything ran smoothly and was stress-free! She is the type of planner that will get things done efficiently, quickly and professionally. We cannot thank her enough for working with us to execute our wedding vision and keeping things in our price range. I am sad we will no longer be working with Karina! We highly recommend her!

Karina Lemke Wedding & Event Design's reply:

I am sad we will not officially be working together as well but I have a feeling our paths will cross. Thank you for being wonderful! It was a pleasure and I loved, loved, loved all of your amazing dog and cat details. From one fur-baby lover to another - your wedding was puuuurrrfect! Thank you for the lovely review - it is so very appreciated and please share pictures when you have them. xx

Lia R.

Married on 28/05/2022

Hire Her! Trust Me!

Karina was everything and more that I had hoped to have in a wedding planner. She would often respond to emails within minutes (sometimes at 7:30 in the morning or 11:00 at night!), found creative ways for us to save some money while still having an extraordinary wedding, and was there for the guidance that we so desperately needed. Trust me when I tell you that planning a wedding is an enormous endeavor that can occasionally get quite overwhelming. There were so many things about planning a wedding that I thought I either would know or could find out online, but when vendors started asking certain questions about details closer to the date, I realized how little I actually knew! The most incredible thing about Karina was her ability to practically pick out a vision from my head despite my difficulty with articulating what I wanted (for quite some time, I didn't even know!) and make it come to fruition. Everyone has been texting and emailing saying that it was a fairy tale wedding, and there's absolutely no way we could have done it without Karina.

Sarah

Married on 11/12/2021

Thank you Karina!!

We can not emphasize enough how glad we are that we made the decision to work with Karina as our planner, especially navigating the ever changing and always confusing time of trying to plan a COVID wedding. Having Karina on our team brought us peace of mind.

There seemed to be an endless list of decisions, spreadsheets and tasks that we never even imagined until Karina explained and helped us through them. We also know in the background she was doing a lot of work and managing issues that we never even had to worry about.

We were absolutely delighted with every vendor that Karina recommended as well. We very much trusted and relied on her guidance throughout the whole process.

Karina, thank you so much for being a guiding light on this wonderful journey and helping bring our vision to a beautiful reality!

Are you interested?

Send a message

Nicole

Married on 04/09/2021

Karina for the win!

I don't even know where to start - there are not enough words to explain how amazing Karina truly is. Her support, kindness, knowledge, and communication leading up to the day are unmatched. Then came the wedding day and I was blown away! Her attention to detail, work ethic, and organization are what every bride needs on their wedding day. Our day was the smoothest and most perfect day we could have ever imagined. Thank you so much, Karina, for your support and guidance in making our wedding the best day of our lives. You are truly amazing!

Laiya C.

Married on 10/07/2021

Karina was a life saver!!

Karina was one of the best decisions we made when it came to planning our wedding! She was so attentive and there with us every step of the way. Karina finds the perfect balance of supporting you even if your choices are untraditional, but also gently redirecting when she thinks you're going in a direction you'll regret. We hired her before we had any concept of what chaos covid would cause, and when we finally realized we'd have to reschedule our wedding once (and nearly twice) it was a huge weight off our shoulders having her. What would've been hours spent chasing vendors for new dates and exploring options was whittled down to a total of two emails between us and Karina to find the new date. When we again had to change our plans she was always there and willing to get on the phone to talk through ideas, contact people for options and help keep us from losing our minds.
Even if you don't think you need a planner for everything leading up to the wedding, at minimum you need Karina for the month and day of. She is so knowledgeable about timing and scheduling and kept my optimism from creating an impossibly tight and chaotic schedule. Day of I didn't even bother having my phone on me because I knew Karina had it all covered. She made sure the reception space was breathtaking, from helping me choose candles, to chasing down linens when I decided I wanted them with only two weeks to go, and then actually pulling it all together day of. I wasn't worried for a second because I had complete faith she had us covered. I swear she has supersonic hearing - when I was commenting about a blister on my heel before the ceremony, she materialized an instant later with moleskin in hand and personally bandaged my feet.
Karina knew how important it was to us to get to dancing ASAP, and when a taxi fiasco led to my grandfather being late and set our ceremony back nearly an hour, Karina chased the kitchen staff to move the meal along as quickly as they reasonably could without us even having to ask her to.
All in all, you would be so lucky to have her on your wedding day and we can't recommend her enough!!

Dora L.

Married on 23/05/2021

You won't regret it

Karina was amazing! We chose a partial planning package and were very happy with the service she provided. She was extremely attentive, flexible, and detail-oriented. She helped us connect with trusted vendors, and we had great experiences with all of them. She helped us stay within budget. Overall, money very well spent!

Laura

Married on 23/12/2020

Wonderful experience!

Karina was fantastic to work with throughout the wedding planning process! My husband and I got married on a VERY quick timeline and we loved that Karina embraced this! Karina provided full-service planning for us and we were so happy with the result. She put together an amazing team, was always available to help & talk through our options! She also helped us prioritize what was most important to us throughout the wedding planning process. Karina was super calm and helped us navigate multiple wedding changes due to Covid (on top of the short timeline!) We can't thank Karina enough and would highly recommend. Not only is Karina very talented at what she does but is also fun to work with!

Karina Lemke Wedding & Event Design's reply:

Awe... Laura, thank you so very kindly for your thoughtful words. It was my absolute pleasure to help you and Job navigate wedding planning under the cloud of Covid...

Your wedding was BEAUTIFUL and I couldn't be more pleased that you and Job managed to enter 2021 as a happily married couple!

The Best Is Yet To Come!
Karina

Petra J.

Married on 13/10/2020

A Dream Come True!

There are no words to express how incredible Karina is. She instantly understood what our needs and wants were, and knowing everything and everyone in the industry, her recommendations were absolutely spot-on. She went above and beyond to make our perfect wedding come true, and all along was incredibly supportive - I always felt like she put us first. She made my entire wedding planning completely stress-free. No matter what you need or want, Karina will never miss a single detail, and she will get it done for you as best as anyone possibly can. I cannot recommend Karina enough!!!
Thank you Karina for everything!!!

Kathy S.

Married on 03/10/2020

COVID wedding expert!

I reached out to Karina in utter despair, our wedding was two months away and our venue was still closed. We wanted so badly to get married, but didn't know what to do or where to start. After endless scrolling on Instagram about microweddings, I found Karina and reached out to her. She responded immediately, asked if she could give me a call, and gave us the best advice. She really turned everything around for us, helped us come up with a new plan VERY quickly, and delivered the microwedding of our dreams. If you work with Karina, you'll be working with not only a very talented planner, but a super kind and compassionate person. She talked me down through all the crazy happening with the pandemic, and always had an answer for everything. She had great ideas, was incredibly detailed and was able to help bring all of our vendors on to our new plan. She truly went above and beyond to make sure that everything was perfect for us. Our wedding day was incredibly memorable and special, and I am so thankful every day that I found Karina that Saturday morning.

Stephanie

Married on 19/09/2020

My Advise...BOOK HER! She is simply the best!

There aren't enough words to express our gratitude to Karina! Our wedding day last month was a dream come true and it would not have been possible without her. Karina's guidance and support throughout the entire wedding planning process made planning our dream wedding an enjoyable experience.

Karina is such a great resource. She put our entire wedding together, helped source amazing vendors that lined up with our vision and created the BEST wedding day timeline I have ever seen! She remained open and honest with us the entire time and we quickly grew to really value her input and trust her.

Karina was a pleasure to work with. Her expertise and creative flair is second to none. It's clear that she loves what she does and it just comes so naturally to her.

So if you're still on the fence, reach out to her. You will not regret it! Booking with Karina was one of the best decisions we made.
Are you interested?
Send a message