Reviews for Mabrook Studios
Awards
26 User photos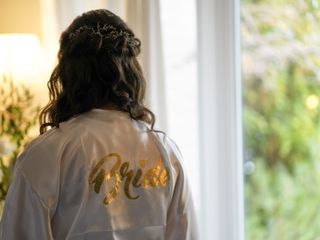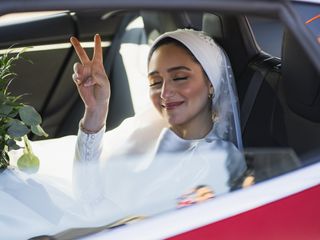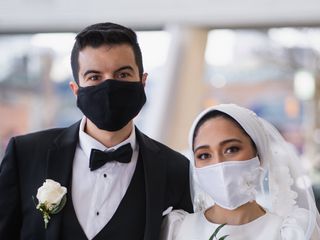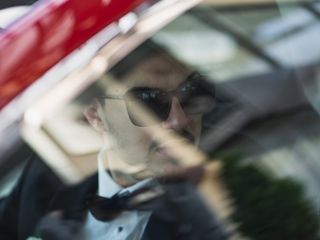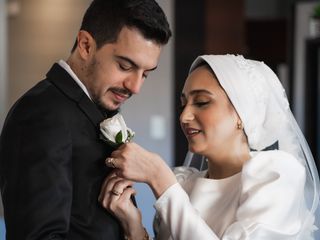 Featured

Nour I. · Married on 25/10/2020

Fun guys, very professional and quick

These guys were amazing! They helped me with short notice, they were flexible with all the changes I needed, and on the day-of I felt like I had known them my whole life. They were so kind, genuine and full of cool ideas. I didn't have a list of what shots I wanted but I knew what I didn't want and they honoured my requests and made amazing suggestions all while cracking the funniest jokes. Their attention to detail is amazing, they will lift your veil, fix a bow tie (see photo) spot an a cool place to pose and so much more. They are not afraid of stepping in mud, crawling in the bushes or running full speed next to you to get the perfect shot. They actually ended up bringing an extra person (they asked first of course) and didn't charge me more. We only signed and paid for videography but they ended up taking photos along the way and they gave us a gallery of SIXTY PLUS teaser photos DURING our reception. At the end of the night when they had packed up to leave, and we're already outside, they spotted a group of us posing for photos, so they unpacked the whole thing without being asked and snapped some photos. In 2.5 weeks I had my video and bonus photos. Highly recommend!

Sent on 20/11/2020

Mabrook Studios's reply:

Nour, thank you so much for taking the time to write such a detailed review! It really means a lot. This was one of the most fun weddings we've ever been to. Your families were so sweet and welcoming! Please tell your dad we said hi! I hope our pictures didn't turn out as good as his!

Kristine G. · Married on 13/02/2021

We made the right choice

Yasseen was one of the highlights of our wedding day. His infectious positive attitude and engaging work kept our guests laughing and kept us happy through our photo shoot sessions; even when we were starting to get hangry! Yasseen searched around our venue looking for the prettiest spots for photos, and he found so many! He constantly checked in with us to make sure we were getting the photos we wanted. Thank you Yasseen, you were awesome!

Sent on 27/02/2021

Mabrook Studios's reply:

Kristine, you are AWESOME! Thank you so much for sharing your experience. We really appreciate it and it helps us a lot. Congratulations again! Say hi to Brian for me, and I hope our paths cross again in the near future ❤️

Nour · Married on 14/11/2020

Covid Wedding

I can't thank these guys enough for all the help and amazing results. I didn't have high expectations for our Covid wedding but they truly made it such a special and beautiful day. Their energy and enthusiasm was amazing. They took their time to show the special moments and small details that could go unnoticed. They also provided us with an amazing band. I absolutely loved working with these guys and would love to have them at all my special events.

Sent on 02/12/2020

Mabrook Studios's reply:

Thank you so much Nour! You and Amr were a pleasure to work with and we're SO HAPPY you chose us for your wedding! Congratulations again, and we'd be honored to be at all your special events! :)

Zeinab W. · Married on 07/11/2020

Amazing group and energy, what an unforgettable experience!

Mabrook Entertainment made our wedding extra special! They handled everything from beginning to end with professionalism. What a talented group, they made sure our wedding was as magical as we always imagined it to be with their energy and music! Thank you so much, will definitely recommend!

Sent on 19/11/2020

Mabrook Studios's reply:

Thank you so much Zeinab, it was our pleasure! We're grateful we got to be a small part of your celebration. Congratulations again and thank you for trusting us with your special day!

Kawther Q. · Married on 19/10/2020

Amazing service from incredibly talented men!

Yassine and Moaz are so professional, from the first moment they arrived until the last second of the wedding they were working so hard to please everyone and make every single guest feel special by taking candid pictures which we loved as they turned out to be amazing, and by taking individual/group photos as requested by the guests. They're also very punctual; they arrived on time to take pictures of every single detail of the wedding preparations i.e., the bride's make-up, dress, rings, the groom, etc. Not to mention how highly organized and extremely polite they are. We felt so comfortable around them, honestly felt as if they're part of the family because of how funny and relaxed they were. As for after the wedding, Yassine and Moaz provided the photos and videos in one week after the wedding day, which we all found pretty impressive as no other photographers do that and their editing quality is amazing in videos and photos. Overall, I highly recommend them to everyone! Thank you Yassine and Moaz, we are glad we picked you guys to capture the moments of this happy day for us. Much love and respect for you both, and I can't wait to see you reach the top as you truly deserve it.

Sent on 13/02/2021

Mabrook Studios's reply:

Kawther, thank you for the kind words, we had a wonderful time with all of you. It was a day to remember and more proof that no one parties like Iraqis do! If you ever need photos or videos, we'd be more than happy to help! 😉

Asraa · Married on 03/10/2020

Perfect vendor

this vendor provided us with a band, drummers , videographer and a photographer! everything was perfect and they have beautiful energy that added to our wedding! I cant express how happy we were by hiring them!!

Sent on 23/10/2020

Mabrook Studios's reply:

Thank you so much Asraa! What a night!! You two were full of energy and passion and a real pleasure to celebrate with. Thank you for choosing Mabrook Entertainment and we wish you and Steve a life full of music and dance!

Razaq&El M. · Married on 03/10/2020

Wedding 2020

100% would recommend ! Helped make our wedding so special with capturing every moment.
The videography was better than we could've even imagined. So happy with how everything turned out.

With covid it was very difficult to plan the wedding but they were so accommodating and made sure to provide us with the best service (Moaz even helped keep us saine during the craziness of wedding planning and on the wedding day).

We initially thought having videography would be very awkward but Moaz made us feel very comfortable and made the experience super fun for us!

We absolutely loved the live band and our guests continue to rave about how great it was.

Can't thank you enough!

Sent on 28/11/2020

Mabrook Studios's reply:

Thank you Salsabeela! Your wedding was a beautiful marriage of two cultures and it really showed in the colors, energy, and love we witnessed. Thank you for trusting us, we are honored to have been a part of your special day

Noah S. · Married on 01/09/2020

Great Performance

What a great group of guys that are very professional and genuine. Thank you for making our night that much better, we were truly delighted to have you preform at our wedding. Definitely will recommend.

Sent on 29/10/2020

Mabrook Studios's reply:

Congratulations Noah! After all the covid-related changes you had to go through, your day was truly magical! Thank you so much for having us!

Andy K. · Married on 09/08/2020

Can I Give Them 10 Stars!

They were amazing! Yasseen & Moaz was completely transparent every step of the way and worked with us to make sure we had everything in place for the wedding to run smoothly. And it couldn't have gone better. Our photos were amazing, and on the day, they were great with our wedding party and all the guests. He came up with a number of great photo ops utilizing the venue, as well. At the end of the night, they surprised us with a beautiful edited gallery that was absolutely stunning. Couldn't have asked for better!

Sent on 18/02/2021

Sonya B. · Married on 07/08/2020

Extremely Professional and Fun to Work With

From the moment I got it touch with Mabrook, I knew I made the right choice. I spoke with Moaz who offered us exactly what we wanted and was super accommodating of all the covid-related changes. We ended up booking the band and the grand entrance, and wow!! I'm so glad we did, the show was spectacular! The group was extremely professional and fun to work with. We truly loved their performance and our wedding guests all complemented how amazing their entertainment was. Highly recommended!

Sent on 29/10/2020

Mabrook Studios's reply:

You and Harry were the highlight of the show!! The energy you two had was the best part of the night! Thanks for making our job so easy and for including us in your celebration!