14 reviews
Quality of service

5 out of 5 rating

Response time

5 out of 5 rating

Professionalism

5 out of 5 rating

Value

5 out of 5 rating

Flexibility

4.9 out of 5 rating
11 User photos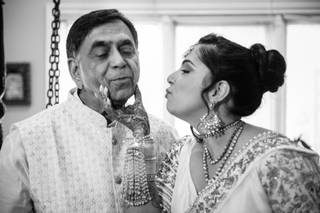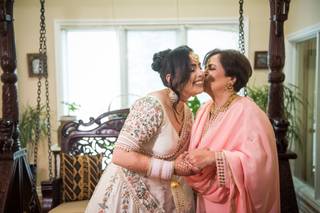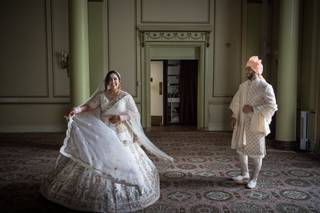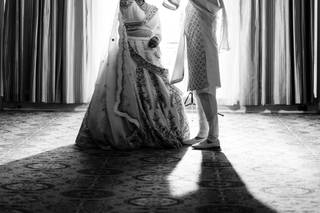 + 7

Photos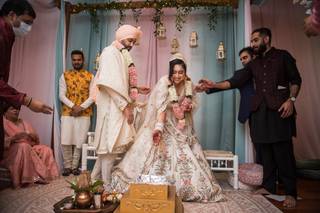 Namita S.

Married on 31/12/2022

John & Veronica are a DREAM - you have to have them

I spent hours and hours trying to find the right photographer for my wedding. I wanted everything. I prefer moody photography but in some cases I wanted a little light and airy. I wanted artistic shots but I also wanted documentary style shots. I wanted authenticity but I wanted someone who knew how to pose me so my main flaws (ex. double chin) would be hidden. I wanted emotion in every photo and I wanted to work with someone who could do everything. Most people can't accomplish all of this. JOHN AND VERONICA CAN! I spent hours combing through photographers to pick the right team for my wedding and OH MY GOD am i glad I did. I'm still reeling from how amazing they are to work with. Our wedding was intimate and intense at the same time. Within 24 hours they sent me a sneak peak and I haven't been able to look away.

They are kindhearted, professional, thoughtful, genuine, and amazing to work with. They are exceptionally talented. And most of all - they CARE. My entire family is still talking about them. We absolutely love them. YOU HAVE TO HAVE THEM. Strongly recommend you work with this team they're unreal.

+ 3

Photos

Erika W.

Married on 16/12/2022

Exceptional photographer, highly recommend

We were referred to John and Veronica by a few friends who worked with them before and they highly recommended them to us.

We had our engagement photo shoot with them first. It was a rainy day but our photos turned out great! John and Veronica brought extra lighting for the shoot. They also suggested us to use our own clear umbrella as a prop and we loved it! Our photos turned out great - not only do we love it, we also got so many compliments from our friends and families. :)

On our wedding day, John and Veronica really helped us to capture all the special moments, including pictures in the snow. I've always dreamed of a snowy "white wedding" and they made my dream come true. They were so kind and provided us with high quality same day edit photos. All of the pictures were stunning - we love them so much and cannot wait to see the rest! We posted a few pictures on our social media the week after our wedding and already got so many compliments :)

Overall, it has been a fantastic experience working with John and Veronica. I highly recommend them to any couple who's looking for a wedding photographer - their professionalism, great communication, exceptional photographer skills and high standard of excellence will make your wedding an unforgettable experience! Thanks again John and Veronica!

John and Veronica Photography's reply:

Thank you Erika and Jeff, for these kind words! It was an absolute pleasure photographing you guys on your big day! We knew you guys would be a lot of fun to photograph especially after your engagement photoshoot! You guys truly enjoy the moment and are not afraid to be adventurous both in the summer (in the rain) and in the winter (in the snow)! ;)
We wish you guys the best!

Luba B.

Married on 28/08/2022

The best wedding photography

John and Veronica are amazing through and through and I cannot recommend them highly enough.

From the very first meetings, we were struck with how warm, organized, and professional John was. He was ++ professional and responsive before, during, and after the wedding.

During the photoshoot, John and Veronica immediately made us (and our families, and the bridal party) feel at ease. During the rest of the day, they were courteous and unobtrusive.

We got to see some of the pictures during the same-day-edit slideshow (which, by the way, we HIGHLY recommend). We were BLOWN AWAY. The quality of the photos is beautiful. They capture the emotion of the moment perfectly, and are simply STUNNING in quality.

If you are looking a wedding photographer, LOOK NO FURTHER. John and Veronica are literally the best through and through. Incredibly professional, talented, and just amazing, genuine people.

John and Veronica Photography's reply:

Thank you Luba!
These are such wonderful and heartfelt words! Veronica and I are so thankful for your kind compliments! Thank you again for having us to be part of your wedding. Everyone at the wedding made us feel very much welcomed and you guys looked stunning! We can't wait to show you guys the rest of the images from your day! But until then, enjoy your honeymoon!

Are you interested?

Send a message

Eric C.

Married on 28/08/2022

Most Amazing Wedding Photographers

John and Veronica were simply incredible! From our very first meeting, it was obvious that John and Veronica are wonderful, special, and kind people that are full of joy and passion for people, their clients, and their craft. Their professionalism, talent, thoughtfulness (for example, by staggering our photo session so we wouldn't get too hot under the sun), kindness, good humour, and expertise were continually demonstrated on our wedding day. For viewing by our guests in the evening prior to our thank you speech, John and Veronica prepared a five minute slideshow of photographs taken throughout the course of the day and also projected the slideshow on a large screen that they themselves brought to our venue. The quality, beauty, and craftsmanship of the photographs included in the slideshow and the accompanying music was exquisite. As well, John and Veronica were efficient, never in the way, and provided clear and helpful guidance to us and our families and wedding party for the formal photography session. John and Veronica were also very helpful and provided wonderful guidance during various planning sessions prior to our wedding. We are confident that any person that chooses John and Veronica to photograph any important event in their lives will be thrilled with the result, and will consider themselves silly for even considering a different option during an earlier point in their decision-making process.

John and Veronica Photography's reply:

Hi Eric! Thank you for this incredible review!
Thank you for taking such a good care of us on the day and trusting us whole-heartedly when it came to photographing your day! We had so much fun photographing you guys.
We are so happy to see that you guys really enjoyed the same day edit slideshow! We can't wait to show you the rest of the images from your day as well!


Mina

Married on 06/11/2021

Unexpected Exceptional Photo Quality

I am not a photogenic person so I didn't expect my wedding photo could be great.
However I was surprised by the quality of wedding photos this team brought back. The photos are surprisingly vivid, well organized. I like the frame composition, especially.

John and Veronica Photography's reply:

Thank you Mina for your kind words! It was a pleasure to be part of your big day! Congratulations once again on your wedding! ❤️

Andrea

Married on 24/04/2021

Breath taking photos

John and Veronica were absolutely amazing! We had sooo much fun with them. And they took some of the most beautiful pictures I've ever seen. They ended up feeling like family by the end. We would use them again for other Photo shoots we need done in the future. Thank you both for being so amazing!

John and Veronica Photography's reply:

Hi Andrea! Thank you so much for this review! It was an absolute blast to be at your wedding! It was a beautiful wedding with so much energy! Veronica and I can't wait to see you guys again soon!

Andrea C.

Married on 18/05/2019

Thank you John & Veronica!

John & Veronica were the photographers at my cousins wedding a few years back and when I saw the same-day-edit they showed all the wedding guests during their wedding reception.. I knew when I got married I had to have them! 4 years later I hired them for my wedding!

John & Veronica's photos for my own wedding surpassed all my expectations..and they were pretty high! I am in love with both my engagement photos and wedding photos and received so many compliments on the quality of the photos! Photos aside, John & Veronica were lovely to have around and very personable, responsive, professional and all around just great people!

Thank you both for capturing the most beautiful photos! You are amazing :)

Ashley

Married on 28/07/2018

Amazing Photographers!

I have praised John so much since viewing his portfolio in his home. My husband and I knew right there and then that we HAD to book them for our wedding. Such an amazing job. Looking at the pictures literally has me lost for words. Thats how amazing John and Veronica are. Such a beautiful couple to work with and I had such a blast with them! They are truly amazing. I am definitely going to be booking every one of my events with them :)

Elise H.

Married on 07/11/2014

Could not have been happier not only with how our pictures turned out, but the dedication and professionalism John and Veronica showed at our very cold outdoor wedding. We got so many compliments on the same day slide show that John and Veronica showed at our reception that my new brother in law decided he needed to book them for his wedding too!
Hard working, accommodating and just the most lovely people to work with!

John and Veronica Photography's reply:

Thank you Elise!
Although cold, it was such a fun and memorable wedding. We would like to thank YOU for tolerating the cold weather!!!
We are very much looking forward to Maria and Jeff's wedding next year! We will get to see you guys then too!

Rachel B.

Married on 20/09/2014

I have been in many bridal parties and expierence many photographers but John and his team blew me away. His work and professionalism are outstanding and you can really tell he loves what he does.

John and Veronica Photography's reply:

Thank you Rachel! We had a blast at your wedding and it was so good to see you and Anthony enjoying yourselves so much! Also, I still remember your dad's incredible 'speech' - a touching speech that will be remembered for a very long time!