Reviews for Dynamic Weddings - Photography
Awards
263 User photos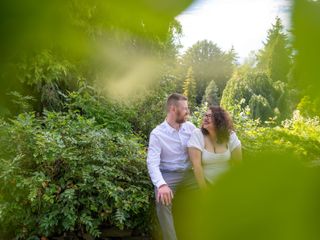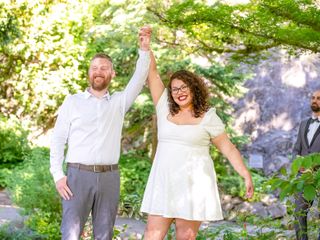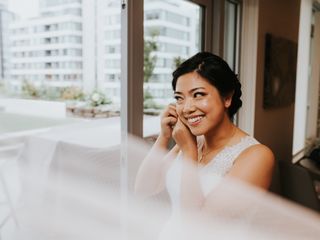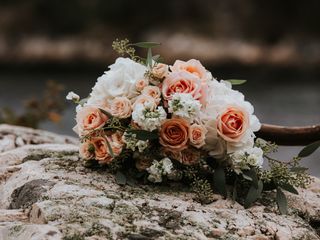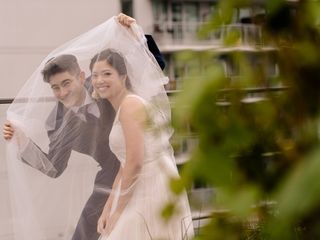 Featured

Anthony O. · Married on 15/09/2019

Fun group of people that are accommodating and really know how to help make your day special!

We are very happy with Dynamic Weddings and all of the services that they provided us! We worked with Dennis directly as our day-of-coordinator to put together our itineraries, and his experience in coordinating weddings was evident from his attention to detail with all of the little quirks we wanted for our wedding. He also was our MC, which helped with keeping the day on track because he was already so familiar with our itinerary and it relieved us of a lot of stress. He really took the time to get to know us during our meetings and it showed whenever he was on the mic, because he spoke in a way that reflected what we wanted in our wedding day - to embrace all of the love and special moments of the day. It's great that he was able to take on both roles for us!
His photographers and videographer were awesome and we had a great time having them shoot for us. Lara, who did our engagement shoot at Lighthouse Park, was quick to find all the right spots with beautiful lighting. We loved our engagement photos! You could tell that she understood some couples can feel awkward during these shoots, but she made our time together feel light and comfortable. During our shoot along River District before the reception, she even got into the water to capture the perfect angle - commitment! When we had our photoshoot with our bridal party, Rafael knew exactly what kind of shots we were looking for and was able to capture them perfectly. When we had trouble trying to get into some poses we wanted, he stepped in to guide us. We wouldn't have looked as good without his guidance. Lastly, Doug did an amazing job capturing video footage of the whole day. He somehow managed to maneuver around everybody and everything to get really cool footage that we enjoyed watching in our wedding videos. It's clear that Doug is skilled in his craft and will do what it takes to capture memories with the same impact as when they first happened.
All in all, Dynamic Weddings truly helped us to have some of the most unforgettable moments of our lives, and we're so thankful for that!

Sent on 05/03/2020

Dynamic Weddings - Photography's reply:

Hi Anthony, Thank you for taking the time to write such a detailed review. I really appreciate it. I'm so glad that you picked up on so many great moments from your day and that all of our collective team efforts made such a large impact on your day. This was a special one for me (Dennis) as I was not only your Wedding Planner, but also your Day of Coordinator AND your MC! I was able to work with you through the planning process and discussing various options and planned your two day wedding celebration including surprising your bridal party with the actual wedding when they thought they were doing a scavenger hunt. Epic! It was a big task and you pulled it off. The reception was amazing and such great food and service from Riverway. Loved the live performances and personal touches. We were also pleased with the photos and videos and how awesome everything turned out. Congrats and thanks for trusting in us and for writing this great review.

Ian M. · Married on 18/08/2021

Great Photos

We had a small elopement wedding and limited time to take photos. The photographer was able to get some great shots for us in the limited time we had available. Overall good experience.

Sent on 19/09/2021

Daniela Z. · Married on 23/06/2021

Omg I cant believe how perfect our pictures are, excelente experience

We contacted Dennis after we decided to do a small last minute elopment. Since the begining he was amazing. We knew nothing about getting married, but the whole process was made easy. Even thought we only wanted a small ceremony, Dennis really took the time to talk to us about our story and what we are like as a couple to make the cermony more personal. We didnt have any photo or video, but he was able to arrange it. He was a lifesaver doing everything on such short notice. The ceremony was beautiful and more than we could have hoped for. We had a beautiful idea about how we wanted it to be, but Dennis really exceeded our expectations, It was an intimate, magical day for both of us and our guests. The video and photography were impecable, they definetly captured the true escense of our love. We could not be happier choosing Dennis and Dynamic Weddings!


Sent on 15/07/2021

Cari H. · Married on 11/04/2021

Surpassed our Expectations! Cherry Blossoms

Dynamic Photo Vancouver helped make our Family Photo Shoot Vision a reality. With only a small window in the month of April for a Cherry Blossom shoot, Dennis and his team jumped into action to ensure we had a beautiful backdrop of endless cherry blossoms in a perfect location that we felt was chosen just for us.
🌸🌸🌸🌸🌸🌸🌸🌸
He made sure all Covid Protocols were followed to keep everyone safe. We look forward to booking our next shoot with Dynamic.
Mountains and beach feels coming next!

Sent on 27/05/2021

Jason A. · Married on 27/03/2021

Highly Recommended

Dennis was very flexible to work with. He is very detailed oriented and took on more responsibilities that we asked for.

Sent on 29/05/2021

Karen S. · Married on 01/03/2021

Highly Recommended

Dennis was very comfortable to work with. We enjoyed his unique skills of shooting around a tight schedule. He was readily available and provided excellent feedback and suggestions.

Sent on 29/05/2021

Vy Nguyen · Married on 20/02/2021

Amazing photo and video experience with Dynamic Weddings

We would like to sincerely thank Dennis and the Dynamic Weddings team for their amazing work and dedication to excellence in planning and helping us execute an amazing wedding day.

Lara (photo) and Devin (video) from Dynamic Weddings team went above and beyond to capture all the precious moments of our wedding day. We were so excited to see the photos and share them with our friends and family. The quality of the video production is straight from Hollywood - the highlights video has everything we hoped for and more, absolutely top notch, amazing work. The photoshoots were also a breeze thanks to Lara's pointers and easy-going, yet professional attitude. Lara even climbed a tree to be able to get the perfect shot for our engagement photos. Lara and Devin made us feel at ease throughout the process and we're so grateful to have worked with them to create the photos and video that will help us to remember our day forever. We loved the photos so much we decided to get a guestbook album and a large canvas print. The photo guestbook that Dennis created was also more beautiful than we could have ever designed it on our own.

Overall, we had a 5 out of 5 experience with Dynamic Weddings and would 100% recommend working with Dennis and his team for your wedding day.


Sent on 02/06/2021

Chris H. · Married on 27/12/2019

Family Photos

We used Dennis to take family photographs and I was really pleased with his results. Extremely professional and was able to capture some really nice photographs of the family. I highly recommend him.

Sent on 09/01/2020

Dynamic Weddings - Photography's reply:

Thanks Chris, I'm delighted that you loved the photos of your special day. We managed to capture several individual families and the large group together for some amazing shots. Loved how each one had their own unique feel. I absolutely love the ones with the grandparents. They looked so cute together. Memories to cherish for a lifetime!

Marcog@Novatrans.ca · Married on 24/08/2019

Creative Set of Photos Helped Make the Day!!

My husband-to-be was thrilled to have found a team of wedding professionals under one umbrella as he saw a huge benefit in coordination and communication, but I was hesitant to hire an entire team of professionals without meeting everyone individually ahead of time and solely based on the company's amazing online reviews. In the end, we hired the team and didn't look back. Dennis and his team were fabulous!
Ruben our photographer was first class. He went above and beyond catching us and our guests and celebrations in all sorts of interesting and fun moments, not all of them choreographed. He had his own set of great photo shots as well as responding very well to some which we had planned for.
All in all Dynamic Weddings come highly recommended!


Sent on 22/10/2019

Dynamic Weddings - Photography's reply:

Thanks so much for your kind words. We thankfully managed to squeeze you into a very busy summer day as your wedding was so refreshing. We loved how it was simple and full of close family and friends for an intimate, yet fun experience. We loved providing Wedding Planning, Day of Coordination, DJ, MC and Photography for a complete package for your wedding. We wish you nothing but the best and happiness together.

Caitlin · Married on 24/08/2019

Great quality, fun photographer

We are blown away by the quality of service we had from Dynamic weddings and are truly grateful we chose to include the photographer with this service. We had met with Dennis a number of times to go over detail and preferences, and he matched us with a perfect photographer who truly captured us as a couple. We absolutely loved her from the second we met her at our engagement shoot. Having never had a mass amount of pictures taken of us, our photographer made us feel comfortable and made the experience fun and easy. This continued at our first look pictures and throughout the wedding. Dennis also puts in an amazing amount of effort when editing pictures, and the quality is outstanding. What's even better is that you are given the full quality pictures to print as you please- this was a MUST when we were looking for photographers.


Sent on 07/09/2019

Dynamic Weddings - Photography's reply:

We are over the moon that you were blown away by the service you received. We knew from day 1 that you were the perfect couple for us. We were able to plan your wedding with ease and the day was so fun. Your engagement photos were amazing and the wedding photos were even better! Adding our DJ service made the day even more special for us as we were able to add to the energy and celebration with terrific dance music right to the very end of the night. Congrats!