Reviews for Dynamic Weddings - Photography
Awards
34 User photos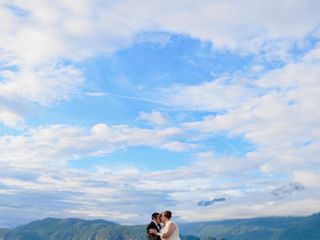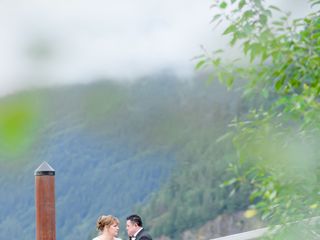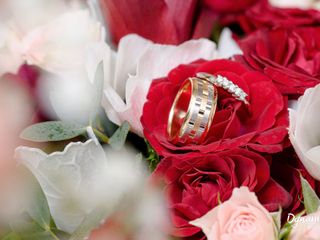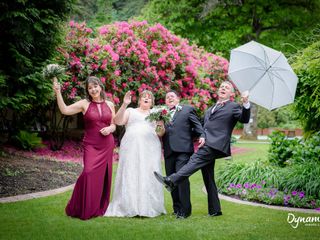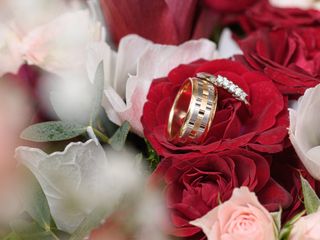 Caitlin · Married on 24 of August of 2019

Great quality, fun photographer

We are blown away by the quality of service we had from Dynamic weddings and are truly grateful we chose to include the photographer with this service. We had met with Dennis a number of times to go over detail and preferences, and he matched us with a perfect photographer who truly captured us as a couple. We absolutely loved her from the second we met her at our engagement shoot. Having never had a mass amount of pictures taken of us, our photographer made us feel comfortable and made the experience fun and easy. This continued at our first look pictures and throughout the wedding. Dennis also puts in an amazing amount of effort when editing pictures, and the quality is outstanding. What's even better is that you are given the full quality pictures to print as you please- this was a MUST when we were looking for photographers.


Sent on 07/09/2019

Marcog@novatrans.ca · Married on 24 of August of 2019

Creative Set of Photos Helped Make the Day!!

My husband-to-be was thrilled to have found a team of wedding professionals under one umbrella as he saw a huge benefit in coordination and communication, but I was hesitant to hire an entire team of professionals without meeting everyone individually ahead of time and solely based on the company's amazing online reviews. In the end, we hired the team and didn't look back. Dennis and his team were fabulous!
Ruben our photographer was first class. He went above and beyond catching us and our guests and celebrations in all sorts of interesting and fun moments, not all of them choreographed. He had his own set of great photo shots as well as responding very well to some which we had planned for.
All in all Dynamic Weddings come highly recommended!


Sent on 22/10/2019

Kelsey Jay · Married on 15 of June of 2019

Highly reccommend!

We hired dynamic for photo, video, DJ and photo booth over a year and a half before our big day last month and they were all overall amazing! We had a consultation with Dennis and he was very friendly and communicative regarding pricing. Punctual, professional, great communication, very friendly with great photos and video. We wanted a lot done in 8 hours and they managed to capture everything perfectly. Highly recommend them and would use again for other events - thanks Dennis and team

Sent on 23/09/2019

Tamara Suttis · Married on 25 of May of 2019

Oustanding

Dynamic weddings supplied our photographer for our wedding. They made sure the photographer fit our personalities and the type of photos we were looking for. Was amazing and made our memories perfect.

Sent on 02/07/2019

Dynamic Weddings - Photography's reply:

Hi Tamara, you nailed it. The key is to find the right match of vision and personality. We really care and take the time to find out what your personalities are, your vision for the wedding and what the final outcome you have in mind is. The key for us is to have the flexibility to adapt to your preferences. We managed to capture some amazing images despite having weather challenges but with a team effort and assistance from our Day of Coordinator and DJ/MC, we were able to carve out some time in your schedule to capture some additional images when the weather improved. Having Dynamic Weddings Planning sessions in advance allowed you to have enough flexibility in your schedule to allow for this. As a result, it was far less stressful and enjoyable which showed in your images. Adding our Photo Booth for later in the evening for some fun images with our props was the icing on the cake and your guests loved the printed strips to take home and the online viewing gallery after. We could not have been happier with the outcome. Bravo!

Eric Kortschak · Married on 28 of April of 2019

Played a big role in a wonderful day

Dynamic Weddings provided us with an all-around excellent experience. They went above and beyond in the lead-up to the wedding, helping us with planning and logistics as well as working closely with us to create a memorable, unique day. Our DJ worked tirelessly to see that the wedding was smooth, stress-free, and a fun experience for us and all our guests, and the photographer produced a wide range of wonderful candid photos. Worth every penny, and highly recommended.

Sent on 07/06/2019

Dynamic Weddings - Photography's reply:

Hi Eric, We had a great time as your DJ, MC and Photographers for your lovely wedding. Yes, your DJ was very engaging as your MC and was able to have some fun with your guests with some activities before the dancing. Once the dancing started, it was a blast. Such a great time for a Sunday wedding and it truly went off without a hitch. Congrats and thanks so much. Glad our extra support along the way helped you with your planning. Cheers!

Stefania · Married on 20 of October of 2018

Absolutely amazing

We were so impressed with Dynamic Weddings! They stayed in constant contact with us throughout the whole process and truly listened to what we wanted. Their staff felt like family, they were incredible to work with and made the day so enjoyable! We're forever thankful for all their hard work and time spent with us!


Sent on 15/02/2019

Dynamic Weddings - Photography's reply:

Hi Stefania, Thank you so much. Yes, it really did feel like family. That's how we approach each and every wedding, we care as if you were family! Your wedding was truly amazing and special and we were honoured to have provided so many amazing services for you including Photography, Videography, Wedding Planning, Day of Coordination and Photo Booth. Your photos and video look truly amazing and something out of a magazine. Truly one of the best! Thanks!

Derek Weeres · Married on 22 of September of 2018

Our engagement and wedding photos couldn't have turned out better!

Dennis Bellia and the whole Dynamic Weddings & Events team were such a pleasure to work with. We enlisted Dynamic to help us with:
- Wedding Planning
- Day of Coordination
- Photography
- Videography
- DJ Services
The level of service that we received throughout the entire process was exceptional. With the help of Dynamic Weddings, we put together a timeline of deliverables so that our planning process was smooth and stress free. It was ensured that our photographer who worked with us for our engagement photos was working with us at our wedding as well which gave us a sense of comfort. The biggest thing we heard throughout the wedding planning process from anyone who's gotten married was "be prepared for something out of your control to go wrong". My wife and I laugh at this now because with the guidance and care that Dennis and Dynamic showed us, our special day went off without a hitch and I think that's the biggest compliment we could give! Thanks Dynamic, our special day wouldn't have been as special as it was without all of your help!

Sent on 16/04/2019

Dynamic Weddings - Photography's reply:

Hi Derek, We absolutely loved everything about your wedding. First off, you were such an amazing couple and totally worked well with our team. You were so open to our ideas and expertise and it all flowed so smoothly. We were so much more effective by having the majority of our services working for you at the same time. It was truly excellent experience for us all. You were so photogenic. I think the way we worked together really made it super easy and it showed in your photos. Congrats!

Gloria Mak · Married on 18 of August of 2018

Amazing crew for a fabulous day!

Had the absolute pleasure of working with Dennis and his team of talented individuals! From the planning stages to the execution of our wedding, Dennis was beyond organized, professional and just awesome to work with!

We used the services of his photographers, videographer and DJ for our wedding and would recommend his crew to anyone who is wanting a professional, caring, and easy-going team of dedicated individuals who are going to make your wedding day that much more excellent!

Received our photos and video a few days prior and as expected, the picture and video turned out amazing! Kudos again to Dennis and his awesome team!

Sent on 04/11/2018

Dynamic Weddings - Photography's reply:

Hi Gloria, Thanks so much for your amazing review of our Photography services along with the other services we provided you. We felt such a great connection with you and were honoured to capture your day. Your photos, canvas print and album turned out beautifully. All the best to you both!

Elyse Mccauley · Married on 14 of July of 2018

Great props and amazing team

We decided to us dynamic because they came so highly recommended by another family member that used them for their wedding. We were not disappointed at all!
Dennis was very understanding when the booth ran our of paper(unlimited prints, means unlimited prints!) and he reprinted photos for us! We are so thankful for all the great memories those photobooth strips hold.

They had awesome props and they let us bring our own as well as our own back drop for the booth!

Thanks Dynamic!

Sent on 12/08/2018

Dynamic Weddings - Photography's reply:

Thanks Elyse, we had so much fun with you guys. Such a great family! The photos were a hit and so was your amazing wedding. We are so happy to have shared such amazing photos with you.

Lindsay · Married on 23 of June of 2018

All I can say is Amazing!

Dynamic Weddings is amazing! Dennis had a conversation with us prior to selecting the photographer in order to determine the best fit. Jake was perfect, he ensured we had the traditional photos we wanted but then just went with the flow for everything else. He was very flexible with timing and location on the wedding photos as well as the engagement shoot.

Dennis provided multiple options for locations as we were not knowledgeable on locations around the areas and even provided maps and sample photos.

100% would recommend them!!

Sent on 15/08/2018

Dynamic Weddings - Photography's reply:

Hi Lindsay, thanks for noticing all the small details. Yes, the selection of your photo location in between the ceremony and reception was super key and having the experience and knowledge of the area (having lived in Vancouver all my life) was really important. The location ended up being absolutely perfect for you and I love that you had not even known that was an option. The photos from both your engagement session and your wedding day were lovely and captured beautifully. You were amazing to work with and we're thankful to have met you. Congrats on the big day and thanks for hiring our Photography and DJ services!