Reviews for Rev. Darlene Murray
Awards
24 User photos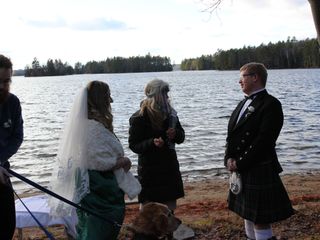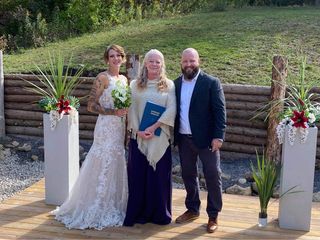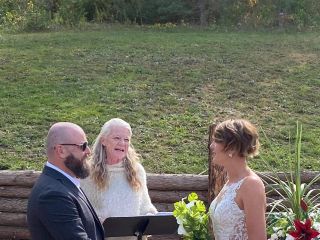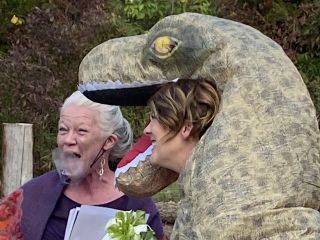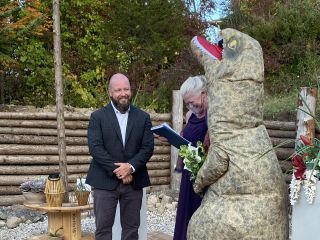 Featured

Felicia C. · Married on 03/10/2020

Beyond Amazing.

I can not say enough good things when it comes to Darlene and everything she did to make our wedding amazing. We had a lot of changes and rearranging as Covid restrictions unfolded. We ended up having to do two ceremonies in the same day; she was super flexible, safe and Was even willing to play along with our wild antics; willing to preform ceremony as an inflatable T-Rex but that was the brides second ceremony outfit. She wrote our ceremony based on who she saw us as upon meeting us and it was perfect and personal. Could not have asked for a better soul to make our special day just that much better! Forever grateful!

Sent on 28/10/2020

Rev. Darlene Murray's reply:

Thank you for the honor! Oh dear me, you are certainly a fun loving couple...I had so much fun! May you all be blessed with abundance of joy & laughter.

Brooke I. · Getting married on 15/10/2022

Works with you on what you want for your day!!

Very responsive!! I changed the date a few times and never had an issue with changing it!! Would very much recommend for someone else wedding!!

Sent on 20/07/2021

Rev. Darlene Murray's reply:

Seeing you & your family again was a treat. So very honored to be a part of your day & to stand with your people! Thank you!

Rr Lewis · Married on 22/05/2021

Amazing experience with Darlene

Darlene was so kind, professional and courteous. She made my special day even brighter.

Sent on 24/05/2021

Carly S. · Married on 28/11/2020

Friendly, reliable, and very accommodating.

Darlene was a blessing to have on our wedding day. She arrived early, was professional with the paperwork, and followed our requests for a personal and short ceremony. We thoroughly enjoyed speaking with her in advance of the ceremony, and we enjoyed sharing our day with her. We would highly recommend Darlene to others.

Sent on 01/12/2020

Rev. Darlene Murray's reply:

Carly & Craig, you travelled quite a road to get to your special day. Thank you so much for trusting in me to make it your day, your way!

Angie S. · Married on 24/10/2020

Great day for a fall wedding

Darlene was amazing, she made our day super special and stress free. She is such a nice person, always responded to my emails and questions and even when we had to postpone our ceremony due to covid 19 she understood and allowed us to change our date. Everything we asked to do was done. I will definitely recommend her to others getting married.

Sent on 25/10/2020

Rev. Darlene Murray's reply:

Thank you What a Blessing, it was to amongst so much love and commitment from your family near & far. May the sun always shine gently on you and yours!

Cindy G. · Married on 19/09/2020

Darlene was very personable & professional

We would like to say that Darlene made our ceremony extra special by giving us options as to what kind of ceremony we preferred she took the time to get to know us personally prior to our wedding day. She was punctual & professional, friendly & made me feel comfortable & honored to be marrying my best friend. Thank you so very much Darlene. Be blessed & stay safe.

Bill & Cindy Griffis

Sent on 16/12/2020

Rev. Darlene Murray's reply:

Mrs. & Mr. Griffis, Thank you for trusting me to be a part of your sacred day. Such a special memory for me! Stay safe andmany blessings for a lifetime of happiness.

Michelle S. · Married on 15/01/2020

Ceremonies with the loving Touch

I have known Reverend Darlene Murray for over 20 years and she has always been honest, reliable and hardworking with a strong attention to detail. Her warmth and compassion has always been two of her greatest qualities that now her Brides and Grooms get to experience. As a professional Wedding Specialist I would highly recommend Reverend Murray to oversee one of the most important days of your lives.

Sent on 15/01/2020

Kaitlyn W. · Married on 12/10/2019

Perfect Day

Very happy with every darlene did to help make our day as special as it was for us. She really connects with her clients and gets to know them to make the ceremony special for them. She's very professional and patient and flexible.. would recommend her to anyone I knew!

Sent on 13/01/2020

Rev. Darlene Murray's reply:

Thank you, I was so honored to be a part of such a beautiful celebration of happiness & love. Such salt of the earth persons, a true blessing to be apart of. Much abundance to you & all your loved ones!

Dana A. · Married on 28/09/2019

Beautiful and Soulful- Professional and Kind

Darlene is such an amazing person and officiant. She really is a wonderful professional who puts the added personalization to your wedding ceremony to make it special and not just the same like many "I do" ceremonies. She was helpful and put us at ease. Can't refer her enough!

Sent on 06/09/2020

Rev. Darlene Murray's reply:

I am so thankful for the honor of being a part of your day. So much love was present one could not help shed tears of joy. I suspect we shall see each again for more joy. Lots of love to you all! Thank you

Jessica A. · Married on 24/08/2019

a beautiful ceremony!

Darlene is the reason our ceremony was as beautiful and meaningful as it was! Everything was very easy and effortless from first messaging her, to meeting up shortly after to get to know each other and go over details. She incorporated all of our requests and made them her own! She made it a point to arrive early and came to the rehearsal the day before which gave us confidence in the ceremony running smooth from start to finish. We are thankful for a ceremony we will never forget! Thank you so much Darlene!

Sent on 14/01/2020

Rev. Darlene Murray's reply:

Awe! Thank you for choosing me for such a beautiful moment in your life. I wish you so many Blessings; May the sun shine warm upon your face, forever.