Reviews for Kristen Saburn
Awards
1 User photo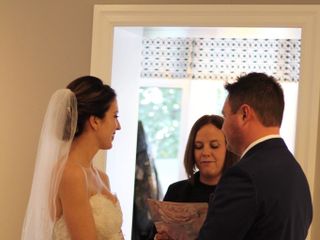 Maddie · Married on 05/09/2021

Absolutely lovely!

Kristen is amazing to work with! Super personal and humble. Made me feel so comfortable and at ease! So gentle and soft spoken. We loved having her!! 10/10 would recommend!

Sent on 13/09/2021

Kristen Saburn's reply:

Maddie! Thank you so much!

Your wedding was stunning, I'm glad I was able to make it easy for you guys! ❤️❤️

Kayla U. · Married on 22/08/2021

Amazing and down to earth!

Kristen is everything you want in an officiant and more. She really takes the time to get to know you as a couple so she can create the perfect ceremony for your wedding. What she wrote tor ours was beautiful and so special. Kristen is friendly, down to earth, professional and very helpful. She answered all my hundreds of questions and really made sure we were prepared for our big day. I would highly recommend Kristen to anyone looking for an officiant!

Sent on 06/09/2021

Kristen Saburn's reply:

You and Hiwa were so great to work with! The day was beautiful and you and your daughter moved me with your emotions. I am so happy for you all!

Stacey · Married on 10/04/2021

Wonderful Officiant/Writer

Kristen was a joy to work with and wrote a beautiful ceremony for us. Unfortunately we didn't get to meet until the day of the wedding due to the pandemic, but we had a virtual chat and worked out everything through email. She was very helpful whenever we had questions and arrived on time and ready to do. We clicked instantly and didn't look any further! Highly recommend Kristen to anyone looking for a officiant!

Sent on 04/05/2021

Brooke · Married on 21/11/2020

Personalised and sweet

Kristen was very patient with us as our plans kept changing due to impending lockdown. She made our wedding ceremony very personalised and we felt that it strongly communicated a relationship with those in attendance.

Sent on 17/02/2021

Danielle · Married on 14/11/2020

Amazing experience start to finish

From day one of meeting Kristen, we knew she was the officiant for us. She is down-to-earth, funny, and so friendly! She is exactly who you want bringing you together on your wedding day. Kristen made our ceremony personalized and beautiful. She took input from us, and provided suggestions of her own. We always felt that Kristen held us as a priority, no matter what was going on with COVID, etc. On the day of our wedding, Kristen was a rock of reassurance; never letting us worry about a thing. She rolled with the punches, even when we momentarily lost the rings. Guests felt at ease, and so did we. We are SO glad to have had Kristen be a part of our special day.

Sent on 18/11/2020

Jessika D. · Married on 07/11/2020

Awesome!!!

Kristen was amazing! She was professional, personable and quick to respond. Our ceremony was beautiful! We would recommend her to anyone who needs an officiant!

Sent on 11/11/2020

Christina C. · Married on 25/10/2020

Amazing experience!

Kristen was excellent to work with and really made our day complete with a personalized ceremony. She was extremely accommodating with all of our different date and location changes due to Covid, which was greatly appreciated. Would highly recommend her to any couple!

Sent on 29/10/2020

· Married on 29/08/2020

Beautiful Ceremony

When we met Kristen over the phone we knew right away she was a great fit for us. She's warm and inviting and made us and our guests feel cared for during the ceremony, she just fit right in. Due to how we had to pivot our day during covid I didn't actually get to meet Kristen until I was already walking down the aisle! But all of our communication before that moment were easy, clear and fun. Our ceremony was beautiful and I can imagine anyone else marrying us! Thank you Kristen!

Sent on 25/09/2020

Kristen Saburn's reply:

Thank you so much! I Was so glad I was able to be a part of it!! Truly My Pleasure! ❤️

What a crazy year! I'm so glad you were able to marry the love of your life!!

Briana B. · Married on 01/08/2020

Amazing wedding officiant!

My new husband (!!) and I are so incredibly happy that we met Kristen and had her officiate our wedding. We knew right away upon meeting her that she understood us and what we wanted for our wedding ceremony. Our wedding was short and sweet and very personalized, which is exactly what we wanted. Kristen is very professional, but at the same time, she makes you feel like you are friends, which is very comforting (especially when you are as nervous as we were!!)
Thank you so much Kristen!

Sent on 04/08/2020

Ashley-Marie G. · Married on 28/06/2020

Amazing Officiant

Let me start by saying that we could not have had a better officiant at our wedding. My husband and I are not traditional wedding people and due to our situation, we decided on doing a small elopement ceremony. We spent some time looking for a chapel or officiant that could perform a ceremony that would suit us, but did not have much luck, especially finding someone that would fit with our budget. Then we found Kristen, right away I had a good feeling about her as she promptly responded to emails, was very flexible and accommodating, and offered an elopement ceremony at a reasonable cost. We didn't meet her before the ceremony as it was just a small and quick elopement, we did fill out a form about us and our relationship, but other than that we left everything in Kristen's hands.

We met Kristen the day of the ceremony; she was very pleasant, sociable, and upbeat. I felt comfortable with her immediately, and as a person with an anxiety disorder that says a lot! We had stated that we just wanted a short, non-religious ceremony, and the vows she read were perfect. They suited us and our relationship so well, that it was almost as if we wrote them ourselves. She also explained all the legal pieces and how that part of the process works.

Kristen is the type of person who will go above and beyond to make your special day what you want. I am so thankful we put our trust in her; she made our wedding day exactly what we wanted. We highly recommend using Kristen Saburn as an officiant for your wedding.


Sent on 22/01/2019

Kristen Saburn's reply:

Thank you so much Ashley! I'm so glad I could be part of your special day and that you were happy with the ceremony. It was definitely my goal to put you at ease so you remembered your day as relaxed and stress free ❤️ Congratulations again!