Reviews for Melissa Makeup Artistry
Awards
16 User photos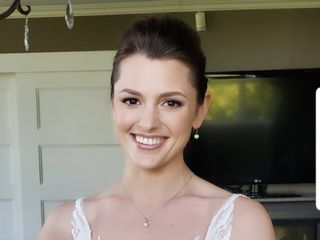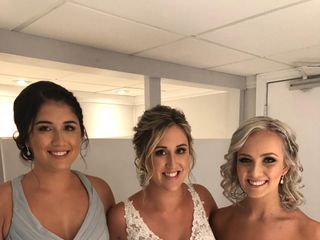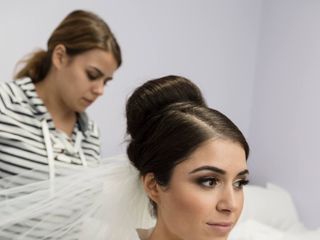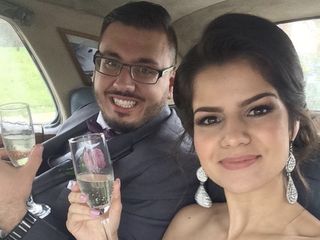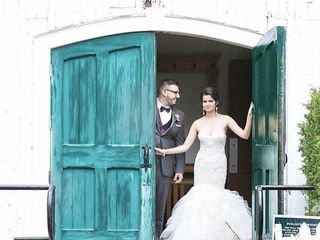 Julia · Married on 03/09/2020

Gorgeous wedding makeup

Melissa made me look and feel so gorgeous on my wedding day! My husband cried when he saw me during our first look and I think part of that was because of the quality of the makeup ;)

Melissa was so sweet and a pleasure to interact with over e-mail an in-person. I would work with her again in a heartbeat and would recommend her to anyone looking for wedding makeup!

Sent on 10/09/2020

Melissa Makeup Artistry's reply:

Thank you so much Julia! I really appreciate your kind words. You were equally a pleasure to work with & I wish you all the best as a new beautiful wifey :) Hopefully I get to do your makeup again in the future.

Melissa :)

Erika Capati · Married on 14/03/2020

Hire melissa for all your makeup needs!

I initially found Melissa through Wedding Wire when I began my wedding planning journey in early 2019. I was initially drawn to her work because of the knack she seems to have for glamming you up without hiding your true beauty. I have had the privilege of working with Melissa on three occasions. First, for my engagement shoot, second, for my bridal trial/bridal shower, and third, for my wedding day. Each time, I was impressed with her punctuality, professionalism, and easygoing nature. We always have the best conversation! She is super super easy to deal with via e-mail and responds in a prompt manner. When I needed to make changes to my wedding day makeup needs, she was super accommodating and was always super polite and thorough when explaining cost and details to me. Since my wedding day was packed, I needed to pay for an early start time fee. Melissa tried to make it so that we could start later so that I wouldn't have to pay her an extra fee - talk about an honest business woman! Every single time Melissa does my makeup, I get so many compliments about how amazing yet natural it looks. She truly understands how to enhance your natural beauty while still adding some flare and fun to your face! The quality of work that she provides for the price that she charges simply amazing. I am already trying to find reasons and occasions where I can hopefully work with her again in the future. Thank you Melisssa for helping me feel beautiful on my wedding day! Do yourself a favour and hire her for all your special occasion makeup!

Sent on 18/03/2020

Melissa Makeup Artistry's reply:

Wow, Erika...I can't thank you enough for sharing such a beautiful review of my services! You and your bridal party were so fun to work with and I loved chatting with you the few times I have done your makeup. You are definitely a beauty inside & out!!

Thanks again!! xo

Caitlin Watts · Married on 08/11/2019

Amazing Experience

From the beginning, Melissa was such a professional to work with. I was recommended to her by a few colleagues at work and when I reached out to her via email, she responded almost instantly! From that point on, she provided me everything that I needed to know and was so easy to go back and forth with. For my make-up trial, Melissa made it convenient for me and travelled to my mother's house. It was a great opportunity to get to know Melissa and her style of work better. On my actual wedding day, Melissa and her team travelled to our wedding location and WENT TO WORK. All of my bridesmaids looked stunning and I was extremely happy with my look. Not only did I look fabulous, but the make up application was one with integrity and it stayed on my face until I washed it off later that night. Important to note for any emotional brides - I cried almost the entire afternoon and night and I had no issues of smudging or it wearing off. As mentioned, Melissa is a true make-up artist and professional. She takes her work seriously and delivers for her clients. Our wedding glam was nothing short of perfect!

Sent on 30/12/2019

Melissa Makeup Artistry's reply:

Thank you very, very much for taking the time to share such nice words! I absolutely, loved working with you and your girls on your wedding day. So fun & great vibes! You were a super pretty bride and I wish you nothing but happiness :)

Melissa :)

Andrea Canonico · Married on 26/10/2019

Definitely Recommend Melissa!

Melissa and her team did my hair and make up beautifully for both my engagement photo shoot and my wedding.
From the very start, every email was replied to quickly and scheduling and coordinating and payments were very easy.
On my wedding, my hair and make up was absolutely flawless and needed no touch up at all through out the day. The look was exactly what I wanted! Having a team of beauty professionals come to me made the morning of the big day smooth and care-free.

Sent on 04/01/2020

Melissa Makeup Artistry's reply:

Much appreciation to you, Andrea!! Big thanks for taking time to share your experience. I had a great morning glamming you and your bridal party up for your special day! You are such a cutie and so sweet :)

Melissa

Maria Nguyen · Married on 27/07/2019

Thank you Melissa!!

From the initial contact to the day of our wedding, Melissa was super responsive and helpful. She did amazing make-up on my girls and I, and me being really indecisive, she knew exactly what would work for me and also listened to my opinions as well. I am extremely happy with everything Melissa did!

Sent on 09/09/2019

Melissa Makeup Artistry's reply:

Thanks so much Marie for your nice words!! It was a pleasure to be part of your wedding day. You and your bridal party were great! You were a gorgeous bride!! :) xo

Derek Ryken · Married on 20/07/2019

Natural glam queen!!

Melissa did such an incredible job on myself, my mother, and my two bridesmaids. I got married July 20th, 2019 and the weather was pushing 37 degrees. Feeling like +44. My makeup stayed on the ENTIRE day! I had people at 12 am saying how perfect it looked! Her commutation was great with me from the beginning and she was great at working under pressure when time got tight! thank you so much Melissa for making me feel like a princess on my special day!

Sent on 26/07/2019

Nicole · Married on 01/06/2019

A fantastic artist to work with on your big day!!!

On your big day, you want to be able to relax and know that you're in very capable hands - Melissa was fantastic to work with and will provide that sense of ease and relaxation when other things might be going awry! She paid close attention to what we wanted our makeup to look like. It lasted all day and all night long, the lashes stayed put even though we all cried like babies at the ceremony. I would highly recommend connecting with Melissa as she will not disappoint, but go beyond your expectations for a professional MUA for your wedding day. Thanks Melissa!!!

Sent on 13/06/2019

Melissa Makeup Artistry's reply:

Thank you so much Nicole! It was so much fun to be part of your special day. :) I appreciate your kind words!

Cecilia Lapadula · Married on 25/05/2019

She will make you look your best on your big day!

I have used Melissa before for my sister's wedding, my engagement pictures, and my bridal shower and she is one of the loveliest people to deal with, especially during all of the stressful planning of your wedding. I asked Melissa for suggestions for hairstylists and she put together the most amazing team for hair and makeup for myself and my 9 bridesmaids. Melissa and her team brought all of our hair and makeup visions to life, we all looked absolutely stunning and received many compliments. She is amazing, and if you want to look beautiful and have a stress-free experience, I highly suggest working with Melissa! Thank you so much Melissa, it is always a pleasure :)

Sent on 28/05/2019

Melissa Makeup Artistry's reply:

Thanks so much Cecilia! It was such a pleasure to glam up you and your bridal party! I really appreciate you taking the time to write such a nice review. You were a beautiful bride :)

Veronica · Married on 24/05/2019

Wedding Makeup

Melissa did an amazing job doing my makeup, four bridesmaids, mom, mother-in-law, grandma and flower girl. All the girls loved their makeup and it lasted all day. She was extremely patient with the flower girl which we really appreciated! She was able to take aspects I liked from a couple different photos and turn it into exactly what I wanted! It was a pleasure to have Melissa do my makeup and I would highly recommend!

Sent on 28/05/2019

Melissa Makeup Artistry's reply:

Thanks Veronica! I really enjoyed being a part of your wedding morning. You and your ladies were awesome to work with! :)

J Mac · Married on 16/05/2019

Wedding day Makeup

Melissa was super professional, arrived on time and was so great to work with. The makeup was light and natural( which is what I asked for) but stunning in photographs and I am so happy I hired her for my special day. She is amazing!! And I will definitely hire her again in the future !

Sent on 29/05/2019

Melissa Makeup Artistry's reply:

Thank you kindly! I loved meeting you and your family and glamming you up for such a special day! Hopefully I'll get to do your makeup again in the future!!