Reviews for Trillium Floral Designs
Awards
15 User photos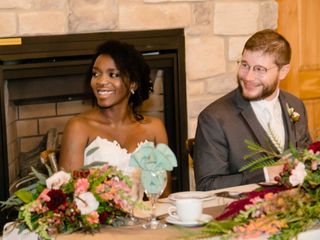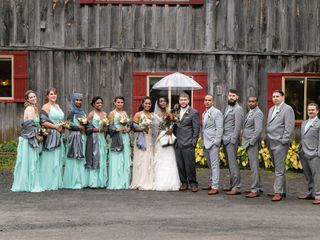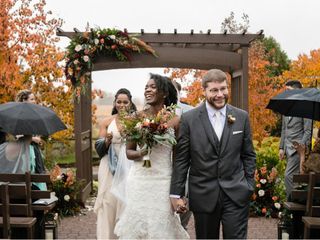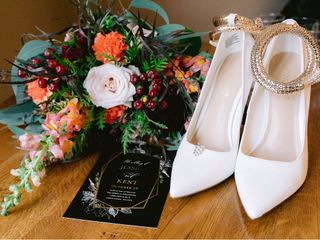 Palmer · Married on 17 of October of 2019

Definitely recommend to others.

Mandy was amazing in offering suggestions and in listening to what our daughter wanted for her wedding. The bouquets were beautiful along with all the other arrangements. Everything was delivered promptly. We are very happy with the service Trillium delivered.

Sent on 17/10/2019

Trillium Floral Designs's reply:

Thank you so much for your review! It was a pleasure working with you and your daughter on her wedding flowers. She made some lovely floral choices that I am thankful to have brought to life on her special day! Thank you for entrusting us and I look forward to seeing photos. All the best!

Jessica Elinord · Married on 12 of October of 2019

Loved working with Trillium Floral Design!

Struggling with pinning down the floral arrangement and colours wanted for the wedding, Mandy was fantastic. Her survey, phone consultations, in-person sit-downs and unending patience, really helped organize my thoughts into one clear vision for the big day. The colours popped and the flowers brought the modern-bohemian I wanted for our fall wedding. She was also great with last-minute orders such as the wax-flowers needed for my bridesmaid's hairstyles. Last but not least, she was willing to work within our budget. Highly recommended!


Sent on 12/01/2020

Trillium Floral Designs's reply:

Jessica & Kent,

Thank you so much for your lovely review! It was such a pleasure working with you and coming up with a unique vision for your fall wedding. The colours certainly did pop and was the perfect addition to your décor and beautiful venue. Thank you as well for attaching some photos, JALS Photography did a great job. All the best to you both and hope to work with you again!

Adele Costanza · Married on 20 of October of 2018

Perfection

My experience with Trillium Floral was nothing short of amazing. Mandy (and the Trillium Team) was very patient and went above and beyond to include a very special flower to my bouquet. Having lived in the Northwest Territories for a number of years (and falling in love with the place), she was able to include the official floral emblem of the Northwest Territories. And I know it was not an easy task! Everything came together perfectly. The colours complimented each other so well with the blush roses and blue thistles and the gorgeous greenery. I never thought I would be the type of person to feel emotional when I saw a bouquet, but Mandy did it! I saw my bouquet and I felt so overwhelmed by the beauty and the heart that went into creating it perfectly for me. I am so grateful for their hard work!

Sent on 14/01/2019

Trillium Floral Designs's reply:

Thank you so much for the lovely review Adele! I was so happy that I was able to find that special flower for you and that you thought of a creative way to include a sentimental piece of your lives together in your bouquet. Thank you for including us in your special day and for taking the time to review us, it really means a lot. All the best!

Katie Morrissey · Married on 08 of September of 2018

Amazing Experience and Beautiful Florals

Mandy and the Trillium team did an amazing job with our recent wedding! Mandy was very knowledgeable and made the process fun and memorable. She was so wonderful to work with. The colours really popped and the arrangements exceeded our expectations. We cannot thank you enough and would definitely recommend!

Sent on 26/02/2019

Trillium Floral Designs's reply:

Thank you so much Katie for taking the time to provide your feedback from your experience with us. I'm so happy that you were pleased with everything! I'm so glad that the weather was perfect for your day also. All the best to you and Kon!

Alison Dailey · Married on 23 of September of 2017

Feeling overwhelmed with florist options, I took a reference from a friend and decided to contact Trillium Floral. The decision to work with them for my wedding was an easy one - they were prepared, proactive, and really listened to my vision for the day.

Not only did I receive tons of compliments on my bouquets and centerpieces, they absolutely matched what I wanted and my budget. I couldn't have been happier with the end result and wouldn't hesitate a bit in recommending Trillium to another bride.

Sent on 01/12/2017

Trillium Floral Designs's reply:

Thank you so much for your lovely words Alison! It was a pleasure being a part of your day and I'm glad the flowers matched your vision! Hope to see you in the new year!

Tobi Martin Married on 21/08/2015

When we arrived for our appointment there was a great little area to sit. She was prepared. Not only did she have an amazing collection of her work that we could go through she knew our vendor and the location. She knew all the measurements of the space and she even had the exact measurements of the vases for the centre pieces. She had gone to my Pinterest page and knew the style I liked and while sitting with us designed a bouquet so we could see how it would look finished. She stuck within our budget and will be giving us amazing flowers for our day. Very thrilled and happy so far. We will be getting Bridal Bouquet, Throwing bouquet, 4 bridesmaid bouquets, 6 Boutineers, 2 pins for Mother of the Bride and Mother of the Groom and centre pieces for under 780.

Sent on 29/05/2015

Trillium Floral Designs's reply:

Thank you for the lovely review Tobi! Looking forward to preparing your flowers in August!

[Anonymous] Married on 15/08/2015

Trillium Floral Designs provided the flowers for our wedding and they did a fantastic job! We gave them a budget and a specific look, and they were respectful of both. Trillium Floral Designs were also a pleasure to work with. They were polite and professional, on time, on budget, and with helpful suggestions - but never pushy. And on the day, the flowers were gorgeous - exactly what we wanted. We could not have asked for anything nicer, and would certainly recommend their services - thanks Trillium Floral Designs!

Sent on 15/10/2015

Emma Bottomley · Married on 18 of October of 2014

Mandy @ Trillium Floral Designs was amazing! She was on the same page as us when it came to our "funky" unique style we wanted for the bouquets. I gave her some ideas and she ran with it. I cannot say enough good things about Trillium Floral Designs!

Sent on 10/11/2014

Trillium Floral Designs's reply:

Thank you Emma for your kind words. It was such a pleasure working with you!