Reviews for The Dress Whisperer
Awards
81 User photos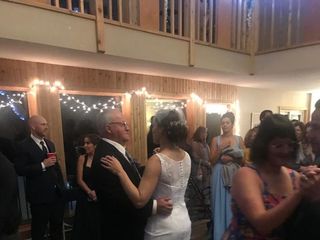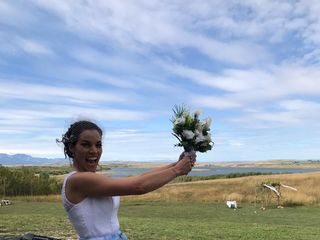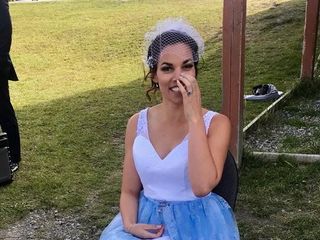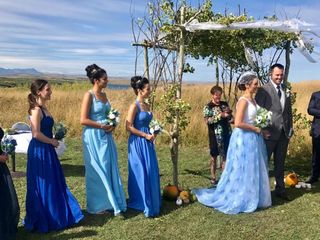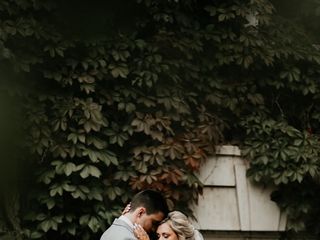 Olivia Guerra · Married on 21 of September of 2019

Blue Skirt Bliss

Lynne is absolutely the dress guru. Everything about working with her from her punctual responses, adorable and artsy abode/workshop, her sassy confidence and clear pride of craftsmanship instilled in me the utmost faith in customizing my two piece dress into a unique and beautifully fitted dress and blue overlay skirt. She came in early, on price and with great enthusiasm. I'm so grateful to her for her work in helping to make my day so magical. I highly recommend her!

Sent on 05/10/2019

The Dress Whisperer's reply:

Olivia ... talk about coming in early ... because you were organized well in advance, you made my job easy! You were a pleasure to deal with and I was excited to work on your dress. What a stunningly beautiful day.

Madison R · Married on 16 of September of 2019

Only 1 word, AMAZING!

Lynne was very professional and so helpful having my dress fit my body perfectly! She has excellent personality and makes you feel so comfortable. I am SO in love with how my dress looks after she put her special touch to it. Thank you so much Lynne, I will recommend you always!

Sent on 22/08/2019

The Dress Whisperer's reply:

Oh Madison... thank you!!! I can't wait to see a picture of you in your dress. Happy Shenanigans in Saskatoon!

Casey · Married on 07 of September of 2019

Amazing work

Lynne is amazing. She is straightforward, knowledgeable, and knows how to make you feel at ease.
I love her work and would work with her over and over again!

Sent on 22/08/2019

The Dress Whisperer's reply:

Thanks Casey, you are very sweet! I would work with you over and over again as well. Can't wait to see pictures of you on your special day!

Cassandra Dupuis · Married on 07 of September of 2019

Ah-mazing job

Where to start? From the moment I contacted Lynn she was so nice and accommodating. I had a bunch of questions about a dress I wanted to buy off a buy and sell and she was no short of answers. Fast forward a couple weeks and Lynn met me in Calgary in a small gross bathroom to make sure my dream dress was able to be altered and that there were no problems with it as I was buying from somebody and not a store. We laughed and joked and got a long so easily. With the wedding coming up I had to bring it in for alterations and let me tell you there was a lot of work having to be done. Not once did she complain or make me feel bad it was actually the complete opposite. My fiancé and I really like grilled cheese sandwiches and it ended up making my dress not zip up all the way so I was an emotional wreck and she calmed me down and at the end of the day she made my dress look beautiful. She also made my a vail which matched it perfectly and held up all day. If I could describe Lynn in one word it would be amazing and I am so glad I went with her.

Sent on 08/09/2019

The Dress Whisperer's reply:

OMG best experience all year ... a trip to Calgary ... and laughs to boot ... being chosen to work with you was a blessing. I loved your positive attitude and reasonabke expectations. BEAUTIFUL inside and out.

Lily Le · Married on 31 of August of 2019

Knowledgeable and quick!

Lynne is full of personality and passion for her work. It's obvious that she wants to do her very best to make sure I was comfortable and stunning in my gown. She's straightforward and will tell you her thoughts on alterations, and you may want to trust her because she knows what's she's saying. Her turn around is quick. When I ended up losing weight and wanting to return to take the dress in further, she prioritized me and finished my new alterations within days. She did an amazing job on my gown which was a very difficult style to alter. My gown fit perfectly and I never wanted to take it off! I would highly recommend Lynne for alterations!

Sent on 08/10/2019

Natalia Klawitter · Married on 24 of August of 2019

So very happy!!

Could not be happier with my dress!!! I'm getting married in a week from today and felt absolutely amazing trying it on after Lynne had worked her magic on it. The alterations made all the difference. Would highly recommend her to future brides-to-be :)

Sent on 17/08/2019

The Dress Whisperer's reply:

Natalia, thank you so much for the review. I can't wait to see a picture of you in the dress on your wedding day!

Amy Lloyd · Married on 24 of August of 2019

Amazing work

Lynne was the loveliest woman ever. She did an incredible job on my dress, it fit perfectly on the day (even with a growing baby bump too.) Even though I was booked in last minute due to us picking an unexpected date, she still found the extra time to get me in and done in time. I will be going back in the future for more alterations.

Sent on 25/08/2019

The Dress Whisperer's reply:

Amy, you looked beautiful. Thank you so much for picking me to work on your dress. I share the sentiment of you being the loveliest woman as well! I can't wait to see a pic of your new baby.

Karla M · Married on 17 of August of 2019

Makes Magic Happen!

Lynne took on the daunting task of altering my grandmother's beautiful 65 year old dress, and could not have done a more flawless job! She was patient, honest, and accommodating, ensuring not only that the dress fit, but that I felt wonderful in it. She essentially redesigned the neckline, and redid all of the worn out buttons, in order for me to achieve the style I liked and somehow managed to make it even more beautiful than I could have hoped for. Words can't describe how special it was for me to wear my grandmother, and then mother's, wedding dress on my own wedding day, and it truly would not have been possible without Lynne. She put so much passion and dedication into her work, and everyone was truly in awe of the gorgeous transformation. Thank you so much, Lynne!

Sent on 17/09/2019

The Dress Whisperer's reply:

Karla ... I was so excited to read your review. Thank you so much for giving me the opportunity to work on today is your grandmother's and mother's vintage gown. You looked so beautiful and I was so happy to be chosen to be part of your day.

Helen · Married on 17 of August of 2019

Lynne is the Dress Whisperer

Lynne was fantastic, meetings and fittings are on time, she had to shorten and take my dress in and she had it done within a couple of weeks.

Sent on 09/10/2019

The Dress Whisperer's reply:

Beautiful... loved working with you!! Your petite frame and your very elegant dress were a pleasure to work on.

Carly Welsby · Married on 12 of August of 2019

Amazing!!!

Lynne saved me and did some emergency alteration for my dress. I was out of time, money and options, as I had just received my dress back from someone else. I was not going to be able to wear it with less than a month to go. After Lynne was done, it was beyond perfect. Save yourself any headaches and go to the Dress Whisperer.

Sent on 13/07/2019

The Dress Whisperer's reply:

Carly, it was a pleasure to take your dress from wow to pow! You deserved to have the dress of your dreams. Send me a picture when you can.