Reviews for Wild Bills DJ Services
Awards
7 User photos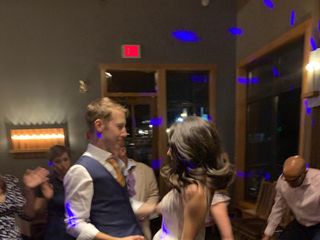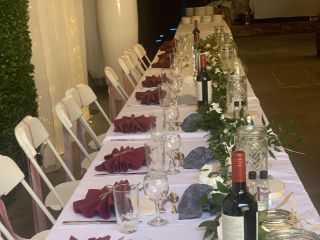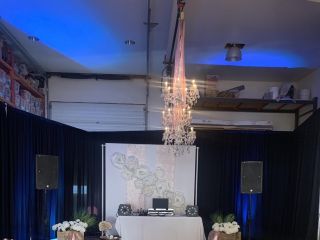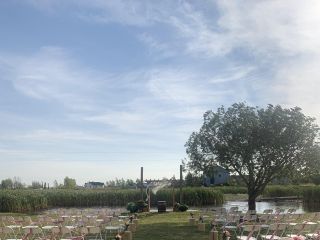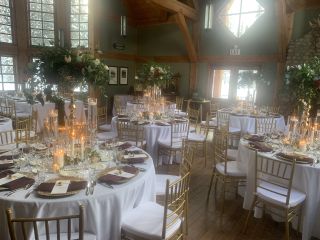 Jordyn H. · Married on 04/07/2020

Wedding Party Must-Have!

Bill was the DJ for our wedding on Sept.12 2020! We had Bill there for our ceremony and reception and he was absolutely amazing throughout the whole planning process! Despite having our wedding during covid-19 Bill helped to make it such a special day for us with the wonderful music that kept the party going all day and all night long! The up-lighting he provided for us also really helped to transform our reception space! 100% would recommend Wild Bills DJ Services and hope to see him at future events for our family and friends!

Sent on 21/10/2020

Wild Bills DJ Services's reply:

Wow what a blast, creating a fabulous location with incredible guests, it will always be a PARTY!

Ty........Wildbill

Kaitlyn N. · Married on 14/03/2020

Fantastic DJ

Bill was absolutely amazing for our wedding! He was so easy to work with and made sure everyone had a great time! We had so many of our guests comment on how much they enjoyed the music selections. He kept everything moving along perfectly and I didn't have to worry about a thing. I would highly recommend Wild Bills for a great party!!

Sent on 27/03/2020

Crystal N. · Married on 29/02/2020

Great music and great guy!

Wild Bill did an awesome job DJ'ing for our wedding, even added a little Disney music in by my own random request!
He was great at reading our crowd and kept a lot of us on the dance floor!
Bill was very professional and punctual, which was highly appreciated!

Sent on 08/03/2020

Wild Bills DJ Services's reply:

thanks very much Crystal.....a perfect day Venue, DJ Location & Food.....thank-you. It will be one to remember for sure....WB

Marlene T. · Married on 20/09/2019

DJ of our dreams!

DJ Bill was thoughtful, responsive, professional and delightfully fun! My husband and I were hopeful about having a romantic, upbeat, memorable soundtrack to our wedding and Bill delivered...and then some! All of our guests keep telling us that our wedding was the most fun one they've attended - and DJ Bill's skills for our dance session was especially responsible! We are so glad we went with DJ Bill - Hope everyone here is lucky enough to book with him :)

Sent on 05/10/2019

Breanna T. · Married on 24/08/2019

Party Must Have!

We hired Wild Bills DJ Service for our wedding in August and could not be happier with what we received! We were pleasantly surprised to learn the day before that Bill himself would attending. Bill had our dancefloor absolutely packed all night ( I think we actually ended up breaking the dance floor, oops!) and played the perfect crowd pleasing mix. It was the best party ever and we wish we could do it every weekend! He announced all of the other events and dances perfectly and professionally, and pronounced our names flawlessly (which I cant say the same for our MC and officiant, doh!). Bill made the whole process and the whole evening run so smoothly, zero stress! We would highly recommend Wild Bills DJ Services to all our family, friends, and anyone in need of a disc jockey for any event!

Sent on 13/10/2019

Roezell R. · Married on 30/12/2018

Amazing Experience

Bill York is really great to work with. He is quick to respond and is helpful and understanding with any requests! I didn't know what to expect, I just wanted to be within budget, have the person show up and play good music. I received more; they provided great lighting, the DJ made necessary announcements and played amazing tunes! The party was jumping, so we extended our DJ for an extra hour and he was happy with it. I seriously would recommend Wild Bills for weddings or just a cool party. Thanks for the great time, Bill and Mike!

Sent on 07/01/2019

Hayley · Married on 13/10/2018

Full Dance Floor!

We hired Wild Bill's DJ Service for our wedding in Invermere and I am so glad we did! Bill was great to work with through the entire process. He was easy to get a hold of and very professional.

Richard was our DJ and he was great! He called me a few days before the wedding to introduce himself, go through our prep sheet, and make sure we were on the same page. He had worked at our venue (Eagle Ranch Golf Resort) before, so he knew where to set up, when last call was, etc. It made my day less stressful knowing that he had it covered. We had a packed dance floor (at one there were even 3 grandmas on the floor!). Multiple guests commented on the quality of music.

Better yet, Wild Bill's DJ Service was an excellent value! I would highly recommend!

Sent on 03/12/2018

Wild Bills DJ Services's reply:

Thank you, Richard said it was of his best wedding party dances of this year. Thankyou Bill. I look forward to many referrals from family and friends.

Amanda C. · Married on 06/10/2018

Bill from Wild Bills is phenomenal!!!!

My husband and I struggled to find a DJ for our wedding because all of our friends' previous encounters with DJs were not enjoyable. Their DJs played the wrong songs, got drunk, or hit on their bridal party members. Moreover, any suggestions on reliable DJs that were given to us were already booked. However, Wild Bill DJ Services was recommended to us by another vendor (our linen rental company), so we thought we would shoot him off an email. He responded right away, within 15 minutes, and offered us an amazing price for the day of our wedding. We decided to book him because his services were recommended by another business in the wedding world. We were so happy we booked Bill. Bill was extremely professional at our wedding. He played all of our requested songs, did not get drunk, and was enjoyable to work with. Many of my guests mentioned how awesome our DJ was and that they loved the music he played. I would 100% recommend Bill from Will Bill DJ Services for anyone who is planning an event and needs a DJ. He gave my husband and I everything that we needed to be happy on our wedding day and also worked with me beforehand so that I could play my homemade video of baby pictures at our wedding. Bill is a great choice!!!

Sent on 25/10/2018

Wild Bills DJ Services's reply:

Thank you so much guys, it was truly an honour to be your DJ on your special day! It was at the perfect location the Zoo and your guests were unreal no to mention the decor was fabulous, what a fun day! All the BEST! Wild Bill Loves ya.

Taryn B. · Married on 08/09/2018

Evan was Fantastic!

I hired Wild Bills after another DJ company fell through! I was in a total panic and Bill assured me everything would be great and that we would be taken care of. Evan came out to Canmore (where our wedding was) and made the night the most memorable of our lives. He was amazing at reading the crowd and playing music that everyone was interested in. He made our weddding better! Thanks Evan!!!!

Sent on 29/11/2018

Katelyn F. · Married on 03/08/2018

Great DJ Company

Wild Bills did our music for our ceremony and reception (2 venues, 80 km apart). There was a last minute change in the DJ sent by the company (potentially caused by wildfires in the area closing highways), which led to a lack of preparedness and many questions. Started the wrong song for our first dance. Otherwise, did a great job and was very receptive to requests. Read the crowd and did a great job.

Sent on 11/08/2018

Wild Bills DJ Services's reply:

Yes sorry about that my DJ was confused on the what song by the proper artist....Some songs come in so much variety and different artists sing it. My DJ and I should of double, triple check on that song.....Again accept my apologies on that......Wild Bill loves ya!