Reviews for ILUPH Events + Decor + Rentals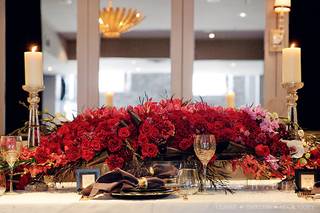 ILUPH Events + Decor + Rentals
Ottawa, Ontario
View more information
16 reviews
Quality of service

4.3 out of 5 rating

Response time

4.2 out of 5 rating

Professionalism

4.2 out of 5 rating

Value

4.2 out of 5 rating

Flexibility

4.3 out of 5 rating
13 User photos
+ 9

Photos
Kim S.

Married on 02/03/2019

Excellent service and amazing decor

We had excellent experience with Kim Sprague of ILUPH events. We first met in March of 2018 and just had our event in March of 2019. The decor was so beautiful and she stayed the entire night to ensure everything went smoothly. It exceeded my expectations, and I could not say enough about the way we were treated. We also received a beautiful card from them! Would recommend this company.

Amy M.

Married on 25/11/2018

Wedding Planner for our wedding in November

We hired ILUPH for our wedding 2 years ago and we were so impressed with the service that we have recommended them to multiple of our friends and family.
The lead up to our day was super stressful but Kim from ILUPH made it so easy to relax. I am so happy we chose them, and would recommend them to anyone!

+ 4

Photos

Milly R.

Married on 31/08/2018

Do not use Kim/ILUPH -

LEASE DO NOT BE FOOLED BY ILUPH/KIM. I would give her no stars whatsoever - it has been one of the worst experiences I've ever had working with a business - unprofessional, untrustworthy, not truthful. She comes across friendly and easy to work with but once payment is received, she falls out of touch and does not fulfil her responsbilities and promises.

To sum up:-We had issues with the tents and space, and she was nowhere to be found to deal with the issue. It was her team that originally measured the space and provided the tents!

-She kept postponing the set up date of all the tents, chairs tables and decorations and so only her husband ended up setting it up alone the morning of the wedding. Again she was nowhere to be found and so we had about 20 family members and friends rush over to try to set everything up

-She guaranteed the waiters and waiting staff were certified and professional but she hired them off kijiji at the last minute. They had NO IDEA what they were doing She said that they would show up with all the non alcoholic beverages - they DID NOT, and they didn't know how to make any drinks. Guests noticed and even commented on their lack of professionalism. We had to ultimately pay someone additional to help out even though we had already paid Kim to provide these services and staff members. We also had to rush out and purchase drinks last minute, knowing after that point that we could NOT rely on her at all.

-Decorations were missing - we had to rush out again and get those also - all while she was NOWHERE to be found and completely out of touch. We only received random confusing 1 liner whatsapp messages which did not explain anything or give any direction on what to expect.

-We ordered an executive porta-potty (supposed to be much nicer and wedding-appropriate) and the day before the wedding, two very cheap looking plastic porta potties show up. She acted like she knew nothing about them (apparently surprised) and promised to fix it but then come game time, she didnt have a solution (and so we had ghetto blue porta potties sitting on our drive way) and again, she would not answer any phone calls

-We were excited for our welcome cocktails (signature drinks) which she also promised and was commissioned to provide, but with her lack of organization, her last minute hiring of unqualified wait staff, and no direction on beverages, we had to omit from the plan only a few minutes before the event start.

-Not only was it a mess leading up to the wedding, but we, the bride and groom, were in high stress mode even minutes before walking down the aisle, because Kim, who was hired to make the plans seamless, made them SO MUCH MORE stressful.

-After the wedding, my mom tried to get in touch with Kim multiple times in order to talk, meet up and find out what happened. Kim made multiple commitments with my mom to meet up but cancelled all of the meetings at the last minute or many times, just did not show up (she did not even bother to cancel at those times).

- She finally started communicating over email, after we brought up legal action against her. She agreed to a partial reimbursement of e-transfer (only - it was the only thing we would agree to) and then later claimed she mailed a cheque. We felt this was not true because we read of other reviews where she did the same. Needless to say, the cheque never showed up as we expected. It is now >5 months after the wedding happened.

-Although we have proceeded with legal actions, my family, friends and I suggest you NEVER USE KIM OR ILUPH for any services she provided even if pricing is more favorable. What was supposed to be a magical day was tainted with mounds of stress and dissapointment.

Are you interested?

Send a message

Emily K.

Married on 26/08/2018

Brides beware

I have had two experiences with Iluph both have been horrendous. I good friend was using Iluph for her wedding and recommended them to me. The friend got married two months before me. On the day of her wedding, Iluph didn't send over 75% of the items promised for my friend's wedding and family and friends were scrambling on the day of to get items from other vendors in town. Her level of unprofessionalism when Kim (the owner) did finally arrive was outstanding! She seems unfazed as if nothing was her fault. After witnessing this disaster I contacted Kim and told her I was no longer interested in her service. In the original quote, there was nothing about it being nonrefundable and it was only a week after booking. Kim promised me a refund and then avoided my emails and call. When I did get a hold of her she played the victim. This all took place three months ago and I have never seen a cent of a refund. I have come to assume that this company is a scam and all I can do is offer my experience in hopes that others can learn from my experience.

Rachel K.

Married on 16/06/2018

Perfect day

We hired ILUPH for our wedding in June. We are located just outside of casselman and they came to us, set everything up perfectly and stuck around to make sure nothing was forgotten.
Our wedding was stunning!


Linda C.

Married on 05/05/2018

Awesome Event rentals

We rented our bar, tent, chairs and other small items from ILUPH. Everything was on time, and quality items! The communication leading up to it was impeccable. We felt that we got everything we paid for and more!

Taku N.

Married on 08/07/2017

Customers BEWARE!
I am not sure how this company has received 5 stars as my experience with them has been unnerving. Kim (the owner) has been avoiding us (email and phone) and owes us money for services that were never rendered for my wedding.

I am not the only unhappy customer


ILUPH Events + Decor + Rentals's reply:

Firstly, we just wanted to apologize that you were unhappy. However just to clarify this was refunded for the items that we were unable to install due to the ceilings of the facility. We also tried to make it up to you by way of 2 person pass to the Nordic spa. We hope you enjoy them and truly are sorry that you felt unsatisfied. Thank you

[Anonymous]

Justin and I feel truly blessed to have had the opportunity to work with Kim from ILUPH. To say that she was simply "a part of our day", would be a huge understatement. When we enlisted in the help of Kim and her team, I was having a really difficult time planning our wedding. Although I had strong opinions and ideas about what I liked, I was not motivated to organize everything and truthfully, the entire planning process was SO stressful and ruining what should have been one of the most exciting times of our lives.

We gave Kim and her team COMPLETE control of our wedding, which I can't imagine was easy seeing as how the venue was 2 hours from Ottawa and everything had to be transported in. From the florals, liquor license, itinerary, to ALL of the décor (linens, lighting, chairs, etc.), Kim did it all - I did not have to worry about a thing. Kim went above and beyond (as I hear she does for all of her clients) and we had so many amazing features! From the firework show (which our guests are still talking about), to the CRAZY details such as customized wine glasses, creative seating chart, church programs filled with confetti, our engagement pictures hung around the barn, to personalized soap dispensers - it was truly the most beautiful and magical event I've ever attended. Her attention to detail, creativity skills, and organizational skills are second to none.

I could go on forever about how grateful and thankful we are for Kim's professionalism and dedication to making our day the best day of our lives, and can't recommend her enough to all the brides out there looking for someone to help make their day the best it can be. The feeling you get when your guests are still telling you, "That was the most beautiful wedding I have ever attended" or "That was the most fun and unique event I've ever seen", is something you will hold onto forever. Kim is an expert in the industry, and she proved that on September 24, 2016.

+ 2

Photos

Alexa B.

Married on 10/09/2016

I cannot recommend ILUPH highly enough. Their personal approach to helping us plan and execute our event was really appreciated. Their advice was spot on, the set up was done early enough that we could get everything else put our and the collection of equipment the following AM was quick and easy. Because of the promise of rain, ILUPH worked out a plan B set up of the tents so that the event could take place with all guests dry and happy. Price, flexibility, personal service and experience are all qualities you look for - ILUPH had it all. We are still enjoying the pictures of a wonderful afternoon.

[Anonymous]

ILUPH cannot thank you enough for the outstanding service and the beautiful cake/cupcake stand you custom created for the upcoming event. Thank you so much for everything. It's great how interactive you have been with us and how everyone has surpassed our expectations! Will post photos soon! Thanks Again! Betty & Lucy

ILUPH Events + Decor + Rentals's reply:

Hey Lucy & Betty

Thank you so much for your review! We were also really happy as to how the cupcake stand turned out! We will post a photo of it in our picture section and our online rental shop. However, we would love to see it all dressed with cupcakes at yours! Send us the pictures when you can!
Wishing greatness for your upcoming event!
Are you interested?
Send a message