Christopher and Leeann's wedding in North Vancouver, British Columbia
Elegant Autumn Blue 15 wedding vendors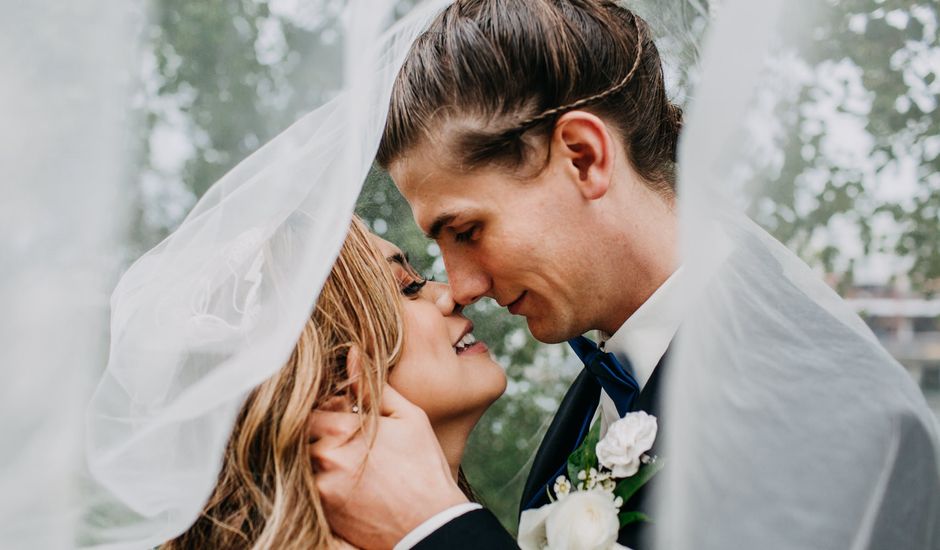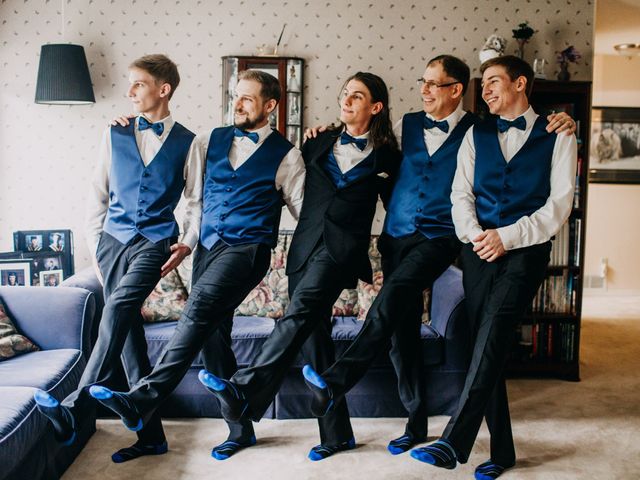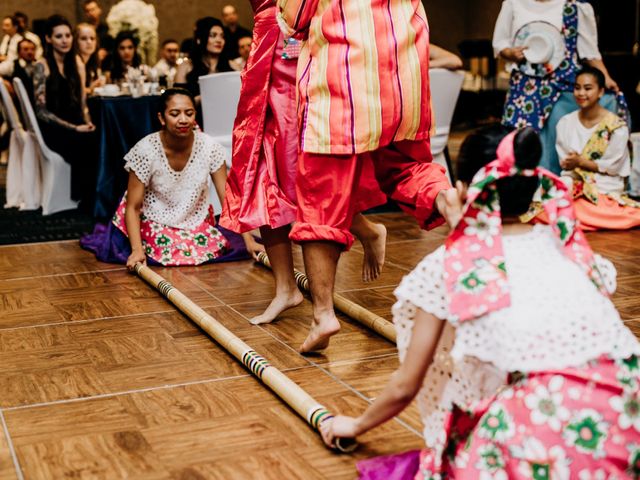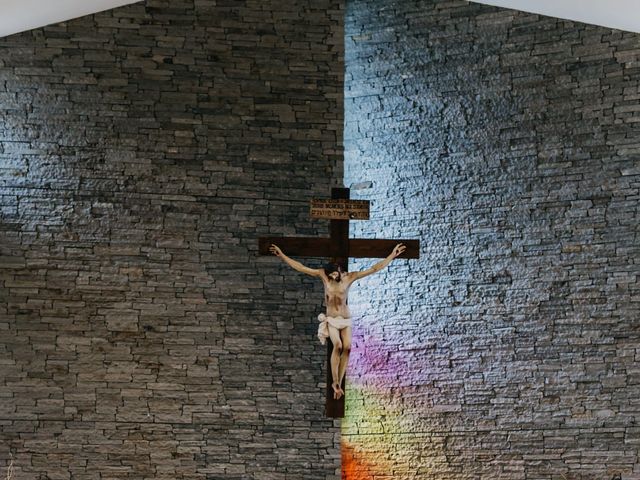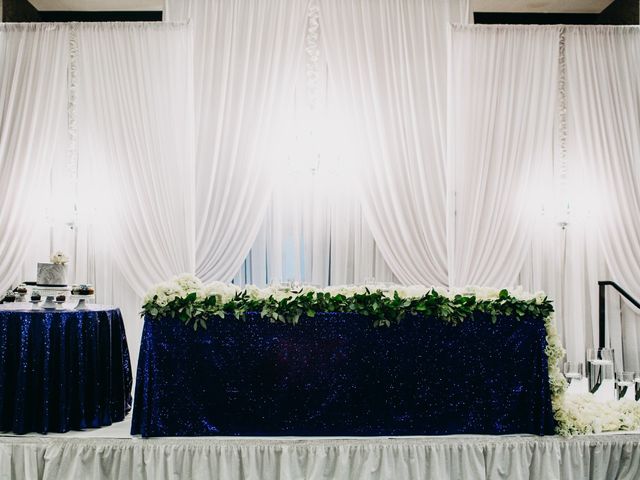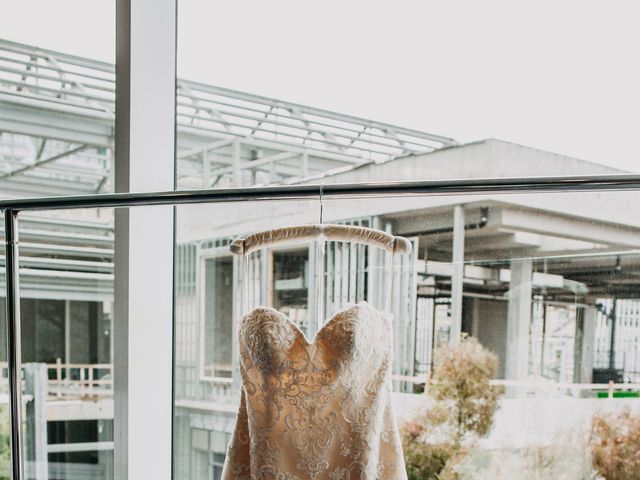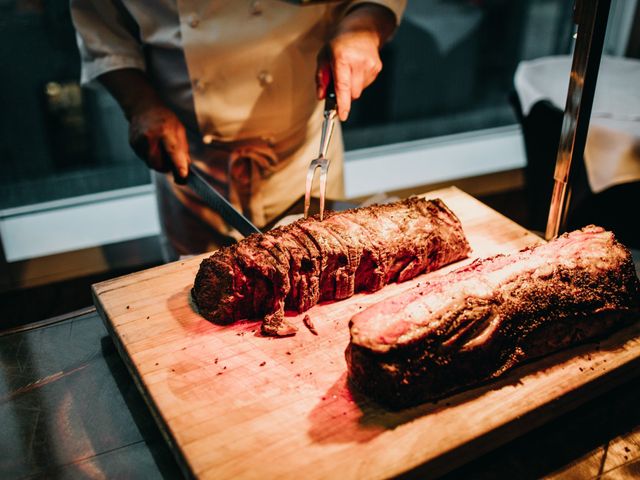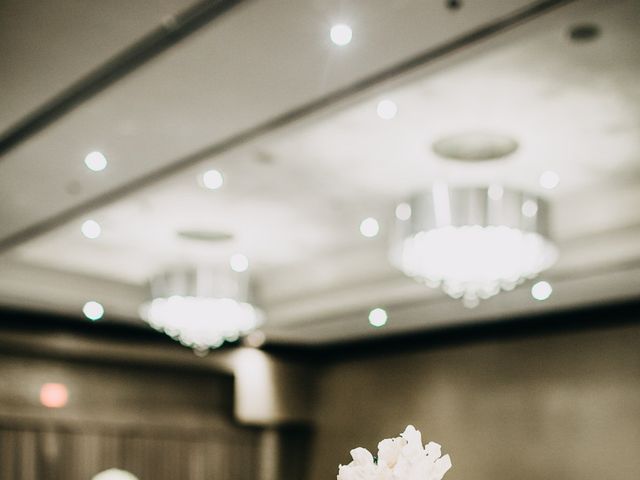 The story of our wedding
What a whirlwind our wedding was! I'll be able to tell my side of the getting ready part and then his side as well, and then all the way up to the ceremony and reception!
Getting ready:
Bride getting ready
I got ready at our reception venue - Pinnacle Hotel at the Pier. My makeup artist and her co-workers arrived promptly on time (5:45am!) and had a schedule in mind of who should get ready and when. It was quite a blur and lots of bodies on who was getting ready. Some of my bridesmaids stepped out to get coffee and some breakfast items for everyone. I was the last to get ready and that was around the time my mom started to get emotional. With the help of my two maid of honors, they helped me get into my dress and then I walked out and revealed it to my wedding party, photographers, hair/make-up etc. My photographer and videographer took the standard shots they needed to take. We met everyone that was staying in the hotel downstairs and they all boarded a shuttle bus to get to the ceremony. My wedding party (bridal party, ring bearer and flower girls) all boarded the party bus to get to the ceremony. Both the party bus and shuttle bus were on time to pick us up and they took the fastest route possible to get us there. The shuttle bus and party bus were early to arrive, which was great! The party bus was so accomodating to myself and the bridesmaids as we didn't want to get out of it before the groom and the groomsmen arrived. The driver kept the bus on idle and made sure the air conditioning was running. The party bus also had stocked up on a bunch of water bottles.
Continue reading »
Groom getting ready
The groom's getting ready was a lot easier and smoother than the bride's/bridesmaids. The men arrived at my husband's house around 9/10am and they quickly got into their suits, fixed each other's hair and had something to eat before they went over to the ceremony. The 2nd photographer and 2nd videographer all were there to capture those moments.
Ceremony
Before the ceremony started - I was given a letter from my husband and honestly, that was probably one of three moments that I was ready to cry. I held it together though because I didn't want to ruin my make-up! It was really emotional and he really poured out everything that we had been through the past 11 years.
Finally, the time came and my bridesmaid and I entered the church. When it was finally my turn to walk down the aisle, the big doors opened and all I could focus on was "wow, I'm really getting married to the man of my dreams!"
My whole family has been going to St. Clare's for over 15 years and there is a reason why my parents pushed me to have my ceremony here. I'm so glad they did. We did a traditional Catholic/Filipino wedding. The priest's homily was very inspiring and relevant to what we were going through as a couple and as a family - he has a way of really touching your heart and making you listen to what he is saying. He doesn't drole on and on about the readings that just happened, but finds a way to make it relevant to you. This church doesn't only just do the Catholic ceremony, they also do just the initial getting married part. I find it is worth your while if you have no objections of having your ceremony in a place of worship. One of the best parts of my wedding was because of this ceremony.
After the ceremony, my entire wedding party got on the party bus and we all celebrated us newlyweds!
Between the ceremony and reception
My wedding party and I got McDonald's from some good friends of mine as soon as we got back to the reception venue. This was great because we all weren't having dinner until around 6:30 -7. We went out to the Lonsdale Quay and the surrounding areas to take pictures.
Cocktail Hour and Reception
I wasn't at the cocktail hour but from what I heard, people had a great time mingling. We had Rosario Strings play during the cocktail hour and there was a photobooth set up there for the guests to use.
Reception
WOW. The decor person did a number and it looked so amazing that day!
Reception started with the introductions of our entire wedding party and then finally, us! Speeches by our parents, best man, my husband's eldest brother, my brother and the maid of honours was spread out as people were eating the food. The food - AMAZING. I'm still dreaming about this food to be honest. We had a band called Sundae Band play for 45 minutes for us and we also had a DJ - Beyond Sound. Sundae Band let my cousin sing with them for the father-daughter dance! Beyond Sound was entertaining and kept the crowd on the dance floor all night!
We had a special present from my parents as they got the Filipino Dance group called Philcas. Philcas performed for 15 minutes and then they let us try out their dances with them, like a mini workshop!
We have a Philippine tradtion called the prosperity, otherwise known as the "money dance".
The reception was such a blur but after 9pm, the entertainment was done and it was time for dancing and more photobooth pictures.
Overall
We got our dream wedding and I couldn't have done it without the help of my parents. I'm so happy that I was able to share this day with all my close family and friends.
Christopher and Leeann's vendor team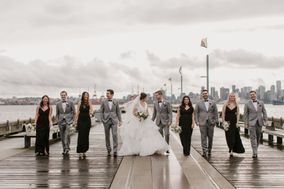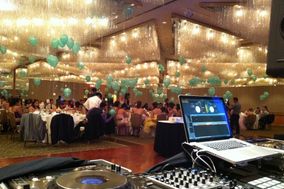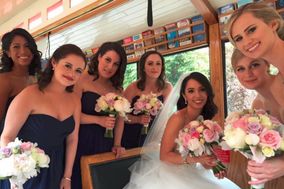 K&B Honey
Wedding favours
Fleurtation
Floral arrangements
Aileen Choi Photo
Photographer
Avi Beauty Atelier
Bridal beauty
Sundae Band
Entertainment
Cora's Cake Shop
Wedding cake
Chris Marcelo Media
Video
Pinnacle Hotel at the Pier
Catering
The Bridal Gallery
Wedding dress
Other Pinnacle Hotel at the Pier weddings
View all
Other British Columbia weddings
View all
Get inspired with Real Weddings
Other blue weddings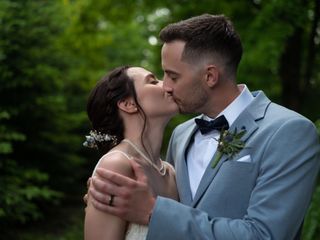 Show all
Other Autumn weddings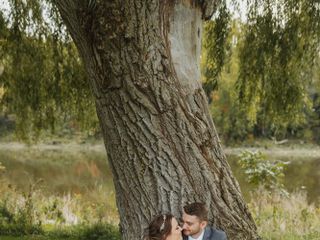 Show all
Other elegant weddings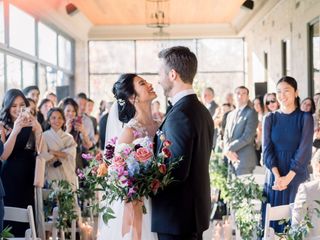 Show all