20 reviews
Quality of service

5 out of 5 rating

Response time

5 out of 5 rating

Professionalism

4.9 out of 5 rating

Value

4.8 out of 5 rating

Flexibility

5 out of 5 rating
60 User photos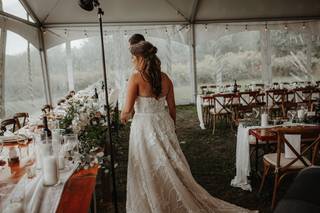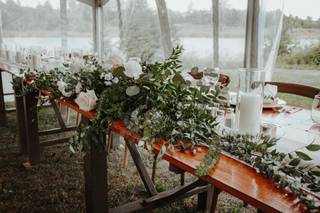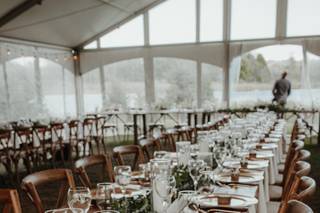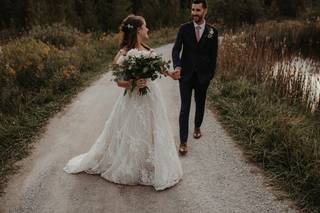 + 56

Photos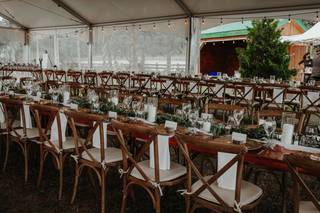 Rachel L.

Married on 11/09/2021

Berautiful wedding

The Hollows Camp is a beautiful venue for an outdoor wedding. We chose to get married under the huge beautiful tree (named Fred) and had the reception in a tent in the field area by the lake. It was stunning and so nice that it all happened in one place. The guests loved it, and the onsite coordinator was extremely helpful. Would reccomend.

+ 2

Photos

Michael H.

Married on 14/08/2021

Perfect outdoor wedding venue, with an amazing staff!

If you are considering choosing The Hollows Camp as your wedding venue, do it and you will not be disappointed. Everything from the property, to the staff, to the memories they help create is absolute perfection.

Veronica and Logan are exceptional at what they do. Planning our wedding with Veronica on our team made the process easy and less stressful than it could have been. Logan's attention to detail made our memories of our special day seem like a beautiful dream come true. All other staff at The Hollows Camp were friendly, accommodating, and knew exactly how to make us feel special.

The property is magical. The private lakes and expansive forested areas make for incredible photography. The opportunities for pictures, especially when the sun begins to set, are endless.

Veronica is a beast of a planner and coordinator. Her years of past experience help to ensure your wedding with go without a hitch (except for the one where you get hitched). She was accommodating to all our requests. She is the best.

Our wedding was perfect thanks to the team at The Hollows Camp. Thank you Veronica, Logan, and team for making our wedding day everything we could imagine!

+ 16

Photos

Featured

Dave P.

Married on 10/07/2021

Fabulous Wedding !

Expressing gratitude for The Hollows in helping us host such a wonderful wedding for our daughter this past Saturday July 10th..
The property really is spectacular - the wonderful natural amphitheatre for the ceremony, the separate tents for cocktails and dinner and the amazing vistas of orchard and lakes -
stunning ! Many guests commented on how spacious the grounds are, providing lots of room to explore, take marvelous pictures and during these covid times - keep as distanced as they wanted to... My only wish was that we could have hosted and shown more people the property on the day, ie. without the covid restrictions ...
Veronica's attention to detail is impeccable - her experience in event planning sure shone through - I appreciated being involved in pre-planning calls with our daughter - it kept me in the loop and allowed us to bombard with questions, which were all graciously answered...
We were kept up to speed on the ever changing covid protocalls - never "sugar coated" just honest up to date information ..
I always felt the Hollows "had our backs" and this followed through on set up day and the actual wedding day - Staff were always there in the background working away - tidying up and keeping things on track and organized..
I can't say enough... Just wish I had another event to plan that we could host at the Hollows !
We loved that we had this little oasis so close to the city but it felt like we were miles away and allowed us all to escape in the magic of the day.. so glad the sun shone, but the Hollows had a game plan in the event of rain ..
As Father of the bride I was so proud of my daughter and this wonderful venue - everything went beautifully - I wouldn't have changed a thing - .
Sincerely,
Sue and Dave

Are you interested?

Send a message

Stephanie

Married on 20/09/2020

Amazing!!!!

The venue itself is absolutely beautiful! We had so many compliments from our guests on our choice of venue. If you're looking for an outdoor venue you must check it out in person! Also Veronica from The Hollows is absolutely amazing! Very helpful and will help you with anything you need along the way and always replies quickly! I would definitely recommend this venue and give it 10/10!!!


Shannon

Married on 19/09/2020

Hollows Wedding

We got married at The Hollows Camp on June 26th, 2021 after postponing a couple times due to covid. Veronica went above and beyond to keep us updated with restrictions that were constantly changing. Our planning process was not the easiest, to say the least, but Veronica worked tirelessly to make sure all our vendors were rebooked and updated with all the changes. Both Veronica and Logan were amazing to deal with and genuinely wanted to help in any way they could to make sure our wedding was perfect. The owners of the property, the bar staff and the hollows camp staff were all amazing on the day of and so friendly to our guests. We would recommend The Hollows to anyone looking for a beautiful outdoor venue!! Thanks again Veronica and Logan for everything!

Levi P.

Married on 18/09/2020

Best wedding venue ever!

The Hollows Camp is really a hidden gem. We fell in love on our very first visit, which was in the middle of the winter where the snow was up to our knees. Even then, we were able to picture our late-summer wedding immediately where we said our vows in the beautiful apple orchard on a greenest grass field, l and dance the night away by the quiet but charming lake. Veronica and Logan greeted us with the warmest hospitality, which sealed the deal for us right away after a few iffy experiences with other venues. They answered all of our questions and never pressured us into anything. Once we've committed, Veronica essentially became our wedding planner. She is the most organized, thoughtful, and efficient person. She helped us with everything from suggesting caterers and DJs to finding the best dress store. Whenever we felt confused or anxious about anything, she was there to help.

Our wedding day was perfect from start to finish. Even though we ran a bit behind schedule, our guests and us never felt like there was anything out of place. All safety measures for COVID were in place and everyone felt safe and happy. My husband and I cannot express enough how much we love The Hollows Camp for both its gorgeous location and its wonderful staff, especially Veronica and Logan who helped us plan every step of the way! We have to mention that our wedding took place in September 2020 during the COVID-19 pandemic, and despite all the chaos and anxiety that came with this, we had our most perfect dream wedding day thanks to The Hollows Camp!

Monique O.

Married on 21/08/2020

A dream come true!

Our wedding at the Hollow Camps was a dream come true. We had our wedding at the end of August 2020. We decided to have a micro style covid-19 wedding. We started to plan our wedding just a couple months before and we couldn't have done it without Veronica and Logan! Veronica was so flexible and made wedding plan so easy! I was never concerned about any aspect! She exceed all our expectations. She provided amazing vendors and had great communication every step of the way. She was very flexible and worked with our needs. We couldn't have asked for a better day. I would highly recommend this venue!

Kevin J.

Married on 21/06/2020

Attentive and Professional

The Hollows Camp is one of the most attentive event venues I have worked with. Veronica and her team are diligent, kind, helpful and attentive. A professional team that makes your wedding day stressfree! They are always offering how can I help.

They have great connections with vendors around them and they did a wonderful job with helping guests park.

I highly recommend for your rustic and romantic wedding venue.


Hena S.

Married on 16/05/2020

A magical wedding

We had our wedding at The Hollows Camp in August amidst Covid-19. It was the best day of our lives and made up for the damper the pandemic had set on our lives. The wedding was magical and our guests told us they had never been to a wedding like this. The Hollows are so easy to work with and let you customize your wedding unlike most venues and banqut halls. They ensure you are compliant with different regulations. We signed the contract less than 30 days before the wedding. It felt like a marathon to re-plan our wedding in such short time but Veronica kept us on track with regular check-ins. Don't worry about not having all the answers, Veronica will guide you and help you plan the perfect day. We could not have done this without her! On the day of the event, Veronica, Logan, Janet and their team did a fantastic job. They made sure things went according to the plan. The family property itself is absolutely beautiful. There are so many areas guests were able to explore and enjoy. The apple orchard with the benches, the dock by the water, the horses, the games area, and a beautiful beach and forest on the other side of the water. This property is everything! Everything I envisioned for my outdoor wedding came true at The Hollows. We couldn't have asked for more. I'm so happy we found them!!

Anonymous U.

Married on 15/10/2019

To start, when viewing The Hollows we were under a great deal of stress because our original wedding venue we booked the summer prior closed down and our date was only 7 months away. Veronica and Logan spent a great deal of time with us talking through possibilities, but most of all assured us that our day would be saved and they would personally make sure of it. To put it simply, they followed through. Our day was magical, we are thrilled with the choice we made.

Planning process:

Veronica partnered with us and really tried to understand our vision and what we saw for our day. She made suggestions but ultimately did everything she could to make sure the logistics complied with our vision.

Veronica created spreadsheets, planning documents, and folders to assist with keeping all of the details organized. She was available for phone calls and her response time was phenomenal. I was never left hanging for very long and always felt that my concerns and queries were being addressed.

A huge shout out to Veronica for going above and beyond to help in anyway that could, including offering to pick items up at the store when the planning of the last week before the wedding was wearing us thin. I felt that she genuinely cared about the success of our day and our happiness, throughout. Quite frankly, she saved our planning experience because we were so jaded from having to plan everything for a second time, it became even fun with Veronica on board. She took on a lot of contact with vendors and even stepped in last minute to run our rehearsal - what a gem. Folks, I've worked at wedding venues, that doesn't happen. It's rare to find someone so invested in your vision and your day.

Execution:
Our day was magical. We selected The Hollows because we wanted our day to be outside, to smell the summer air, hear the birds chirping, feel the breeze on our skin, see the sunset, and dance under the stars. Our lofty vision actually came true. Logan worked hard throughout the summer to groom the apple orchard and then even created a beach for us the week before our day to allow our guests easier access to the lake for pictures and romantic moments.

Veronica and Logan delivered on our entire plan that we discussed and our event was what many of our guests quoted as "the best wedding they've been to". They were flexible and reasonable with us. We loved working with all of the staff at The Hollows.

This is a venue where you can create your own vision, be aware that many things will need to be brought in. I will say that planning an outdoor wedding is not for the faint of heart. The amount of logistics and details is VERY high, keep that in mind.
Are you interested?
Send a message