Christopher and Ashley's wedding in Gananoque, Ontario
Vintage Autumn Burgundy 10 wedding vendors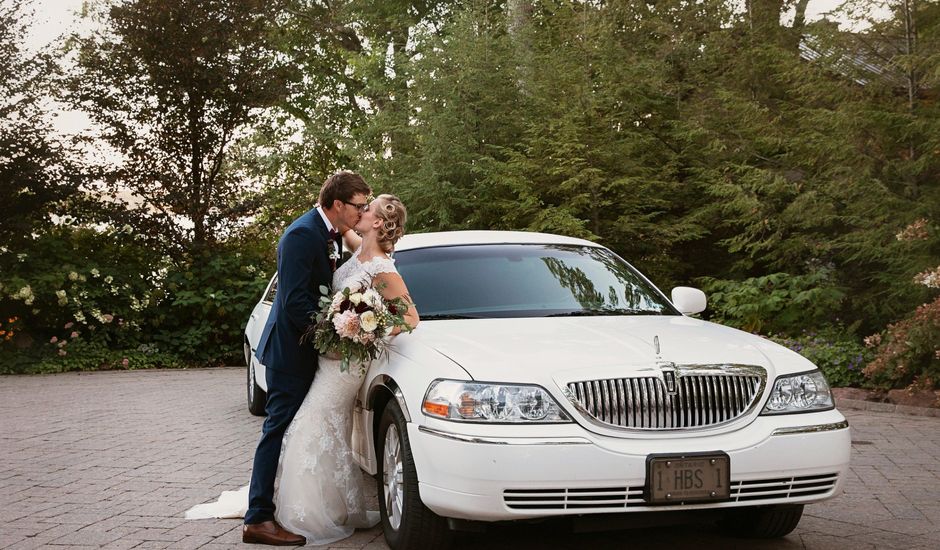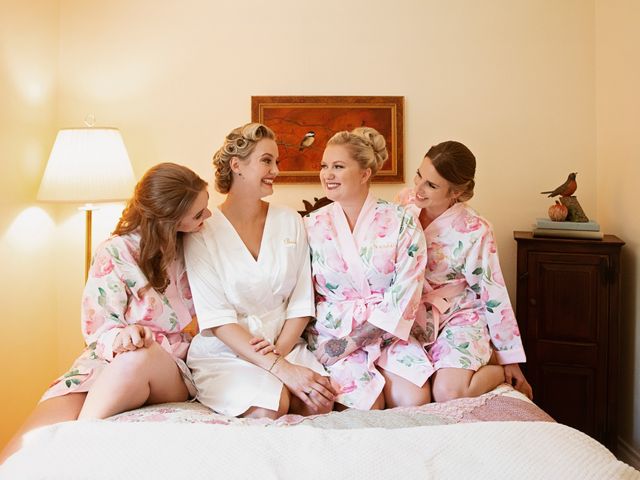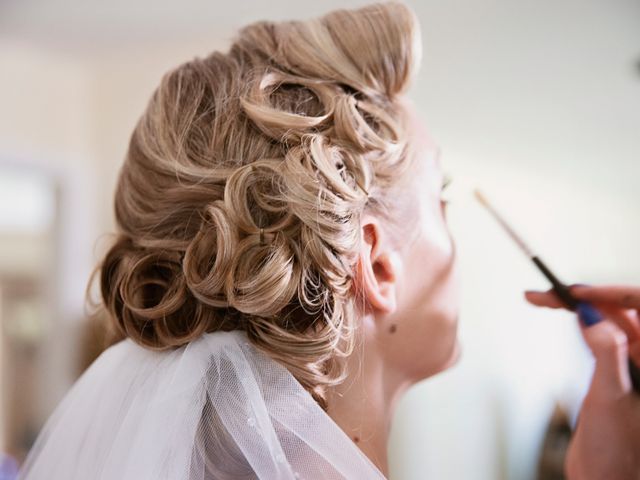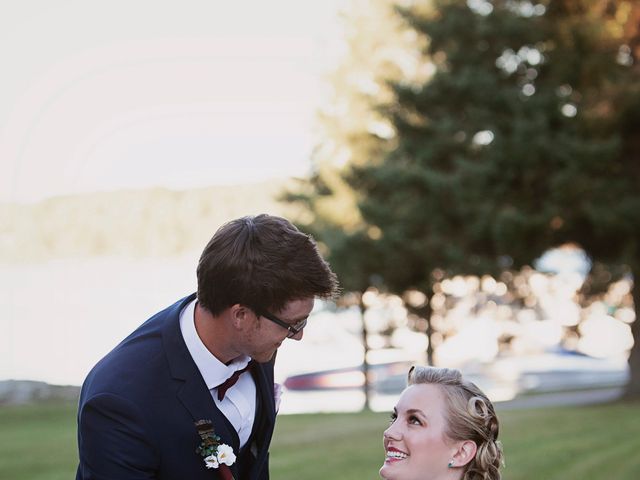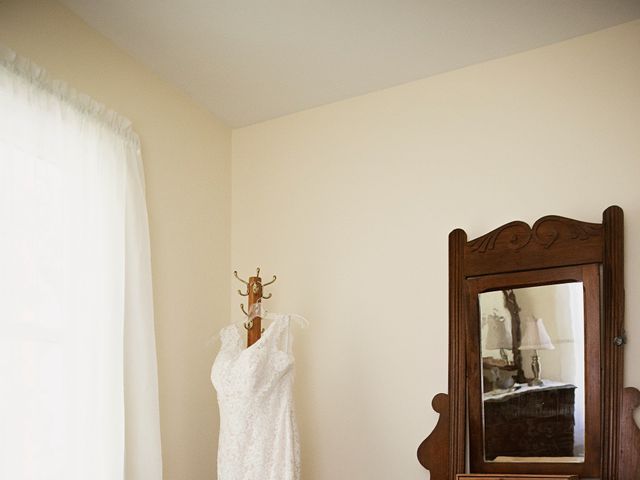 The story of our wedding
Christopher and I got married on the most beautiful Saturday in September. To be honest, even if it wasn't the most beautiful sunny day, it's our wedding day, so it would have still been a gorgeous day anyways. But we were lucky, the weather was spectacular and the sunset was amazing with vivid colours setting on the St. Lawrence River.
Let me start the day from the beginning..
My maid of honour, bridesmaids, mother and grandmother all went to Silk Salon in Gananoque to get our hair styled by the amazing team there. Laura did such an immaculate job with my bridal up-do. I requested a vintage victory roll with pin curls all around the frame of my face and simply told Laura what I imagined in my head and she made my dreams come true, no photo for inspiration, just a description and she made it come to life. My hair was definitely the talk of the show!
From there we went to my childhood home in the beautiful Thousand Islands, Rockport, the site of the ceremony and dressing area.
Continue reading »
Jennifer Topp, our makeup artist, met us at the house and began her magic. I have had makeup done professionally before and her techniques were beyond that. She accommodated everyone's skin type and tones and our skin was left flawless and well moisturized. She left all the girls a makeup bag with samples of the makeup and colours she used for each one individually, so we could freshen up throughout the day, but it was not needed. The makeup held up beautifully all night long!
Kyla Raymond/Turner, our photographer, I cannot say enough words about her! She was fantastic, very punctual, well organized and thorough to say the least. She captured every moment of our wedding, shots that I wouldn't have thought about, but I'm glad she did, as it's wonderful to look back at all the details she captured. She was amazing, I cannot describe my level of appreciation and happiness with what she provided for us.
Our bridal and bridesmaids bouquets were handcrafted and designed by Natasha Lux at Magnolia in Gananoque. The bouquets were stunning, exactly what I envisioned and she personally delivered them to our house while we were all getting dressed and ready!
My wedding dress, it was love at first sight, the only one I needed to try on and it was all thanks to LoveBird Bridal Boutique in Kingston. They helped me find the perfect fit, style and colour to match my desires. The bridesmaids dresses and mother of the bride dress were also bought at LoveBird.
Our ceremony took place on our front lawn as an outdoor civil ceremony. It was officiated by Margaret McDonald from All Seasons Wedding in Kingston. She was very charismatic and well-spoken and all my guests thought she was lovely.
Our wedding reception took place at the Ivy Lea Club, during sunset on the St. Lawrence River. Our photos turned out beyond beautiful! Marjie, the event planner at the Ivy, was wonderful from the very beginning of planning our wedding. From the food selection to the decorations, to the setup and layout, she did it all! We were able to drop off all our decorations, flowers, cake, cupcakes, toiletries etc. days in advance and she took care of all the setup and arrangements (to our specifications of course).
Once we arrived at the Ivy, Marjie met us right away to accommodate all our needs (thirst, hunger, you name it)!
The food was delicious and plentiful! You can never expect anything less than spectacular from the Ivy Club.
Derek Leonard from Driftwood Music was our DJ and MC for the ceremony and the reception. He was wonderful to work with and could easily gauge our taste in music and did well to accommodate that and select songs which suited us and our guests.
Once all the photos were taken, the speeches were made, the food was eaten and our feet were sore from dancing, Chris and I stayed the evening at the Woodview Inn in Gananoque. It was charming, Victorian and beautifully furnished. We dropped off our luggage to the front desk the day before and they safely tucked it into our room on the night of our wedding. The breakfast the following morning was that of dreams. Not joking, I am still reminiscing of those pancakes!
Marjie, from the Ivy Club, took down all our decorations for us and packed them up safely in boxes for us to pick up the next day. She was fantastic and made the wedding day a breeze and less stress!
The wedding may be over but I can still daydream of the beautiful day and how flawless everything and everyone was and I have breathtaking photos to flip through for a lifetime.
Thank you to all my vendors, everyone was beyond my expectations! I highly recommend everyone!
Christopher and Ashley's vendor team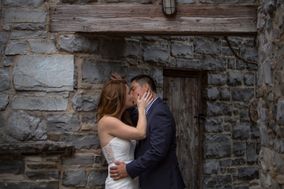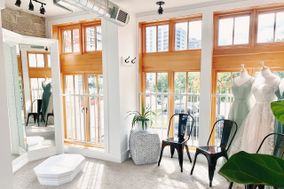 Driftwood Music
Music / DJ
Magnolia Flowers
Floral arrangements
Jennifer Topp
Bridal beauty
Other Ontario weddings
View all
Get inspired with Real Weddings
Other burgundy weddings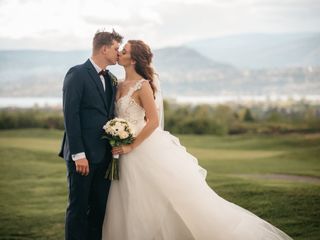 Show all
Other Autumn weddings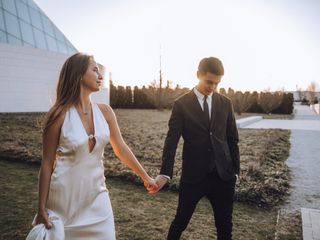 Show all
Other vintage weddings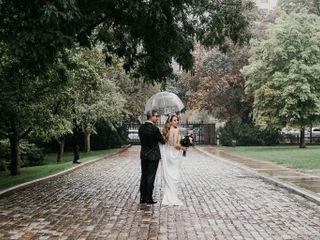 Show all